An IBRO Exclusive
Attention Must Be Paid Dept.
Benny Valgar:  Forgotten Boxing Master
By Mike Silver
"When it came to all around ring generalship, Benny Valgar was on a par with Benny Leonard, though Leonard packed the better punch".—Ray Arcel.
The above quote by legendary trainer Ray Arcel appeared in the January 13, 1935 issue of the New York Enquirer.  It is quite an accolade when one considers that Benny Leonard (lightweight champion 1917-1925) is universally regarded as one of the greatest boxers of all time.
Ray Arcel spoke from a unique vantage point. He trained Valgar (sometimes spelled Valger) throughout the 1920s.  Ray also saw Leonard in action many times, and had trained the former lightweight champion for his comeback in the early 1930s.
In 1978 this writer interviewed Ray Arcel. He still reserved the highest praise for both fighters. "I've seen every great fighter from 1915 to the present and to me (Benny) Leonard was the best", said Arcel. "He was without question, the fastest thinking fighter I ever saw. I class one other fighter with him as far as cleverness and that was Benny Valgar, a lightweight contemporary of Leonard's."
I first became aware of Benny Valgar (nicknamed "The French Flash") in the early 1960s. I was a wet behind the ears amateur when I overheard my old school trainer, Willie Grunes, say that in his opinion Valgar had a better left jab than Leonard. Willie did not hand out compliments easily, so his comment made a strong impression on this boxing neophyte.
My friend and fellow historian, Tony Arnold, recalls meeting an old armory fighter in Stillman's gym who insisted "The French Flash" was the greatest boxer he'd ever seen. This fighter had often appeared on the same cards with Valgar.  He related the following story to Tony:  A participant in the evening's main bout failed to show and the desperate promoter, spotting Benny in the audience, asked him to substitute.  He was provided with trunks and gloves but they couldn't find a pair of boxing shoes that fit, so he fought in his wing tips and garters. Although the street shoes limited his footwork a bit, he still managed to win an easy decision.
The Facts
Benny Leonard and Benny Valgar were both managed by Billy Gibson, an astute handler of fighters who also managed the career of future heavyweight champion Gene Tunney.  The two Bennys often sparred with each other in the gym (what a fan treat that must have been!) but never met in an official fight.
Valgar turned pro in 1916, following a successful amateur career that saw him win the National A.A.U. Bantamweight title.  His rise in the professional ranks was swift.  By 1920 he was considered good enough to challenge the great featherweight champion Johnny Kilbane.
The title bout was a "no decision" affair limited to 8 rounds. At the time New Jersey law did not permit decisions or bouts scheduled beyond 8 rounds. (The limit was raised to 12 rounds later that year).  It was understood that Valgar would have to knock out Kilbane in order to claim the title. It was a tall order for the light hitting challenger. In 132 previous fights only Benny Leonard had been able to knock out Kilbane.
As was the custom, the unofficial winner of a "no decision" bout that did not end in a knockout was determined by a consensus of newspaper reports.  The next day five of six New York dailies (and three of four out of town papers) reported that Valgar had won a close decision. The headline "Johnny Kilbane Outpointed by Benny Valger in their Eight-Round Bout at Newark", took up all eight columns of The New York Times's sports page, reflecting both the importance of the bout and its outcome.
The article stated that both contestants exhibited "brilliant footwork" and "showed knowledge of the scientific side of boxing and feinted and parried with the skill and effectiveness of veteran fencers".
In the final two rounds Valgar became very aggressive in a desperate but vain attempt to end the bout and win the title. The challenger "pounded Kilbane hard about the stomach, and frequently reached the champion with stinging rights and lefts which went through Kilbane's guard as blows have seldom done before."  The New York Times awarded four rounds to Valgar, three to Kilbane, and called one round even.
There would be no return match. "The French Flash", soon outgrew the featherweights and spent the remainder of his sixteen year pro career fighting in the lightweight division.
The 1920's was a golden era for lightweights. The 135 pound division was dense with talent and the competition at the top brutal. This was the era of Sid Terris, Sammy Mandell, Johnny Dundee, Charley White, Ace Hudkins, Solly Seeman, Lew Tendler, Billy Petrolle and dozens upon dozens of other formidable contenders and battle tested veterans.
In his prime Valgar rarely lost. He won newspaper decisions over future champions Rocky Kansas, Jimmy Goodrich, Jack Bernstein, and contenders Charley White, Leo Johnson, King Tut and Joe Tiplitz.  He officially defeated Frankie Britt, Solly Seeman, Basil Galiano, Alex Hart, Hilario Martinez, Jimmy Fruzetti and Billy DeFoe.  Valgar also lost 12 round decisions to Goodrich, Johnny Dundee, Joe Benjamin and Billy Wallace.
Like most fighters of his era Valgar kept to a very busy schedule. Bouts were sometimes spaced just days apart. In 1919, a typical year, he engaged in 16 fights, including six 12 round bouts.  Three of the 12 rounders were fought in 22 days.
An Extraordinary Achievement
BoxRec.com credits Benny Valgar with 137 wins (18 by KO), 36 losses, 7 draws and 4 no contests.  Boxing historian Herb Goldman has since found an additional 54 fights, for a total of 239.  That number places him among an elite group of fighters who've fought more than 200 times. But more importantly, it makes Valgar the only fighter in history with more than 200 professional fights who has never been knocked out or stopped!  It is an extraordinary achievement that, in all likelihood, will never be equaled. For that reason alone Benny Valgar deserves the recognition that has eluded him all these years.
Statistics aside, Valgar's superlative boxing skill was a matter of record. Newspaper accounts of his fights are peppered with words such as "clever", "scientific", "brilliant", "amazing speed" "master boxer" "elusive" "dazzling" "ring wise" "crafty" and giving opponents a "boxing lesson".  My guess is a close approximation of his style would be that of the great 1940's era featherweight champ Willie Pep.
"The Ghetto Ghost" vs. "The French Flash"
There were only a few times in his long career when Valgar was stymied by an opponent.  One of those opponents was the brilliant "Ghetto Ghost" Sid Terris.
On August 19, 1924 over 14,000 excited fans jammed into Brooklyn's Henderson Bowl to see their highly anticipated bout. Both boxers were experienced and consummate ring technicians, but it was Terris's edge in speed that carried him to victory.  In a fight that brought together the world's fastest lightweights, Terris outpointed his East Side rival and won a unanimous 10 round decision.
The New York Times praised Terris's "remarkable speed and cleverness" and cited his performance as "one of the most skillful exhibitions of boxing seen here in recent years."
Terris was doing the "Ali Shuffle" at least 40 years before Ali made the move famous and gave it a name. Like a pugilistic Michael Jordan, the 5' 10" 130 pounder seemed to defy the physical boundaries of gravity. Old-timers were in awe of his phenomenal speed and agility including legendary trainer Cus D'Amato, who saw Terris perform in his prime.  Cus's protégée, Teddy Atlas, recalls his mentor telling him that he once saw Terris distract an opponent by jumping off the canvas, and in the fraction of a second both feet were in mid-air land three left jabs!
The Great Lightweight Title Tournament of 1925
The Terris defeat was a temporary setback for Valgar.  Fate was about to present him with one last opportunity for championship glory.  In January 1925, only a few days after Benny Leonard retired as undefeated lightweight champion, the powerful New York State Athletic Commission announced that it would sponsor an open tournament to determine his successor.
The Commission sent invitations to 18 top lightweight contenders requesting their participation. Many other established boxers, including foreign champions, were also invited.  Sid Terris and Johnny Dundee, the two top rated lightweights, declined the offer (much to the relief of every other entrant). They thought it made more economic sense to challenge the eventual winner.
In all, over 50 of the world's finest lightweight boxers took part in the tournament.  From February to July promoters were kept busy staging a series of round robin elimination bouts.
In his first bout Valgar scored an easy win over Alex Hart in 10 rounds. Ten days later he dominated Basil Galiano in a 12 round bout at Madison Square Garden.  Two months later, in the quarter final match, Valger proved too ring wise for young Solly Seeman, winning a unanimous ten round decision.  Seeman was a former national amateur champion and a superb boxer in his own right.
According to The New York Times, Valgar gave his less experienced opponent "a boxing lesson".  Seeman's efforts were "overshadowed by the steady consistent boxing of Valger", who won six of the ten rounds "by blocking Seeman's blows or parrying them and blinding the Harlemite with a dazzling attack characteristic of the master boxer that is Valger."
After these impressive victories odds makers established Valgar as the favorite to win the vacant title.  But it all came to naught in his 12 round semi-final match against the tough and experienced veteran Jimmy Goodrich.
Two years earlier he won a 12 round decision over Goodrich in the Buffalo, New Yorker's own home town.  This time it was different. Perhaps it was just an off night, but for whatever reason "The French Flash" could not get his act together against Goodrich. He lost the 12 round decision.   James P. Dawson, covering the fight for The New York Times, wrote that Valgar's showing was "far below the form expected of him".
Goodrich advanced to the finals at Madison Square Garden where, on July 13,1925, he won the title with a victory over Stanislaus Loayza of Chile. Goodrich and Loayza had fought a total of 11 tournament bouts in five months.
Boxing had a new lightweight champion—not two, or three, or four—just one.  The idea seems almost quaint today.
The late 1920s saw Valgar's career wind down.  He won more than he lost but he was not the whippet of old.  Fortunately, his superb defensive skills kept him from taking a beating.  Other than a slightly flattened nose his face bore none of the facial scar tissue so prevalent among his contemporaries.
Valgar's nickname "The French Flash" paid homage to both his birthplace and his speed.  His parents fled the anti-Semitic pogroms of Russia and immigrated to Paris around 1894. Benjamin (Benny), one of five children of Etta and Menachem Valger, was born in Paris in 1898. In 1913 his widowed mother moved to New York City. The following year Benny and his younger sister arrived.
Benny spoke fluent French, but if you listened closely you could detect a slight Yiddish lilt to his accent. From 1929 to 1931 he made several trips back to Europe where he took on the local stars.  He fought in London, Liverpool, Manchester, Prague, Bologna, Milan and Leige (Belgium).  He also won five of seven bouts in Paris—all 12 rounders.  Wherever he fought he impressed the foreign fans with a brand of scientific boxing rarely seen.
Valgar's reputation preceded him. Before his first fight in Paris the French sports newspaper "L'Auto" devoted several columns to the American "pugiliste". Proudly the newspaper declared, "He is of ours…Benny Valger has had a very brilliant career in the U.S.A. where he began boxing in the ring in 1916…he is considered as one of the most scientific lightweights of the U.S.A."
In a recently published biography of Ray Arcel titled "Champ in the Corner: The Ray Arcel Story" author John Jarrett relates an amusing story that took place in the waning days of Benny Valgar's career. It captures the essence of his boxing persona.
"One night Benny looked around the arena and saw only a handful of customers", recalled Arcel.  "Benny looked at me and said, 'Ray, what's the matter?  Why ain't we drawing?'  "I said, 'Benny, the fans want action. They don't want to see any of that fancy jab and run stuff. Get out there and slug'.  "Benny went out with a rush but did nothing but box.  When the round was over, I said to Benny, 'Why didn't you go out there and slug?'  "Benny looked at me and said, 'I tried, Ray, honestly I did.  My arms were willing but my brain wouldn't let me do anything wrong!'  "That was my Benny."
Valgar finally retired in 1932, at the age of 34, with his intellect intact. He led a quiet life after retirement, although he remained active in veteran boxers' organizations. With his wife Rose, whom he married in 1919, he settled in Brighton Beach, Brooklyn, and opened a dress shop in the Brownsville section of that borough.  He passed away in 1972.
The author thanks Laurent Duguet, grand nephew of Benny Valgar, for providing additional information for this story.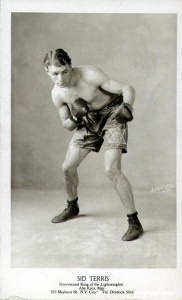 Sid Terris, the brilliant "Ghetto Ghost", was one of the fastest lightweights ever. His bout with Benny Valgar drew 14,000 fans.