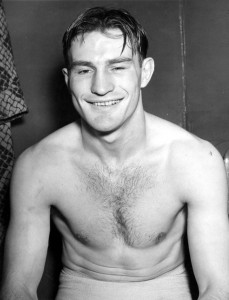 The Career of Freddie Steele Revisited
By Dan Cuoco
Freddie Steele was a boxing prodigy. As early as age six he dreamed of a career as a boxer. His parents hoped he would outgrow the idea. But he didn't. Every day after school his friends would find him in his backyard, imitating the style of his idol Tod Morgan.
At age twelve, against his parent's wishes, he started attending a local gym in Tacoma, Washington. At first the gym's proprietor Dave Miller didn't take him serious. After all, Freddie was just a scrawny underage adolescent.
But Freddie was very determined and continued to show up at the gym every day. He studied the fighters in the gym and began imitating their moves. They took an immediate liking to him and began helping him whenever they could. Within months their help started to pay off. Freddie began hitting the heavy bag with authority and making moves that surprised everyone in the gym including Miller. Miller was so impressed he took young Freddie under his tutelage.
After six months of extensive instruction Freddie began sparring with the older professionals in the gym. He showed so much natural ability and potential during his three year's of Miller's guidance that Miller allowed him to turn professional a month before his 14th birthday.
Freddie began his professional career as a featherweight in November of 1926 and went undefeated in his first 39 fights before losing a six round decision to tough Tony Portillo the day before his 18th birthday. A month later he started another long winning streak by winning a six round decision in a rematch with Portillo.
In May of 1932 the 19-year-old Steele, now a full-fledged welterweight, was pitted against tough Filipino and future middleweight champion Geferino Garcia in a six rounder. The murderous punching 26-year-old Garcia was an established main eventer and was heavily favored over his youthful opponent. But Steele, a murderous puncher in his own right, surprised everyone with a second round knockout. Six months later he proved the victory wasn't a fluke by again knocking out Garcia in the second round.
By his 20th birthday Freddie had engaged in 82 professional fights and his future looked bright. He had compiled a brilliant record of 72-2-8, with 29 kayos. He had avenged both of his decision losses in return matches.
In 1934, Steele, just 21, was reaching his peak. He went unbeaten in 14 fights scoring 9 knockouts and being held to a draw by 24-year-old former middleweight champion Gorilla Jones.
1935 proved to be an even better year for Freddie. He engaged in 12 fights, winning 8 by knockout. His knockout victims included Baby Joe Gans, future champion Fred Apostoli, former champion Vince Dundee, Swede Berglund, and outpointed former champion Gorilla Jones in their return bout.
Freddie's victory over the unbeaten Apostoli was held at the Civic Auditorium in San Francisco before 6,000 wildly enthusiastic Apostoli rooters. Although only six weeks apart in age, Steele was years ahead in professional experience.
For the first six rounds it was an even, hard-fought contest. In the ninth round Steele dropped Apostoli twice and cut his eye badly. The referee wisely stopped the fight in the tenth round to save Apostoli from serious injury.
But the fight that put Freddie in the national spotlight was his kayo of Vince Dundee. The 27-year-old Dundee was a huge favorite over his younger opponent. He had lost his title just ten months prior and entered the match with a record of 112-18-13 (28). Amazingly in his 147-fight career he had never been stopped.
Before a packed house in Tacoma, Steele's fans saw him hurt Dundee badly in the first round with a left to the body and a left hook to the head. Dundee never recovered and was unceremoniously dropped a total of 11 times in just three rounds before the referee mercifully stopped the fight. Dundee was taken to the hospital with a triple fracture of the jaw.
In his fourth fight in 1936 he won a close decision over NBA-New York World Middleweight Champion Babe Risko in a non-title fight. The fight was so close that it helped him earn a return fight with Risko. But this time the title was on the line.
They met in Seattle on July 11, 1936 and Steele won a convincing 15 round decision to win the crown.
Four months later he faced future light-heavyweight champion Gus Lesnevich in a non-title fight. Gus was a 21-year-old once beaten middleweight with a record of 30-1-3 (9). Gus was no match for the 23-year-old Steele and was easily kayoed in just two rounds.
During the next year Steele swept the field clear of challengers with victories over Gorilla Jones (W10), Babe Risko (W15), Frank Battaglia (KO3), and Ken Overlin (KO4). He sandwiched these title-winning fights with two non-title kayos over Paul Pirrone (KO1) and Hobo Williams (KO8).
Freddie's most impressive title defense was his fourth round knockout of Ken Overlin. It was the only knockout defeat Overlin would suffer in 157 pro fights. The victory brought Freddie's record to a gaudy 117-2-8, with 55 kayos.
Four months after defeating Overlin, Freddie was matched with old adversary Fred Apostoli in an overweight match. Apostoli was determined to turn the tables on Steele, while Steele was determined to prove to Apostoli that he was still the better man. Their battle was so fierce that neither fighter was the same again.
Here is how the newspapers described their epic battle.
" Blood came in a cascade from Freddie Steele's left eye, the right was just a slit and in the middle of his face was a ring of red to show where once a nose had been. At times he was bent double, like a small boy peering through a knothole in a fence. That was the lurid scene, as presented before 8,000 spellbound witnesses at Madison Square Garden last night, when mercifully they stopped the fight after 54 seconds of the ninth round to save the middleweight champion of the world from further punishment. It was one of the wildest, most boisterous evenings ever put on at the Garden. For sheer savagery there have been few fights like this one. They faced each other with lips curled back in a snarl and belted each other ceaselessly with both hands. It was the greatest middleweight fight seen around here in a generation, topping even the Greb-Walker brawl by many a sanguinary punch, and of course, will have to be repeated outdoors next summer, this time with the title riding along."
But the return match never took place.
Incredible as it may seem, Freddie returned to the ring a month later and knocked out Bob Turner in the first round. Eleven days after knocking out Turner Freddie retained his title with a seventh round knockout of Carmen Barth. Keeping up his busy schedule Freddie won a tough ten round decision over future middleweight champion Solly Krieger in an overweight match.
Six weeks after his tough match with Kreiger Freddie was matched with murderous punching Al Hostak for the title. Six weeks was not enough time for Fred to recover from the battering he had taken in the Kreiger fight. Two other factors didn't bode well for Freddie before the Hostak match – one mental and one physical. Months before the title fight took place his manager and mentor Dave Miller died at age 36. Freddie later recalled, "Before the fight all I could think of was my manager was dead. He was like a father to me. My heart wasn't in it." The other factor was that Steele had been hampered by a cracked breastbone, which prevented him from lifting his gloves high to where they belonged — according to his chief sparring partner, Davey Ward.
35,000 fans jammed their way into Seattle Stadium to see if the 22-year-old knockout artist from Seattle could wrest the title from the 25-year old champion. Al entered the ring with a 14 fight knockout streak and a record of 43-1-7 (25).
The newspaper description of the title fight follows:
Both fighters still had their robes on while they listened to the pre-fight instructions of referee Jack Dempsey. As the two fighters danced back to their corners awaiting the opening bell, the roar of the crowd was deafening. One could hardly hear the bell sound. Hostak shuffled out to the center of the ring and threw a light left jab which Steele slipped over his right. shoulder. Hostak threw another jab and then another. He feinted his fourth left jab and when Steel instinctively brushed it away with his right hand he left the right side of his jaw exposed. Quicker than a cobra, Hostak lashed out with a frightening left hook which could be heard throughout the stadium. Steele went down in a sickening heap. When Steele got to his feet, Hostak swarmed all over him, throwing combinations to the body and head. Steele went down again. How Steele ever made it to his feet after these two knockdowns puzzled ringsiders. Steele hit the canvas two more times before referee Dempsey counted 10 over the thoroughly beaten fighter.
Hostak later said: "I hit him with every punch in the book, but he kept getting up. He was a real champ and one of the most courageous fighters I ever met."
Steele retired after the Hostak fight and became an actor. He appeared in such films as "Gentleman Jim Corbett," "G.I. Joe," "Deep Purple," and "Hail the Conquering Hero!"
In 1941, he made a brief comeback and was stopped in five rounds by Jimmy Casino. He retired for good immediately after.
He later operated a restaurant in Wesport, Washington.
In my opinion, Freddie has never been given his rightful place in middleweight history. Freddie like many fighters before and after him have been judged solely on the poor impression they made during their waning years. I believe that Freddie's losses to Apostoli and Hostak have distorted the impact of his peak years. Consequently, Freddie has never received the recognition he deserves as one of the greatest middleweights of all time. Certainty his record shows this. In 142 fights, he lost only five.