Iron Mike Pusateri; Protégé of the Rock
By Austin Killeen
(Published in IBRO Journal 92, December 2006)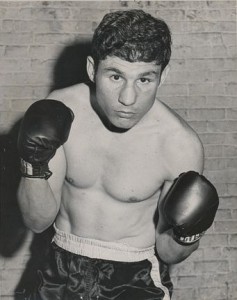 Driving through the rain soaked streets of Brockton; I was searching for a little diner where I'd meet Mike Pusateri.  Bob Benoit, who I had interviewed in a previous IBRO article, told me George's Café had great food.  I found my destination on 228 Belmont Street, George's took up half the block and had 2 spacious parking lots.  Entering this posh Italian American restaurant I stepped into a different era; it was the 1950's. With stylish wood paneling and leather upholstered furniture, George's had 3 dinning rooms, 2 bars and a function room with seating capacity for almost 400 people.
However it was the walls of this Bistro which captures the diner's eyes.  Virtually every inch of wall space is tastefully covered with pictures, posters and newspaper articles of Rocky Marciano.  Occasionally pictures of other local boxers adorn the walls; including memorabilia of Iron Mike's.  If you could visit George's Café before it opened, it would take 2 hours to look at this museum of Brockton boxing history.
When I told the waitress I was looking for Mike Pusateri, she brought me over to the Mike Pusateri table.  Yes, there is a table in honor of Iron Mike.  The effervescent Pusateri arrived a few minutes later and insisted on giving me the tour of the restaurant.  I was attracted to a poster of Rocky Marciano and Bernie Reynolds. Upon closer inspection, I declared that the picture of Reynolds was actually that of Lee Savold.  Mike quickly corrected me, stating that it was indeed the aforementioned Mr. Reynolds.  Suddenly we're arguing like a couple of 10 year olds about this poster.  Not a smart move on my part, as Iron Mike weighs the same today as he did in the 1960's when he laid down a reign of terror in New England Boxing.  I felt confident however that I could take Mike blindfolded but wasn't too sure he would agree to wear the blindfold.
The owner, Charlie Tartaglia a member of the Massachusetts State Boxing Commission, intervened and suggested we have lunch.  We returned to Mike's table, were we proceeded to feast on great homemade cooking.  After soup, salad, baked haddock, dessert and a 2 ½ hour drive from New Hampshire, I was ready for a nap.  This is when Mike reminded me of the purpose of my visit.  Thus the interview began.
Attending summer camp in Maine as a 10 year old, Mike got his introduction to boxing.  Winning a couple of fights against campers his own age, he quickly ran out of opponents.  Pleading with camp counselors for more bouts, he was matched against a 13 year old.  After 3 one minute rounds of furious action Mike experienced his first home town decision.  Disgusted with the outcome, little Michael announced his retirement at the evening camp fire.
At the age of 14 Mike attended Dedham High School were he met Paul Stivaletta. Paul was outstanding at football, hockey, and boxing.  As a result of Stivaletta's influence, Mike quickly became a three sport star for the Marauders.  Lettering in Football, Indoor Track and Baseball, he rapidly gained an excellent reputation in his own right.  As a successful fullback, Mike started attracting the interest of area College Coaches.  In the fall of '59' Mike attended Northeastern University on a football scholarship.
A few years older, Stivaletta was already traveling around New England in pursuit of a boxing career.  He took Mike to Providence, Rhode Island to participate in a television show called Leather Pushers.  After a couple of quick wins, Mike's camp fire retirement was officially over. He would pursue a fistic career which would continue for the next 18 years. Northeastern's football coach felt this was a conflict of interest and told Mike it was either football or boxing.  At the end of his freshmen year, Mike made his decision and dropped out of Northeastern University.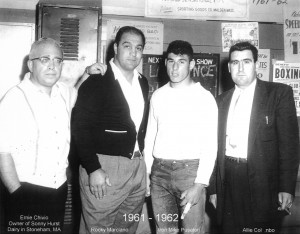 Although they had a great relationship, Stivaletta felt he could no longer handle Mike as he had his own career to think about.  Paul set up a meeting between Mike and Allie Columbo, with the hope that Columbo would agree to manage and train Pusateri.  Columbo arranged for Mike to workout at the VA Hospital gym in Brockton.  The workout must have been impressive as they reached an agreement which would transcend boxing and develop into a life long friendship.  Allie would eventually become godfather to Mike's third child Joe.  Because of Columbo's prior association with Rocky Marciano, as his trainer, "the Rock" quickly became part of the Pusateri brain trust.  Rocky became a frequent quest at Mike's home, sharing many of his experiences from his ring career.  As a result of his association with Marciano, Pusateri had no difficulty getting fights around the world throughout his career.  Promoters around the globe were always willing to book the protégé of "the Rock" against their hometown fighters.
During Mike's amateur career, he worked at his father's restaurant; The Washington Gardens Italian American Café.  It was here that he learned how to cook as a result of his mother's instruction.  He would often meet Allie Columbo there to plan boxing activities for the day.  Arriving early one afternoon, Mike spotted his ex girlfriend sharing a pizza with a pretty young girl who had just moved into town from Cleveland, Ohio.  Attracted to this buckeye beauty, he realized he would have to finesse his old flame into giving him the name and phone number of Dedham's newest resident.  If you ever saw Mike box in person or on video, you know his ring style was about as restrained as a landslide.  To the best of my knowledge, finesse was never used in describing one of his fights.  Before Mike could implement his plan to finesse the needed information from his ex, Allie Columbo arrived to plan the days training session.
Michael's amateur career lasted 3 years and included an intense rivalry with anther local area boxer, Ted Williams of Boston.  Having split 2 previous bouts they met in a rubber match in the winter of 1961.  At stake was the New England Golden Gloves Open Division Light Heavyweight Championship.  After 3 hotly contested rounds at the Lowell Auditorium, Pusateri was awarded a close decision.  Sustaining an injury during the tournament, Michael was unable to participate in the Nationals.  In June of that year, he turned pro scoring a second round knockout over Phil Wright.
Iron Mike's professional career would read like a three act play.  In Act I, he was like a meteorite flashing across the sky.  He won his first 17 pro bouts, all by KO!  In November of 1961, Mike was selected as Ring Magazine's light heavyweight prospect of the month. Although he was generating a great deal of excitement in the boxing community he wasn't learning much, knocking out all his opponents in a few rounds.  His offense was his defense, with quick hands and a powerful punch; winning was proving to be too easy.  Defensive skills such as slipping punches, counter punching, pacing himself and a strong left jab were not being developed.  In our interview, Mike explained that his fast start as a pro proved to be a curse as much as a blessing.  He would come to realize just how true this statement was in his very next fight.
In Act II the ubiquitous Ted Williams, Mike's rival from his amateur days, would be his next opponent in Boston.  On paper it looked like a step up in competition, but a winnable fight most likely by knockout.  Unlike Iron Mike, Williams's career had been a struggle but his ring experience was increasing his skills both offensively and defensively. Ted was learning how to tie an opponent up, pace himself and developing an excellent jab.  By the 5th round of their fight, Pusateri was exhausted, only his punching power with both hands allowed him to finish the fight.  The official verdict was a draw; Williams jab had dictated the pace of the fight and he had no trouble tying up Iron Mike on the inside.  While Mike had thrown a million punches, they weren't accurate, he lacked proper balance and he had failed to cut off the ring on his taller opponent.  Not only did he fail to win, his KO streak was over.
Next up; a shot at the New England Light Heavyweight Title against veteran Bob Young.  Using his greater experience, Young's style avoided the Dedham bomber's offense, handing Pusateri his 1st loss.  Stepping down in competition, Iron Mike got back on the winning side of the ledger with a couple of quick KO's.  At this point in his career, Mike was competing against full sized light heavies while he would ultimately become little more than a small middleweight.  A rematch with Ted Williams once against ended in a controversial 10 round draw.  Mike felt his offensive bombardment in the 1st half of the bout earned him a win; the officials felt otherwise.
Two main events against Joe DeNucci in the Boston Garden were next.  In the 1st fight, DeNucci elected to go toe to toe against Iron Mike.  The fight was an action packed brawl, much to the delight of Pusateri but the decision was not.  The verdict was a split vote in favor of DeNucci.  Watching video of the fight, it would seem to lend credence to Pusateri's viewpoint.  In the rematch, DeNucci changed his style; boxing at long range and using an effective jab to control the action.  Apparently the officials agreed, as Joe was awarded a unanimous decision at the end of 10 hard fought rounds.
Mike explained that although he had New England roots he was always treated as an outsider.  In the late 40's, Allie Columbo had to make a decision regarding Rocky Marciano's career.  Columbo, who was handling the Rock at the time, felt he lacked the resources to get the Brockton Blockbuster to the top.  He felt Marciano need a backer who was connected.  It came down to a choice between Sam Silverman, New England's premier promoter or Al Weill, match maker for Madison Square Garden.  He chose the latter.  Weill had successfully guided the careers of former champs Lou Ambers and Marty Servo.  Silverman was bitter over this rejection, never forgiving Columbo for his choice!  Pusateri felt he was the recipient of Silverman acidic reaction to the Columbo rebuff.  During his entire career, he never won a decision in a Boston ring, suffering 4 losses and 3 draws.  Having witnessed the 1st Pusateri/Coiley bout at the Hynes Auditorium in person, I feel there might be some merit to Mike's feelings.  It appeared he could land his right hand at will, with Coiley forced to fight most of the bout with his back pinned against the ropes.  I was shocked when the official verdict was a draw!
In the fall of '63', Iron Mike along with Columbo and Marciano traveled to Manchester, England to face former world middleweight champion Terry Downes.  Prior to the start of the bout, the Brockton Blockbuster was introduced to the crowd, receiving a warm reception.  With his nose broken in the very first round, Mike had great difficulty breathing.  Downes administered a terrible beating, forcing he referee to stop the bout in the 5th round.  In talking about the match, Pusateri felt that the ex champs skills were superior to his and offered no excuses.
Returning to the states, Iron Mike added 4 KO's to the win column.  Silverman rewarded him with a main event at the Boston Garden against world rated Jose Gonzalez.  With both boxers employing an all offense all the time style, the bout was a war.  Watching a tape of the fight it appeared Mike was more than holding his own through the 1st five rounds.  Realizing he was letting the fight slip away, Gonzalez took it to the next level.  While slipping punches, Jose started counter punching effectively, opening a small cut over Pusateri's eye in the 9th round.   The referee immediately stopped the match awarding Gonzalez a TKO victory.  In commenting on the fight, Mike felt that the New Yorker might have underestimated him in the early rounds.  Mike further stated that Gonzalez taught him a great deal about defensive skills; slipping and counter punching in particular.  As for the stoppage, Mike felt the cut was small and the bout should have been allowed to continue.  Once again he felt he was the victim of the Sam Silverman curse.
Eleven months later, Pusateri traveled to Cape Town, South Africa to face world ranked welterweight contender Willie Ludick.  Willie was moving up a weight division and figured to use Iron Mike as the first step in that mission.  Exploding out of his corner in the 1st round, Pusateri dropped Ludick 3 times in scoring an easy 2nd round TKO.  Surprisingly there was little chest thumping on the part of Mike regarding the win.  He stated that he was lucky to catch Ludick cold, and that a rematch could have an entirely different result.  Although Mike has some beautiful home movies of South Africa, there is no film of the bout.
With his career at an all time high after the Ludick stoppage, Mike was matched against world class middleweight Rafael Gutierrez in Mexicali, Mexico.  Short on sparring partners, Mike prepared for the fight against local heavyweight Lee Williams. While working against Williams, Mike took a hard right to the neck.  He suffered a pinched nerve to the left side of the neck, which affected the neck, arm and leg.  With little feeling on the left side of his body, sparring was canceled in preparation for the bout.  Foolishly, he went ahead with the bout, proving no match for the hard hitting Gutierrez.
After a 2 year layoff, Mike was back in the ring against tough New England trial horse, Isidro Perez.  After 10 hard fought rounds Pusateri captured the verdict, a rare occurrence in his career.  Next he traveled to Oakland, California getting a technical draw against dangerous Charlie Shipes.  Returning to California four months later, Pusateri appeared to be ahead on points against Rocky Hernandez in Sacramento.  Hernandez opened a cut over Mike's left eye in the fifth, causing the referee to stop the bout.  Although he didn't realize it at the time this would be the last time Allie Columbo would be in his corner.
Act III started behind a Stop & Shop warehouse on a dark, damp, rainy evening.  Backing his 18 wheeler up to the receiving platform, the driver failed to see Allie Columbo and a co-worker standing in front of it.  The co-worker was knocked to the side, but Columbo was not as fortunate.  He was crushed against the front of the receiving platform, in the prime of his life.  For Pusateri, boxing would never be the same again.  More than a manager/trainer he had lost a best friend.  Allie Columbo was family; he was like an older brother.  Although boxing is a tough sport, it had always been fun with Columbo in his corner.  Now it was simply a way to generate money for his family.  Ironically, riding in the hearse with Marciano as pall bearers, Mike had no idea that the Rock would lose his life just 6 months later in a plane crash in an Iowa corn field.
Boxing is a cruel business under the best of conditions, but fighting when your heart is no longer in it is fatalistic.  Mike continued to box some of the best pugilist in the world including Tom Bogs, Rafeal Gutierrez (a second time), Denny Moyer twice, Tony Licata and Doyle Baird three times.  Amazingly he scored and upset decision over Baird in Cleveland, Ohio to the amazement of boxing experts. It's ironic that a career that started with 17 straight KO's ended with 9 straight defeats. Wisely Mike retired after suffering a 1st round loss against an opponent he would probably have defeated in the prime of his career.
Today Mike is retired from the Massachusetts Bay Transit Authority were he worked for 25 years.  Ironically one of his co-workers was the ubiquitous Ted Williams who he fought 5 times during his amateur and pro career.  As to that buckeye beauty her name was Alice Dresser.  Her phone number; it's the same as Iron Mike's.  They've been happily married for the past 46 years.  They have 5 beautiful children; Debbie, Mike, Joe, Gary and Billy.  Today the Pusateri's live in Centerville, Massachusetts on Cape Cod.  It's rumored that Iron Mike losses an occasional hometown decision to Alice but is wise enough not to protest the verdict.  Apparently Michael had enough finesse to acquire needed information to meet the new girl in town!!