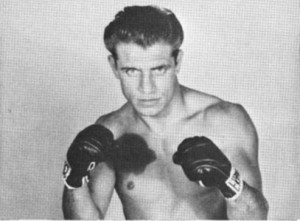 A Look Back at the Career of Stefan Redl
By Dan Cuoco
Stefan Redl was born in Heregsalva, Hungary on March 5, 1933. Stefan was the only boy in a family of three. His father Frank and mother Katherine were of German descent. His father served in the Hungarian Army during World War II and in 1942 was reported missing in action. The Redl's never gave up hope that Frank would return when the war was over. Sadly, Stefan's father never did return from the war.
Shortly after the end of the war, the Hungarian Communist Party started deporting all citizens of German heritage. In early 1946, 12-year-old Stefan, his mother and two sisters, Katherine and Elizabeth, were deported to Germany. They traveled by boxcar and slept on beds of straw. His mother was told to bring enough food for her family to last for ten days. Consequently, she was forced to make up an assortment of food products consisting of breads and other basic staples that were nutritious and would not spoil before the journey ended. They settled in Heidenheim, near Stuttgart, Germany where his mother had relatives.
Stefan's introduction to Heidenheim started off rocky because he and his family were not welcome with open arms by the German populace even though they were of German ancestry and spoke German fluently. Some of the local neighborhood kids started to pick fights with him because they considered him an outsider, which reflected their parent's beliefs.  Stefan held his ground and gave as good as he got. One of the youngsters was an aspiring amateur boxer and quickly took a liking to the plucky newcomer.  He encouraged Stefan to join his gym and give amateur boxing a try. Stefan was immediately hooked. Besides boxing, Stefan also excelled in soccer and track.
By the time Stefan finished high school he was on his way of becoming one of Germany's top amateur fighters. In 1950 he became the Junior Featherweight Champion of Germany. In 1952 he was defeated on a split decision in the finals of the Olympic Trials. He competed all over Europe compiling an excellent record of 138-3. He also held the Junior Welterweight title for three years, during 1952, 1953 and 1954. In 1953 he fought for the European Junior Welterweight title in Warsaw, Poland, but lost a decision to the same fighter who defeated him in the Olympic trials in 1952.
Outside of boxing, Stefan learned to be a tool and die maker. Although he was making a good living as a tool-and-die maker he didn't feel fulfilled. So when he received an invitation from his uncle to visit the United States he jumped at the chance. Stefan said: "I wasn't planning to stay, only to visit." He arrived in the United States on February 14, 1956. His aunt and uncle lived in Passaic, NJ. Stefan immediately fell in love with Passaic. Stefan said: "As soon as I saw the trains in the middle of the town it made me feel at home, because this is the way it is in many German and Hungarian towns."
Stefan had learned to speak some English from U.S. troops stationed in Stuttgart, so he had no qualms about sightseeing on his own. One day, while he was sightseeing in Paterson, NJ, he decided to find a local gym to work out. He asked a local policeman for directions to the closest gym and was directed to the Garden Gym run by Carl Duva. All he planned to do was work out. Carl Duva saw how well he was hitting the speed bag and heavy bag and came over and asked him if he had ever done any boxing.  Stefan told him that he was an amateur boxer in Germany and just came in to work out. Carl convinced Stefan to spar with one of the pros working out at the gym and was so impressed with how good he looked, he convinced him to give professional boxing a try.
Under Carl Duva's guidance, Stefan turned pro on April 20, 1956 in Patterson, NJ with a first round knockout over Wilmer Bonney. As Stefan began building his record to an impressive 11-0-0 (9) he also started the process to become an American citizen and joined the New Jersey National Guard. At Ft. Dix, Stefan took classes in English where he learned how to read and write in English.
Just ten months into his pro career, Stefan made both his main event debut and his national television debut at St. Nicholas Arena against former lightweight champion Paddy DeMarco.  Although he was nervous, Stefan pounded out a convincing unanimous decision in a rough, savage bout. DeMarco tried to bull Stefan with a two-handed attack to the body. Stefan countered Paddy's attack with a body attack of his own and eventually took the play away from DeMarco with long right hands to the head.
Stefan ran off three more wins (2 by KO) before going on active duty at Ft. Dix, NJ for four months. He returned to inactive duty and resumed his boxing career with a fourth round knockout over Willie Moore before suffering his first defeat by split decision to Gale Kerwin. The decision was not well received by the Madison Square Garden crowd of 3,000. Stefan forced the action all the way and most observers had him winning six rounds. A disputed knockdown in the sixth swayed two officials in Kerwin's favor.
In his next fight, Stefan won the New Jersey State welterweight title with a twelve round unanimous decision over Johnny DiGilio. A month later he oupointed Charlie Cummings in New York.  Shortly after the Cummings fight, Stefan traveled to Germany to visit his family. While there he fought German veteran Gerd Muller at Killesberg Stadium in Stuttgart. Before more than 3,000 fans Stefan dropped Muller in the second round, survived a knockdown in the sixth round (the only round he lost) and a cut eye to pound his way to a lop-sided victory.
Three months later Stefan was back in the United States and in the ring against Philadelphia buzz-saw Gil Turner. Turner outlasted Stefan in a grueling ten rounder at Madison Square Garden. Stefan had the better of the early rounds, but couldn't maintain the rugged pace set by Turner and faded in the closing rounds.
On December 6, 1958, Stefan closed out the year dropping a heart breaking close ten round decision to Vince Martinez in Newark, NJ. Vince had to call on all his skill to beat Stefan by the closest of margins. Referee Paul Cavalier, the sole arbiter scored the fight 5-4-1 for Martinez.  Boxing writer Deane McGowan covering the fight for the New York Times scored the fight even.
In January 1959 Stefan regained his winning ways with an easy ten round decision over rugged Danny Russo at St. Nicholas Arena. Stefan was just too strong and aggressive for his Brooklyn rival. He then defeated Ernie Williams at St. Nicholas Arena, fought a draw with then unbeaten Eddie Jordan at Madison Square Garden and beat Roger Harvey in Boston.
Stefan was flying high and his popularity and aggressive style made him a natural opponent for the United States debut of Cuba's murderous punching Florentino Fernandez.  Fernandez was unbeaten, 21-0-0 (18), and was riding a 15 fight consecutive knockout string. Stefan entered the bout with a record of 23-3-1 (13).
Fernandez, with a height and reach advantage that gave him an edge right from the opening bell, started the seventh round with a left hook flush to the chin that buckled Stefan's knees. He wobbled half way across the ring before he could get control of his legs. Fernandez quickly caught his distressed opponent with another solid left hook to the chin. Stefan collapsed, landing flat on his back in his own corner. At the count of 4, Stefan rolled over, got one knee under him, and then the other. Holding to the ring ropes, he tried desperately to clear his head by rolling it around on his shoulders. At 8, he was on his feet; at 9, referee Harry Ebbetts waved Fernandez back to action. But Stefan was badly hurt and was standing there by his own corner, his hands hanging straight down by his sides.  He was in no shape to defend himself as Fernandez rushed towards him and landed one more punch before referee Ebbetts realizing Stefan was defenseless rushed in and stopped the fight.
Stefan returned to action four months later winning on points over Eddie Lynch in New York and closed out 1959 knocking out Jesse Watson in Trenton, NJ.
1960 proved to be a difficult year for Stefan. He started the year off by losing six consecutive contests before finishing the year with two consecutive victories. Four of his six losses were to Don Fullmer, Vince Martinez, Jorge Fernandez and Curtis Cokes.
In 1961 Stefan returned to Germany, winning three fights in Berlin, Dortmund and Munich.  He came back to the United States in June and won two more fights before ending the year with a ten round draw against former welterweight champion Virgil Akins.
Stefan, with an eight fight unbeaten streak, traveled to Boston on February 6, 1962 to take on former welterweight champion Tony DeMarco. The 30-year-old DeMarco, was on the comeback trail and was coming off a second round knockout win over another former welterweight champion Don Jordan.  DeMarco won a close hard fought 10 round decision over Stefan in what turned out to be Tony's last professional fight. In a highly entertaining fight, both fighters exchanged savage punches throughout and it was amazing that neither hit the canvas, although DeMarco was rocked badly in the final round. After dominating most of the first seven rounds DeMarco started to slow down from Stefan's consistent bodywork. Midway through the final round, Stefan rocked DeMarco with a hard right hand to the head and dominated the round by pinning Demarco on the ropes and scoring with a series of uppercuts and left hooks. DeMarco was on rubbery legs when the final bell rang. I always believed that Stefan's final round blitz of DeMarco convinced Tony to call it a career, because shortly after the fight Tony announced his retirement.
A month later Stefan won an easy decision over veteran Johnny Torres in New Jersey before returning back to Boston where he dropped a decision to unbeaten Bob Fosmire.
On May 28, 1962, Stefan lost a questionable decision to Tony Fortunato in the final show at the legendary St Nicholas Arena located at West 66th street. Shortly after the last fight card it was demolished and replaced by a modern 40-storied office and studio building housing the American Broadcasting Company. Aside from Madison Square Garden, St. Nick's was the last of the old established fight arenas in New York City. The non-TV show attracted 1,177 fans and gross receipts of $2,391.03.
After the Fortunato fight, Stefan stepped away from boxing for awhile to concentrate on his full-time job as a foreman in carpentry and construction. Stefan knew that his boxing career was starting to wind down and he was already planning his future after boxing. His goal was to start his own carpentry and construction business.
In March 1963, Stefan took his wife Laura and one year old son, Frank to Europe for a seven month vacation. During this time he fought his last five fights, two of which he promoted himself. His last professional fight took place on October 4, 1963 against Chris Christensen in Copenhagen, Denmark. Stefan had Christensen in trouble during the ninth, but Christensen walked away with a narrow decision.
In 1964 Stefan started his own carpentry and construction business, which he later expanded into building custom homes. He also started investing in real estate in Vermont and Pennsylvania.
Now retired, Stefan and his wife Laura live in Wayne, New Jersey in a custom home he built himself. Stefan has three children, Frank, Linda and David and several grandchildren.
Stefan was inducted into The New Jersey Boxing Hall of Fame in 1989.
Stefan regularly attends the annual International Boxing Hall of Fame induction weekend held in Canastota, NY. Accompanying him each year is his good friend and former boxer Bert DeWitt, a friendship which was forged 50 years before in heated sparring sessions in New Jersey boxing gyms.
During the past five years I have had the personal pleasure of getting to know Stefan and found him to be one of the most accessible and humble ex-fighters I have ever met.  It's great to see someone like Stefan finish on his feet a winner in life, as well as in the ring.
References
Redl, S. 2007. Private Conversations, Canastota, NY, June 2007, and Wayne, NJ September 2007