Ricardo (Pajarito) Moreno Remembered
By Dan Cuoco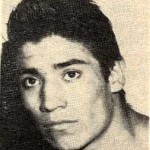 According to news reports out of Mexico, Ricardo "Pajarito" Moreno died at the age of 71 on June 24, 2008 in the state of Durango where he settled in the last years of his life with his family.  Stephen Gordon, Greg Beyer, former champ Raul Rojas and I were under the distinct impression that Ricardo died in December 1978 at the age of 41. In fact Greg and Raul drank to his death 30 years ago. We sincerely hope we were wrong and he lived to age 71 as reported. This is a reprint of an article I wrote in September 2000.
Ricardo was born in the small mining town of Chalchihuites in the state of Zacatecas on February 7, 1937.  He left school to work as a metal breaker at the mines.  Later he went to Mexico City where he worked as a parking lot attendant before turning to boxing. He did not fight as an amateur.            
A two-fisted slugger with terrific power in either hand he turned professional at age 17 on June 16, 1954 with a first round knockout of Oscar Diaz in Mexico City. He won 19 of his first 20 fights in his first two years as a pro, all 19 of his wins by kayo. His only loss came in his fifth pro bout when the much more experienced Nacho Escalante outpointed him in six rounds. Most of his knockouts were in three rounds or less. For one so young and with no amateur experience behind him his knockout victories were quite impressive when you consider the caliber of his opponents such as Mike Cruz, Jorge Gabino, Baby Moe Mario, Aurelio Rivero, and Americo Rivera who had just upset Jose (Toluco) Lopez.           
By the end of 1955, 18-year-old Moreno was considered by many the hardest punching bantamweight in the world. The question on everyone's mind was whether he could take it as well as he dished it out. In 20 pro fights he had not met any one who could stand up to him long enough to find out.              
On January 22, 1956 his management decided to find out just how good their prospect was. They matched him with another hard-hitting prospect, Memo Diez the current Mexican and North American Flyweight Champion. The 21 year-old Diez had won the national title by knocking out Memo Sanchez in 10 rounds in only his fourth professional fight, and the North American Bantamweight Title by knocking out Keeny Teran in 3 rounds in his 14th professional fight. He was also the sixth ranking flyweight in the world.                
Before a crowd of over 30,000 fans Diez outpointed the still green Moreno over ten scorching rounds that had the fans on their feet all the way. Although Moreno was clearly outpointed, he hurt Diez on three occasions and only Diez's great chin and heart saved him from going down.  
Two months later Diez shocked the boxing world by knocking out the world's number one ranked Young Martin of Spain in the first round. Diez would change places in the ratings with Martin and remained number one until he suffered an upset decision loss to Dommy Ursua at the end of the year. Diez's record prior to the loss to Ursua was 21-5-2, with 13 kayos.                
Although Ricardo lost to Diez, the experience proved invaluable. After winning a technical decision over Kildo Martinez and knocking out Alejo Mejia, Moreno was ready for his next cross roads fight. His opponent was Cuba's national flyweight champ Oscar Suarez, the eighth raked flyweight in the world. Suarez entered the fight with Moreno in Mexico City with an impressive record of 44-3-2, with 18 kayos. Among his victims were Orlando Rodriquez, Dagoberto Fernandez, Memo Sanchez and Memo Diez. It was no contest! Moreno completely overpowered and destroyed Suarez in two rounds. The victory earned Ricardo the number ten spot in the world ratings. Interestingly enough, two months later Suarez gave a good account of himself in exchanging knockdowns with Flyweight Champion Pascual Perez before being stopped in the eleventh round of their title fight.      
Ricardo scored four more kayos before 1956 ran its course, the most impressive a third round knockout of veteran Henry (Pappy) Gault in three rounds. By October 18, 1956 Mexican fighters dominated five of the top ten spots in "The Ring's" bantamweight ratings. Raul Macias was ranked number one, Moreno number six, Jose (Toluco) Lopez, number seven, German Ohm, number nine and Fili Nava, number ten. 
Moreno began 1957 by invading the United States for the first time. On January 29 in El Paso he knocked out Jessie Mongia in two rounds; on February 12th in Hollywood he kayoed Tommy Bain in three rounds; and, on April 1st in San Francisco he kayoed Gaetano Annaloro in five rounds. By now he had outgrown the bantamweight class and was the ninth ranked featherweight in the world and possessed an imposing record of 29-2-0, with 28 kayos – the last 10 in a row.       
On May 28, 1957 a crowd of over 13,000 came to see the sensational 20 year old Moreno take on the rugged 23 year old Jose Luis Cotero of Los Angeles in Hollywood, California. Like Mike Tyson many years later, Moreno brought the element of suspense and appeal that a savage puncher brings into the ring. The air was full of electricity when Moreno entered the ring. Cotero entered the ring with a record of 32-11-5, with 11 kayos. He had never been stopped.         
The fight was a thriller from the opening bell. The fans stood and cheered throughout the fight. Cotero a 10-7 underdog suffered a deep gash over his right eye and his chin was also cut. Shortly after the seventh round began the referee stopped the fight to examine Cotero's gashed eye and then reluctantly let the fight continue. A desperate Cotero fearing the fight was going to be halted drove Moreno into the ropes with a savage barrage of punches to the head.  As Moreno tried to slide along the ropes to avoid the carnage being heaped upon him Cotero caught him flush on the jaw with a thunderous right hand. Moreno went down hard. Moreno was too weary to rise and remained on the canvas for the full count.                 
Moreno took a well deserved rest and returned to Los Angeles six months later to take on Ike Chestnut the second ranked featherweight in the world. Ike's record was 29-8-3, with 4 kayos. He had never been stopped. His record in California was an all winning one. He went to the post five times with five victories. His last victim was Jose Luis Cotero whom he outpointed in Hollywood just two months prior.  Ricardo earned a number six ranking and a title shot at featherweight champion Hogan (Kid) Bassey when he stopped Chestnut in six rounds.   
On April 1, 1958 21-year-old Ricaro (Pajarito) Moreno, Mexico's "Little Bird" met featherweight champion Hogan (Kid) Bassey before a crowd of over 20, 000 in Wrigley Field, Los Angeles, California. The champion seemed determined for a quick victory and rushed Moreno at the opening bell. It was the kind of tactics Moreno favored. Moreno wasn't as polished a ring technician as the champion, but one thing he could do was punch, and a wild swinging brawl was just what he wanted. It didn't take Bassey long to realize he had chosen the wrong tactic. Several times in the round Moreno jolted him with vicious left hooks to the head and body, and late in the round a right hand had the champion skittering backward into the ropes. Bassey also suffered a slight cut over his left eye. Bassey came out more cautiously for the second round and started picking his spots. Realizing he was much faster and craftier than his challenger, Bassey opened up with everything in his repertoire.  He repeatedly landed left jabs, straight rights, left hooks and right uppercuts on the onrushing Moreno. Moreno fought back stubbornly. Late in the round a right uppercut buckled his knees. Another uppercut knocked out his mouthpiece just before the end of the round. By the middle of the third round it was obvious that the end was near. Bassey was catching Moreno with deadly combinations and was battering him from one side of the ring to another. Finally a hard right hand caught the dazed Moreno square on the chin and dropped him on his back. Instinctively Moreno was struggling to rise when the referee finished the count with two seconds left in the round.  
Later in the year after two knockout victories Moreno met future featherweight champion Davey Moore in Los Angeles and was knocked out in the very first round. For all intents and purposes the Moore fight finished Moreno as a serious contender. He fought on until 1967 with moderate success. He was able to knockout some reasonably good fighters from time to time, but every time he stepped up with the better fighters he was unceremoniously knocked out. Finally after suffering two consecutive knockout defeats in 1967, 30-year-old Ricardo (Pajarito) Moreno retired for good. His final ledger was 60-12-1, with 59 kayos. He himself was stopped nine times. 
In 2003, Moreno was named to the Ring Magazine's list of 100 Greatest Punchers. 
MAY HE rest in peace!