Wilbert Skeeter McClure:  THE GOLD STANDARD
By Austin Killeen
(Published in IBRO Journal 97, March 2008)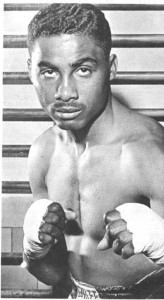 October 29, 1938. . . In the 22 Brand-Whitlock Homes, a Federal Housing project in intercity Toledo, Ohio, a young girl was in labor for the 1st time in her life.  An anxious husband paced in the hallway outside their bedroom.  Dr. Hart had everything under control when he announced that a baby boy had just arrived into the world.  An announcement that was difficult to hear over the newborn's first cries for breath.  When the new father entered the bedroom to see his first born he exclaimed "why he's no bigger than a skeeter!"  Thus a newborn child had a nickname before he had a first name.  Wilbert Jessie Lamont and Evelyn McClure were the proud parents of little Wilbert McClure.
Both Mr. and Mrs. McClure were fervent readers. As a result Skeeter's earliest childhood memories included libraries and books.  He stated that his father had studied French in college and along with his mother, who was an avid reader, always had books and magazines in their home.  The McClure's placed a high value on the importance of education, which they impressed upon their children.  Entering Gunckel Elementary School, young Wilbert could already read and by the 5th grade was writing short stories.  Shy and introverted Wilbert could travel anyplace in the world and journey through time by escaping into a world of fantasy.  His writing skills improved when he learned how to look up facts in the encyclopedia and weave them into his short stories while attending Robinson Junior High.
His childhood was a happy experience because his parents gave him the most important gift of all, their time!!  He was the oldest of five children; followed by Jerry, Stanford, Ronnie and Deena.  His early life was touched by one unpleasant memory, which occurred when he was eleven years old.  Skeeter was playing in the yard with his 4 year old brother Ronnie.  Like all 4 year olds, Ronnie was outgoing and full of energy.  Running across the lawn, the younger McClure tripped and struck his head on the front steps.  It appeared to be a typical childhood accident and ice quickly took down the swelling.  Four days later while eating supper, Ronnie went into convulsions.  Rushed to the hospital by his parents he never recovered.  It was difficult for Skeeter to share this painful childhood experience, but telling the story seemed a way of keeping the memory of his little brother alive.
He grew up at 625 ½ Division Street, in a predominately black neighborhood.  Although blacks found it very difficult to buy a home in certain sections of the city, the school system was integrated.  Being an exceedingly bright child, he was always placed in the highest academic track in school.  Enrolling at Scott High School he was placed in the college preparatory classes.  Wilbert's education was rigorous, not play, which provided him with exceptional prospects upon High School graduation!!
His section of town, although tough, was not dangerous.  There were no gangs and any arguments were settled one-on-one.  The only problem that Wilbert had on the playground was his nickname; as Skeeter rhymes with _ _ _ _ _.  Once Skeeter showed his schoolmates the proper way to use a verb in connecting 2 nouns, the problem was eliminated.  At no time was there any indication of a potential pugilist in the making.
In the summer of his 13th year Skeeter was sitting on the porch when one of his friends came over and said lets go to the boxing Gym.  Having no idea what that meant he asked "what's a boxing gym?"  I knew about Joe Louis but that's about it.  We walked across town to arrive at our destination.  When we opened the door I was assaulted by the grunts of boxers sparring, the smell of liniments, the rat-tap-tap of the jump rope striking the floor and men shadow boxing.   When I hit the heavy bag I almost broke my wrist because I didn't know what I was doing.  When we were about to leave, I remember saying "I love this place!!"
"My friend never went back, but I walked their everyday and usually got a ride back.  I'd put my gear in a paper bag and head out for the Local 9 Union Gym.  Nobody showed me anything, I'd just copy what I saw the boxers doing.  After a few months, they moved the gym across town across the street from the Brand-Whitlock Homes where I lived.  The gym was located in the Port Lawrence Homes.  It was called Larry and Al's Gym.  I didn't know diddley yet about boxing, but that gym housed 3 out of the 8 national champions.  It was amazing; we had three national Golden Gloves champions in our gym, while the rest of the nation had to share the other five."
"I'd study the three GG titlists in our gym daily and slowly I'd learn.  I was too shy to ask for help; in fact I wouldn't even take showers or get undressed in front of the other fighters. Finally I asked Herb Mickles (one of the three golden glove champions), he was a lightweight and a southpaw, "could you teach me how to punch fast like you." He showed me how to move my chest and shoulders to increase my speed, as I was just and arm puncher lacking both power and leverage.  Thanks to Herb Mickles, I developed hand speed which became one of my biggest assets throughout my amateur and professional careers.  The other outstanding amateurs were welterweight Franklyn Flaggs and bantamweight Carmen Williamson.  To me, boxing was like solving a problem and had nothing to do with ego.  Watching these three dazzling young men provided the skills needed to be an exceptional boxer!  Mickles, Flaggs and Williamson were my tutors."
In December of 1952 Skeeter had his first amateur bout.  Like most boxers new to amateur competition, he suffered his share of losses.  But he was determined not to lose in the same fashion twice.  By the following year his hard work at Larry and Al's Gym was starting to pay off.  He won the Toledo, Ohio novice golden gloves title.  In 1954 Wilbert first attracted attention when as a 10th grade high school student he won a decision over Teddy Wright, five years his senior.   The attention didn't last long for in his next bout he was stopped in 2 rounds by Henry White of the Air Force/Cincinnati, Ohio.  This was in the semifinals, of the National golden Gloves 147 pound championship March 11 1954 in Chicago, IL.   Using a body attack against his taller opponent, Wilbert carried his gloves low allowing White access to his exposed head.  "I was dropped by an overhand right to my uncovered jaw but was able to rise before the 10 count.  The referee stopped the bout which was probably the right thing to do as I was employing the wrong strategy."  It would prove to be the only time that McClure failed to go the distance in his amateur career.
One month later, Scott High School's 10th grade sensation was in Boston fighting in the finals of the National AAU 156-pound championship. Skeeter's opponent was southpaw Frank Davis out of Fort Wayne, Indiana.  Davis was a highly decorated amateur; Fort Wayne Golden Gloves 119-pound champion, 1949; Western Golden Gloves 119-pound semifinalist, 1949; Fort Wayne Golden Gloves 119-pound finalist, two-time All-Air Force champion; two-time European American Forces champion; three-time International Service champion; North African 156-pound champion. National AAU 156-pound champion, 1955; Pan American Games Trials 156-pound finalist, 1955; representative of the United States on a seven-match boxing tour of Europe, 1955; National AAU 156-pound champion.  The hard punching veteran was too much for his high school opponent hooking his way to an easy decision in the finals.
By 1958 Skeeter was a sophomore at the University of Toledo and continuing to show improvement.  This was evidenced by winning the Western Regional Golden Gloves 160-pound championship in Chicago, Illinois.  Two weeks later Wilbert would suffer a reversal of fortunes, losing a decision to Jose Torres in the finals of the Intercity Golden Gloves 160-pound championships in New York City.  Three weeks later it was déjà for Skeeter, losing a decision in the finals of the National AAU 156-pound championship in Boston to William Pickett.  In August of that year, Skeeter bounced back to win the International Diamond Belt 156-pound championship in Mexico City.
In 1959 Wilbert would come into his own, establishing himself as one of the best amateurs in the country!  Once again he won the Western Regional Golden Gloves 160-pound championship in Chicago, Illinois, defeating Herbert Wills.  Watching highlights of the bout, I was amazed that the hard punching, muscular Wills was no match for the blazing hand speed of Toledo's top export.  The tricks that Herb Mickles showed Skeeter regarding hand speed, seven years earlier, were paying off!!  Two weeks later, Wilbert captured a decision over Melvin Fulgham to win the Intercity Golden Gloves 160-pound championship in the "Windy City."  In April of the same year McClure showed fire power in both hands scoring three KO's to win the National AAU 156-pound championship; and be named the most outstanding boxer in tournament.  The same month, Wilbert Jessie Lamont and Evelyn McClure's son traveled to Madison, Wisconsin to win the Pan-American Games Trials 156-pound championship.  Skeeter closed out the year winning the Pan-American Games 156-pound championship in Chicago, Illinois.  Without question it appeared that McClure was the favorite to win a spot on the 1960 U.S. Olympic team.
McClure's Olympic aspirations took a strange turn when his Coach, Buddy Carr of the Police Athletic League Gym, held a press conference to announce that Skeeter might not try out for the U.S. squad.  Wilbert's problem, trying out for the Olympics would not allow him to earn tuition money for his senior year of college.  When the President of the University of Toledo, Dr. William Carlson, heard of the press conference, he had a surprising response.  Urged on by Mayor Michael Damas, Dr. Carlson offered McClure free tuition for his final year of school.  This was considered repayment for all the free publicity the University and city had received over the last three years and would receive during the Olympics.  Skeeter could now postpone his final year of college and pursue his dream of representing the U.S. in Italy.
1960 would prove to be Skeeter's year.  He started off repeating as the National AAU 156-pound champion.  This included a 2nd round KO of Larry Carney of Lowell, Massachusetts, a legend in New England fight circles.  I was amazed that Skeeter who lives in Newton, Massachusetts was not even aware that he had fought Carney.  McClure next traveled to San Francisco, California, to win the Olympic Trials 156-pound championship. This included an exciting victory over Eddie Crook in the semi-finals.  Skeeter had to come back from a standing 8-count at the start of the 1st round.  Amazingly Cooke was dropped at the end of the same round and again in the 3rd.  He then secured his place on the team by winning a decision over Jimmy Ellis in the finals.  Although both boxers have extremely fast hands, McClure's combinations proved too much for the boxer from Kentucky in viewing highlights of the bout.  Skeeter would represent the 1960 United States Olympic team at light-middleweight.
On August 30, Skeeter won his opening bout of the Olympic Games with a decision over Francis Nyangweso of Uganda.  The win came with a price, a badly swollen right hand when his fist bounced off the top of the Ugandan's head in the 3rd round.  The condition of his right hand remained that way for the remainder of the games.  Next up, a points win over Celedonio Lima of Argentina on September 1st.  It wasn't easy as McClure had to get off the canvas in the first round to grab the verdict.  Skeeter was forced to use his swollen right hand, which only made the injury worse.  Two days later, McClure won the semi-final with a hard fought decision over Boris Lagutin of the Soviet Union.  Skeeter suffered a bloody nose, but rocked his opponent several times providing one of the Olympics' best displays of boxing to date.
In his fourth bout in seven days, the pride of Ohio captured a decision over Carmelo Bossi of Italy.  The Italian seemed to have the bout won going into the last round, but McClure fighting through the pain in his right hand closed strong.  Several times Bossi was staggered and looked glassy eyed but fought back desperately. At the bouts conclusion, McClure had his gold medal (as did Eddie Crook MW and Cassius Clay, LHW, for the USA) and a hero's welcome when he returned home to Toledo, Ohio.  Wilbert (Skeeter) McClure's final amateur record was an impressive 138 wins and 10 defeats against the best competition in the world.   
Before turning pro, Skeeter returned to the University of Toledo to complete his senior year of college.  In June of 1961 he graduated with a Bachelors of Education in English with a minor in Science and History.  Plan B for Wilbert was a career in teaching if boxing didn't pan out.  Ironically, the day of his graduation he received his draft notice for induction into the U.S. Army.  Before reporting for Basic Training at Fort Leonard Wood, Missouri in September, Skeeter turned pro scoring 4 wins, 2 by KO.  He was named Middleweight Prospect for the Month in the October 1961 issue of The Ring magazine. Upon completion of basic training, Wilbert was stationed at Fort Devens, Massachusetts.  Skeeter racked up five more wins before he was given time off to meet Farid Salim in August of 62' in the main event at Madison Square Garden.  The veteran Salim had lost only 2 of 41 bouts, which included wins over Teddy Wright and Joey Giambra.  Veteran boxing scribes started to question the wisdom of rushing such a fine your prospect.  Entering the ring as an 18 to 5 underdog, the Toledo native gave an exhibition of clever boxing and combination punching to capture a unanimous decision over the frustrated South American. He returned to his hometown for a ten round decision over experienced Tony Montano, snapping Montano's 8 bout win streak.
In October of 62', McClure found himself back at the Garden headlining against Gomeo Brennan with a 52-6-5 record.  This was a tall order for a youngster of only 10 pro bouts.  Brennan had been in the ring with the likes of Luis Manuel Rodrigues, Holly Mims, Wallace Bud Smith, Charley Cotton and Jimmy Martinez, while never being off his feet.  Once again, McClure's brain trust was being called into question.  Why was he seemingly being rushed so early in his career?  Watching film of the match, I saw the crafty Brennan catch McClure with a clean right hand in the opening round.  Toledo, Ohio is known as the glass capital of the world, luckily there was no glass in Skeeter's chin, otherwise he would have been on his back.  The crafty veteran repeated the process again in the 5th round, with the same results; McClure looked like he was caught in an earth wake.  In an exciting bout, Skeeter was landing 4 and 5 punch combinations, causing Gomeo to stop dead in his tracks.  In a sensational 10th round, McClure had Brennan out on his feet, but the iron chin native of the Bahamas' refused to go down.  The crowd gave their roar of approval when Skeeter was awarded a unanimous 10 round decision.  
The Army came under fire when it was learned that McClure would continue his career while stationed at Fort Devens.  As a result, he was shipped to Frankfort, Germany for the majority of his remaining military duty.  In spite of his new location, McClure continued to follow his pugilistic ambitions.  While stationed in Germany, PFC McClure scored a 6 rd TKO over Nick Maric in Dortmund.
 In April of 63' McClure returned to his hometown to score a unanimous decision over Teddy Wright, 44-10-6.  Skeeter displayed an excellent body attack and blazing hand speed in repeating his win over his former amateur rival.  The hard hitting Wright was no stiff, having beaten Garnet (Sugar) Hart, Don Fullmer, Bruno Santini and Luis Federico Thompson.  Skeeter's record was now 14 and 0 with 6 KO's and he was rated number 9 in Ring Magazine.  
At the request of Skeeter, I won't identify his management team, but one has to wonder what they we're thinking when they selected his next opponent; Luis Manuel Rodrigues, pound for pound one of the best boxers in the world!  Like Muhammad Ali, McClure was articulate, good looking, a gold medal winner, a very talented boxer/puncher and a college graduate. In short he had the ability to transcend boxing, and appeal to the general public!!  One can only imagine what a spokesman he could have been to intercity youth of all color; that a person could achieve anything if they just applied themselves.  Brought along properly, it appeared that McClure could have owned the world; instead his career would resemble the stock market crash of 1929!
Having viewed both Rodrigues I & II, the bouts are similar.  In the first match McClure was dropped in the 3rd round in the same manner that Gomeo Brennan hurt him in their fight.  Amazingly, Skeeter got off the canvas to outfight Luis for the remainder of the round.  Throughout the fight Wilbert's combinations troubled Rodrigues, leaving veteran TV commentator Don Dunphy, to wonder who would receive the verdict.  The Cuban stylist lost one round for low blows, which contributed to Dunphy's comment.  When the unanimous verdict was announced in favor of Rodrigues, it got a mixed reaction from the crowd at Madison Square Garden.  Although the decision was probably just, Skeeter felt he lost, why take a second fight two months later in Rodrigues' hometown, Miami Beach, Florida.
Rodrigues II starter off better than their 1st bout, with Luis having a round deducted for low blows.  The 6th round appeared to be Skeeter's best of the fight, catching his Cuban foe with combinations to the head and body.  With 8 seconds remaining in the round, Rodrigues once again dropped McClure with an overhand right. What should have been a one point round for Wilbert was now a two point round for the Miami native.  Although he fought back in the remainder of the match, the spark had gone out of the Toledo native.  There was no question about the unanimous decision; McClure was now 14 and 2.
After a couple of quick wins, McClure was brought back to Madison Square Garden to face Jose Torres.  One question has to be asked, why?  Torres was 4 fights away from winning the Light heavyweight championship of the world from Willie Pastrano in a blowout.  In 10 one-sided rounds, Jose captured a unanimous decision.  Only McClure's strong chin and determination allowed him to go the route.  After viewing the bout, I asked Skeeter if he had lost interest in the sport, he assured me that was not the case.  He stated he was just flat and listless as sometimes happens to athletes in all sports.  Skeeter compared the Torres bout to the Patriots/Giants Super Bowl Game.  Wilbert had 14 more fights going 8-5-1, including a draw with Rubin (Hurricane) Carter.  For all intents and purpose, his career ended with the Torres bout.  One can only wonder what would have happened if he had had the same guidance as Muhammad Ali with Angelo Dundee for a trainer.
Retiring from boxing, Skeeter McClure earned a Master's in Education, majoring in counseling and a Ph.D. in Counseling Psychology both from Wayne State University in Detroit.  Dr. McClure became an associate professor at both Northeastern University in Boston, MA and Brandeis University in Waltham, MA.  In the early 90's he was appointed Massachusetts State Boxing Commissioner.  Today he operates a management training and consulting firm, including work for the New Hampshire State Prison System in Manchester, NH.  The 2nd Tuesday of each month,  the soft spoken, erudite Dr. McClure can usually be seen attending the Pugs Luncheon at Florian Hall in Dorchester.
Skeeter McClure, Tony DeMarco and Dan Cuoco @ Florian Hall