BOONE KIRKMAN:  FISTIC FRANCHISE OF THE PACIFIC NORTHWEST
By Austin Killeen
(From the December 2008 issue of the IBRO Journal)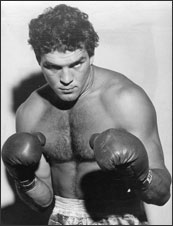 Daniel Victor Kirkman took his 1st breath in Vallejo, California on February 6, 1945, where his father was stationed in the Navy.  Upon his discharge from military service, Oehm Kirkman moved his family back to Renton, Washington where his grandfather first settled in the 1880's.  A suburb of Seattle, Renton would become the laboratory that would produce one of the most exciting boxers to emerge from the Pacific Northwest in sports history. 
Daniel Kirkman's earliest memories involved hunting, fishing and hiking trips in the mountains, forests and lakes of Washington State.  His older brother Steve and his Dad were his companions on these outdoor adventures.  Fishing lines always seemed to tangle and he had little interest in shooting at anything.  However, he loved the hiking aspect of all these activities.  Little Daniel constantly stopped to examine trees, bushes, shorelines and trails on these family outings.  This caused his father to give his inquisitive son the moniker Boone after Daniel Boone the famous frontiersman.  The nickname stuck and so did his love of the outdoors thanks to his dad and brother Steve.  
Boone's interest in pugilism was first kindled when a middle school companion handed him a book.  Kirkman, who up to this time had never developed a reputation as an ardent reader, was quickly drawn to the story of Rocky Graziano's "Somebody Up There Likes Me".  To the amazement of his friends, Boone devoured the manuscript in record time.  Adding to his pleasure was the acquired knowledge that the book had been made into a movie and was being shown at the neighborhood theater.  Renton's newest member of the Book of the Month Club was fascinated by Paul Newman's portrayal of a young thug from Brooklyn who rose above his environment to become middleweight champion of the world. 
It wasn't much of a stretch for Boone to identify with Graziano as he was developing a reputation around Renton for his ability as a debater, substituting fists for words.  Additionally Kirkman belonged to a gang called the "Buds."  Boone stopped the interview to show me tiny tattoos, smaller than the head of a pencil, on the middle finger of each hand.  They were in the shape of a small flower which hadn't blossomed.  Boone stated: "when we would break up at the end of the day to go our separate ways, we'd hold up our middle finger and say to each other 'this buds for you'."  He was quick to point out that the Buds were a social group of about 20 members, interested in drinking, smoking and trying to figure out ways to pickup girls.  The Buds were not into street crime, public boisterousness or hurting people.  Today the surviving Buds are still close and try to socialize from time to time.  It's not clear if the Buds have the same goals as they did when they were teens.  (Just kidding Boone). 
Excited that his son was interested in something besides the "Buds", Oehm took him to the Golden Gloves finals that year.  A boxing venue has its own distinct ambiance; the smell of stale beer and cigarette smoke plus the crowd reaction to the drama taking place in the ring.   Dan was fascinated by what was happening in the square circle.  Although in awe of what was taking place he was not intimidated in the least!  When the winner of each weight class was awarded his championship jacket, Daniel said to his father: "you'll see me up there someday, wearing a Golden Gloves Jacket." "I don't know if he heard me but he did help me take the next step in my love of boxing." 
 His new found passion caused his dad to take Boone to Joey Velez's gym in West Seattle.  Velez was an outstanding pro in the late 40's and early 50's having 49 bouts against the likes of Henry Davis and Jackie Blair.  In retirement he was a local celebrity running a Saturday morning TV show called "Madison Square Kindergarten."  Boys ages 6 to 12 fought in 3 weight classes; Flea, Gnat and Paper division.  The 14 year old Boone was obviously too old and big for Velez's show.  Curious, Velez put the gloves on and went a few rounds with Boone himself.  Impressed he said "I want this kid!"  Realizing he couldn't adequately meet Kirkman's immediate needs because of his TV commitments, he recommended a gym on the other side of town. 
Acting on Joey Velez's counsel, Mr. Kirkman brought his son to the Skyway gym in South Seattle.  It was love at first sight, as the "Renton Revolver" loved his new classroom.  Although he quickly found out his skills in the street were of little use in the ring, Boone was not discouraged.  Every day after school he would take the bus into Seattle to box.  Skyway had many pros working out, including welterweight Quincy Daniels the bronze medal winner in the 1960 Rome Olympiad.  Boone soon found out the meaning of the word "tweener", too old for Joey Velez's gym but too young for the amateurs.  Although big for his age, he was no match for the pros at Skyway.  Added to this, the daily bus ride from Renton after school was growing old.  Unable to have a single match in the amateurs, the "Renton Revolver" retired from boxing.  
Fortunately his retirement lasted little more than a year; otherwise it's safe to say this interview would have never taken place.  (Just call me the king of stating the obvious!!)  Returning to the Skyway gym Boone hooked up with Bill Brant, a trainer who worked exclusively with amateurs.  Although game, young Boone would win one, lose one, repeating this pattern over and over.  Not exactly the resume of a future world contender but providing the Renton native with much needed ring experience.  With approximately 12 bouts under his belt, Brant entered his young charge in the Tacoma, Washington Golden Gloves in 1962.  To the surprise of many, Boone got hot winning the title with victories over the infamous Norm Perkypile, Joe Flood, a Tony Galento look-a-like  and the defending champion Charles Carrington, who had previously defeated Kirkman.  Unfortunately his success came with a price; a broken thumb.   
With his amateur career on hold due to his injury, Boone and a friend, Doug Thiessen a fellow Bud, decided to leave town and head for Hawaii!  Staying in a two room shack and cashing unemployment checks they were able to meet expenses.  They spent the next three and a half months on the white sandy beaches of Waikiki on the island of Oahu, surfing and watching bikini's entering and exiting the foamy ocean waves.  During this time Boone had time to reflect on his ring future.  Winning the gloves showed he had some potential, but he'd have to quit smoking and work much harder if he hoped to progress.  With his thumb healed, it was time to resume his pugilistic endeavors and return to Renton.  The fact that Boone and Doug had run out of money, may also have been a factor in their return to the Pacific Northwest. 
Switching gyms, Boone trained under the watchful eye of Marino Guiang at the Cheery Street Gym in the Pioneer Square section of Seattle.  Although still friendly with Bill Brant, his old trainer wasn't interested in making a full time commitment with Kirkman.  Boone's new found dedication would prove his golden gloves title was no fluke.  Tearing through the AAU's he lost in the finals to a marine.  Dropped in the second round, the referee stopped the bout feeling Kirkman was in no shape to continue.  The Renton native disagreed with the 3rd man's decision, but was hardly discouraged by the setback.  This seemed to only increase his resolve to become a success in the sport he loved. 
1965 would prove to be Boone's best year in the amateurs, going undefeated and winning the National AAU finals in Toledo, Ohio on national television.  One of the ringside commentators was Archie Moore, and the former light heavyweight champ was impressed with Kirkman's hitting power.  The pride of Renton electrified both ringsiders and TV viewers alike, stopping all three of his opponents in the finals.  Returning to Seattle he found he was the toast of the town!!  Looking at scrapbooks put together lovingly by his mother Marguerite (eight scrapbooks when I stopped counting), I was amazed by the media coverage he received.  The mayor declared it "Boone Kirkman day" and a banquet was held in his honor.  His scrapbooks included letters from politicians congratulating him on his success and for bringing positive coverage to the community.  The only questions left; when would he turn pro and who would be his manager.
There was no lack of suitors, with Joey Velez and Jack Hurley being among those interested in handling his affairs.  Ultimately, the veteran boxing personally Jack Hurley was selected because of his many years of experience and connections in the sport.  You couldn't make up a character like Hurley, as they threw away the mold when this Damon Runyon like personally was born.  Reading a column in one of the local papers, Hurley ranted about Boone's total lack of talent.  "People say this kid's a terrific puncher, well this kid doesn't even know how to stand much less throw a punch.  It'll take months just to make him look like a pug and even than I don't know if he'll be capable of getting in a ring."  Hurley went on and on about Kirkman's total lack of talent, leaving one to wonder why he ever agreed to handle Boone's affairs.
Not only did Jack Hurley turn Kirkman pro, his young charge was in the main event!  In our interview Boone took great pride in stating he never fought on an undercard, always getting top billing.  It would have to be a short list of pros that could make a claim of always being in the feature bout.  For the record, Renton's native son turned pro in Boise, Idaho, scoring a 1st round KO over Lou Phillips on April 1, 1966.  The fight might have been on "April Fool's Day" but Jack Hurley was nobody's fool!!  After 10 pro fights, Daniel Victor Kirkman was undefeated with 7 bouts ending early.  Apparently he had learned to stand, punch and resemble a pugilist.  In addition, Ring Magazine selected Boone the heavyweight prospect of the month in their October 1966 issue.
Eddie Machen was next on the Kirkman dance card.  Although past his prime, the legendary Machen was hardly easy pickings. Just 10 months earlier, Machen had given undefeated Jerry Quarry a boxing lesson over 10 rounds in Los Angeles, California.  Apparently sports fans in the area felt Machen was a viable opponent as over 11,000 tickets were sold, establishing an attendance record that was the largest in history for an indoor boxing show in Washington State.  People in attendance at the Seattle Coliseum weren't disappointed as Deacon Jack Hurley's protégé won in convincing style, scoring a 3rd round TKO.  Kirkman was rocked by a counter left in the 1st round, but quickly gained control of the fight.  Backing Machen into the ropes late in the 2nd round, Boone dropped Machen with an overhand right.  Twice more in the 3rd the California native tasted the canvas, causing referee Jim Rondeau to stop the bout.  This would prove to be Machen's last fight and made the Renton native a box office magnet.  Boone Kirkman was now the face of boxing in the Pacific Northwest. 
Veteran Doug Jones was next, and he proved his advance billing had not been exaggerated.  In the 1st round the New Yorker opened a bad cut over Kirkman's left eye, which would be completely closed by the 5th round.  For his part Boone was landing hellacious body blows on the Easterner, causing Jones great pain.  The 7th round was Kirkman's best of the night, with Jones sagging on the ropes at the end of 3 minutes.  With the crowd of over 15,000 screaming fans on their feet Kirkman never heard the bell.  Boone thought the 3rd man had stopped the fight, when he stepped between them.  Realizing his mistake, he returned to his corner only to have the ring physician halt the bout due to the worsening condition of his eye.  The audience went ballistic when they realized the match was over and the local hero had suffered his 1st loss.  6 weeks later, Kirkman turned the tables on Jones, stopping him in the 6th round with a brutal uppercut to the jaw.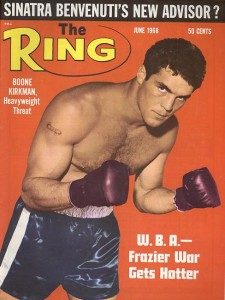 With mouth dropping attendance numbers at his fights, Kirkman was proving to be much more than a local boxer.  The Renton sensation meant big business for the bars and restaurants of Seattle and Renton, both before and after his matches.  In addition, his bouts meant an evening of employment for police, ushers, tickets sellers, concession stand personnel and area parking lots supporting the Seattle Coliseum's hot attraction.  "Boone Kirkman mania" had struck the Pacific North West and it meant big $$ for the local economy.  Over the course of the next year, Boone entered the ring 6 more times scoring 6 victories with 5 ending early. In May 1968, Ring Magazine recognized Boone's accomplishments, ranking him 8th in the world.  The following month, his picture was on the cover of Ring Magazine, confirming his arrival as a major attraction in the sport.  Training for a match with Wayne Thornton in the fall of that year, Seattle's "cash cow" was suddenly put to pasture.  Sparring with Wes Craven, Boone suffered an injury to his collar bone when he was hit with a left hook to the shoulder. The injury was much worse than first indicated, requiring surgery, and over a year of inactivity for the shoulder to properly heal.
January 1970 saw the return of  "Boone Kirkman mania".  It was as if he had never left the ring, reeling off 4 KO's over the next 6 months.  By now the entire country was aware of Seattle's secret and Boone was awarded the biggest fight of his career; a match with George Foreman, 1968 Gold Medal winner, at Madison Square Garden.  Tickets sales were incredible, as two of boxing newest young stars were about collide.  The demand to witness the bout in Seattle was absurd.  This resulted in close circuit locations being set up in 5 venues around the greater Seattle area.  Tickets were gobbled up faster than truffles in a pig's trough, with all 5 locations sold out.  All that remained was the fight itself.
With the combatants waiting in their respective corners for the time keeper to send them into battle, the tension was palpable!  Viewers in both Madison Square Garden and the 5 Seattle venues were holding their collective breaths as an explosion was about to take place.  At the clang of the bell, Foreman rushed across the ring and pushed the astonished Kirkman to the canvas.  Referee Arthur Mercante cautioned the Texas native regarding his inappropriate behavior, but the psychological damage had been done.  It was as if Boone had become mentally unglued by Foreman's actions.  Kirkman quickly found himself on the canvas again, compliments of several brutal overhand lefts and rights.  Whether it was the tension of fighting in the "Mecca of Boxing" or George's opening round antics, the Washington State import was finished.  Lurching about the ring, he appeared to be wearing invisible roller skates while George continued to rain punches on his confused foe.  The match was halted in the 2nd round, saving Boone from further damage.
The bitter taste of defeat was softened somewhat by the fact that Boone Kirkman had received the largest purse of his career for his garden appearance.  Unfortunately the payoff from the 5 sold out close circuit locations in Seattle was a joke.  Apparently the accountants later used in the Enron scandal kept the books for the close circuit venues.  Boone's compensation was a joke, and no explanation was ever given. 
This resulted in a confrontation between teacher and student.  For a long time Hurley and Kirkman had disagreed regarding the importance of sparring partners and a partnership agreement calling for a 50/50 split of purses which was rather severe.  Matchmaker Teddy Brenner had offered Kirkman the use of several quality sparring partners when he arrived in New York.  However, the offer was dismissed by Hurley.  Also, standard contracts of the day usually gave the fighter 2/3rds of the purse.  As a result, the Hurley/Kirkman partnership officially ended.  In our interview, Boone was hesitant to discuss this sensitive issue as Hurley had passed on and obviously couldn't offer his input. However, Boone did admit that the knowledge acquired from Hurley was invaluable to his career.
For the next 2 years Boone would take a leave of absence from the sport to contemplate his future.  During his inactivity he became a partner in the Melrose Grill.  Established in 1901, the Melrose Grill had become one of the most popular watering holes and eating establishments in Renton, Washington.  Over the next 4 years it would also prove to be one of the best places to celebrate Boone's victories.  I had the pleasure of eating there as the guest of Boone and his lovely wife Terese, during our interview.  His partners at the Melrose Grill, Rex and Tim Baggett, would ultimately become Boone's new managers, forming B & B Boxing Promotions.
Launching a comeback in January 1973, Boone won 10 straight with half ending early.  This included an exciting split decision win over former Heavyweight Champion Jimmy Ellis.  Kirkman proved that he could still fight, and that he was still magic at the box office with over 10,000 in attendance.  Watching a DVD of the Ellis fight, I couldn't believe the astonishing pace the combatants fought at.  Dropped by an Ellis left hook in the 3rd, Boone's legs resembled that of a marionette whose strings had been cut.  Fortunately for the Renton native, an excited Ellis went head hunting and let his advantage slip away.   Over the next 4 rounds Kirkman was able to dominate the arm weary Louisville, Kentucky native.   With new found energy, Ellis closed strong but Boone was just as determined, to the delight of the fans.  Cutting off the ring, Boone would pin Ellis on the ropes landing brutal body punches.  For his part, Ellis employed excellent lateral movement to land an assortment of counter punches to Kirkman's head and body.  Newspapers covering the fight called it one of the best seen in the area in many years.  As a result of his win streak, Ring Magazine ranked Boone 7th in their heavyweight rankings. 
With several big money fights on the horizon, Kirkman took a bout in Dallas, Texas to stay busy.  His opponent Al Jones of Memphis, Tennessee had reportedly been licked more times than a dog bone.  Jones fought as advertised, hitting the canvas 4 times in the first two rounds.  When the bell rang at the start of the 3rd, the Memphis import appeared to still be in a semi-conscious state.  Wobbling across the ring to meet his fate, Jones threw a desperation right which miraculously found the point of Kirkman's chin.  Hitting the canvas hard, Boone's head bounced off the canvas leaving him unconscious for over 5 minutes.   Entering Jones' dressing room 30 minutes later to seek a rematch, Boone found the asking price to steep.  Jones wanted a king's ransom in exchange for a second bout, insuring that it would never happen.  Ring Magazine selected this fight as the upset of the year.
Despite the setback, Boone was awarded a bout with top ranked Kenny Norton who held a win over Muhammad Ali.  Once again Boone showed what an attraction he was with over 11,000 in attendance and a new record for cash receipts at an indoor fight in the State of Washington.  Unfortunately his performance was inversely proportional to the hard cash collected at the turnstiles.   Boone appeared listless and over trained while Norton was at his best.  Using a sharp left jab and punishing uppercuts, the San Diego native was seemingly able to penetrate Kirkman's defense at will.  Dropped at the end of the 7th round, Boone failed to come out for the start of the 8th.  Much of the media was hard on Boone's performance, urging him to retire before getting hurt.
Hoping to get a new lease on his boxing life, Kirkman hired legendary fight trainer Eddie Futch to resurrect his career.  Futch, who had trained former heavyweight champion Joe Frazier, was up for the challenge.  The media skeptics stated that either Futch was a miracle worker or this was going to be Boone's swan song in the world of boxing.  Kirkman's new mentor showed his confidence in his new charge by getting a fight with 3rd ranked heavyweight, Ron Lyle.  The promoters were fine with the match as Kirkman's name was synonymous with currency.
Futch indeed appeared to be a miracle worker as Kirkman looked sharp.  Both boxers elected to work on the inside, with neither willing to take a backward step.  By the 2nd stanza, Lyle had opened a bad cut under Boone's left eye; a cut that would get worse with each passing round.  Not discouraged, Boom-Boom seemed to get stronger as the fight progressed.   Entering the 8th, Lyly had a slight lead on two cards, with the 3rd judge scoring the fight even.  Landing terrific body punches, Boone appeared to be taking the oxygen from the Denver native.  Separating the fighters, the referee asked the ring physician to examine Kirkman's cut.  By now it had become a deep inch long gash below the left eye.  Fearing further damage if the bout continued, Dr. Alex Grinstein halted the match.  The victorious Lyle had secured a title bout with Muhammad Ali, a bout that could have been Kirkman's.
After a short rest, Boone traveled to Philadelphia to spar with Joe Frazier in preparation for a fight in England with Joe Bugner.  Commenting on "Smoking Joe", Kirkman stated the ex-champ had a terrific overhand right and was not just a one handed puncher as some of the Philadelphian's critics have stated.  Apparently he could punch too.  Arriving in London, Boone noticed his nose was bleeding a lot.  X-rays taken at the hospital showed he had a hairline fracture and the bout was canceled.  Once again the injury prone boxer was on the shelf.
With his nose apparently healed, Boone was selected to be part of George Foreman's 5 opponent exhibition held in Toronto, Canada in April 1975.  This was Big Georges first public outing since losing his title to Ali in Zaire.  It was more like a traveling tent show than a boxing presentation, with Foreman acting as the carnival strong man.  To his credit Kirkman along with Charlie Polite were the only participants to last the full 3 rounds, with the others going to sleep early.  In the 2nd round of his match, Boone got Foreman's attention with a hard left hook to the head.  For his efforts, the Renton boxer was well compensated by promoter Don King.
After a 4 month layoff, Boone was offered a fight on national TV against light hitting, but capable boxer, Randy Neumann.  In an attempt to revive the Friday night fights, a staple on television for over 20 years, matches were held for seven consecutive weeks.  Neumann and Kirkman were paired up on the final week.  Randy was a bit of an anomaly for a heavyweight, in that most big men have a good punch regardless of ability.  It was rumored the New Jersey native didn't eat eggs as he couldn't crack the shells.  He more than made up for his lack of a punch with an excellent jab and sound defensive skills.  As for the match itself, Neumann gave Boone a boxing lesson for the entire 10 rounds to capture an easy decision.  The Renton boxer chalked it up as "one of those night" and announced his retirement after the bout.  Having lost his last 4 fights, it seemed pointless to continue.
After a hiatus of one year, in which he sold his ownership in the Melrose Grill, Boone announced one final comeback.  To the surprise of his critics, Boom-Boom made his return a success.  He was matched with Jose King Roman in his coming out party.  Figuring the Renton native to be rusty after a layoff of 18 months, Roman purposely started slow.  If he figured Boone would soon tire as a result of his inactivity, he was still wondering in the 10th stanza.  Kirkman was in excellent shape and appeared capable of going another 10 rounds.  One headline said it best; "Boom-Boom makes King Roman Abdicate!!"
Next up for the revitalized Kirkman was hard punching Ron Stander.  Figuring that the aggressive Stander would welcome toe-to-toe exchanges, the Renton native became a counter puncher.  The strategy was a success as he caught the incoming Nebraska fighter repeatedly with short rights to the head.  By the 7th round Stander's right eye was completely closed, causing the referee to stop the fight.  Adding two more to the win column, Boone was working on a 4 bout win streak.  As a result, he was offered bouts with Larry Holmes and Gerrie Coetzee, but he would be getting the short end of the purses.  Satisfied he had written a good ending to an exciting career, Boone Kirkman took his newest win streak into retirement. 
Today, Boone lives in an upscale gated community, with his lovely wife of 20 years Terese, a retired operating room nurse.  From his back deck there are breath taking views of Puget Sound and Mercer Island in one direction and Cougar Mountain in the other.  Sitting in the comfort of their beautiful home one hears the tiny voices of their pet birds, Ezzie an African Gray and Venie a Sun Conure.  I had the pleasure of meeting Boone's brother Steve when he brought me to his childhood home.  I never got the opportunity to meet his younger sister Myra, who Boone speaks proudly of.  Boone has 2 children from a previous marriage; Erik and Nina plus 2 grandchildren Olivia and Anthony, who he adores.  His grandson is a promising football player; could there be a Boone II on the horizon?  For the past 20 years he has worked for Bowing Aircraft, and hopes to join Terese in retirement in 2009.
He's still in outstanding shape, tipping the scales at 225 lbs, just 15 lbs over his best fighting weight.   Before the interview started, we had to climb Cougar Mountain.  Driving there Boone said; "see that mountain top, we'll be standing there in less than 2 hours."  To which I replied; "when will the helicopter be picking us up?"  He has also ridden his bike from Seattle to Portland, a distance of 180 miles, on three different occasions in under 10 hours.  It was a pleasure doing this interview. Meeting Boone for the first time was like meeting an old friend!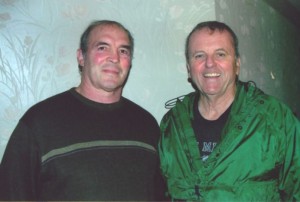 Boone Kirkman and Austin Killeen