DANNY LONG:  THE MAN IN BLUE
By Austin Killeen
Published in IBRO Journal 94, June 2007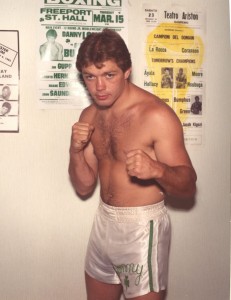 It was a beautiful sunny day at the end of May, as I drove east on the Mass Turnpike looking for Exit 25 to South Boston.  To the residents of the area it's more commonly referred to as "Southie", an Irish American settlement since the "Son's of Erin" started immigrating there in the 1830's.  If you were unable to afford plane fare to Ireland, Southie would be an excellent alternative.  It's located on a small peninsula, of approximately four square miles, isolated from the rest of the city.  Amazingly, with the last name Killeen I'd never been to South Boston prior to that day!  That would quickly change, as Danny Long provided me with an historical tour of Southie including movie locations (Good Will Hunting), crime scenes (Triple O bar) and homes of prominent individuals.  This included the home of the nefarious James "Whitey" Bulger, the FBI's second most-wanted man after Osama Bin Laden.  Danny also brought me to South Boston High School, where Judge W. Arthur Garrity ordered forced busing in the fall of 1974.  This put Southie under the microscope of the national media.  Garrity's "social engineering" resulted in the bitterest racial tension seen outside of the deep south in our countries history!  All this took place before the interview even started. 
I first met the aforementioned Mr. Long approximately 25 years ago in a boxing ring along the New England fight circuit.  Fortunately I was the 3rd man in the ring that evening and not his opponent. Unfortunately for the fans in attendance, his opponent had as much interest in boxing Danny as I did.  Entering the ring, wearing a snorkel, flippers, inner tube, face mask and diving trunks were five indications of his intentions that night.  When trapped in a corner, the unnamed adversary dropped to the canvas.  Danny made eye contact with me, as if to ask what happened.  No punch dropped him, which made me wonder if he suffered from vertigo.  While helping him to his feet, I asked that very question.  He looked at me as if he were a raccoon caught in somebody's high beams.  He continued to drop to the canvas every time Danny entered his side of the ring.  With the fans booing in disgust, I stopped the alleged fight, awarding Mr. Long the easiest win of his career. 
Danny, the 6th of 9 children, got his first introduction to boxing as a precocious six year old.  Following an older brother to the gym, he entered the Baby Golden Gloves.  Retiring to play with his toys, it wasn't until high school that Danny started to take boxing seriously.  Training at the Connolly Gym, his skills were developed by veteran boxing instructor Len Moore.  Standing just under 5' 9", Moore had Long employ a strong left jab while fighting from an upright position.  Engaging in 35 amateur bouts, he twice won the Lowell Golden Gloves, as well as the N.E. AAU title in 1975 and 1976.  Traveling to Detroit, Michigan, he lost in the 1976 Olympic trials to Mickey Goodwin of Emanuel Stewart's Kronk Gym.  Long finished his amateur career with 30 victories. 
When Danny decided to turn pro, it was under the watchful eye of Jimmy Connolly.  By this time Len Moore had retired to Prince Edward Island in Canada.  His first bout for pay proved to be a big disappointment for Danny.  Employing a body attack, he was surprised to see his opponent try to block the punches by lifting one of his legs to protect his stomach.  The fight was mercifully stopped in the second round, allowing his opponent to go back to the street corner where he was found.  With a solid amateur background, the new pride of Southie, felt he deserved a far stronger test in his maiden performance.  As his new trainer, Connolly changed Danny's style having him fight out of a crouch.  His new style, while appearing to make him look awkward, proved to be very effective throughout his pro career. 
When not training at Connolly's Gym, Danny like most young men his age could be found in search of members of the opposite sex.  Pulling up to a street light in Southie one evening in late summer of "78", our budding pugilist and his buddies where excited about the female occupants in the car next to them.  Throughout his amateur and professional career Danny's philosophy had been that "timing could beat speed." This Philosophy was being put to the test, as the red light would be turning green in less than 60 seconds.  Apparently Danny's new mantra, for the moment, was "speed over timing".  He was able to get pretty Mary Reardon, of Dorchester, to come to a party later that evening at a friend's house.  Although not a big fan of the "squared circle", Miss Reardon started seeing our young pugilist regularly.  Jimmy Connolly wasn't running a dating service, as a result Danny was back training at Connolly's Gym on a daily basis. 
Danny's second foray into the punch for pay ranks was a step up in class in Portland, Maine against hometown boy Ricky Burgess.  Burgess a veteran of 37 pro fights might have had limited defensive skills, but he could punch.  Showing great poise for such a limited pro career, Long stopped Burgess in the 4th round.  A hit with the Maine fans, Danny was asked to return against experienced middleweight Reinaldo Oliveira.  Realizing that Reinaldo is a follow member of IBRO, I asked for his recollections of his two fights with Long.  He felt his chances would be good as Long had only two pro bouts and he himself had also had an excellent amateur career.  Surprised by Long's composure, Oliveira stated the better man won.  Given an immediate rematch in Long's hometown of Boston, Reinaldo decided to employ a different strategy.  Oliveira rushed across the ring at the opening bell in an attempt to catch Danny before he had a chance to warm up.   Unfortunately for our follow IBRO member, Danny was not caught off guard.  In a short but exciting slugfest, Long scored a 1st round KO. 
During Long's early pro career, he worked as a guard at the Walpole maximum security prison.  While the pay was good, the hours conflicted with the training schedule of a pro boxer.  This resulted in his taking much time off from work for training and traveling out of town.  Displeased with Danny's excessive time off because of the demands of boxing, he was summoned to the personnel office.  He was given an ultimatum; Walpole State Prison Guard or box.  Danny chose pugilism.  
By now he had built up an impressive record of 9 and 0 with 8 wins coming by the short route.  Given one days notice, Danny accepted an eight rounder with hometown favorite Ralph Hollett in Halifax, Nova Scotia in Canada.  Pressuring his foe from the opening bell, Long quickly won over the fans.  Showing amazing energy for someone who had to travel so far the day of the fight, Long was awarded a split decision over his stronger but slower opponent.  The verdict was not received well by the fans, as they felt the visitor deserved a unanimous nod.  The local press called Danny a classy fighter with good footwork and an excellent left jab.  
With his career in high gear, Jimmy Connolly decided his young charge needed a nickname.  Told by Cus D'Amato, who managed Floyd Patterson, that Danny looks and fights like Mickey Walker, Jimmy anointed him "The Boston Bulldog" after Mickey Walker.  Spotting his new moniker on a fight poster, Danny was furious!  Confronting his manager with his displeasure, the Boston Bulldog was told everybody needs a nickname.  Armed with this new knowledge, Long walked over to the poster and added a nickname where Connolly's name appeared.  Connolly became confused when everybody started calling him "Horsehead."  When he finally spotted his new moniker written on the poster in magic marker, it was his turn to be furious!  Unfortunately, for Connolly the nickname had staying power.  
Horsehead and The Boston Bulldog next traveled to Scranton, PA for a pair of fights.  Once again Danny won over the fans with his exciting crowd-pleasing style in winning a pair of decisions.  Climbing off the canvas in the 1st round as a result of being on the wrong end of a sweeping left hook, Long rallied to capture a unanimous decision over Danny Pate in six.  One month later the Southie middleweight returned to Scranton, taking the fight on 48 hours notice.  This time the opponent was hometown ticket seller Ralph Mifka.  Long pulled off the upset capturing a majority decision in six one-sided rounds.  The local paper said; for six rounds, Danny Long was pitching, and game Mifka was catching.  Throughout the one-sided match, Long played a well-orchestrated symphony of mayhem on Mafka's body and face with his two fist. 
After scoring a 1st round KO in Boston, Danny returned to Halifax to face Lancelot Innis in a battle of unbeatens.  On paper it looked like a great fight with Long's 12 and 0 mark vs Innis 13 0 and 1 record.  Unfortunately the bout was anything but.  All Innis did was hold every time the willing Long got inside.  Adding to the problem was the referee who broke the fighters before Danny could mount a body attack at close range.  After 8 dull rounds of action, Long captured a split decision.   
Long upped his record to a perfect 16 and 0 when he defeated Ralph Mafka by unanimous decision after 8 grueling rounds of infighting.  Once again Long nullified Mafka's southpaw style with a good jab and excellent infighting.  After the fight Mafka said it was difficult to hit Long due to his awkward-type style . . . built low to the ground.  He's hard to work combinations on because of that awkward style.  Shortly after the fight Long made the best decision of his life, marrying his girl friend Mary Reardon. 
After 2 more wins, Long would take his 18 and 0 record into the biggest fight of his career.  But not before Danny and Mary became the proud parents of a baby girl named Jane.  In a battle of unblemished records, Long traveled to McAfee, New Jersey to face hot phenom Bobby Czyz on ESPN.  Once again Danny took the bout on short notice, not a smart move when facing a prospect like Czyz.  For 3 rounds Long's evasive style seemed to bother Czyz.  In the 4th Bobby's brutal body attack started to take effect.  In the 5th Long was dropped by a vicious shot to the ribs.  Gasping for breath, Danny rose at the count of nine, and tried to survive.  After watching Long for a few moments, the referee decided to halt proceeding.  Long's 0 had to go.
Bouncing back with a 7th round KO over Ra' Sean Parker in Philadelphia, 2 months later, Long appeared to have suffered no permanent effects from the Czyz bout.  As a result of this win, he was matched with Alex Ramos in San Remo, Italy on Wide World of Sports.  For six rounds the fight was fairly competitive with Danny landing a solid body shot which hurt Ramos.  By the 7th round however Long started to fade.  Ramos started to tee off on Long, winning by unanimous decision.
Returning to Boston after the bout, Long took some time away from the gym.  Enjoying the company of his new daughter and wife, Danny weight quickly put him in the light heavyweight division.  Long's R & R didn't last long.  Jimmy Connolly called and wanted to know if Danny could take the place of his stable mate Sean Mannion in London for a bout with welterweight Davey "Boy" Green.  Mannion had been injured in training and the promoters didn't want the fight card to be canceled.  Just 9 days after the Ramos fight, Long found himself in the ring with Green.  With little time to train, Danny spent most of his time in a Sauna in an attempt to get down to 147 lbs.  Green finally agreed to let Long enter the ring at 151 lbs.  Danny said Green was a monster and he took a terrible beating before being stopped in the 4th round.  Long commented during the interview that he didn't want to sound like a whiner making excuses for each of his loses.  Even with proper time to train for the Green bout, it would have been brutal!
With a wife and baby and driving a truck between bouts, Danny was starting to become disillusioned with the boxing business.  Additionally his relationship with Jimmy Connolly was starting to disintegrate.  When pressed for details, Danny stated there are two sides to every story.  Long stated it would be a cheap shot on his part to make remarks about Connolly, without Jimmy having a chance to reply.  He had nine more bouts for Connolly including matches with Charlie Hecker, Bruce Strauss and Doug DeWitt (on ESPN) before terminating their relationship.  During this time he was looking for a new manager who would reenergize his desire to box. 
Seven months after terminating his relationship with Connolly, he was back in the ring under new management.  Having heard good things about Vinny Marino from other boxers in the gym, he decided to make it official.  His first bout with Vinny Marino in his corner was against Russell Kain.  The bout proved to be more difficult than anticipated, with Long winning an eight round decision.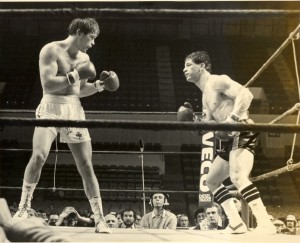 Next up; two fights with neighborhood rival Mark Mainero of East Boston.  Like Southie, East Boston is separated from the rest of Boston and is the home of Logan Airport.  It's a mirror image of Southie except that Italian immigrants settled it in the 1800's.  Natural rivals in all high school sports, including Thanksgiving Day football, these bouts were for the bragging rights of both neighborhoods.  Their 1st bout was telecast on ESPN and turned out to be a barn burner.  Mainero jumped out to an early lead, dropping Long in the 4th round.  Carelessly, Mainero walked across the ring to end the evening.  Ever dangerous, Long rose to his feet and dropped the surprised East Boston boxer in the same round.  Having trained hard for the bout, Danny was in excellent shape and it showed in the final rounds of the fight.  Long was awarded a 10 round split decision and an immediate rematch with his cross-town rival.  But not before Patrick Long entered the world, making Mary and Danny Long proud parents once again.  The second fight proved to be another action packed bout. This time Long was able to control the action, winning by a comfortable margin over his game rival.
The Danny Long/Vinny Marino partnership seemed to be working well, with Danny winning all six bouts under his new management.  Working part time as a baggage handler at Logan Airport provided him ample time to train.  Next up for Long; a bout with Robbie Sims, the brother of "Marvelous" Marvin Hagler, on ESPN.  The match was held in Brockton, the hometown of Sims.  Judging from the noise of the fans who drove down from Southie, it sounded like Danny was the hometown favorite.  Through the first four rounds, Long more than held his own.  Using amazing hand speed, Sims pulled ahead after six.  It appeared that the classy Sims was just too good for the game fighter from South Boston.  Relying on his mantra that timing can beat speed, Danny staged a rally in the 7th and 8th rounds.  Cutting the ring and pinning Sims on the ropes effectively, Long was back in the fight.  Although I was watching a DVD of a fight that was 25 years old, I found I was sitting on the edge of my seat.  Suddenly the screen when blank, causing me to start hitting the remote.  I was wasting my time, the DVD only held the 1st eight rounds of a terrific fight.  Calling Danny on his cell phone, I wanted to know what transpired over the last four rounds.  His response; Sims was declared the winner by split decision at the end of 12 action packed rounds. 
Using the purse from the Sims bout, Mary and Danny set about buying their first house in Southie to accommodate their expanding family.  Although it would be close financially, they reached an agreement with the seller regarding financing the cost of points at the closing.  To their surprise, the bank didn't go along with this agreement.  In stepped Vinny Marino, who spoke on behalf of the Long's with the Bank manager.   It must have been a convincing speech, because the bank had a change of heart regarding the financing of the loan.  Mary and Danny were now the proud owners of their very own home in Southie.  Vinny Marino proved to be far more than a fight manager when it came to looking out for his fighter.
While this real estate transaction was going on, Danny was training for a rematch with Sims.  In great shape, he was looking forward to the rematch.  Just days before the match was to take place, the bout was canceled.  Appearing to be in the prime of his boxing career, Danny decided to retire and pursue a steady line of work to provide for his family.  Long has been a member of the Boston Police Department since 1989.  His present assignment is community relations, working with the neighborhood schools regarding drug enforcement.  The Long's have four wonderful children; Jane a school teacher in Boston, Patrick a fire fighter in Boston, Kaitlyn a 2nd year nursing student, and Ryan who will be entering his first year of college.  It should be noted in Ryan's case that the fruit didn't fall far from the tree.  Ryan is one of the top amateur boxers in New England with over 30 bouts under his belt.  
When asked about his boxing career, Danny has mixed emotions regarding his retirement.  He stepped down while in his prime, but wonders what would have happened had he pursued his ring options.  He's active in the community, doing volunteer work in boxing and basketball.  Stepping off the porch of his beautiful 3 family house, you can see Pleasure Beach and historic Castle Island in the background.  South Boston is going through the process of gentrification, with real estate prices pushing through the seven-figure mark.  This is good news if you already own your home, but bad news if your children hope to remain in Southie.  Life appears to have been good to Danny Long; he has a beautiful wife, four successful children and a fine looking home on East Broadway.