Eder Jofre – The Second Best Pound-for-Pound Fighter in Boxing History
By Dan Cuoco

Sugar Ray Robinson is generally considered by most boxing experts as the best pound-for-pound fighter of all time. I agree wholeheartedly! 
But who is number two? I'd like to make a case for former bantamweight and featherweight champion Eder Jofre of Brazil. Why Jofre you ask? Because those lucky enough to have seen him in person say he was the equal of Sugar Ray Robinson. The late legendary ring historian Nat Fleischer, founder and editor of Ring magazine, favorably compared Jofre with the old-timers of the past  – and declared him pound-for-pound the best fighter of his era. He repeatedly referred to Jofre as the bantamweight Sugar Ray Robinson. This is high praise when you consider that Fleischer in his long and distinguished career personally witnessed in their prime ring immortals such as Jack Johnson, Sam Langford, Joe Gans, Terry McGovern, Jack Dempsey, Gene Tunney, Harry Wills, Harry Greb, Tiger Flowers, Benny Leonard, Kid Chocolate, Tony Canzoneri, Jimmy McLarnin, Barney Ross, Henry Armstrong, Willie Pep, Sandy Saddler, Joe Louis, Sugar Ray Robinson and countless others.
Jofre, like Ray Robinson, was a supreme stylist and a picture book boxer with a big punch. Ray was more a stand-up boxer, while Eder used a bobbing and weaving semi-crouch style. Eder was very patient in the ring and liked to feel his way during the early rounds looking for weaknesses. He was adept at working the body to wear opponents down before moving upstairs and unloading his terrific left hook or straight right hand. 
The Cyber Boxing Zone's biography of Jofre describes him as follows: "Eder had everything a great fighter must possess. He had one punch kayo power in both hands, unlike fellow bantam bangers Zarate and Oliveres. He was also as slick a boxer as either Sugar Ray and was blessed with unbelievable reflexes and defensive skills. To top off the package, he also had an iron chin and resilience of a LaMotta, Basilio, or Saad Muhammad. Perhaps his most amazing quality was his ability to adapt. Jofre was a very intelligent fighter who could change his style to adjust to any kind of opponent. He could be cute, brawl, anything…the guy was a fistic work of art, and he did all this as a vegetarian!"  1 
Eder Jofre registered 24 knockouts in his first 37 fights with three draws (2 disputed) blemishing an otherwise perfect record on his way to the world title. These slight blemishes were later erased convincingly. When Jose Becerra gave up the world crown, he was matched with Eloy Sanchez in Los Angeles on November 18, 1960 and scored a sixth round knockout to win the vacant NBA world bantamweight crown. After two defenses, he unified the world bantamweight title on January 18, 1962 by destroying Ireland's previously undefeated Johnny Caldwell in 10 rounds.  Over the next three years he continued to dominate the bantamweight division by knocking out deserving challengers Herman Marquez, Jose Medel, Katsuyoshi Aoki, Johnny Jamito, and Bernardo Carabello.  
By 1965, Jofre had been contemplating retirement for a couple of years, but didn't because he was a national hero in Brazil. After Pele, Jofre ranks as Brazil's greatest sporting hero.  
In May 1965 he went to Japan to defend his title against future hall of fame great Masahiko "Fighting" Harada. Jofre had to lose 2 pounds the day of the fight and lost a close split decision.  Most ringside observers, however, felt that Jofre deserved the verdict. Thirteen months later, the now 30-year-old Jofre, (ancient by lower weight standards) returned to Tokyo for a return match. This time he came in two pounds under the limit. In an obviously weaken condition, the highly talented Harada was simply too strong for Jofre and again took a narrow decision. After his second loss to Harada he retired.
Three years later, at the age of 33, he returned as a featherweight and began one of the most successful comebacks in boxing history. In four years he ran off 14 consecutive wins (8 by knockout) to earn a shot at 29-year-old featherweight champion Jose Legra. Legra was a smaller version of Ali with an impressive record of 130-8-2 (48). Few believed the 37-year-old Jofre could pull it off. But he did!  In a close fight, Jofre used his superior ring talents to win a majority 15 round decision.  He next chose to defend his title against another future hall of famer, the great Vicente Saldivar, former two-time world's featherweight champion and seven years his junior.  Eder dedicated the fight to his dying father.  He knocked out Saldivar with a perfect left to the chin in the fourth round.  Eder was stripped of the crown for failing to defend it against the WBC's mandatory challenger in 1974. He continued to fight for two more years winning seven more non-title fights before retiring for good in 1976. His incredible comeback encompassed 25 consecutive victories (13 by kayo).  He finished his career with an impressive record of 72-2-4 (50 by kayo).
Eder was inducted into the International Boxing Hall of Fame in 1992. Ed Brophy, Executive Director of the International Boxing Hall of Fame described Jofre as "a sturdy, two-fisted fighter with a big punch. Remember, while most American fans didn't get a chance to see him in action, there was a time in the early-and mid 60s where he was considered the best fighter, pound-for pound, in the world." 2 Today, Jofre is the mayor of Sao Paulo, one of the most populated cities in the world.  
In evaluating the career of Eder Jofre I hope to give you my opinion of his historical standing by chronicling his career from his birth in a gym to his enshrinement into The International Boxing Hall of Fame.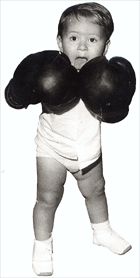 Eder was born to be a fighter – literally! He was born on March 26, 1936 and raised in a boxing gym in a poor section of Sao Paulo, Brazil. His father was Argentine of French and Spanish decent and his mother's side of the family was Italian. His mother and father first met each other at a gym that was open to anyone who wanted to box or wrestle. His father, Aristides, a former boxer, ran the gym and his mother Angelina looked after the gym. Eder had over a dozen relatives who made a living in boxing and wrestling. Olga Zumbano was one of the best women wrestlers in the world, Ralf Zumbano was lightweight champion of Brazil and Hans Norbert was middleweight champion of Europe.  
The Jofre's lived in a back room of the gym and it was from this humble beginning that young Eder began his boxing education. The gym was Eder's kindergarten and play room.  His first fight was at age four against an older cousin.  Eder was embarrassed by his families' laughter at both he and his cousin's futile attempts to land punches without falling down. He was so determined to be taken seriously that every day after school he would stand in front of a mirror and practice the things he saw the older boxers do. As his skills grew, the Zumbano and Jofre families started to take him seriously. They encouraged him by correcting his mistakes and letting him get in the ring with them. He learned how to lead, duck, dodge and hit a moving target.  
At the age of nine, his father ran a fight card at the gym. Eder and one of his cousins were scheduled to fight a special event. "The excitement I underwent before the bout was something I'll never forget. For a week I trained extra hard. I ran extra long distances. Every night when I went to bed I dreamed I was fighting. It was so clear – I would be going at it hot and heavy, then I would bring over a right hand and he would go down, the fight was over. Then the fight began. Here all the nervousness went out of me. I was doing what I wanted to do. It all seemed like something I had done many times before. And you know what? In the third round, just as I dreamed, I hit him with a hard right hand. Down he went and he didn't get up. I had knocked him out." 3
Eder won his first amateur championship as a flyweight at age 12. He engaged in over 150 amateur fights winning all but two. He avenged both losses by knockout. One of those losses however, took place at the 1956 Olympic Games. Eder was favored to win a gold medal, but lost a narrow decision in the bantamweight semi-finals to Chile's Claudio Barrientos (He later avenged this loss in the professional ranks by kayoing Barrientos in eight rounds).   
Jofre turned professional on his 21st birthday and immediately began fighting main events in his native Sao Paulo. There is a parallel that comes to mind between that of Eder Jofre and Sugar Ray Robinson. Both were outstanding amateurs and both faced and defeated highly respected ring-wise veterans in their first year as professionals.  
In that first year, Eder quickly established himself as a future champion with knockout victories over rugged fighters like Raul Lopez, Osvaldo Perez, Juan C. Gonzalez and Luis Jimenez; and decisions over Raul Jaime, Adolfo Pendas and Cristobal Gabisans. He also fought two ten round draws with Argentina's Bantamweight Champion Ernesto Miranda.  
Capable judges of talent were impressed with Eder's form against his much more experienced foes.  At the end of his first year as a professional his record stood at 10-0-2 (6). His record possibly could have been 12-0-0. Under Brazilian rules a fighter needs a four-point margin to gain a verdict. Eder did not have a four-point margin against Miranda in either bout, so they were declared draws. The same thing occurred to Eder on November 5, 1965 in a fight with Manny Elias. If the three draws in Brazil took place in another country, Eder's final record would have been 75-2-1 (50) rather than 72-2-4 (50). 
He continued his unbeaten streak in 1958 by going 10-0-1 (9). He fought a draw with Ruben Caceres in Montevido, Uruguay and outpointed Jose Casas. He repeated victories over Cristobal Gabisans and Jose Casas, only this time by knockout. In addition, he also handed Argentina's Jose Smecca his first knockout defeat.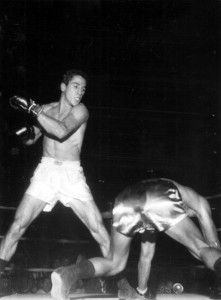 1959 was a banner year for Eder. On June 4, 1959 he faced his stiffest test when he took on the world's fourth ranking bantamweight contender Leo Espinosa of the Philippines in Sao Paulo. Eder was engaging in his 26th professional fight while the experienced Espinosa was taking part in his 54th professional fight. Eder dropped the crafty Espinosa in the fourth round and won an easy ten round unanimous decision. A month later, he became the first Brazilian fighter ever to achieve an international ranking.
 He followed this victory by avenging his draw with Ruben Caceres by a seventh round knockout. And he closed out the year by taking on another Filipino, Danny Kid, who was the third-ranked challenger for Jose Becerra's world title. The durable Kid entered the ring with 47 fights under his belt. His resume of opponent's was a virtual who's-who. He had defeated the likes of Dommy Ursua, Tanny Campo, Al Asuncion, Billy Peacock, Jose Lopez, Joe Medel and Dwight Hawkins. All 13 of his losses were by decision to the likes of Pascuel Perez, Chamren Songkitrat, Pone Kinpetch and Herman Marquez. Eder dropped Danny twice in coasting to an easy decision before 15,000 of his fanatical fans.
On February 19, 1960 he won the South American Bantamweight Title, and avenged two earlier draws, with a 15 round decision over South American Champion Ernesto Miranda. The loss was only the third suffered by the seventh ranked Miranda in 39 professional fights.  In a return match, again for the South American Bantamweight Championship, Eder showed his supremacy by knocking out Miranda in the third round to retain his title. The knockout was the first suffered by the talented Miranda. The contest was one-sided from the very beginning, not only because Jofre was now reaching his peak, but also because he got off to such an early start and was so perfect doing it. Miranda's offensive efforts proved futile against the defensively gifted Jofre and he couldn't avoid the vicious assault of the determined Jofre. It was obvious early in the opening round that this fight wasn't destined to go the distance. Jofre's jabs were not light left leads so often used by present day boxers. They were stiff accurate jabs as executed by such ring greats as Ray Robinson, and Joe Louis. They rocked Miranda's head, time and again. and set him up for an early demise. Jofre tried hard to finish the fight in the second round and it appeared he might do it, as he was punching with precision and power. Eder mixed his punches so well that Ernesto could not figure out any defense against the blows. When it seemed like Ernesto was ready to cave in he would grit his teeth and fight back gamely. Finally, midway through the third round Eder's rifle like rights to the jaw and terrific left hooks to both head and body ended the contest. 
In his next fight he avenged his Olympic defeat with a brutal eighth round knockout of Claudio Barrientos. Claudio was floored a total of eight times and retired immediately after the fight.  
His stirring victories brought an offer from Los Angeles promoter George Parnassus for Eder to fight Mexico's Jose Medel in a 12 round elimination fight for the right to challenge champion Jose Becerra for the world bantamweight title.
JOFRE-MEDEL I (Reported by Ring Magazine Correspondent Bill Miller 4 )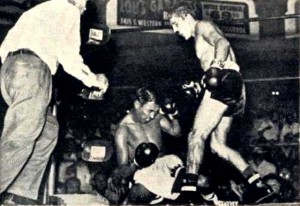 LOS ANGELES – Up from Brazil came Eder Jofre, 24, a hard-hitting bantam, to score a 10th round knockout over Mexico City's Joe Medel at the Olympic Auditorium, LA. The fight was scheduled for twelve. The winner, it was announced, would meet Joe Becerra for the world title in mid-November. (Less than two weeks after Jofre's triumph, Beccerra was knocked out by Eloy Sanchez. Becerra announced his retirement immediately thereafter). Jofre and Medel staged a savage brawl. The Brazilian, making his U.S. debut, is aggressive and colorful: hits hard with both mitts. This was his 23rd knockout in 36 pro starts, an imposing figure for a bantam. A smashing right cross, a few seconds before the end of Round 10, sent Medel to the canvas, and that's where he was at the count of 6, when the gong sounded. Medel's handlers wouldn't let him come out for the 11th. All ring officials had Jofre in front at the end of Round 10. 
When Eder was coming up he kept reading about world bantamweight champion Jose Becerra of Mexico, He read about what a murderous puncher he was and how he had dethroned the brilliant Alphonse Halimi in a thrilling fight in Los Angeles.  And how in their return match before a crowd of 32,000 at the Los Angeles Coliseum, Becerra well behind on points going into the ninth round, suddenly exploded a short hook on Halimi's chin which stretched him out on the canvas where he was counted out. "It was my ambition to fight Becerra. I didn't care where. But that very year Becerra was unlucky enough to be responsible for the death of Walt Ingram, whom he had boxed in Mexico. I don't think he wanted to fight too much after that. He continued for another year, or until he himself was knocked out over the weight in Mexico by Eloy Sanchez. Then he did retire."  5 
When Promoter George Parnassus was unable to dissuade Becerra from retiring, he arranged a match between Eder and Becerra's conqueror Eloy Sanchez for the vacant National Boxing Association (NBA) crown. In the meantime, the European Boxing Union (EBU) organized a match between Alphonse Halimi and Freddie Gilroy of England for its own version of the world title. Three weeks before Jofre's fight with Sanchez, Halimi outpointed Gilroy and was recognized as world champion by the EBU.  Jofre's title fight with Sanchez took place in Los Angeles on November 18, 1960.
JOFRE-SANCHEZ (Reported by Ring Magazine Correspondent Bill Miller 6 )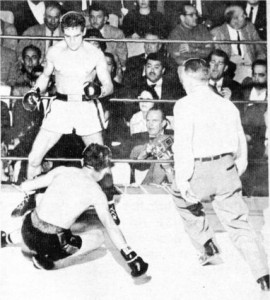 LOS ANGELES –Boxing is assured of a new, universally recognized world bantamweight champion as successor to retired Jose Becerra when Eder Jofre and Alphonse Halimi clash in the next few weeks in an international contest in Sao Paolo, home of Jofre. Eder, who stopped Eloy Sanchez of Mexico in 1:30 of the sixth round in the Olympic Auditorium, gained the NBA and American championship while Halimi a fortnight before had won the European Federation crown and the support of the European Federation as world title holder in that part of the world.  Eder had all the better of the fighting until the fatal sixth round which was Sanchez's best. The round was a savage one. The Mexican came tearing in and one blow to the mouth sent the Brazilian's mouthpiece flying to the ring floor. That blow brought the large gathering of Mexican rooters to their feet. They shouted words of encouragement to their countryman but the right cross that soon landed and ended the affair, quieted both the fans and Eloy.  The right hand of Jofre has become as famous as the coffee that comes from the South American republic, judged by the wide comment in Spanish papers of his knockout triumph. His lethal one punch kayo caught Sanchez flush on the jaw and the game Mexican, who was responsible for Becerra's retirement by virtue of his knockout of the champion in a non-title bout, caused the Mexican to come close to taking a back-flip before his body struck the canvas. It was a clean-cut knockout and Eloy lay outstretched for several minutes before he regained consciousness.  Eder later said that winning the NBA title gave him an empty feeling because he had always wanted to win the title from the last man to hold the championship. Jofre said: "He had me bleeding from the nose. I didn't mind that. A bloody nose was an old story for a guy who begun taking his lumps in our family gym as a little fellow. I just kept looking for an opening for a straight right. The round was almost half over when I saw it. I dropped it in to the jaw, nice and short. He went down hard and it was the finish for him – and the beginning for me as champion." 7 
On Jofre's return home, 100,000 people lined the route from the airport. "In a scene worthy of a Roman epic, a crown of laurels was placed upon his head, and the procession moved past the Governor's Palace of the Elysian Fields. It was a setting to match the occasion. Lending the proceedings a lighter touch, Jofre led the parade atop a fire engine. It took four hours to reach Parque Peruche, the poor neighborhood where he had grown up and still lived. 8 
Soon after his triumphant return home, Jofre was anxious to get back into action. His first priority was to fight Halimi and unify the title. He was even willing to go to France to fight him.  Unfortunately, like the proposed showdown with Becerra, Jofre-Halimi never came to pass. 
Less than a month after winning the NBA title, Eder took on 27-year-old Los Angeles featherweight Billy Peacock in Sao Paulo. Billy a former National AAU champion and former North American Bantamweight Champion was a dangerous boxer/puncher with an impressive resume. Three years earlier he had been the number one ranking bantamweight in the world. He had gained that high rating by knocking out Raul (Raton) Macias the then undefeated NBA bantamweight champion in 3 rounds in a non title fight. He also knocked out name fighters such as: Johnny Ortega, Keeny Teran, Chamren Songkitrat, Pimi Barajas, Nate Brooks, Rudy Garcia and Panchito Gonzalez.   He held decisions over name fighters such as: Pappy Gault, Pierre Cossemyns, Jose Lopez, and Ross Padilla. Among those who beat him were former champions Raton Macias, Mario D'Agata, Alphonse Halimi, and Jose Becerra, and top leading contenders Danny Kid, Jose Lopez, Herman Marquez, Boots Monroe, Battling Torres and Felix Cervantes. Eder knocked him cold in two rounds. 
Eder was frustrated by Alphonse Halimi's refusal to meet him the ring to crown an undisputed bantamweight champion. This led the NBA and several other national organizations, including the prestigious Ring Magazine, to recognize the winner of Jofre's title fight with Italian Champion Piero Rollo  as world champion.
JOFRE-ROLLO (Reported by Ring Magazine Editor Nat Fleischer 9 )
RIO DE JANEIRO – Eder Jofre, Brazil's top boxer, a hard hitting rangy lad, who is also up on ring science, celebrated his 25th birthday by winning the world bantamweight championship by stopping Piero Rollo, Italian title-holder, in the 10th round.  In his drive for the world crown, Jofre triumphed over all who stood in his path and when he knocked out Eloy Sanchez he gained the top ranking position in his class and shared with Alphonse Halimi of France, the right to contest for the throne left vacant by the retirement of Jose Becerra. But neither Halimi nor the man from whom he won the European portion of the world elimination, Freddie Gilroy consented to meet Jofre for the crown. Their refusal to face Eder resulted in the Italian Federation and the NBA to name Piero Rollo the number 4 challenger as a suitable opponent. Under the circumstances there can be no doubt that Eder's knockout over Rollo entitles him to recognition as world champion. The Ring, to clear the atmosphere presented Jofre with its championship belt. It is up to the European Boxing Association now to do justice to the Brazilian by granting him the recognition he deserves due to the exorbitant demands of Halimi and Gilroy. Rollo. A veteran with a record of 53-6-6 (21) had the experience but against his more youthful, fast stepping opponent, he was made to order for Jofre. He tried to trade punches with Jofre, but like all the others who have fought Eder, he learned quickly that it was not proper procedure. The victor, known in South America as the Golden Bantam, had the upper hand almost from the start. The first five rounds were loaded with action, the Italian striving for a quick kayo. But he found his master in Jofre, who caught many of the Italian's blows on the arm or shoulders, and quickly countered with perfect jabs and speedy hooks to the face. Twice in the fifth round Rollo was staggered with left hooks and in the same session, a long, swishing right caught Jofre on the chin and put him off balance. He spun around, speedily recovered his equilibrium and retaliated with a right that cut a deep gash over Rollo's left eye. The following round was another bad one for the Italian. His eye began to close, but good corner work enabled him to come out for the next two rounds. He made an excellent comeback in the eighth. Rollo realized his only chance was to win by knockout and he forced the issue during the first portion of the round. Jofre took the play away from him by an assault of lefts and lefts to the body and head throughout the last minute. When the bell sounded for the ninth round Jofre rushed out of his corner prepared for the "kill". He staggered Rollo several times with hard punches and his defensive work was excellent. Rollo tried hard to fight back, but his clever opponent kept up a constant volley that forced the Italian to retreat. Blood trickled over his face, which, before the round ended, was a crimson hue. The flow blocked his vision and he became a setup for Jofre's stinging lefts. The new champion, with an assortment that only veterans possess, made it extremely uncomfortable for the Italian who, when the bell clanged ending the round, walked warily to his corner. The contest was stopped between rounds by the Commission doctor with the consent of Rollo's manager. Rollo in his dressing room declared that his conqueror is one of the best boxers he ever met, and said that had he not suffered the eye injuries, he would have given a far better performance. After the fight Jofre expressed his preference for fighting Halimi next, since the European Boxing Union continues to recognize him as champion. "I'm not afraid to fight him," said Eder in perfect English, "but his refusal to accept the large sum to meet me shows that he's afraid of the outcome." At any rate, the throne, in our opinion, is now occupied by Becerra's successor, a good fighting lad, a well-liked young man who should bring the division back into the spotlight.                               
Eder kept busy with two non-tile kayos over Dutch bantamweight champion Sugar Ray, KO 2, in Buenos Aires, Argentina and Sadao Yaoita, KO 10 in Sao Paulo. Yaoita, the number one world ranked flyweight, came into the ring weighing 120 pounds to Jofre's 121. He possessed a 42-8-1 record and was the first fighter to defeat the great Pascual Perez. He gave Eder a good workout and was able to hold his own against a vastly superior fighter for nine rounds, and actually win a few of them in the process. But as the rounds wore on Eder started to find the range with his deadly left hook. In the tenth and final round, Eder landed solidly and Yaoita went down like he was shot. Then, to everyone's amazement, he got up at seven. But Eder was not to be denied. He fired a short but devastating left hook to the jaw. Ten seconds later it was all over. 
Less than a month after knocking out Yaoita Jofre was back in the ring defending his title against Venezuela's Ramon Arias. Arias was a tough fighter who in only his tenth professional fight fought Pascual Perez for the flyweight championship. Although he lost, he extended Perez the entire 15 rounds.  
JOFRE-ARIAS (Reported by Ring Magazine Editor Nat Fleischer 10 )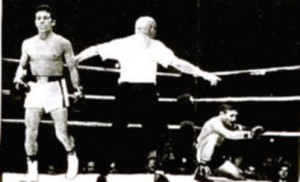 CARACAS – Eder Jofre defended his world bantamweight championship with signal success by stopping Ramon Arias in the seventh round. I was one of the three judges. I saw a great fight at close range and did not have to collaborate on a decision. Nor did Barney Ross, the referee, have much to do as Jofre proved himself the spectacular technician. "The Fighting Champion."  That's what they call Jofre throughout South America. This 25 year old tall, handsome world bantam king, well deserves the acclaim he has received. He is by far the best the division has had in many years. Clever, a powerful left hooker, a stand-up boxer who has learned much of the technique of past masters, Jofre stands out as did Ray Robinson for many years in the welter and middleweight divisions. He can give and take punishment, blocks well, and like Benny Leonard can make his opponent fight the way he wants him to. Watching Jofre against Arias, champion of Venezuela, I was reminded of the days when the bantam class boasted a score of top, hard socking fighters.  With the knockout of Arias, Jofre lost no time requesting his manager, Abraham Katzenelson, to sign for another championship defense. In his Caracas defense, Jofre scored his tenth successive knockout. He has not lost a fight in four years of campaigning. As in his two bouts in Los Angeles in which he kayoed Joe Medel in 10 and Eloy Sanchez in six, Jofre didn't cut loose until after he had tested his opponent for a few rounds. Once he was cornered and hurt, he opened up with a furious attack that ended in the challenger resting on the canvas. It was in the fight with Sanchez that Jofre earned his spurs. From the start through the fifth round, the Jofre-Arias fight was a thriller. The first two rounds were regulation compared to what happened in the last two.  Though Arias on my score card had gained a shade in the second and took the fifth by a fair margin, it was obvious from the beginning that his more powerful opponent, who kept shooting left hooks to the body, would be the ultimate winner. In the fifth, the best for Arias, he gambled for a knockout. He forced Jofre to the ropes and pummeled his body, but not without receiving plenty in return. It was that rally by Arias that forced Jofre into full action in the following session. He opened up with a right to the temple that knocked all the fight out of Arias. Then came a barrage of rights to the body and the challenger was floored for a count of eight. Arias got to his feet bewildered. Yet he pinned Jofre against the ropes in Ramon's corner where he got in two left hooks before the bell sounded. Then came the climax. And what an ending! Arias came out of his corner weak. Before he could toss one punch, Jofre was at him like a tiger, raining blow after blow to the body. Eder's left hooks were most effective, particularly the final one that sunk deep into the midsection and rendered Arias helpless. He went down feet crossed under his body, blood trickling from nose and mouth and cuts under the eyes. Within seconds, his chief handler leaped into the ring as Ross started the count. But it was over. The champion had retained the title.  
Referee Barney Ross, former world lightweight and welterweight champion, one of the classiest boxers in history, commented on Jofre's showing after the fight: "I just thrill at that boy's performance. He is a marvel of boxing perfection. He does things in the ring that I never expected to see again. There is nothing he cannot do." 
A month prior to Eder's title fight with Arias, Halimi lost his portion of the EBU world title to unbeaten Irishman Johnny Caldwell. Five months later in a return match Halimi again lost to Caldwell. Finally, after fourteen months the long-awaited title unification fight between the NBA and EBU champions became reality. The world championship match between the two unbeaten champions was scheduled for January 18, 1962 in Sao Paulo, Brazil. 
JOFRE-CALDWELL (Reported by Ring Magazine Correspondent Richard Charles Sylvia 11 )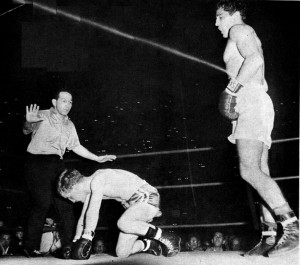 SAO PAULO – There was no gainsaying Jofre's superiority over Caldwell in the meeting of two previously unbeaten title claimants. Recognized as world champion by The Ring and the NBA, the shifty, sharpshooting 25-year-old Brazilian outclassed his 24-year-old rival, who had been accepted as title-holder by the European Boxing Union. After the first round, credited to Caldwell, Jofre was complete master of operations. Eder's stinging left jabs and jolting left hooks were too much for his Irish rival. In the third round he drew blood from Caldwell's nose, and in the fifth round he sent the Irishman toppling to the canvas for the count of three. From then on it was a question only of how long Caldwell would be able to last. The gritty little Irishman fought back stubbornly but could not match the Brazilian's speed and accurate punching. By the tenth round Caldwell was hopelessly beaten. Toward the end of the round he was dropped again, this time for nine, and was reeling helplessly when his manager jumped into the ring, stopping the fight with fifteen seconds of the round remaining. The bout refereed by former world featherweight champion Willie Pep attracted a sellout crowd of 20,000 to the Ibirapuera Stadium, the largest indoor attendance in South American boxing history. Thousands of others were unable to gain attendance.  
Anxious to fight in the United States again, Eder accepted an offer to meet ranking contender Herman Marques, in San Francisco on May 4, 1962. Marques, the 1957 National AAU Amateur Champion and holder of the California State Bantamweight Title, was a slick boxer who had never been knocked out or knocked off his feet either as an amateur or professional. 
JOFRE-MARQUES (Reported by Ring Magazine Editor Nat Fleischer 12 )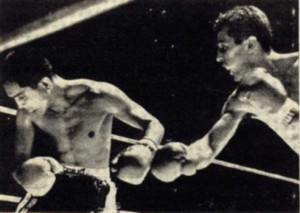 SAN FRANCISCO – I saw a fine fight in San Francisco's Cow Palace, the night Eder Jofre, undefeated in a professional career of six years, stopped Herman Marques, of Stockton, Cal. in ten rounds. Referee Fred Apostoli was well within his rights when he called a halt with Marques on his knees. Jofre was not at his best in the Marques fight. Had it gone the limit the Stockton longshoreman doubtless would have taken the title. Judge Vern Bybee had it 5 to 1 for Marques after nine heats and Judge Fred Bottaro called it 7 to 0. Apostoli called it 5 to 3 in favor of the champion and I had it 4 and 4 in rounds, Jofre ahead 5 to 4 on points. The recent death of Benny Paret received considerable attention from the loser and his followers, who accused Apostoli of being too hasty in ending the affair. "Apostoli was influenced by Paret's death," said Manager Al Avila. "I was robbed!" shouted Marques. "Jofre didn't knock me out. He didn't even knock me down. The officials told me before the fight I could take as many 8 counts as I wanted and I was doing just that. I went down deliberately. I was playing it smart", he said.  But that's not what the referee and most of the ringsiders saw. They saw Jofre suddenly lash out with a vicious attack that dropped Marques twice. When he went down the second time, he rested helplessly on his knees and one look at the fighter was sufficient for Apostoli to call a halt. When the referee started to walk toward Jofre to raise his hand, the count of eight already had been reached and the challenger was still on the canvas. It is doubtful he could have regained his feet in time. With Paret's death in mind, and Jofre set to resume the attack both the Commission and spectators were satisfied that Apostoli had acted properly. Bringing the Paret death into the picture as an excuse was bad taste on the part of Marques and his handlers. Jofre, a slow starter who feels his way during the early rounds with clever boxing, found a capable opponent. Marques outboxed the champion in the seventh, eighth and ninth rounds, and brought Jofre to the realization he had to go all out. This he did in the tenth frame when he suddenly unleashed an attack such as enabled him to put away Piero Rollo, Ramon Arias and Johnny Caldwell in previous championship matches. He cut loose with a volley, an all-out burst, that soon had his challenger dazed. Marques, never before knocked off his feet, now knew how it felt to be resting on the canvas taking a count. What for a time hinted a major upset, was turned into another triumph for a good, fighting champion. Jofre showed that he had the ammunition. After landing a left hook that jarred Marques, quick as a flash, the champion unlimbered the weapons that have enabled him to retain a clean slate in 43 professional fights in which only three draws blemished his record. This was Jofre's first sustained attack and it swept Marques off his feet. Several smashes sent Herman down. He got to his feet at eight and found Jofre poised for the kill. Herman tried to pull away but Jofre was at him like a tiger and the roof fell in on him as he went down for the second time. Apostoli didn't take up the count. He figured the challenger had enough and raised the hand of the champion, a knockout winner under California rules. Though knocked out, Marques gave an excellent account of himself. 
Eder's next title defense was against the division's most avoided fighter; number one ranked Joe Medel of Mexico.  The 24-year-old Medel had not lost since his kayo defeat to Jofre in their title eliminator two years before. Since that defeat he had racked up ten consecutive wins, including knockouts wins over Jose Lopez and highly rated Japanese ace Mitsunori Seki, and a decision over Sadao Yaoita. In fact most experts agreed that if it weren't for Jofre, Medel would have been bantamweight champion of the world based on his record before and after the two Jofre fights. Case in point. After the second Jofre fight he handed Masahiko (Fighting) Harada his first knockout defeat. He also kayoed Ray Asis and Walter McGowen and outpointed murderous-punching Jesus Pimentel (who at the time they fought had run off 38 consecutive victories, 35 by kayo).   
JOFRE-MEDEL II (Reported by Ring Magazine Correspondent Renato Pires 13 )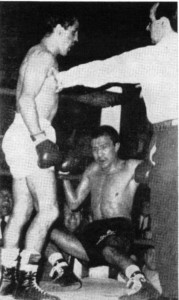 SAO PAULO – In winning his fifth defense, Jofre stretched his unbeaten string of professional bouts to forty-five. It was the second time the pair met. In their previous engagement on August 18, 1960, Medel was knocked out in the tenth round. Having disposed of three of the top five contenders, Jofre now faces a problem for opponents. He already knocked out Johnny Caldwell, of Ireland, leading European and Piero Rollo of Italy and is willing to accept Halimi, European title holder, for the next defense, but it is doubtful if this contest can be arranged since Alphonse, following Becerra's retirement, turned down a meeting with Jofre to decide the successor to Becerra. That's how Rollo got the match.  Although statements have appeared that Jofre is having weight trouble and will vacate the throne to enter the higher division, he disproved the rumors by easily making 117 1/2 for the Medel bout and displaying his usual strength and speed. Medel was half a pound less. The victory was the thirteenth consecutive knockout for the champion. The 26-year-old tile holder was a 3-1 favorite and proved the odds were reasonable by the manner in which he handled his opponent who had fought ten fights without a loss since his last meeting with Eder. Medel started off well but it didn't take long for Jofre to find the range and pepper his man almost at will. The first two rounds were rather dull as each fighter was feeling his way, but occasional spurts kept the fans on edge. But beginning the fourth round, Jofre having warmed up, started taking the play away from his opponent and thereafter it was all his way. He jabbed, hooked, cleverly avoided blows aimed at him, and landed many punches that hurt Medel. His attack was vicious and the speed with which he tossed blows, bewildered the Mexican challenger. After the fourth round it was merely a question how much longer the Mexican could stand the gaff. He was floored twice, once just before the bell sounded ending the fifth round and again in the sixth after he was dropped again and counted out in 1:30 of that frame. A right to the chin ended the fight. Jofre proved again he is one of the world's outstanding champions. 
By the end of 1962, boxing experts such as Nat Fleischer, Lou Loubet, Jersey Jones, Ted Carroll, Daniel M. Daniel, Lew Eskin, Stanley Weston, Abe Glick, Barney Ross and Willie Pep, were praising him as pound-for-pound – the best fighter in the world. The legendary Nat Fleischer repeatedly referred to Jofre as the bantamweight Sugar Ray Robinson. 
Willie Pep said: "I refereed the Eder Jofre-Johnny CaLdwell fight. That Jofre is a helluva fighter. A real bang-bang guy but smart, too. They'd love him here in the States if he ever fights here." 14   
Ted Carroll of Ring Magazine said: "Among active fighters, discerning judges call Eder Jofre, Brazil's world champion bantamweight, a likely candidate for All -Time ranking among the great little men." 15 
Eder maintained his standard of excellence in the first half of 1963 with two stirring title defenses five weeks apart against Katsuyoshi Aoki (with a ring record of 34-1) in Tokyo, Japan; and Johnny Jamito (with a ring record of 38-3-1) in Quezon City, Philippines. 
Tony Petronella, Chairman of the WBA Rating Committee, acted as one of the judges for the Jofre-Aoki title fight. He also covered the fight for Boxing Illustrated.  
JOFRE-AOKI (Reported by Tony Petronella 16 )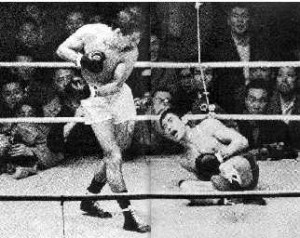 TOKYO- Fortified by sukiyaki and tempura (shellfish) washed down with hot rice wine or cold beer, the 10,000 wildly partisan fans in Kutamae Sumo Arena shrieked encouragement to their little hero, Katsutoshi Aoki. For two rounds, the 20-year-old Japanese challenger had been battering bantamweight champion Eder Jofre with punishing rights and lefts, pinning him against the ropes with flurries of blows. Waiting tensely during the rest period, anxious ringsiders with cameras poised stood ready to capture every detail of what appeared to be a staggering upset in the making. Sitting glumly in his corner, a puzzled look creasing his face, the usually happy-go-lucky champion half-listened to the barking orders of his cornermen. Jofre, seemed worried. Looking up at the 27-year-old champ from ringside, where I was serving as one of the judges, I noticed a certain tautness about him. Aoki, on the other hand, wore a confident grin. He had roared into the fight with only one loss in 35 bouts and now spectators fully expected him to notch another win – the biggest one of his life. Eder, who had just squeezed under the 118-pound limit, moved out cautiously as the bell sounded for the third and for about a minute the challenger continued to rip into him. Then the flashy Brazilian started stepping up the pace. This was more like him. Aoki, 117 3/4, sensed the change and tried to pour it on. Suddenly, Jofre nailed him with a booming left that sent him crashing to the canvas. The punch was a beauty. It traveled only a few inches but Jofre followed through with a wide sweeping motion – like a pitcher whipping a fireball across the plate. Getting up groggily at the count of five, the surprised Japanese wobbled on rubbery legs while taking the mandatory eight-count and threw a couple of feeble blows at Jofre's head. Stepping back, the champ carefully measured his foe and crumpled him with another sledge-hammer left to the side. The blow knocked the last puff of steam from the game challenger and he was counted out at 2:12.  The spectators sat in stunned silence for a few seconds, then rose to their feet in a frenzy – showering the ring with seat cushions in typical Oriental tribute to a great champion. It was the champion's 14th straight kayo and his sixth defense of the title. Recovering rapidly from his punishment, the resilient young Japanese shrugged his thin shoulders in disappointment. Later he said he had felt the first knockdown punch, "but I didn't know what hit me the second time. That man has a terrific punch." 
A month later, the amazing Jofre stepped in the ring once again to defend his title. His opponent this time was ranking contender 23-year-old Johnny Jamito of the Philippines.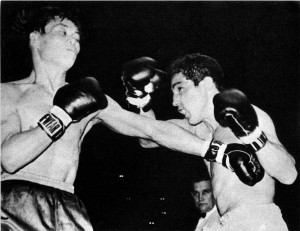 JOFRE-JAMITO (Reported by Boxing Illustrated Correspondent Alan Clevens 17 ) 
MANILA – It's the same old story. Murderous-punching Eder Jofre, unbeaten in 49 fights (36 knockouts, including seven title defenses) knocked out another pretender to his bantamweight throne, then praised him to the skies. Eder Jofre on Johnny Jamito: "He (Jamito) is a brainy fighter. He uses his head. I did not expect him to be such a good fighter. It will take a good boxer with a good punch to beat him." Actually this, Eder's 7th defense, was more annoying than it was dangerous. Jamito, 23, fighting before 25,000 excited countrymen In Quezon City's indoor Araneta Coliseum, kept the people happy in the early rounds by darting in, out and around the champion, peppering him with left jabs, landing sharp punches in close and clinching or taking off when Eder showed signs of life. But in the ninth the roof began caving in on Johnny when Jofre landed a terrific left hook and Jamito had all he could do to stay on his feet. In the eleventh, a right to the body knocked the challenger into the ropes. On the rebound, Jamito grabbed Eder by the waist, but the champion pushed him away and exploded a lightning-fast left-right to the chin. Jamito landed on his knees. His eyes were closed, his head bent low. The bell clanged before referee Antonio Ziravallo could start a count, but it was obvious that Jamito was through for the night. It was stopped between rounds eleven and twelve, with Eder way ahead on points, unmarked and untired.  
In October 1963 Eder received Ring Magazine's ultimate compliment when it chose to feature him on the cover of its 500th anniversary issue.  In the issue Ring's Managing editor Nat Loubet penned an article entitled "Jofre a Small Sugar." Here are some excerpts from the article. 18  
Ever so seldom the ring produces a fighter about whom it is said that he is the greatest in decades for his poundage. Such a standout was Ray Robinson. Now, with Sugar Ray on the wane, there is another spectacular scrapper on whom that "pound-for-pound label" of superiority and domination looks good. That man is Eder Jofre, the Brazilian, who holds the bantamweight championship of the world. There have been bantamweight champions galore since the days of Charley Lynch, who ruled the class as far back as 1856. The division has boasted such all time greats as George Dixon, Kid Williams, and Johnny Coulon. But none have dominated the class in their time with greater elan than Jofre crowds into his reign as champion. Harry Markson, boxing director of New York's Madison Square Garden is quoted in the article. "This Jofre man is the greatest guy for his weight since Sixto Escobar. He is a real scorcher, I wish he were some 20 pounds heavier. I'd bring him to New York and let the TV viewers see a great fighter." 
Little did Eder know after the Jamito fight that it would be 18 months before he would step into the ring again.  This was his longest layoff since he started to box as a boy.  A match was finally made for Eder with Jesus Pimental in the late spring of 1964. But Pimental and his manager pulled out one week before the match.  Six months after the cancellation Eder finally stepped into the ring again in Columbia against the division's 4th ranking bantam, Columbia's unbeaten Bernardo Caraballo.  
JOFRE-CARABALLO (Reported by Boxing Illustrated Correspondent Pete Vaccare 19 ) 
BOGOTA – World Bantamweight Champion Eder Jofre, Brazil, chalked up his eighth successful defense of his title by stopping number four ranked Bernardo Caraballo, Colombia, in the 7th round. Jofre is clearly establishing himself as the best fighter, pound for pound, in the ring today. Jofre has scored 47 wins and 3 draws in 50 bouts. Caraballo became the 37th KO victim of Jofre.  Caraballo was unbeaten in 43 fights. This was Jofre's first fight in 18 months. Caraballo, a crack combination puncher, could do nothing against Jofre who attacked him from the beginning with long lefts, stinging combinations and stiff right hands. Jofre was well ahead on all scorecards when he finally kayoed Caraballo in the seventh wound. It was his 17th straight knockout. 
During his four-and-a-half year reign as champion Eder was having more difficulty making the division's 118 pound limit than with the fighters in his division. On May 17, 1965, Eder traveled to Japan to defend his title for the ninth time against number one contender Masahiko (Fighting) Harada. The morning of the fight Eder was more than 2 pounds overweight at the weigh-in. After an hour's run he scaled the division limit of 118 without an ounce to spare. "I thought to myself, after this fight I'm going to eat and drink until I make heavyweight! He joked."  20 
JOFRE-HARADA I (Reported by Boxing Illustrated Correspondent Tony Petronella 21 )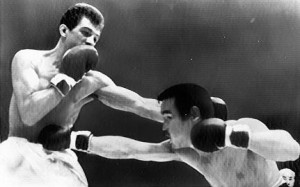 NAYOGA, Japan – Masahiko (Fighting) Harada, fighting in his familiar whirl-wind style, piled up a huge early lead, and then switched to a defensive pattern in the closing rounds to capture the world bantamweight title, with a 15-round split-decision over the hitherto unbeaten Eder Jofre. It marked the very first setback of his professional career for Senor Jofre, who entered the ring sporting a string of 50 consecutive triumphs, including eight successful defenses. A tumultuous crowd of 12,000 went wild when Referee Barney Ross, former world lightweight and welterweight champion, raised Harada's right hand in token of victory. The intrepid 22-year-old southpaw warrior set a tremendous pace right from the start and piled up points with an aggressive, two-fisted attack that had the title-holder on the verge of a knockout in the fourth round. Jofre just managed to avert a total blackout. But the sturdy challenger continued to maintain a blazing tempo. Showing the ring rust from his long lay off Jofre was unable to keep up the pace. Harada, who held the Flyweight championship briefly, after knocking out Pone Kingpetch, continued buzz-sawing Jofre with a pressuring attack of rights and lefts for the first ten rounds. Then very wisely, the Japanese battler switched tactics, by boxing careful in the center of the ring – and using flickering rights to keep knockout-conscious Jofre from getting set to unload his big guns. Harada again staggered the champ in the eleventh. But Jofre came roaring back with an all-out barrage; and almost delivered a kayo, when he sent Harada reeling against the ropes with a stunning series of lefts and rights. From the twelfth on, Harada managed to keep the action at long range as Jofre stalked him, hoping to get across the big punch – which never did come. The newly crowned champ tipped the beam at 117 1/4, while Jofre just did get under the wire at 118. And since there is no return bout clause in their championship contract, Jofre seemed uncertain whether or not he would continue campaigning in an effort to regain the crown. An exceedingly slow start apparently lost the fight for the overconfident Jofre, a 29-year-old veteran who had registered 33 in a row, the last 17 by kayo. Harada opened up a cut above Jofre's left eye in the sixth – the very first time the Brazilian had been cut in 51 professional bouts. In the midst of his fifth year in the pro ranks, Harada has now achieved a record of 39 wins and 3 losses. Referee Barney Ross balloted 71-69 for Harada on the five-point must system. Judge Masao Kato of Japan had his countryman ahead 72-70, while the other Judge Jay Edson of Phoenix dissented by voting Jofre a 72-71 winner.  
Six months later Eder entered the ring in his hometown against number ten ranked Manny Elias of Phoenix, Arizona.  Eder was ahead by 3 points on all three score cards at the end of 10 rounds. But under Brazilian rules you need a four-point margin to gain a verdict. Eder did not have a four-point margin against Elias, so the fight was declared a draw.  The draw did enable Eder to retain his number one ranking and more importantly earn a title shot against champion Masahiko (Fighting) Harada. Thirteen months after their first fight, Jofre and Harada squared off in Tokyo  
JOFRE-HARADA II (Reported by Boxing Illustrated Correspondent Kuni Iwaya 22 )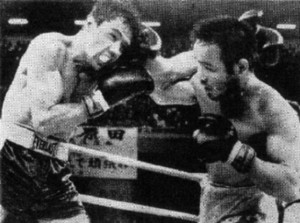 TOKYO – Mashahiko (Fighting) Harada proved that his victory over Brazil's Eder Jofre last May was no fluke. He outfought the taller South American to retain the title in a spirited 15 round fight before over 15,000 screaming fans. For Harada, who had a wee bit of trouble making the 118-pound weight limit, it was the 41st win against 3 losses. Eder suffered his second loss, both to Harada. It was a hard fought struggle from the very first round, with Harada ploughing forward and slamming away with both hands to the body. Jofre boxed smartly during the early rounds, spearing his man with left jabs and stiff left uppercuts as he moved in, but the champion just shook off the blows like water, and kept pressing the attack. The first five rounds were fought on even terms – Harada threw many more punches, but most of them were blocked or parried by Jofre. The steady pace began to take a its toll on the 30-year-old challenger in the 6th round as Harada bulled him into the ropes and pounded away with both hands to the head and body.  A slight cut was opened in the corner of Eder's left eye by one of the champion's right hooks. Eder rallied in the 7th round, but it was now obvious that he was slowing down. Harada kept the pressure on and won the next three rounds. Sensing that the fight was slipping away from him, Jofre staged a rally in the 11th and 12th rounds. In the 11th, a series of stiff jabs drew blood from the nose of the champion and in the 12th a series of left uppercuts snapped back the head of the Japanese, but that turned out to be the last winning round for the Brazilian. Harada just kept boring forward. The leaden legs of Jofre could no longer carry him out of range as Harada backed him into the ropes and pounded away to the head and body. The crowd began to holler for a knockout in the 14th as Jofre was forced to cover up under the steady rain of leather. With only seconds left in the round, the cut over Jofre's left eye was reopened and this time the blood cascaded down his face. Jofre was weary and beaten when he answered the bell for the final round, while the champion still appeared fresh. Harada bulled Jofre all over the ring in the final round, but was unable to bring him down. Except for a slight swelling under his right eye, the champion was unmarked at the finish, whereas Jofre's body was covered with welts and bruises, as was his face. The decision was unanimous: 71-68 by Judge Hirouki Tezaki; 71-69 by Judge Takeo Ugo and 69-68 by the referee, Nicholas Pope. Jofre said he was tired, but offered no excuses. He also said he wanted to think things over before deciding whether or not to continue fighting. 
On January 2, 1967 Jofre officially retired from boxing. In the summer of 1969, Eder surprised everyone when he returned to the ring as a featherweight. Like Ray Robinson before him, Eder's return was due to dwindling finances.  On August 27, 1969, the amazing comeback of Eder Jofre officially began with a 7th round knockout over tough journeyman Rudy Corona (44-18-1, 27 kayos) in Sao Paulo.  Over the next three years Eder went undefeated in thirteen starts to earn a title shot at world champion Jose Legra.   Legra, an ex-Cuban living in Spain, was considered the featherweight Muhammad Ali. Like Ali he was an expert in hyping his fights. He boldly predicted he would knockout Jofre in the 4th round.
 JOFRE- LEGRA (Reported by Ring Magazine Correspondent Bo Azine 23 ) 
BRASILIA – About 25,000 witnessed the biggest boxing show ever held in this country, and saw Eder Jofre win the WBC featherweight title from Jose Legra over 15 rounds. Jofre took the first two rounds, but was dropped by a crisp right cross in the 3rd round just before the bell ending the round.  Before the start of the 4th round, Legra stood and, turning full circle, gave the crowd a thumbs-down sign to indicate that it was time for the finish. It was at that point that Jofre demonstrated the qualities that are the hallmark of a truly great champion. He came out for the 4th with both hands blazing and quickly had the surprised champion in trouble. Jofre used his superior technique and piled up points as he chased Legra and tried to nail him, but Legra fled away. Legra was warned twice for holding. The last moment of glory for the ex-champ was when he had the Brazilian in trouble in the opening of the 14th round, when he hit Jofre with a crushing right hook to the liver. Jofre survived, however, and won by 146-141, 148-143 and 143-143.
Once again Eder Jofre was a world champion and undisputed king of Brazil.  He engaged in two non-title fights (Godfrey Stevens, KO 4 and Frankie Crawford, W 10) before putting his title on the line for the first time against former world champion Vicente Saldivar.  
JOFRE-SALDIVAR (Reported by Ring Magazine Correspondent Carlos Henriquez 24 )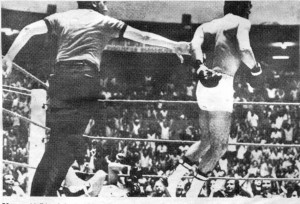 SALVIDOR – Eder Jofre knocked out Mexico's Vicente Saldivar in the 4th round of what was to have been a 15-round contest. As Jofre was born in March 1936, he is 37 years of age. The legion of the retired should have claimed him long since. Jofre maintained a good pace throughout the fight. The opening round was about even and not very thrilling. The second saw Vicente take the initiative. But the attack was short-lived. Jofre had decided not to prolong the battle and adopted a devastating technique. In the 4th round, he appeared to have decided that the time had come. He tore into Saldivar with jabs to the face and hooks to the body. Jofre then maneuvered his man against the ropes, where he had no space for action, and blasted him with jabs and hooks until he had more than enough. A terrific left was the finisher. Saldivar tumbled to the deck and was off to dreamland. The 30-year-old Saldivar retired after the fight with a record of 37-3-0 (26 kayos). 
Jofre's knockout of Saldivar turned out to be the last major victory of his career.  
1974 turned out to be a catastrophic year for Eder. Managerial bickering over finances between his handlers Abraham Katzenelson and Marcos Lazaro kept him out of the ring for the entire year and ultimately cost him his title. On March 24th, two days before his 38th birthday his father succumbed to lung cancer. The WBC ordered Jofre to defend his title against mandatory challenger Alfredo Marcano of Venezuelia or be stripped of the title. Lazaro tried to strike a deal on Jofre's behalf, but Katzenelson refused to accept the financial terms. On June 17, 1974, the WBC stripped Eder of his title for failure to defend against Alfredo Marcano.  
15 months after his defeat of Saldivar, Eder stepped into the ring for the first time in his life without his father. He struggled in winning a 10 round decision over a mediocre opponent.  Shortly after the fight he made up his mind to retire again.  But 13 months later Jofre returned to the ring once more and won six more fights (3 by knockout and 3 by decision). Jofre's last fight took place in his beloved Sao Paulo on October 8, 1976. Five months shy of his 41st birthday, Eder outpointed Mexico's Octavio (Famoso) Gomez in ten rounds.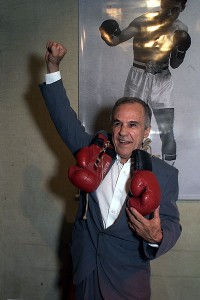 Since his retirement, this great champion has continued to fight, but this time his fighting is done in the political arena. As the mayor of San Paulo he is working to solve his country's social and economic problems with the same tireless dedication and resolve that he brought to his ring career.  
Although his name is not mentioned often by American boxing writers, those lucky enough to have seen him in person have praised him as pound-for-pound the equal of Sugar Ray Robinson. It is unfortunate that his standing has suffered because he only fought three times in the United States. In a career that spanned nearly 20 years he met the best and captured two world titles – 12 years apart. The second occurring at the amazing age of 37.  
Like Joe Louis before him, Eder Jofre carried himself with a quiet dignity. I believe his record and the accounts of his ring prowess disclose he was a fighter close to perfection. He possessed perfect balance in the ring and there seemed to be no apparent effort when he launched his power punches. Moreover, he was a master boxer and a defensive genius with fast hands, reflexes and stamina. But, it was his thunderous punching, launched with relentless fury, that made him a standout. Add to that the fighting heart of a Ray Robinson, Rocky Marciano, Carmen Basilio and Mathew Saad Muhammad and you have an all-time great – second, in my opinion, to Sugar Ray Robinson as the best fighter, pound-for-pound in boxing history. 
Endnotes:
---