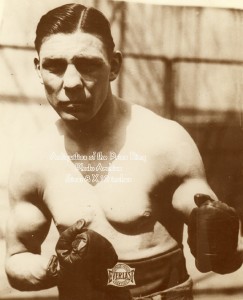 HARRY GREB
(Edward Henry Greb)
Born:   6 June 1894 at Pittsburgh, Pennsylvania.
Height: 5 ft 8 in.
Fighting weight: 142-170 lbs.  Managed by James  M. (Red) Mason, 1913-20 and 1923-26), George Engels (1921-22), self-managed 1923.
Died at Atlantic City, NJ, 22 October 1926. 
Photo Courtesy of Harry Shaffer
Record compiled by Luckett V. Davis for the RING RECORD BOOK in 1985; Record compiled by James Cashman for the IBRO Journal September 1998 
References can be supplied for any or all professional record entries.
1913
Amateur record
Mar. 10  W. J. Miller           Pittsburgh          W Pts  3
Mar. 11  Al Storey              Pittsburgh          W Pts  4
Mar. 12  Red Cumpston           Pittsburgh          W Pts  4
Apr.  4  George Koch            Pittsburgh          W Pts  3
Apr.  5  Red Cumpston           Pittsburgh          W Pts  6
May   8  Red Cumpston           Pittsburgh          W ko   3
Professional record
May  29  Frank Kirkwood         Pittsburgh       ND-W Pts  6
July 19  Battling Murphy        Pittsburgh          W tko  2
Aug. 13  Lloyd Crutcher         Punxsatawney        W ko   1
Oct. 11  Harvey Evans           Pittsburgh       ND-L Pts  6
Oct. 22  Mike Milko             Pittsburgh       ND-L Pts  6
Nov. 17  Mike Milko             Pittsburgh       ND-W Pts  6
Nov. 29  Joe Chip               Pittsburgh          L tko  3
Dec.  6  Battling Sherbine      Pittsburgh       ND-W Pts  6
Dec. 12  Terry Nelson           Altoona PA          W ko   3
1914
Jan.  1  Whitey Wenzel          Pittsburgh       ND-W Pts  6
Jan. 10  Whitey Wenzel          Pittsburgh       ND-L Pts  6
Mar.  2  Mickey Rodgers         Steubenville OH     W dsq  5
Apr. 14  Fay Keiser             Pittsburgh       ND-W Pts  6
May  13  Fay Keiser             Pittsburgh       ND-D      6
May  25  George Lewis           Pittsburgh       ND-W Pts  6
May  29  Whitey Wenzel          Pittsburgh       ND-D      6
June 15  Walter Monoghan        Pittsburgh       ND-W Pts  6
June 29  Irish Gorgas           Pittsburgh       ND-W Pts  6
July 20  John Foley             Pittsburgh       ND-W Pts  6
July 27  George Lewis           Steubenville     ND-W Pts 10
Aug. 24  Irish Gorgas           Pittsburgh       ND-W Pts  6
Aug. 24  Whitey Wenzel          Pittsburgh       ND-D      6
Aug. 31  John Foley             Pittsburgh       ND-W Pts  6
Sept 26  Jack Fink              Philadelphia     ND-W Pts  6
Nov. 14  Terry Martin           Philadelphia     ND-D      6
Dec.  7  Joe Borrell            Philadelphia     ND-L Pts  6
1915
Jan.  1  Billy Donovan          Philadelphia     ND-W Pts  6
Jan.  8  Howard Truesdale       Philadelphia     ND-W Pts  6
Jan. 12  Billy Miske            Philadelphia     ND-D      6
Jan. 25  Jack Blackburn         Pittsburgh       ND-W Pts  6
Feb. 10  Harry Baker            Pittsburgh       ND-W Pts  6
Mar.  4  Whitey Wenzel          Pittsburgh       ND-W Pts  6
Mar.  6  Tommy Mack             Washington PA    ND-W Pts  6
Mar. 13  Jack Lavin             McKeesport PA    ND-W Pts  6
Mar. 25  Harry Baker            Pittsburgh       ND-W Pts  6
Apr. 15  Whitey Wenzel          Pittsburgh       ND-L Pts  6
Apr. 22  Joe Borrell            Pittsburgh       ND-D      6
May  24  Whitey Wenzel          Pittsburgh       ND-W Pts  6
May  31  Fay Keiser             Connellsville PA ND-W Pts  6
June 25  Fay Keiser             Cumberland MD    ND-D     10
July 12  Tommy Gavigan          Pittsburgh       ND-W Pts  6
July 21  George Hauser          Elwyn PA            W ko   6
July 22  Fay Keiser             Cumberland       ND-W Pts 10
Aug. 23  Al Rogers              Pittsburgh       ND-W Pts  6
Sept 13  Al Rogers              Pittsburgh       ND-W Pts  6
Oct. 18  George Chip            Pittsburgh       ND-L Pts  6
Nov. 16  Tommy Gibbons          St. Paul         ND-L Pts 10
Dec. 16  Kid Graves             Pittsburgh          L tko  2
         (Greb suffered a broken arm and had to stop)
1916
Feb. 26  Walter Monoghan        Pittsburgh       ND-D      6
Apr.  1  Kid Manuel             Pittsburgh       ND-W Pts  6
Apr. 27  Grant Clark            Johnstown PA        W tko  6
May   6  Whitey Wenzel          Charleroi PA     ND-W Pts  6
June  3  Kid Manuel             Pittsburgh          W ko   1
June 17  Whitey Wenzel          New Kensington   ND-W Pts 10
June 26  George Chip            New Castle PA    ND-L Pts 10
Aug.  7  Al Grayber             Pittsburgh       ND-W Pts  6
Aug. 28  Jerry Cole             Pittsburgh       ND-W Pts  6
Sept  4  Fay Keiser             Cumberland          W Pts 10
Oct. 16  Jackie Clark           Lonaconing MD       W Pts 10
Oct. 21  Harry Baker            Pittsburgh       ND-W Pts  6
Nov.  4  K.O. Sweeney           Pittsburgh       ND-W Pts  6
Nov.  8  Willie Brennan         Erie PA          ND-W Pts 10
Nov. 14  Jackie Clark           Lonaconing MD       W ko   3
Nov. 17  Willie Brennan         Buffalo NY       ND-W Pts 10
Nov. 24  Tommy Burke            Buffalo          ND-W Pts 10
Nov. 27  George KO Brown        Pittsburgh       ND-W Pts  6
Dec. 26  Bob Moha               Buffalo          ND-W Pts 10
1917
Jan.  1  Joe Borrell            Pittsburgh       ND-W Pts  6
Jan. 13  Eddie Coleman          Charleroi           W ko   2
Jan. 20  Jules Ritchie          Philadelphia        W tko  4
Jan. 29  Fay Keiser             Lonaconing MD       W Pts 20
Feb. 10  Mike Gibbons           Philadelphia     ND-L Pts  6
Feb. 12  Willie Brennan         Buffalo          ND-W Pts 10
Mar.  5  Frankie Brennan        Pittsburgh       ND-W Pts  6
Mar. 20  Tommy Gavigan          McKeesport          W tko  5
Mar. 23  Herman Miller          Johnstown PA        W tko  5
Apr.  2  Young Ahearn           Pittsburgh          W ko   1
Apr. 14  Al Rogers              Charleroi        ND-W Pts 10
Apr. 16  Zulu Kid               Pittsburgh       ND-W Pts  6
Apr. 30  Al McCoy               Pittsburgh       ND-W Pts 10
May   3  Jackie Clark           Cumberland MD       D     20
May   9  Harry Baker            Uniontown PA        W ko   5
May  19  Jeff Smith             Buffalo          ND-W Pts 10
May  22  George Chip            Pittsburgh       ND-W Pts 10
June 14  Frank Mantell          Uniontown PA        W ko   1
July  2  Buck Crouse            Pittsburgh          W tko  6
June 30  Jack Dillon            Pittsburgh       ND-W Pts 10
Sept  6  Battling Levinsky      Pittsburgh       ND-W Pts 10
Sept 11  Jeff Smith             Milwaukee        ND-W Pts 10
Sept 14  Jack London            New York            W tko  9
Sept 17  George KO Brown        Dayton OHIO         W tko  9
Sept 22  Battling Kopin         Charleroi           W tko  3
Sept 24  Johnny Howard          Brooklyn            W tko  9
Oct.  6  Billy Kramer           Philadelphia     ND-W Pts  6
Oct. 11  Gus Christie           Buffalo          ND-W Pts 10
Oct. 19  Len Rowlands           Milwaukee        ND-W Pts 10
Oct. 23  Gus Christie           Chattanooga TN      W Pts  8
Nov.  2  Soldier Bartfield      Buffalo          ND-L Pts 10
Nov. 19  George Chip            Cincinnati       ND-W Pts 10
Dec.  3  Willie Meehan          Philadelphia     ND-W Pts  6
Dec.  5  George Ashe            Johnstown PA     ND-W Pts 10
Dec.  8  Terry Martin           Charleroi           W ko   3
Dec. 17  Gus Christie           Cincinnati       ND-W Pts 12
Dec. 25  Whitey Wenzel          Pittsburgh       ND-W Pts 10
1918
Jan.  4  Terry Kellar           McKeesport       ND-W Pts 10
Jan. 14  Battling Kopin         Charleroi           W ko   1
Jan. 21  Augie Ratner           New Orleans         W Pts 20
Jan. 29  Zulu Kid               Bridgeport CT       W Pts 13
Feb.  4  Jack Hubbard           Lonaconing MD       W ko   3
Feb.  7  Frank Klaus            Pittsburgh          Exh.   3
Feb. 18  Bob Moha               Cincinnati       ND-W Pts 10
Feb. 25  Mike O'Dowd            St. Paul         ND-L Pts 10
Mar.  4  Jack Dillon            Toledo           ND-W Pts 12
Mar. 11  Mike McTigue           Cleveland        ND-W Pts 10
Mar. 18  Willie Langford        Buffalo          ND-W Pts  6
May  13  Al McCoy               Cincinnati       ND-W Pts 10
May  15  Clay Turner            Bridgeport          W Pts 15
May  20  Soldier Bartfield      Pittsburgh       ND-W Pts 10
May  24  Gunboat Smith          New York         ND-W Pts  5
May  29  Soldier Bartfield      Toledo           ND=W Pts 15
June 20  Zulu Kid               New York         ND-W Pts  6
June 24  Frank Carbone          Bridgeport CT       W Pts 15
July  4  Bob Moha               Rock Island IL   ND-W Pts 10
July  6  Harry Anderson         Cleveland           Exh    4
July 16  Soldier Bartfield      Philadelphia     ND-W Pts  6
July 27  Eddie McGoorty         Ft. Sheridan IL  ND-W Pts 10
Aug.  6  Battling Levinsky      Philadelphia     ND-W Pts  6
Aug.  9  Clay Turner            Jersey City      ND-W Pts  8
Sept 21  Billy Miske            Pittsburgh       ND-W Pts 10
                Service boxing
Dec. 11  Corporal Green         London              W ko   1
Dec. 11  Sergeant Baker         London              W ko   1
Dec. 13  Private Ring           London              L Pts  4
1919
Returned to professional activity
Jan. 14  Leo Houck              Boston              W Pts 12
Jan. 20  Young Fisher           Syracuse         ND-W Pts 10
Jan. 23  Paul Samson-Koerner    Pittsburgh       ND-W Pts 10
Jan. 27  Soldier Bartfield      Columbus OHIO    ND-W Pts 12
Jan. 31  Tommy Robson           Cleveland        ND-W Pts 10
Feb.  3  Len Rowlands           Pittsburgh          W tko  3
Feb. 10  Bill Brennan           Syracuse         ND-W Pts 10
Feb. 17  Battling Levinsky      Buffalo          ND-W Pts 10
Feb. 28  Chuck Wiggins          Toledo           ND-W Pts 12
Mar.  3  Chuck Wiggins          Detroit          ND-W Pts  8
Mar.  6  Leo Houck              Lancaster PA     ND-W Pts  6
Mar. 17  Bill Brennan           Pittsburgh       ND-W Pts 10
Mar. 25  Happy Howard           Johnstown        ND-W Pts 10
Mar. 31  Billy Miske            Pittsburgh       ND-W Pts 10
Apr.  2  Tommy Madden           Butler PA           W ko   2
Apr.  7  Young Fisher           Syracuse         ND-W Pts 10
Apr.  8  George (1-Round) Davis Buffalo          ND-W Pts 10
Apr. 25  Leo Houck              Erie             ND-W Pts 10
Apr. 28  Battling Levinsky      Canton OHIO      ND-W Pts 12
May   6  Clay Turner            Boston              W Pts 12
May   8  Willie Meehan          Pittsburgh       ND-W Pts 10
May  13  Bartley Madden         Buffalo          ND-W Pts 10
May  26  Tommy Robson           Syracuse         ND-W Pts 10
June 16  Joe Borrell            Philadelphia        W tko  5
June 18  Happy Howard           Erie             ND-W Pts 10
June 20  Yankee Gilbert         Wheeling WV         W tko  4
June 23  Mike Gibbons           Pittsburgh       ND-W Pts 10
July  4  Bill Brennan           Tulsa               W Pts 15
July 14  Battling Levinsky      Pittsburgh       ND-W Pts  6
July 16  George KO Brown        Wheeling         ND-W Pts 10
July 24  Joe Chip               Youngstown       ND-W Pts 12
Aug. 11  Terry Kellar           Dayton              W Pts 15
Aug. 23  Bill Brennan           Pittsburgh       ND-W Pts 10
Sept  1  Jeff Smith             Youngstown       ND-W Pts 12
Sept  3  Battling Levinsky      Wheeling         ND-W Pts 10
Sept 18  Silent Martin          St. Louis        ND-W Pts  8
Oct. 13  Sailor Petroskey       Philadelphia     ND-W Pts  6
Nov. 17  George KO Brown        Canton OHIO      ND-W Pts 12
Nov. 24  Larry Williams         Pittsburgh       ND-W Pts 10
Nov. 27  Zulu Kid               Beaver Falls PA  ND-W Pts 10
Nov. 28  Soldier Jones          Buffalo             W ko   5
Dec. 10  Clay Turner            Buffalo          ND-W Pts 10
Dec. 12  Mike McTigue           Endicott NY      ND-W Pts 10
Dec. 15  Billy Kramer           Pittsburgh       ND-W Pts 10
Dec. 22  Clay Turner            Philadelphia     ND-W Pts  6
1920
Feb.  6  Zulu Kid               Kalamazoo MI     ND-D     10
Feb. 21  Bob Roper              Pittsburgh       ND-W Pts 10
Mar.  9  Clay Turner            Akron OHIO       ND-W Pts 12
Mar. 17  Tommy Robson           Dayton              W Pts 12
Mar. 22  Larry Williams         Pittsburgh       ND-W Pts 10
Mar. 25  George KO Brown        Denver              W Pts 12
Apr.  5  Bob Roper              Denver              W Pts 12
May  15  Tommy Gibbons          Pittsburgh       ND-L Pts 10
June  2  Clay Turner            Philadelphia     ND-W Pts  8
June 28  Frank Carbone          Rochester NY     ND-W Pts 10
July  5  Bob Moha               Canton           ND-W Pts 12
July  8  Larry Williams         Buffalo          ND-W Pts 10
July 31  Tommy Gibbons          Pittsburgh       ND-W Pts 10
Aug. 14  Bob Moha               Cedar Point OH   ND-W Pts 10
Aug. 20  Chuck Wiggins          Kalamazoo        ND-W Pts 10
Aug. 28  Ted Jamieson           Grand Rapids MI  ND-D     10
Sept  6  Chuck Wiggins          Benton Harbor    ND-W Pts  6
Sept 22  Ted Jamieson           Milwaukee           W tko  6
Oct. 21  Gunboat Smith          South Bend IN       W ko   1
Oct. 28  Mickey Shannon         Pittsburgh       ND-W Pts 10
Nov. 10  Bartley Madden         Kalamazoo        ND-W Pts 10
Nov. 22  Bob Moha               Milwaukee        ND-W Pts 10
Dec. 11  Jack Duffy             Pittsburgh          W tko  6
Dec. 21  Bob Roper              Boston              W Pts 10
Dec. 25  Jeff Smith             Pittsburgh       ND-W Pts 10
1921
Jan. 20  Johnny Celmars         Dallas TX           W Pts 10
Jan. 29  Pal Reed               Boston              W Pts 10
Feb. 25  Jeff Smith             Boston              W Pts 10
Mar. 16  Jack Renault           Pittsburgh       ND-W Pts 10
Apr.  1  Happy Littleton        New Orleans         W Pts 15
Apr.  6  Jack Renault           Montreal         ND-W Pts 10
Apr. 11  Soldier Jones          Toronto             W ko   4
May   4  Bartley Madden         Pittsburgh       ND-W Pts 10
May  13  Jimmy Darcy            Boston              W Pts 10
May  20  Jeff Smith             New Orleans         D     15
May  28  Chuck Wiggins          South Bend IN    ND-D     10
June 24  Chuck Wiggins          Terre Haute IN   ND-D     10
Aug. 29  Kid Norfolk            Pittsburgh       ND-W Pts 10
Sept  5  Chuck Wiggins          Huntington WV    ND-W Pts 10
Sept 20  Joe Cox                Brooklyn            W Pts 10
Oct. 24  Jimmy Darcy            Buffalo             W Pts 10
Nov.  4  Charley Weinert        New York            W Pts 15
Nov. 11  Billy Shade            Pittsburgh       ND-W Pts 10
Nov. 25  Homer Smith            Newark NJ           W tko  5
Dec.  6  Fay Keiser             Philadelphia     ND-W Pts  8
Dec. 23  Whitey Allen           Syracuse            W tko  6
1922
Jan.  2  Chuck Wiggins          Cincinnati       ND-W Pts 10
Feb.  1  Hugh Walker            Grand Rapids     ND-W Pts 10
Feb. 20  Jeff Smith             Cincinnati       ND-W Pts 10
Mar. 13  Tommy Gibbons          New York            W Pts 15
May  12  Al Roberts             Boston              W ko   5
May  23  Gene Tunney            New York            W Pts 15
         (won North American light-heavyweight title)
June 26  Hugh Walker            Pittsburgh       ND-W Pts 10
July 20  Tommy Loughran         Philadelphia     ND-W Pts  8
Sept 26  Al Benedict            Toronto             W tko  2
Sept 29  Bob Roper              Grand Rapids     ND-W Pts 10
Oct. 27  Larry Williams         Providence RI       W tko  4
Nov. 10  Bob Roper              Buffalo             W Pts 12
1923
Jan.  1  Bob Roper              Pittsburgh       ND-W Pts 10
Jan. 15  Tommy Loughran         Pittsburgh       ND-W Pts 10
Jan. 22  Billy Shade            Jersey City      ND-W Pts 12
Jan. 30  Tommy Loughran         New York            W Pts 15
         (retained North American light-heavyweight title)
Feb.  5  Pal Reed               Newark NJ        ND-W Pts 12
Feb. 16  Young Fisher           Syracuse            W Pts 12
Feb. 23  Gene Tunney            New York            L Pts 15
         (lost North American light-heavyweight title)
June 16  Len Rowlands           Uniontown PA        W ko   3
Aug. 31  Johnny Wilson          New York            W Pts 15
         (won World middleweight title)
Oct.  4  Jimmy Darcy            Pittsburgh       ND-W Pts 10
Oct. 11  Tommy Loughran         Boston              L Pts 10
Oct. 22  Lou Bogash             Newark           ND-W Pts 12
Nov.  5  Soldier Jones          Pittsburgh       ND-W Pts 10
Nov. 15  Chuck Wiggins          Grand Rapids     ND-W Pts 10
Dec.  3  Bryan Downey           Pittsburgh          W Pts 10
         (retained World middleweight title)
Dec. 10  Gene Tunney            New York            L Pts 15
         (for North American light-heavyweight title)
Dec. 25  Tommy Loughran         Pittsburgh          W Pts 10
1924
Jan. 18  Johnny Wilson          New York            W Pts 15
         (retained World middleweight title)
Feb. 22  Jack Reeves            Oakland CA          W Pts  4
Mar. 24  Fay Keiser             Baltimore           W tko 12
         (retained World middleweight title)
Apr. 19  Kid Norfolk            Boston              L dsq  6
May   5  Jackie Clark           Kenilworth MD       W tko  2
May  12  Pal Reed               Pittsburgh          W Pts 10
June 12  Martin Burke           Cleveland        ND-W Pts 10
June 16  Frank Moody            Waterbury CT        W ko   6
June 26  Ted Moore              New York            W Pts 15
(retained World middleweight title)
Aug. 21  Tiger Flowers          Fremont OHIO     ND-W Pts 10
Sept  3  Jimmy Slattery         Buffalo             W Pts  6
Sept 15  Billy Hirsch           Mingo Junction OH   W tko  8
Sept 17  Gene Tunney            Cleveland        ND-L Pts 10
Oct. 13  Tommy Loughran         Philadelphia        D     10
Nov. 11  Ray Nelson             Philipsburg PA      W ko   3
Nov. 17  Jimmy Delaney          Pittsburgh          W Pts 10
Nov. 25  Frankie Ritz           Wheeling WV         W ko   2
1925
Jan.  1  Augie Ratner           Pittsburgh          W Pts 10
Jan.  9  Bob Sage               Detroit          ND-W Pts 10
Jan. 19  Johnny Papke           Zanesville OHIO     W tko  7
Jan. 22  Kid Lewis              Pittsburgh          W ko   1
         (Billed as an exhibition, but Lewis came in swinging)
Jan. 30  Jimmy Delaney          St. Paul         ND-W Pts 10
Feb. 17  Billy Britton          Allentown PA        W Pts 10
Feb. 23  Young Fisher           Scranton PA         W dsq  6
Mar. 27  Gene Tunney            St. Paul MN      ND-L Pts 10
Apr. 17  Johnny Wilson          Boston              W Pts 10
Apr. 24  Jack Reddick           Toronto             W Pts 10
May   1  Quintin Romero-Rojas   Detroit          ND-W Pts 10
May   6  Billy Britton          Columbus OHIO       W Pts 12
May  29  Tommy Burns            Indianapolis     ND-W Pts 10
June  1  Soldier Buck           Louisville       ND-W Pts 10
June  5  Jimmy Nuss             Ishpeming MI        W ko   5
July  2  Mickey Walker          New York            W Pts 15
         (retained World middleweight title)
July 16  Maxie Rosenbloom       Cleveland        ND-W Pts 10
July 23  Billy Britton          Columbus            W Pts 10
July 27  Ralph Brooks           Wichita          ND-W Pts 10
July 31  Otis Bryant            Tulsa               W ko   3
Aug.  4  Ed Smith               Kansas City MO      W ko   4
Aug. 12  Pat Walsh              Atlantic City NJ    W tko  2
Aug. 17  Tommy Burns            Detroit          ND-W Pts 10
Oct. 13  Tony Marullo           Pittsburgh          W Pts 10
Nov. 13  Tony Marullo           New Orleans         W Pts 15
         (retained World middleweight title)
Dec. 14  Soldier Buck           Nashville TN        W Pts  8
1926
Jan. 11  Roland Todd            Toronto             W Pts 12
Jan. 19  Joe Lohman             Omaha               W Pts 10
Jan. 26  Ted Moore              Los Angeles         W Pts 10
Jan. 29  Buck Holly             Hollywood           W tko  5
Feb.  3  Jimmy Delaney          Oakland CA          W Pts 10
Feb. 12  Owen Phelps            Phoenix             W Pts 10
Feb. 26  Tiger Flowers          New York            L Pts 15
         (lost World middleweight title)
June  1  Art Weigand            Buffalo             W Pts 10
June 15  Allentown Joe Gans     Wilkes-Barre PA     W Pts 10
Aug. 19  Tiger Flowers          New York            L Pts 15
         (for World middleweight title)