Dick DiVeronica
By Dan Cuoco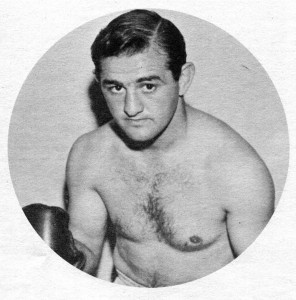 Dick DiVeronica was born on January 26, 1938 in Kirkville, New York. He was a popular fighter who campaigned from 1958 until 1972, starting as a lightweight and ending his career as a middleweight.
Dick was an outstanding student athlete at Canastota Central High School where he excelled in football and wrestling. He earned a wrestling scholarship to Cornell University when he graduated from high school in 1955. But after a year at Cornell, he left school after being inspired watching hometown hero Carmen Basilio prepare for his first title fight with Sugar Ray Robinson, and decided on a boxing career.
Dick's amateur career was brief. It started and ended with the 1958 Adirondack A.A.U. tournament. He captured the novice lightweight title.
Dick made his pro debut as a lightweight on April 23, 1958 in Syracuse, New York winning a four round decision over Carl Schroeder.
In the December 1958 issue of "The Ring" magazine he was named lightweight prospect of the month. That same month Emile Griffith was named welterweight prospect of the month.
DiVeronica went undefeated in his first eighteen bouts, capping off the string with an impressive ten round decision over 25-year-old Tommy Tibbs on October 23, 1959. Tibbs was a veteran of over 100 professional fights including victories over Willie Pep, Lauro Salas and Lulu Perez, while splitting with Larry Boardman, Paul Armstead, Harold Gomes, and Ike Chestnut. Tibbs also went the distance in losing efforts to Carlos Ortiz, Len Matthews and Frankie Ryff.
On January 12, 1960, Dick lost his first professional fight in Buffalo, NY to Buffalo's undefeated Jackie Donnelly. Donnelly, like DiVeronica, had turned professional in 1958 and was also undefeated in eighteen fights. Dick rebounded from his first defeat by winning decisions over Tommy Pacheco and then highly rated Jay Fullmer (younger brother of hall-of-famer Gene Fullmer) in his only nationally televised bout. However, he ended 1960 on a down note by losing his return match with Jackie Donnelly in New York. 
Dick started 1961 off by winning decisions over Tony Christie and Marcel Bizien and stopping Henry Hickman before back-to-back decision losses to Johnny Bizzarro and Fred Martinovich slowed his progress.
However, less than three months after his loss to Martinovich Dick dramatically turned his career around with an upset seventh round stoppage of highly regarded undefeated power-puncher Don Adamson, 14-0-1 (11), in Ogden, Utah.  
With a record of 24-4-0 (7) and victories over Tommy Tibbs, Jay Fullmer, Tony Christie, Marcel Bizien and Don Adamson, Dick was just beginning to make good progress in boxing when he was drafted into the U.S. Army on August 6, 1961.
After basic training, Dick was assigned to the Seventh Army in West Germany where he was a boxing coach.  He had no fights while stationed in Germany although he did contact several European promoters, but nothing materialized. He was honorably discharged on August 15, 1963.
After his discharge, he resumed his professional boxing career on February 11, 1964 by winning a majority decision over former national amateur champion, and fellow prospect, Pete Toro in an eight round main event at New York's Sunnyside Garden. He followed with decisions over Jimmy Meilleur, and Les Bagi in Syracuse, Tommy Garrison in New York at Madison Square Garden, stopped Al Sewell in five in Syracuse and outpointed Larry Wright in Utica.
Dick was inactive for 21 months after his victory over Larry Wright. His reputation as an aggressive, yet cagey warrior frightened off potential rivals. To support himself, he joined a construction crew on a full-time basis.
When Dick was ready to return to the ring his managers Joe Netro and Johnny DeJohn sent him to Miami to regain his timing and refine his skills under the watchful eyes of trainers Angelo Dundee, and Izzy Klein. Dick trained almost daily with future hall-of-famer Luis Rodriquez and perennial middleweight and light-heavy weight contender Gomeo Brennan at Miami Beach's famous 5th Street Gym.
In his first ring action in 21 months, the extremely rusty DiVeronica gave away 10 pounds to hard-hitting middleweight Herman (Scatterhawk) Dixon and suffered a shocking fourth round knockout loss.  This was the only clean knockout defeat he was to suffer in 56 professional fights.
The stunning knockout loss to Dixon didn't destroy DiVeronica's confidence. Although he never thought he would see the day he couldn't finish a fight on his feet, he was determined to prove to everyone that the kayo defeat was an aberration.
Three weeks to the day after his stunning defeat, DiVeronica avenged his loss to Dixon with a convincing seventh round TKO. Showing no ill effects, Dick again gave away 10 pounds and slashed his way to victory with hard overhand rights and thunderous body punches. DiVeronica took everything his heavier and taller opponent tossed at him without apparent effect while digging vicious left hooks to the body that eventually doubled up and retired the game Dixon in the seventh round.
DiVeronica won four of his next five fights in Miami, avenging his only defeat to then unbeaten junior middleweight Gordon Lott. His return victory over Lott snapped Lott's unbeaten record at 20. His other victories were over well respected veteran Peter Schmidt and prospects Grady Ponder (23-1-0) and Severo Balboa (21-1-0).  After the August 30th Balboa fight Dick headed back home to Canastota.
When 1967 got under way his record stood at an impressive 35-6-0 (9) and Boxing Illustrated Magazine had him ranked in their welterweight ratings.  But Dick was having a hard time finding opponents and stayed idle for eight months before receiving an offer to meet Washington, D.C.'s highly regarded junior welterweight contender Sweet Herbie Lee (17-1-0 (7) in Baltimore, MD.
On April 3rd he entered the ring a big underdog against Lee who was being touted as a coming champion. Only 1,885 fans showed up, probably feeling it would be just another win for Lee. The fans missed the biggest upset in a Baltimore ring in many years.
DiVeronica confused the shifty Lee with his crouching style. He frequently landed straight rights and looping left hooks against the agile Lee. The officials had Lee in front by a slight margin entering the sixth round when DiVeronica finished the fight with a crushing right hand that spun Lee around before he dropped to the canvas. At the count of five Lee tried to get up, only to fall over backwards where he was counted out by referee Benny Goldstein. Underdog DiVeronica left the ring with cheers ringing in his ears.
Always the gracious winner, Dick agreed to a rematch in Baltimore. On March 3rd Dick lost a hotly disputed split decision to Lee that didn't sit well with the 3,018 pro-Lee fans.  The fight was so exciting that the promoters brought Dick back for a rubber match on July 10.
Lee at 141 pounds fought a tentative fight against the aggressive 146-pound DiVeronica. Lee seldom threw a meaningful punch and seemed content to go through the paces without being hurt. DiVeronica fought his typical high-energy aggressive fight by constantly working his way inside and working the body to perfection while desperately trying to land a haymaker.  At the end of ten rounds DiVeronica walked away with a lop-sided unanimous decision.  He also saw his stock rise nationally, as he was elevated to number three in the world ratings.
After the third Lee fight Dick didn't step in the ring again for another five months, a pattern that haunted him his whole career. This time his inactivity cost him his number three rating and by years' end he saw his world rating drop to number six.
In his first fight in five months, Dick again hit the road and traveled to New Orleans where he dropped a close decision to local power-puncher Jerry Pellegrini. 
Two months later DiVeronica met Philadelphia's undefeated Gypsey Joe Harris, the number one ranked welterweight contender. Harris was considered by many the uncrowned welterweight champion for his non-title trouncing of champion Curtis Cokes eleven months earlier.
Harris and DiVeronica thrilled a full house at the Philadelphia Arena with ten exciting rounds of all-out action. Both fighters went at each other from the opening bell. Harris, who had a clowning style that often confused his opponents, found that DiVeronica wasn't bothered by it and he had to fight hard all the way to win a narrow decision.
DiVeronica forced the action to win the first two rounds, and in the second came close to dropping Harris when he nailed him with a right cross that sent him stumbling across the ring. Harris clowned his way out of trouble and edged the next four rounds behind a sharp left hook and some good body punches.
Harris hurt DiVeronica in the seventh with a hard right uppercut under the heart, but DiVeronica came back strongly in the eighth and outfought Harris by bullying him around the ring. Harris used his speed to edge out the ninth round, but DiVeronica again out-fought Harris in the final round.  After ten hotly contested rounds Harris walked away with a close decision.
Immediately after the decision was announced, Johnny DeJohn, Dick's advisor petitioned for an immediate rematch, but Gypsey Joe's management declined. They wanted no further part of DeVeronica.
The losses to Pellegrini and Harris placed Dick in serious danger of losing his place among the top ten welterweight contenders, but he bounced back, as he had done time and time again, with back-to-back victories over Johnny Knight and Leroy Roberts in Baltimore.
Against Knight, DiVeronica, once again delighted Baltimore fight fans with his exciting aggressiveness. Knight tried to pull off an upset, but Diveronica met every one of Knights' assaults with one of his own and had Knight hanging on at the final bell. DiVeronica swept all three of the official's scores comfortably.
A month later Dick was back in Baltimore to face former top ranking contender Leroy Roberts of Philadelphia. A crowd of 2,506 saw DiVeronica score a one-round kayo over Roberts. The action started out fast with Roberts landing some sharp authoritative punches that had the fans sensing an upset. The ease with which Roberts landed gave him a false sense of confidence because he walked in wide open, only to be nailed by a short right hand that dropped him flat on his face. Roberts barely made it to his feet at the count of nine and stumbled into the referee's arms and he immediately and wisely called a halt to the fight.
DiVeronica hit another bump in the road when he lost a controversial split decision to shifty welterweight contender Percy Pugh in Baltimore. The decision did not sit well with the fans and they voiced their opinion vociferously.
Dick started 1969 off by trouncing Al Massey in Philadelphia bringing his record to 40-10-0 (11).
Bouts with Willie Munoz, David Melendez (scheduled for New York), Jean Josselin (scheduled for Paris) never came off, as well as a card scheduled for Syracuse. Instead, DiVeronica flew to San Juan, Puerto Rico and lost a close decision to old foe Pete Toro.
A month later Dick finally got a chance to fight before his hometown fans in Syracuse when he met former multiple welterweight and middleweight champion and future hall-of-famer Emile Griffith.  Dick was extremely disappointed when the fight was stopped in the seventh round from a severe gash over the eye in a highly competitive fight.
Three months later, Dick bounced back to easily defeat tough Marcel Bizien in Jersey City. NJ.
During this period, Dick wasn't the only Canasota, NY welterweight making headlines. Another fighter with a Basilio connection, Carmen's nephew Billy Backus, had been racing Dick step for step up the welterweight ladder. Billy hit paydirt on December 3, 1970 in Syracuse, NY when he stopped welterweight champion Jose Napoles on cuts to capture the world welterweight title.  Many local fans clamored to see what could be done to match the two in what would have been a natural. But unfortunately for Dick and the fans the match never happened.
Backus' manager Tony Graziano said "Well, we don't want to fight DiVeronica because we're from the same town. We like him too much."  Dick wanted the match and said: "I don't care if it was a title or non-title fight. We could have made a pretty good buck here in Syracuse. A promoter dreams of having two local fighters."
Ironically, earlier in the year George Parnassus approached DiVeronica's management about fighting Jose Napoles in California.  "It was all signed." Stated DiVeronica. "I had the airplane tickets and everything, and shortly before I was ready to leave for California they called Johnny DeJohn and apparently didn't want the fight. They announced in the paper that I got sick and couldn't make the fight."
Dick only laced up the gloves three more times over the next two and a half years, outpointing previously undefeated Tony Berrios in Scranton, PA, losing a close decision to Buddy Boggs in Baltimore and fighting a draw with Alvin Anderson in Baltimore.
After the Anderson fight, which took place on April 30, 1972, Dick decided to hang up the gloves for good. He could have stayed on for a few more years and become a trial horse for the younger fighters building a reputation, but Dick was too smart for that. Instead he went back to the Canastota Contracting Company that he ran with his three brothers until his retirement two years ago.
Dick and his wife Janine, who will celebrate their 36th wedding anniversary on November 26th of this year, still make their home in Canastota. They have four children, Christina, Theresa, Ann Marie and Nicholas. 
Dick is a fixture at the annual International Boxing Hall of Fame weekend held in Canastota, NY. As a regular attendee I can attest that Dick is one of the most accessible and nicest ex-fighters you will meet at the induction weekend.   Its good to see a great guy like Dick DiVeronica finish on his feet a winner in life, as well as in the ring.  
References
DiVeronica, D. 2002. Private Conversation, Canastota, NY, June 7, 2002
Cogswell, D. 2001. Boxing Record Keeping, BoxMag.Com and IBRO Journal, 2001
Long, A. 1970. I May be Down, but I'm Far from out!, Boxing Illustrated, Vol 12, No 2, February, 1970
Glick, M. 1967. DiVeronica Aims High, Boxing Illustrated, Vol 9, No 7, July, 1967