Don Fullmer:  My Brother's Brother
By Austin Killeen
(Published in IBRO Journal 96, December 2007)
Driving from Albuquerque, NM, I was headed north through South Western Colorado into Utah in search of South Jordan.  I'll never again complain about my 2-hour drive to Brockton, MA for an interview with Iron Mike Pusateri.  Much of the terrain was open prairie as far as the eye could see.  I wondered what I would do if my Toyota Echo decided to lay down and die in this vast wilderness.  Beautiful but rugged land, most of which was barely inhabitable, that would prove a challenge to anyone trying to sustain a life off it.  Then it occurred to me, that it was this very land that spit out the Fullmer brothers.  Three brothers whose style mirrored the very land they lived on.  After 600 miles I arrived at the home of Don Fullmer, youngest of the fighting Fullmers.  Waiting for me at the foot of his driveway, Don's outgoing personality and warm hospitality would prove to be the exact opposite of the style he employed inside the ring for over three decades as amateur and pro!  A career that would include wins over 4 world champions and numerous top 10 contenders.
I asked Don when he first got started in the square circle; he answered, "probably before I was born."  Noticing the puzzled look on my face he started by telling me about his parents "Tuff" and Mary.  Although never involved in boxing himself, Don's father developed a reputation as someone not to be fooled with.  Toiling in the Kennicott Copper Mine in Bingham, Utah, Lawrence Fullmer quickly proved he could settle any debate with follow miners.  Using two compelling arguments, his left and right hands, Lawrence acquired the nickname "Tuff"!  Tuff added to his reputation in the local dance halls where he met his future bride, Mary.  The future Mrs. Fullmer was very comfortable around the hard living miners and took an immediate liking to boxing.  When their first son was born, it was Mary who selected the name Gene.  His name chosen in honor of former heavyweight champion Gene Tunney. 
Don's earliest childhood memories always included boxing.  Brother Gene was already involved in the amateurs with Marv Jensen, a local mink rancher.  Jensen ran an amateur club, and had a gym in the basement of his home. 
When Don was 6 years old, Marv Jensen came to his house and asked if he and his brother Jay would like to join the boxing club.  As new members of the club, they were given sweaters with an interlocking W.J. (which stands for West Jordan) embroidered on the chest.  As a wide-eyed youngster, Don quickly learned that everything comes with a cost.  He had to give his word of honor that he would not smoke, drink or use abusive language at any time.  If he did, there would be no questions asked or explanations offered.  Marv would come get the sweater and he would lose the opportunity of being a member in the club.  Apparently Don was true to his word because the tiny sweater is framed and on display in his cellar family room. 
Jay and Don's earliest ring experience was against each other in exhibitions, wearing large gloves.   Although 2 years older, Jay was the smallest of the three brothers so they matched up size wise.  With the knowledge acquired from these sibling engagements, Don went on to have 65 amateur bouts.  When pressed as to how many of these he won, Don replied "all of them."  This included winning the Inter-Mountain AAU 3 times and being chosen the outstanding fighter when he was a novice.  In 1957 Don had the opportunity to go to the National AAU Championships in Chicago.  This conflicted with the 2nd middleweight title bout between older brother Gene and Sugar Ray Robinson.  Don chose to attend the title bout over the AAU finals.
Don's teenage years were not limited to amateur boxing.  While attending Jordon High School, he participated in football, basketball, track and wrestling.  In his senior year, he was seated 5th in the state as a wrestler.  This would lead to a match with the defending state champion.  Don laughingly says it was the only time he would finish up on his back as a wrestler or boxer.  His athletic skills lead to scholarship offer from Southern Utah State in football, as a potential quarterback and linebacker.  Football's loss was boxing's gain as he turned down the scholarship to pursue a career in pugilism.
Don's high school years were not limited to sports.  Noticing that Jordan high was holding a dance to welcome all incoming freshmen, Don decided to ask Nadra Formane if she would like to go.  The cute little Nadra had first come to his attention in South Jordan Middle School, in 6th grade.  After waiting 3 years, Don decided it was time to take it to the next level and asked her out.  With Tuff and Mary Fullmer driving them, they attended the big dance.  Looking for a little more intimacy with the lovely Nadra, precocious little Don decided on a bold plan.  He would ride his horse, a brown and white Pinto called Little Sir Echo, 4 miles to her house daily.  Allegedly this prompted one of the neighbors to say, "I hope that Fullmer kid gets his license real soon!!  I'm sick of his damn horse galloping over our lawn every afternoon."        
As if his daily schedule wasn't busy enough, with school, sports, fertilizing the neighbor's lawns with Little Sir Echo and a full time girl friend, Don decided he was ready to turn pro.  Now he was running 3 to 4 miles each day before school and after graduation, working as a full time break layer.  After work it was a quick meal and then head to the gym for shadow boxing, skipping rope, hitting the speed and heavy bags plus 3 to 6 rounds of sparing with the local pros.  Don's pro debut was against the infamous 'Wild" Joe Mortensen before a packed house at the West Jordan Arena.  Apparently Mortensen got his moniker based on his taste in clothes.  At any rate the wild one was domesticated before the bout was half over. 
Fullmer reeled off 14 straight wins over the usual suspects, never was and could have beens, to start off his career.  This offering of opposition didn't indicate a lack of confidence on the part of Marv Jensen.  On the contrary, most prospects start their careers this way, minimizing risks while polishing up their skills.  Then the Fullmer express jumped off the tracks, losing not one but three bouts in a row, away from the friendly confines of Utah.  Having never lost a fight pro or amateur in 12 years, could Don actually compete in the pros or was he simply cashing in on his famous last name?  One thing was obvious he needed a win and quickly if he was to stop the slide to his reputation.  Marv Jensen's solution; bring him back to friendly surroundings of Jordan where he won a six round decision over Doug Garrett.  Although this bout stopped the losing streak, it did little to build Don's reputation in the world boxing community.
Next up was a bold move on Jensen's part; box Virgil Akins, former world welterweight champ, in his home town of St. Louis, Mo.  Don showed he wasn't somebody's kid brother but a strong boxer in his own right.  Busting up Akins right eye, Fullmer administrated a sound drubbing while winning an upset 10 round decision.  Don showed amazing strength, which would prove to be his trademark, most likely the result of his high school wrestling and a job as a bricklayer.  His performance proved two things; the Fullmer express was back on track and he didn't have to fight in Utah to be victorious.  
As a reward for running off 3 more wins, Don was matched with another hot prospect, Passiac, New Jersey's Stefan Redl, formally of Germany.  Before a packed house in West Jordan and a national audience on TV, two immovable objects collided.  The bout was held in Jensen's own gym, affectionately called Jensen Square Garden.  After 10 action packed rounds, Fullmer had claret running from his nose and the more experienced Redl had leakage over his left eye.  The fight proved an old axiom of boxing; that a good big man will usually beat a good little man.  Fullmer collected the win over his smaller rival, winning his 6th fight in a row.  The pride of West Jordan was starting to pick up wins fighting live opposition, which would be his trademark for the remainder of his career.  His next bout would also establish the fact that he would travel anyplace in the world to meet the best contenders!!  
Next up on Don's dance card was a meeting with Gustav Scholz of Germany.  The match was scheduled to take place in Frankfurt against the European Middleweight Champion and # 1 contender for the crown.  For pre-fight publicity, the participants went to a local pub to meet the press.  When Scholz ordered two beers for Don and himself, Fullmer politely declined saying he didn't drink alcohol.  When he ordered a glass of milk instead, the tavern broke into laughter at the strange request.  Don was told that the only milk they had was goat's milk.  This was fine with the American and the two fighters made a toast with their goat's milk and beer.  The press now had a nickname for the foreign invader, "Milk Baby Fullmer."   
As for the fight itself, West Jordan's native son had no problem with Scholz's southpaw style.  Moving clockwise, Don was able to avoid most of the German's arsenal while seemingly impervious to the punches that did land.  After 10 hard fought rounds of action the verdict was a draw.  Do to his excellent performance against the top contender, Ring Magazine ranked Fullmer 9th in the middleweight division.  Returning to Utah, Don scored a 10 round decision over Buck Bellamy to solidify his new ranking.  
Anxious to see the youngest Fullmer perform in the big apple, Don was matched with undefeated Joey Archer in a nationally televised main event in Madison Square Garden.  In an entertaining bout, Fullmer took the early lead with his aggressive, awkward style.  By the 5th round, Archer's jab started to find the mark along with left hooks to the body and head.  Each time Archer appeared to be taking control of the fight, Fullmer would rally making the rounds difficult to score.  At the end of 10 hard fought rounds, Archer was awarded a majority decision.  Along with the setback, the Midwesterner had lost his top 10 ranking.
For the next 2 years Don's career appeared to be on a treadmill, a lot of motion but little forward progress.  Each win was followed by a loss.  A decision win over Rocky Fumerelle was followed by a loss on cuts to the underrated Teddy Wright, only to bounce back with a win over tough Joe DeNucci in his hometown of Boston.  I had the opportunity to speak with DeNucci for his viewpoint on the match.  He stated that he had an off night and put forth a poor performance.  In addition that Promoter Sam Silverman was trying to lure big brother Gene to Boston for a unification match with Paul Pender.  As a result, the last thing Silverman wanted was Don to appear to be the victim of a home town decision.  The Boston Globe's coverage of the fight credited Fullmer with calm counter-punching in capturing a unanimous decision.  They credited Don with landing the best punch of the fight, a left hook to the jaw in the 9th round.  The loss snapped DeNucci's 6-bout win streak and a possible match with Gene in bean town.  
Don closed out the year with 3 more bouts.  Traveling to London, Fullmer had former world champ Terry Downes on the canvas in the 3rd but failed to follow up his advantage.   By fights end the ex title claimant was bleeding over both eyes.  Although the American exposed many cracks in the Brit's arsenal, the sole abettor awarded Downes a narrow point's verdict.  Returning states side, Don won an impressive 10 nod over the ever dangerous Rocky Rivero in New York.  Three months later Fullmer returned to Madison Square Garden, losing a decision to Emile Griffith.  Don's "grab and hold style" seemed to throw Emile off his usual fluid technique, with fans witnessing a less than exciting bout. 
In February of '64' Don got a chance for revenge, in a televised bout against Eddie Andrews in Ogden, Utah.  Like Don, Eddie came from a fighting family out of Lowell, MA.  Although lacking the notoriety of the Fullmers, the Andrews brothers, Dave, Roy and Eddie were well known in the New England region.  And no they were not related to the signing Andrews sisters of the 40's.  Through the 1st six rounds it was Andrew's aggressiveness vs. the surprisingly effective countering punching of Fullmer.  Over the last four rounds, Don's body punching dominated the bout.  Capturing a unanimous decision, Don evened the series at one and one.  Two months later, Fullmer captured the rubber match in Reno, NV. 
Over his next 6 bouts, Don had 2 wins, 3 losses and 1 draw.  The strangest result was a TKO lost to junior middleweight claimant, Sandro Mazzinghi, in Milan, Italy.  The referee stopped the bout in the 8th round, because in his words, Don's excessive use of his head.  Apparently there is no word for disqualification in Italian.  Don took this opportunity to set the record straight regarding the Fullmer's illegal use of their heads.  Critics often stated that the brothers should be required to put a boxing glove on their heads, because they used it as a 3rd fist.  With his right hand raised and a twinkle in his eye Don stated that no Fullmer was ever culpable of head butting!!  I'm glad the "mulling Mormon" put that rumor to rest. 
Matched with Dick Tiger in Cleveland, OH, Don lost a unanimous decision to the former champ.  Don stated in his typical honesty "I probably showed him too much respect as a result of his fights with my brother Gene."  Even in defeat, Don showed his amazing strength on the inside.  Tiger one of the strongest middleweights of the 60's was unable to push Fullmer around.  In rating his performance against Tiger, he said, "I was so bad that they had to cancel the Friday night fights after 23 years.  It does make a good trivial question, as it indeed was the final show for the Cavalcade of Sports.  Don then traveled to Louisville, KY to win a 10 round decision over Jimmy Ellis, future heavyweight title claimant.  In watching the replay twice, I was amazed how often Fullmer was able to slip the much faster Ellis's left jab and counter punch, landing overhand rights.  Once again, though awkward and slower than his opponent, Fullmer demonstrated the ability to take his adversary out of their fight plan. 
The Ellis win seemed to change the fortunes of the West Jordan middleweight.  Over a span of almost 4 years, Don had 15 wins, 2 losses and 1 Draw.  This included turning the tables on 3 former victors Emile Griffith, Joey Archer and Teddy Wright, as well as a decision over former middleweight champ, Carl "Bobo" Olson.  As a result, Fullmer was runner up to Alan Rudkin, the British Empire bantamweight king for the Ring Magazine Progress Award.  Additionally he was seen as a serious challenger for a shot at the middleweight title.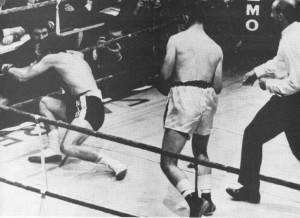 In December of '68', Don finally got his shot at the middleweight title against Nino Benvenuti in San Ramo, Italy.  Regrettably Fullmer was diagnosed with the Hong Kong flu the day he left for the fight.  His first 5 days in Italy were spent in bed suffering from cold sweats and cramps.  Upon leaving for Europe, Don was concerned about his weight, as he was 4 pounds over the middleweight limit.  When he finally got to the gym for his first workout, Don was astonished to see he had lost 10 lbs. while confined to bed.  The thought of seeking a postponement never entered his mind.  After 11 years of fighting the "who's who" of boxing he might never get a second chance, if he pulled out of the title bout. 
The fight was being televised back to the states on the Saturday afternoon on Wide World of Sports.  The infamous Howard Cosell, who would broadcast the fight live in a few hours, held a news conference with Fullmer.  Howard's approach to public speaking was "why use one word when 500 would be adequate!"   When Howard interviewed an athlete, the interview often overshadowed the sporting event itself.  In reflecting back to his interview, Fullmer who never says a bad word about anyone stated; "that Howard was a dandy, he thought he was the best thing to come along since bubblegum."  Due to Fullmer's health problems; the interview might well have overshadowed the fight.  
For the 1st six rounds, Fullmer fought like a patient in search of a hospital bed.  Benvenuti performed like a surgeon, displaying and excellent left jab and good lateral movement to easily pile up points.  In the 7th round, lighting struck, in the form of an overhand right onto Nino's chin!  The champ fell like the stock market in '29', in front of Cosell's microphone.  This left the usually loquacious Howard speechless.  Rising on unsteady legs, the Italian champ was clearly hurt.  Fullmer chased Benvenuti into the far corner of the ring, pressing his advantage.  Unfortunately the Hong Kong flu had left the West Jordan hopeful drained of energy and Nino escaped further harm.  The remainder of the scrap resembled the 1st six rounds of the bout, with the Italian winning a unanimous 15 round decision.  One amusing note; in the 14th stanza Benvenuti turned to the referee and demanded that Fullmer be given a warning for butting.  So the referee immediately issued a caution for illegal use of the head. 
Fullmer's livelihood continued for another 5 years with 15 fights against leading contenders for both the middleweight and light heavyweight division.  This included bouts with 4 title challengers and 5 additional boxers ranked in the top ten.  This included a draw with Tom Bogs in Copenhagen, Denmark and wins over monster light heavyweights Andy Kendall and Billy Wagner.  When Don lost a decision to Philadelphia's Richie Kates in Philly, snapping a 4 bout win streak, he decided to call it a career.  With an accumulation of injuries acquired over 16 years, he no longer felt he could compete at his best.  He felt he was cheating his fans, himself and most importantly his family who had supported him emotionally for over a decade and a half against the best boxers in the world. 
Today Don Fullmer is a rich man in many ways.  He lives in a beautiful home that is tastefully decorated, thanks to the former Nadra Formane.  (Apparently Little Sir Echo won her heart)  His beautiful wife of 50 years has played an important role in Don's success, backing his career choices as a professional boxer, bricklayer and a fireman for the West Jordan Fire Department.  The Fullmer's produced 5 healthy sons who inherited their father's athletic abilities.  All five boys Larry, Brad, Troy, Hud and Kade in addition to being amateur boxers played varsity sports at the college level; 4 in football and one in basketball.  Apparently Brad got his height from the mailman. (Just kidding Don)  Entering the Fullmer's home, one quickly sees 5 generations of the Fullmer clan adorning the walls.  One picture in particular caught my eye; it showed Tuff and Mary Fullmer with 4 children.  Jay, Gene and Don were the 3 sons, but I wanted to know who the pretty girl was.  "That's my sister Colleen" replied Don.  "She was the toughest one of the whole bunch."  She lost a 30 year fight with Muscular Scleroses, but not before she brought 2 wonderful children into the world."  Before the day was over, Jay and Gene also made the same loving remarks regarding their sister Colleen at their homes. 
As a father my dream is that my 3 children will always be close, long after I leave planet earth.  If Tuff and Mary share my dream, they must be smiling from above; Gene, Jay and Don are inseparable.  In retirement, all three brothers are active in amateur boxing, both as trainers and promoting local boxing cards.  Additionally the 3 brothers live side by side, in beautiful homes, on land given them by their father Tuff.  There's a lot more to the brothers' Fullmer than boxing, it's all about family!!  When I visited Utah, Nadra and Don made me feel part of that special environment.
I'd like to thank Hud Fullmer for the use of a college paper he wrote on his father.  Hud's writing was from the viewpoint of a loving son about his dad, while my efforts came from an historical perspective.  However his writings served as a road map, keeping me on task.  Having viewed many of Don's bouts in developing this story, I've concluded that he was a very under rated boxer.  A surprisingly effective counter puncher who was extremely well conditioned, Don fought all comers in 2 weight classes from all over the world.  In today's boxing universe, with 4 champions in 17 divisions, Don would be an outstanding titleholder!!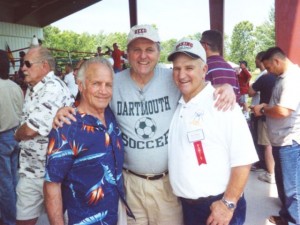 PHOTO: Stefan Redl, Austin Killeen and Don Fullmer @ IBHOF weekend (June 2007)