Jay Fullmer:  The Forgotten Brother
By Austin Killeen
(Published in IBRO Journal 98, June 2008)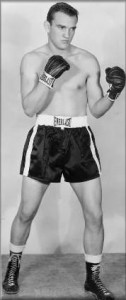 Once again I made the trek from Albuquerque, NM to South Jordan, UT to write a story on one of the Fullmer brothers.  Driving across a land where Mother Nature appears to have severely rationed the amount of foliage allowed to subsist on this craggy landscape.  Except for the existence of asphalt beneath one's car tires, one could easily believe they had been transported to an earlier century.  It was this harsh land that produced a trio of tough brothers to the world of boxing.
When boxing fans get together to talk about the old days, sooner or later the name Fullmer will enter the conversation.  "That Gene was one tough champ, he didn't duck anybody!  What about his kid brother Don, he came within a few seconds of winning the title himself."  Sadly many of these same fans don't know a third brother existed, or think; wasn't there a baby brother named Jay who had a few bouts?  I was guilty of thinking Jay was the youngest Fullmer until meeting him last year in Canastota, New York at the International Boxing Hall of Fame.
Like his younger brother Don, Jay's earliest childhood memories revolved around boxing.  I could easily use excerpts from Don's article, changing the name to Jay, their childhood recollections are so similar.  His older brother Gene was already boxing for Marv Jansen's gym.  Jay remembers Jensen coming to his house when he was eight, to see if he would like to join the West Jordan boxing club.  Like his brother Don, Jay was given a sweater with interlocking W.J. (which stands for West Jordan) embroidered on the chest.  In exchange, Jay promised that he would not smoke, drink or use abusive language at any time.  Jay realized that if he broke his word that Marv Jensen would return to his house to take back the sweater.
This is where Don and Jay's stories took different turns.  Don still has his tiny sweater in a glass covered frame on display in his cellar family room.  Jay couldn't produce his sweater.   I asked Jay if he had broken one of the covenants of the West Jordan Boxing Club and forced to return his treasured gift.  He assured me that wasn't the case and that the moths probably eat it.  IBRO investigators were looking into Jay's response as we went to press!! (Just kidding Jay) 
Jay's earliest ring experience was against Don in exhibitions, wearing over-sized boxing gloves.   Although 2 years older, Jay was the smallest of the three brothers so they matched up size wise.  They usually were the opening bout of amateur cards in the Salt Lake City area.  Newspaper clippings typically listed their results as Don and Jay Fullmer, both weighting 50 lbs. having fought to a 3 round draw.  With the knowledge acquired from these sibling engagements, Jay went on to have 72 amateur bouts, losing only one.  Three times Jay won the Intermountain AAU championship, culminating with a trip to Boston for the National AAU Title.  His only setback took place in the quarter finals of the National AAU quarter finals against Joey Parks of Omaha, Nebraska.  I asked if his record included his exhibitions with Don.  Jay replied; "heck if I counted them, I'd be 171 and 1."  When I looked up, Jay had a big grin on his face.   Which answered the age old question; when do sibling rivalries end?  Answer; NEVER!!
"I decided to turn pro, taking advantage of Gene fighting for the middleweight championship that year.  I trained with Gene at his camp at Grossinger's, NY in the Catskills Mountains for 2 months.  He was to meet Sugar Ray Robinson on December 12th at Madison Square Garden.  They even brought in a sparring partner for me, in preparation for my début.  How many novice boxers have an opportunity like that; beautiful training camp, excellent sparring, and turning pro in the Mecca of boxing, Madison Square Garden?  "I even sparred with Gene, but he took it easy on me.  If he ever opened up on a novice he'd crush em."  Gene's fight never came off, as Robinson came up with a shoulder injury and the bout was postponed.  "I don't think Robinson was any more injured than I was, but the title fight was off."
"They send Gene back to Utah, as he had been away from home for so long.  They couldn't afford to send me back and forth between Utah and New York, so I stayed at Grossingers.  My opponent was Luis Milan, he wasn't a world beater but he was a stiff test for me.  Of course I was nervous fighting in the Garden and turning pro. On December 12, 1956, I won a 4 round decision over Milan, which was a great experience."  Matchmaker Billy Brown was impressed with the rangy Fullmer's assortment of punches.  Firing left hooks off an excellent jab, Jay carried the 1st round.  Thereafter Fullmer used a straight right and right uppercut with jarring effect to capture the verdict.  The Carmelo Costa-Paul Jorgensen main event replaced the Fullmer-Robinson title fight.
Jay's 2nd pro fight took place in Detroit, Michigan on the undercard of Tony Anthony-Chuck Spieser.  His opponent was Jimmy Sparks in a scheduled six rounder.  Sparks found himself on the canvas 3 times to end the abbreviated bout.  Jay next traveled to Chicago Stadium to capture a 6 round decision over Dick Newall.  Brought back to the stadium for a 2nd bout, Fullmer made it 4 and 0 with an impressive TKO of home town boy Eddie Ford in 2:42 of the 1st round.  Ford was dropped for an eight count and unable to defend himself.
Opening his career out of town, Jay finally had the opportunity to fight before the home folks in an outdoor fight in West Jordan, Utah on July 16, 1956.  This was my first opportunity to see Fullmer on tape and I was very impressed.  Coming out of his corner at the opening bell, the crouching welterweight looked a lot like his brother Gene.  However the bigger, stockier, stronger Andy Maes of Colorado Springs, Colorado quickly caused Fullmer to change his style.  Jay quickly morphed into a classical stand-up style with excellent lateral movement.  He showed amazing speed both of hand and foot in neutralizing the bull like rushes of his opponent.  Apparently trapped in the corner late in the 1st, Jay adroitly stepped to his right and dropped Maes with an overhand right.  The bell saved the startled visitor from the north.
When pinned on the ropes by his stronger fore, the pride of West Jordan showed amazing poise and skill in moving the action back to the center of the ring.  Although predicting a KO by the 6th round, the Colorado native had no answer for Fullmer's arsenal of punches.  Knocked through the ropes in the 7th, Maes took a standing eight count from referee Ken Shulsen.  The final verdict was a lopsided unanimous decision for the local attraction.  The Jay Fullmer express was starting to pick up speed and attracting the attention of the national media.   That same month, Ring Magazine selected Jay as the Welterweight Prospect of the Month.
Tall, short, fast, strong, whatever physical attributes your opponent possesses you have to adapt in order to be successful.  Jay's 6th pro bout clearly put this theory to the test.  Once again fighting in West Jordan, Jay faced an opponent, Jim Morley, who was nearly 6 feet tall.  In the opening round Morley's height appeared to give him the advantage against the confused Fullmer.  Realizing his left jab wasn't effective due to a big reach disadvantage, Jay decided to become creative in the 2nd round.  Jay nailed the startled visitor with a lead overhand right to the head.  Viewing the film, it appeared Morley was out cold on his feet.  With lightning hand speed, Jay followed up with a left hook to the body and another overhand right to the head.  This took place while his lanky opponent was losing a fight against gravity on the way to the canvas.  Clearly the height advantage now favored Fullmer, who watched the referee count 10!
Over the next eleven months Jay collected 7 more wins to give him an impressive record of  13 and 0 with 6 KO's.  Fullmer's brain trust decided it was time to move up in class and challenge a big name in the welterweight division.  Joe Miceli of New York City was chosen. A veteran of 10 years ring experience, Miceli had fought the who's who of the division on national TV.  Although a big step up in competition, the New Yorker was considered post prime by many.  Additionally, he was willing to come to West Jordan for the match.  This also represented the biggest payday of young Fullmer's career.  In the 50's fighting on national television meant a guarantee of $4,000 plus 30% of the live gate.  One caveat regarding the match; Miceli was a large welterweight who had fought many middleweights successfully while Jay was a small welterweight who fought often as a lightweight.         
Entering the ring, Jay was a slight 7 to 5 choice.  Using brief rushes the quicker Utahan carried the 1st round.  In the 2nd the slower Miceli had a little more success landing glancing right hands to Fullmer's head.  Jay showed the effects of the New Yorker's offense with a bloodied nose and a raised welt on the right cheek bone.  Entering the 3rd stanza, the local boy was clinging to a slight lead on the official score cards.  Picking up the attack, Miceli drove Fullmer through the ropes and Referee Ken Shulsen administered a standing eight count.  Instead of trying to clinch, Fullmer went on the attack and found himself on the canvas compliments of a Miceli left hook.  Rising on unsteady legs, the glassy-eyed Fullmer was dropped by a left uppercut.  The referee stopped the bout as Utah employed the automatic 3 knockdown rule.  The boxing landscape is loaded with stories of hot prospects who suddenly suffer a crushing defeat.  It's how they react to adversity that determines their legacy. 
If Speedy Henderson was supposed to be an opponent for the purpose of rebuilding Fullmer's fragile confidence, he was never notified.  Henderson was well named as he was as quick of hand and foot as Jay.  The visitor threw 5 to 7 punch combinations with blazing hand speed.  Pinned on the ropes, Fullmer displayed excellent defense to minimize Henderson's attack.  Watching film of the bout, the difference appeared to be Jay's superior defense.  After 8 hard fought rounds Fullmer won a unanimous decision in which each round was fiercely contested.  Over the next 5 months, Jay captured 4 more wins to up his record to an impressive 18 and 1.
In December of 1958 Jay once again stepped up in class, traveling to Cleveland, Ohio.  His opponent, hometown lad Solomon Boysaw also a Ring Magazine prospect of the month.  After 8 hard fought rounds Boysaw was awarded a split decision.  Commenting on the fight Jay stated; "Solomon was very quick and one of the best opponents I faced in my career." Throughout the interview Fullmer never offered up excuses regarding injuries or colds to explain a setback.
Next for Gene's younger brother was a 10 round semi-final at Madison Square Garden against Jackie Hayden of Canada.  Gene was paired with Wilfie Greaves in the main event.  In a spirited contest which won over the crowd, the verdict was a draw.  Fullmer's brain trust of manager Marv Jansen and trainer Angelo Curley were matching their charge against tough opposition and on the road. This was necessary if Jay hoped to become a serious challenger on the boxing horizon.
Ranking lightweight contender Cisco Andrade in Palm Springs, California was next.  This appeared to be a mistake, fighting in Andrade's back yard.  Building up an early lead, Cisco was dishing out a beating to the visitor from Utah.  However the hotly contested match seemed to turn in Fullmer's favor in the 2nd half to the fight.  The well conditioned visitor closed strong, in a match which saw both combatants hurt.  In a bout that could have been called either way, Andrade was awarded a split decision.  Although disappointed with the verdict, Jay was rewarded with a bout on national TV, as a result of his excellent showing.
Traveling to Providence, Rhode Island Jay was matched with World Junior Welterweight Champion, Harold Gomes.  Counterpunching and using a left hook effectively, the champ controlled the fight.  Although slower than Fullmer, Gomes was able to capitalize on Jay's lack of experience.  The Utah boy's aggressiveness and right hand leads made the fight both interesting and competitive.  Although losing a unanimous decision to Gomes, Fullmer's effort solidified his position as someone to watch.  Listening to the respect Jay paid Gomes during our interview, I got the impression this might have been the best opponent he faced in his career.
During the match, Jay was hampered by double vision.  Everything appeared normal until Fullmer would slip a punch.  His right eye never refocused when he moved his head.  As a result, each eye was sending a different view to the brain.  A medical exam after the bout revealed nerve damage to the right eye.  After a few days his vision appeared to return to normal.  This would be a recurring problem for the remainder of Jay's career.
After 3 losses and a draw in his last four bouts against top competition, Jay returned to the friendly confines of West Jordan, Utah.  His opponent was Al Andrews a welterweight, not the middleweight of the same name from Michigan.  Jay described his stocky opponent as taking him 8 hard rounds before he gained the verdict.  Once again Jay was rewarded with a bout on national TV.  Jay commented; "You could make some decent money if you fought on television regularly and that was what I was starting to do."
Fighting in front of conventioneers, at the swank Fontainebleau Hotel's grand ballroom in Miami, Florida, Jay's opponent was Gale Kerwin.  Rocky Marciano was the guest referee.  If styles make great fights than the Fullmer and Kerwin styles didn't mesh.  Although both opponents tried to work hard, their efforts made for a dull bout.  The verdict after 10 uneventful rounds was a draw.  Jay returned to West Jordan and captured an 8 round decision over capable Eddie Garcia.
Once again Fullmer found himself on a nationally televised fight in Utica, New York. Dickie DiVeronica of nearby Canastota, New York, the protégé of former world welterweight and middleweight champion Carmen Basilio, was the opponent.  The bout looked like a replay of the Cisco Andrade fight, with DiVeronica playing the role of Andrade.  It was an absolute war from opening to closing bell to the delight of both those in attendance and the national TV audience.  It was Dickie's left hooks vs Jay's overhand rights.  The protégé of the onion farmer built up and early lead, only to have the well conditioned Fullmer close strong.  Once again Jay was on the wrong end of a split decision in the other guy's back yard.   Angelo Curley, Jay's trainer, went ballistic in the dressing room after the match.  Promoters in both New York and Utah were excited to sign the combatants to a rematch.  But it was not to be; Jay Fullmer retired from the ring because of the recurring injured nerve in his right eye.  Doctors feared additional trauma would eventually cause loss of sight to the right eye.
Having read many newspaper clippings and magazine articles in addition to watching films of his bouts, I've concluded that Jay was a very unlucky pugilist and underrated.  Carefully matched early in his career, as all well managed boxers are, he was undefeated.  From that point to the end of his career he was matched tough, with many of his big fights on the road, often in his opponent's back yard.  If you view the Miceli stoppage as an anomaly, you have to rate Fullmer's capacity to absorb punishment as very good.  West Jordan's favorite son suffered 3 split decision losses and 2 draws against live opposition, with all the bouts on the road.  One or more of those verdicts could easily have been awarded to him without raising an eyebrow.  Finally, an eye injury ended his career before he even reached his prime. 
In today's boxing landscape, Jay would be viewed as a junior welterweight.  Nowadays television is fascinated by a boxer's punch count.  Jay would push the meter with the volume of punches he threw.  Although not a heavy banger, he was always in excellent condition, as demonstrated by his strong finishes in 10 round bouts.  Defensively he was excellent when pinned on the ropes and his hand and foot speed would be better than most.  Additionally, modern medical advances would rectify Jay's eye problems.  I feel in today's boxing universe Jay Fullmer would be a top contender with an excellent chance of capturing a World Title!!
Jay Fullmer is a lucky man in many ways.  He lives in a charming home with his lovely wife of 50 years Marilyn.  Although not a big fan of the squared circle, Marilyn always supported Jay's endeavors including boxing.  The Fullmers' produced 7 beautiful children 3 girls Tammy, Shellie, and Shareen followed by 4 boys Kevin (who took pictures for the article), Shane, Chet and Cody.  The walls of the Fullmer home are adorned with family photos including 23 grandchildren and 15 great grandchildren, plus 2 on the way.  Jay is retired from the Kennicott Copper Mines (31 years) and as a bailiff for the district court house (13 years).  In retirement all three brothers are still active in amateur boxing, both as trainers and promoting local boxing cards.  For the past 30 years Jay has also worked as an amateur referee.  In addition, he produced an excellent booklet on how to box.  Jay and his brothers are inseparable, living side by side on land given them by their father Tuff.  I can't put into words how much I enjoyed my two visits to Utah to write stories on Jay and Don.  The Fullmer clans are a lot more than just boxing; there all about family!!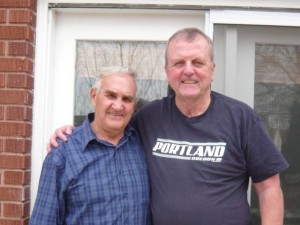 Jay Fullmer and Austin Killeen in front of Jay's house in South Jordan, Utah.