Jimmy Connors; the Pragmatic Pugilist
By Austin Killeen
(Published in IBRO Journal 93, March 2007)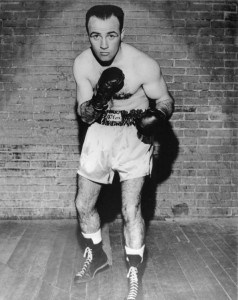 Little Jimmy Junior took his first breath on December 24, 1936 at St. Luke Hospital in New Bedford.  It was in the West End, a working class neighborhood in New Bedford, where young Jim developed his strong work ethic.  The middle of five children, one of his first jobs was delivering groceries, by bike, to the nearby neighborhoods.  He quickly learned that dealing with the local toughs on each street was an unwritten part of the job description.  A tribute of five cents was expected in exchange for safe passage over each road.  Jimmy quickly calculated that this added expense would eat into his profits.  This resulted in one of his earliest business decisions; fistic combat was less expensive than paying a nickel to the local tugs.
His father gave Jimmy his first exposure to boxing, listening to fight broadcasts on radio.  The voice of Don Dunphy brought the action from Madison Square Garden into the Connor's household weekly.  The action packed fights of Tony Zale and Rocky Graziano made an early impression on young Jim.  Within a few years the Connors were the proud owners of a 12-inch Admiral TV.  Enclosed in a giant box, this entertainment center also housed a radio, hi-fidelity record player, and one giant speaker.  Now Jimmy could see with his own eyes the action that Don Dunphy was describing.  This sealed the deal; Jimmy was New Bedford's newest boxer want-a-be!!
Along with boxing, thirteen-year-old Jimmy was developing an interest in the opposite sex.  Connors started going to the YWCA to play ping-pong with his buddies.  Coincidently, his buddies shared the same interest in girls.  New Bedford's fledging Romeo had his eye on one twelve year old in particular; Carol Moniz.  History fails to record how Jimmy's ping-pong game developed but a romance with Miss Moniz blossomed over the next couple of years.
Attending New Bedford Vocational, Jimmy crossed paths with Ossie "Golf ball" Bernard. Ossie, a native of Panama, was allegedly a veteran of over 200 pro fights.  Retired from the sport, Bernard was a licensed fireman responsible for the school's boilers.  Jimmy started pestering the Panama pugilist to teach him how to box on a daily bases.  Ossie told Connors he didn't want to waste his time, as Jimmy would quit as soon as he had his first girlfriend.  Not easily discouraged, Jimmy continued to plead his case with the reluctant Bernard.
Ironically, it was Connors job delivering groceries that finally lead to Bernard checking him out in the ring.  Two locals threw rocks at Jimmy's bike for not paying tribute, causing his groceries to spill all over the street.   Hearing of the incident, Ossie arranged for the three combatants to settle things by putting on the gloves.  Both youngsters were quite a bit larger that Connors, so Ossie had the smaller of the two enter the ring first.  The opening round started badly for Jim as he blocked most of the punches with his face.  Not easily discouraged, he finally started to connect, causing his antagonist to quit.  The second youngster saw no point in entering the ring with Connors, having witnessed the results of the first match.  Impressed with what had just taken place, Ossie agreed to tutor Jimmy in the finer points of pugilism.
Entering the Golden Gloves in '53', Connors reached the semi-finals without having a single bout due to byes.  His was matched with Johnny Cortez, a veteran of over 50 amateur matches and, All-Navy and Pan American Champion, losing a close decision after 3 action packed rounds.  Cortez would ultimately win the championship.  His second bout would be against New England Golden Gloves and AAU Champion Pat McCarthy, Jr.. Once again Connors would lose a close decision in an action packed contest.  His 0 and 2 start was deceiving considering the level of his competition.
Always the businessman, Connors pestered Ossie Bernard to turn him pro so he could earn some money. Ossie's advice was simple; if you turn pro you should do it in Boston.  Bernard stated three reasons; the level of competition, high quality trainers and managers with connections.  The teacher and his pupil took a ride to Boston where Jimmy met veteran manager Johnny Buckley.  Buckley had managed former heavyweight champion Jack Sharkey and middleweight contender Joe Rindone among others.  Jimmy was only seventeen at the time, so Buckley recommended that he enter the service rather than wait to be drafted.  While in the service, Jimmy could gain additional amateur experience. When he was discharged, Buckley promised he would handle his professional career.
Joining the service made sense to Jimmy because shortly after graduating from High School he started working at Continental Screw Company as an apprentice toolmaker. Jimmy hated the work and didn't want to spend the rest of his life working in a mill. Additionally, he knew it was just a matter of time before he would be drafted in the Army. So Jimmy decided to pre-empt the draft and get as far away from the mill as he could by joining the Air Force. In 1954 he started his service at Sampson Air Force Base in upstate New York where he met base physical education trainer Rollie Hackmer, who would later influence his pro career. While doing KP (kitchen police) one day, a sergeant told Jimmy to report to F area drill hall.  Apparently Johnny Buckley's influence even included the military as he took credit for the reassignment.  Buckley started writing Connors on a weekly basis and soon started phoning as well.  Jimmy never answered Buckley's letters or phone calls. Jimmy was to train with the Sampson Air Force boxing team.  Jimmy found it difficult juggling his air force duties with boxing, so he reluctantly quit the boxing team.
Jimmy was later transferred to McGuire Air Force Base in Trenton, NJ.  This move would prove to be beneficial to him both in and out of the ring. Arriving at his new assignment he was reunited with Rollie Hackmer and joined the boxing team. He also met his new boxing coach, veteran middleweight contender Jimmy Beau.  Before working with the New Bedford youngster in the ring, Beau had him sit down for some fatherly advice.  "Jimmy, when I was fighting main events in New York against Jose Basora, Irish Bob Murphy, Robert Villemain and Carl "Bobo" Olson they'd say "hi champ" when I returned to Bridgeport, Connecticut.  When I started to lose they dropped the word champ and just said hi!  Jimmy, you're not going to be able to fight forever, so it's important that you get your name attached to something.  Whether it's a business, a skilled job, or investments, be sure it guarantees your future!"  Jimmy proved to be an excellent student regarding this advice as the future would show.
In the ring, Beau polished up the style of his young charge.  Up to now a straight ahead slugger, Connors started working on slipping punches, throwing double jabs, improving his balance and preventing his opponent from spinning him.  Jimmy also learned how to throw his favorite punch, a left hook to the liver.  Connors quickly established a winning streak and in fact would lose only one other amateur bout. Armed with his new skills, young Connors would win the North East Conference Featherweight title in Caribou, Maine.  Dropping down in weight he won the All Air Force Bantamweight Championship at Bowling Field in Washington, D.C.  Next, young Jim traveled to Hawkins Stadium in Albany, NY for the 1956 Olympic regional trials.  In his first bout he defeated Tommy Nethercott, New York City featherweight Golden Gloves Champion.  This proved to be a difficult win, as Jimmy suffered several abrasions to his face.  One hour later he was back in the ring, facing Melvin Middleton (who would go on to a very successful professional career), Jimmy lost a close split decision.  As All Air Force Bantamweight Champion, Connors was still eligible for the Olympic trials in San Francisco.  While in training there, Jimmy received devastating news; his mother had died of a heart attack.
Returning to New Bedford on a 30-day furlough, Jimmy attended his mother's funeral.  On the advice of Clem Crowley and Rollie Hackmer and with the help of Attleboro Massachusetts Congressman Martin, Jimmy applied for an honorable discharge due to hardship.  Having already served 28 months in the military, the Air Force granted Jimmy's request.  Connors was now ready to turn pro, but to the surprise of Buckley it wasn't with him.  Although he couldn't express it in words, Jimmy was uncomfortable with Buckley's letters and phone calls while in the service.  Upon the advise of Rollie Hackmer, he chose Rollie and his close friend Clem Crowley as his co-managers and Al Pinel for his trainer.
Waiting for his discharge, Jimmy was standing on a street corner with some of his buddies one day.  Walking down the sidewalk was his ping-pong sweetheart from the YWCA, Carol Moniz. After exchanging pleasantries it didn't take long for romance to rekindle.  They started seeing each other on a regular basis and soon became engaged.
On January 31, 1957, Connors turned pro with a 2nd round KO over Chris Alexander.  Most of his early bouts took place at Rollaway Arena in Revere, Massachusetts.  Jimmy had an impressive 14-0-1 record with eight bouts ending early.  Unlike many prospects, Connors wasn't being fed a steady diet of stiffs.  Johnny Johniken was a veteran of 33 fights and Merrill Olmstead had 55 contests when they met Jimmy early in his career.  Connors was really tested when he faced hard punching Johnny Juliano in Revere.  Walking into a hard shot in the 3rd round, Jimmy's next memory was Clem Crowley telling him it's the start of the last round.  He was happy to receive a draw after 6 stanzas.  Pappy Gault was the big early test of Jimmy's career.  Gault had 76 pro bouts, having fought Jimmy Carruthers for the World Bantamweight Title.  Connors won a hard fought 8 round decision, but not before being severely tested by the Spartanburg, South Carolina veteran!  Due to his early success, Ring Magazine selected Jimmy as the featherweight prospect of the month for November.  This same month, Jimmy married his YWCA sweetheart, Carol Moniz.  Next for Connors was a 10 rounder in Boston against undefeated Pat McCarthy, Jr. who had defeated him in the amateurs.  McCarthy was 19-0-1 with 10 KO's.  Jimmy captured a 10 round decision and was rewarded with a bout against featherweight great, Willie Pep.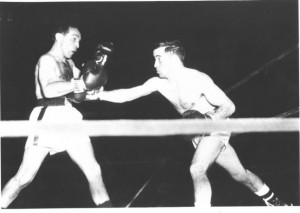 Jimmy says he'll never forget the press conference for the Pep bout.  With Willie and himself sitting on opposite sides of legendary promoter Sam Silverman at the Sidney Hills Country Club in Newton, the room was a buzz of excitement.  Everybody was coming up to me saying "Jimmy you can't lose; you're too strong, too young, he can't hit, etc."  The only advice I listened to was from former featherweight champ Sal Bartolo.  "Jimmy I fought Pep three times.  I lost two fights in Boston, losing a split 10 round decision at the Garden and a 15 round unanimous decision at Braves Field for the title.  The third fight was at Madison Square Garden where Pep broke my jaw and stopped me in 12 rounds.  If anybody tells you Pep can't hit, they don't know what they're talking about."
As for the fight itself, Pep dominated from the opening bell.  He'd just touch Jimmy four or five times and then b-a-n-g!  He'd always mix up the power of his punches, while moving side to side.  Every time Connors would try to launch an offense, Pep would touch his head or shoulder, leaving him off balance.  Whenever Jimmy got him pinned on the ropes, Pep would attempt to spin him. Using a trick that Jimmy Beau taught him, he would place his hand on Pep's hip which prevented Pep from spinning him. At the conclusion of the match, Jimmy estimated he was lucky if he won 3 rounds.
The day after the Pep fight he acted on the advice that Jimmy Beau had given him while stationed at McGuire Air Force Base.  Connors made his first venture into the business world, using his ring earnings to purchase a luncheonette in New Bedford.  Due to his commitment to boxing, he had ill regular hours to work at his new establishment.  Fortunately for Jimmy, his in-laws had the time and started working full time at the luncheonette.  It didn't take long for the Jimmy Connors luncheonette to become a profitable venture.
Bouncing back from the Pep fight, Jimmy scored a couple of quick wins over George Stone and Johnny Bean.  Connors was next matched against undefeated Jimmy Kelly at the Boston Garden.  The semi-final featured Joe DeNucci against Jackson Brown for 9 rounds.  Because of DeNucci's age he wasn't allowed to box 10 rounds.  When Brown was KO'd the place was bedlam.  It seemed that everyone in the garden entered the dressing room he shared with DeNucci.  It was impossible for Jimmy to get his hands taped, much less warm-up properly for the main event.  Entering the ring ice cold, he took a terrible beating and was stopped by Kelly in five rounds.
Once again Connors returned to the win column with two victories.  This resulted in a rematch with Kelly at Sergeant's Field in New Bedford.  This time Connors vowed to box a smarter fight with Kelly.  Just before the match, former lightweight contender from the 1930's Sammy Fuller entered Connors dressing room. His advice to Jimmy, start throwing bombs and don't let Kelly get set.  Forgetting all his preparations for the bout, Connors answered the opening bell with one thought; seek and destroy.  The only thing he hit was the canvas, compliments of a Kelly bomb.  Beating the 10 count, he somehow finished the first round.  Amazingly Connors started boxing and took control of the fight.  With the hometown fans screaming, it looked like the fight would be stopped in the 4th due to cuts over both of Kelly's eyes.  Answering the bell for the 5th, all Connors had to do was not deviate from what he was doing and the fight was his.  Instead, he stopped to admire his work allowing Kelly to end the evening with one punch.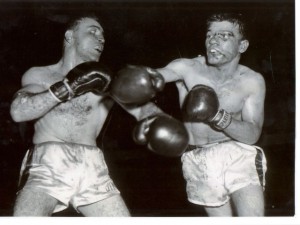 Once again Connors showed his resiliency, running off an 8-bout win streak.  This included wins over New England rivals Paddy Read (twice), Tommy Haden and Kid Chuck.  After the Chick fight Jimmy was out of the ring for 16 months. In his return to the ring they couldn't have picked a tougher opponent than unbeaten Lowell, Massachusetts puncher George Colton. This resulted in a 3-fight trilogy with George Colton that resulted in three all out wars. The first bout took place before a sellout crowd at Boston Arena in Boston.  Amazingly promoter Sam Silverman got Connors and Colton to fight for $85 and $75 dollars respectively.  With similar styles, all three bouts could have gone either way.  Colton won the rivalry two to one, with Connors winning the middle bout.  Old timers compare these fights to the Ward-Gatti trilogy.  Sadly there are no films of these matches, with some black and white photos being the only evidence of the incredible action.
A third match with Paddy Read, proved to be the final match of Connors career.  Getting off to a fast start, Jimmy appeared to be on his way to and easy win.  Suddenly he found himself in a maelstrom of punches and was dropped 3 times in the 3rd round.  Bouncing back Connors regained control of the fight.  Going into the 11th round, Read needed a KO to win.  Amazingly Paddy landed a dozen unanswered punches forcing the referee to stop the match with just 1 second remaining in the round.
Silverman wanted Connors to fight Read a fourth time, with the promise of a non-title fight against Junior Lightweight Champion Gabriel "Flash" Elorde in the Philippines.  But it was not to be.  Jimmy had applied to a mortgage to buy a bar in New Bedford.  The mortgage was approved the day after the Read bout, making Connors the proud owner of The Jimmy Connors Town Tavern.  He sold his luncheonette to his in-laws, using the cash from the sale for his down payment.
Looking back, Jimmy has no regrets, regarding a 4th Read fight.  He's proud of his ring career and his business success in retirement.  Each establishment has turned a profit, allowing him to move onto an even more successful venture.  Jimmy did talk about one dark period since leaving the ring.  He started engaging in extra circular activities.  In 1965 he became the father of a little girl named Jinny.  This put too much stress on his marriage; Jimmy expressed the feeling that he was 99.9% responsible for its finish.  Despondent over a failed marriage, he started sampling the inventory at his bar.  After many years of drinking in excess, Jimmy received a phone call from his eleven-year-old daughter.  She pleaded with him to stop drinking, as it was ruining his relationship with her mother, Venna.  The call was on a Sunday night, he quit cold turkey on Monday morning.  Jimmy said he had the shakes for several days, but the plea of his daughter playing in his brain pulled him through.  Today he has a pleasant relationship with both his ex-wife Carol Moniz, and Venna Roseman, the mother of his child.
This interview was conducted at Jimmy's home on Wilbur's Point overlooking a spectacular view of Fairhaven Bay in Massachusetts.  On one wall is a collection of boxing photos covering his entire career.  Included are many photos taken in retirement of him with old rivals George Colton, Willie Pep and Jimmy Kelly.  It's a mystery to non-boxing fans how bitter rivals in the ring become lifelong friends in retirement.  He resides there with his long time girl friend Terry Nelson and his pit bull, Huey, who thinks he's a human.  His daughter Jinny has made him a proud grandfather of two boys; Joshua and Zackary.
Sadly, we're all too familiar of stories regarding boxers who squandered millions of dollars in purses and are broke.  Jimmy Connors is a refreshing tale of a pugilist who converted a percentage of each small purse into a successful business career.  Although no longer active in the service industry, he still owns real estate in the commercial district of New Bedford.   The monthly income from these holdings insures there will be no need to run a benefit dinner in Jimmy Connors honor.