Young Firpo, 2008 World Boxing Hall of Fame Inductee
By John Bardelli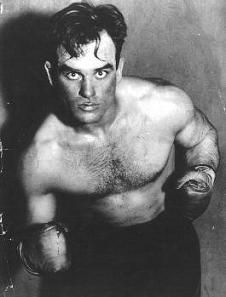 Guido Bardelli was inducted into the World Boxing Hall of Fame on November 15th, 2008 in Los Angeles, California.
Guido Bardelli also known as Young Firpo, one of the world's greatest light heavyweights, campaigned from 1924 – 1937, an era considered by many boxing historians to be the greatest era in the history of boxing.
Born in Barre, Vermont in 1907, his family moved to northern Idaho eventually settling in the mountainous mining town of Burke, Idaho, where Guido was introduced to the world of boxing in 1924 at the age of 17 as "Young Firpo."
Young Firpo's reputation as a quick-silvered reflex knockout artist in the Pacific Northwest grew, as knockout followed knockout, until January of 1930 when he was signed to fight in Portland, Oregon, against Oaklander Ray Pelky. Pelky entered the contests as a prohibitive favorite. Firpo revealed his wares by viciously kayoing Pelky in 2 rounds, Pelky declaring he had never been hit so hard in his life after being revived nearly 2 hours later. Pelky also stated, "He is a murderous puncher. He'll knock any man up to 200 pounds. I was a fool to take the match."
Already well known in the Coeur d'Alene Mining District and Pacific Coast because of a rugged viciousness that many sport's writers of the era compared to the greatest fighters they had every seen, after disposing of Pelky in Portland, Portland claimed the Idaho slugger as its own. Thereafter, Firpo went on to fight in Portland 24 times during a 7 year period while also engaging in major fights throughout all the west including Oregon, Colorado, California, Montana, Washington, and Idaho.
In the early part of his career, he became embroiled in disputes with a series of contending individuals who sought to become his manager. Firpo came to disdain managers and refused to sign contracts with anyone who sought to be his manager.
Mel Epstein, veteran fight manager-trainer, also sought in vain to become Firpo's manager from the late 1920's, when Epstein first laid eyes on Firpo in Butte, Montana, through the duration of Firpo's ring career. Although Firpo refused to engage Epstein as a fight manager, Firpo did come to trust Mel and engaged him as a trainer. Indeed, it was Mel Epstein who was in Firpo's corner, as a trainer and quasi-manager, for the majority of the major fights in which Firpo was involved from 1930 onward including Firpo's epic Portland contests with Leo Lomski, Wesley "KO" Ketchell, George Manley, Tiger Jack Fox, and John Henry Lewis.
In a 1970's interview, Mel Epstein was asked, "How good a fighter was Firpo, Mel?" In a voice loaded with excitement, Epstein answered the question over the course of more than 30 minutes, stating in part that "Young Firpo was unbeatable; he was practically unbeatable until he had that damn car wreck. He was colorful! Every fight was action filled. The fans liked the action. Excitement and action…. He should have been the light heavyweight champion of the world. Ask him. He knows it."
When asked during the interview how Epstein envisioned the outcome of a fight between Young Firpo and then reigning light heavyweight champion Victor Galindez, Epstein replied, "Ahh … Firp woulda knocked him out. He'd knock all of em [light heavyweights] out. He was a slugger and nobody's fool in there. Firp was like lightning you know. He was like an eel, elusive, slippery. You couldn't tie him up to keep him off. He had too much for these guys."
In another 1970's informal Los Angeles interview, former welterweight champion of the world Jimmy McClarnin was asked by a Mel Epstein managed fighter Rick Farris, who had overheard McClarnin and Los Angeles Boxing Promoter George Parnasus talking about Young Firpo, "Just how good was this Young Firpo?" McClarnin responded without hesitation, "Oh, let me just tell you that Young Firpo was the greatest fighter I ever saw."
During that same interview both McClarnin and George Parnasus volunteered to an awe struck young and impressionable Rick Farris, who later became a boxing historian and World Boxing Hall of Fame Director, that "Young Firpo hit harder than either Bob Foster or Archie Moore. Firpo would have knocked them out."
Sport's writer L. H. Gregory, who penned Greg's Gossip for the Portland Oregonian for over 50 years, in a 1971 column wrote that Young Firpo was the most "exciting fighter" he ever saw in a writing career which encompassed over 50 years of watching fights. Gregory wrote that "Young Firpo was unforgettable…. His aggressive, go-get-em-style was spectacular…. We have never seen more active fighting once in the ring. He started them in motion from the first bell and never let up while the fight lasted…. From opening bell he'd move in on an opponent with the least possible 'feeling out' of experimental jabs, both arms and hands flailing as if on half-circular hinges —- bang, bang, bang, bang, almost exactly alternating left, right, left, right in a continuous tattoo. We can still see those explosive alternating gloves breaking through against the opponent's face and upper body."
Northern Idaho writer Maidell Clements who witnessed Firpo's ring exploits wrote in 1981: "When the bell rang, Firpo would charge across the ring and throw punches from all angels. Many a fighter wouldn't know what hit them till their heads began to clear in the dressing room."
Another Portland boxing writer, Billy Steppe, himself a prolific writer and keen observer of the boxing scene for over 70 years on the Pacific Coast, had suffered a stroke prior to his being interviewed in the 1970's and was unable to speak. However, when asked to name the greatest fighter he ever saw, Steppe simply wrote, "Young Firpo."
Young Firpo's futile and turning point in his march toward the light heavyweight championship suffered its severest blow when, in the spring of 1934, while traveling to Butte, Montana, to fight Gorilla Jones, Firpo was involved in a motor vehicle accident and sustained serious injuries which landed him in the hospital for weeks. It was thought that the injuries brought about the end of his fight career.
Firpo would not fight again until August of 1934, when he defended his Pacific Coast Light Heavyweight Championship in a "tune-up" match against the onslaught of hard punching knockout artist Tiger Jack Fox, the same Fox who Jersey Joe Walcott, in 1974, called the greatest fighter Walcott ever fought not excluding Joe Louis, Rocky Marciano, and Ezzard Charles. Walcott was knocked out by Fox and beaten in 10 rounds in a second fight with Fox. Fox was favored to defeat Firpo because Fox had been active throughout the 1934 fight year while he recuperated and Fox had run up a string of knockouts while Firpo was totally inactive and had not engaged in a single fight in 1934.
Despite the odds, Firpo defeated Fox in a Portland brutal encounter. Firpo floored Fox in the sixth round after Firpo, himself, had been floored by Fox in the same round. Seemingly, it appeared that Firpo had recovered from the injuries sustained in the automobile accident but, as Epstein stated, such was not the case.
One month later, on September 20, 1934, John Henry Lewis, claiming that he was the uncrowned light heavyweight champion of the world following the NBA's stripping Maxie Rosenbloom of the title, sought to divest Young Firpo of the Pacific Coast Light Heavyweight title in yet another Portland fight. Lewis was being touted as the "uncrowned light heavyweight champion" because he had defeated titleholder Maxie Rosenbloom in two non-title affairs flooring Rosenbloom 7 times in the process.
In another vicious slugfest taking place on September 20, 1934, Lewis escaped with a draw. Every major newspaper writer in attendance covering the fight, including Billy Steppe, H.L. Gregory, Don McCloud, and George Bertz, thought that Firpo won the fight. Lewis was on the verge of being knocked out in both the 7th and 8th rounds. Referee Tom Louttit declared the contest a draw. Firpo retained his Coast title. However, bedlam ensued with pronounced booing between 5 and 10 minutes and things were thrown into the ring including a knife before order was restored.
As an aftermath, Lewis eventually went on to win the title by defeating Bob Olin and refused to fight Firpo in a rematch with the World's Light Heavyweight Championship on the line despite repeated challenges having been made from Firpo.
From 1930 through 1937, Young Firpo challenged in vain for a shot at the light heavyweight title, held chronologically during this period by Maxie Rosenbloom, Bob Olin, and John Henry Lewis. Firpo telegraphed a Spokane promoter "Will fight Fox, Lewis, Olin, or Rosenbloom. I fear no man."
In 1933, Rosenbloom and Firpo were signed to fight a championship match thought to be the first championship match ever held in Portland but a gate dispute led to cancellation of the fight. When the fight was initially signed, coast writers gave Firpo a better than even chance of beating Rosenbloom because of his speed and punching prowess. After the cancellation, Firpo sought in vain to again get Rosenbloom's signature on a contract. During an interview, Firpo told a boxing writer, "With the championship on the line, I'll fight Rosenbloom for nothing." Rosenbloom, who seemingly ducked no fighter, would not sign to defend his title against Firpo.
Retiring in 1937, Firpo maintained that between 1924 – 1937, he engaged in 134 fights, scored 79 knockouts, suffered 15 losses (some of which he questioned) and had 4 draws. BoxRec, a computerized database of boxing data, maintains that Young Firpo's record consists of 93 fights, 74 victories, 45 knockouts, 15 losses, and 4 draws.
Guido Bardelli married the lovely Mary Widitz from Roundup, Montana, in 1934 and their marriage produced three children, Cleo Marie Clizer, Frederick Ketchell Bardelli, and John Ambrose Bardelli. Young Firpo passed away in 1984.
Young Firpo was inducted into the World Boxing Hall Of Fame on November 15, 2008 at the Banquet of Champions in Los Angeles, CA.