BENNY CHAVEZ: THE ALMOST CHAMP
by ROBERT CARSON
The small shabby figure stood quietly on the street corner. A chill wind whipped the bottom of his gray overcoat and his thoughts raced back to a time that had long gone by. He pulled his knarled, brown hands out of his coat pocket and looked at the misshapen knuckles. "Man, they came from miles around to see me fight," he mused to himself.
Little Benny Chavez was known as the Trinidad Terror, and was a character, both in, and out of the ring. In 19l0 Benny was little more than a crude, back alley fighter, and proved master in his e1ement in rough and tumble living on Denver's Market and Larimer Streets.
During one fracas another fighter spotted the tenacious Chavez and convinced him to enter one of Denver Athletic Club's amateur tournaments. Benny trained hard for months, with the expectation of winning honors in the tournament, but had to call it quits when his mother passed away in Trinidad, Colorado.
The sporting world forgot about the promising Mexican youth until a year later stories started appearing about the fighting abilities of Benny Chavez around Southern Colorado rings.
A five round knockout of tough Tommy Cody led to a fight with Patsy Brannigan, then a contender for the world's bantamweight titIe. The bout took place on Christmas day 1911, and Brannigan received a severe beating, but rallied to knock Benny out in the sixth round. Since Chavez was still 'green;' with only a dozen fights to his record, a rematch was arranged. Benny won the ten round decision after giving the Irishman a good shellacking.
After the Brannigan victory he met and beat Frankie Burns, and Frankie Conley. Conley was a real test since Frankie had kayoed Monte Attell in the 42nd round in one of the last 45 round fights.
Chavez was matched against Eddie Campi for the disputed bantamweight title in Los Angeles, November 4, 1913. Benny didn't fight a fight, and lost a 20 round decision.
By this time Benny had changed managers, and under the new leadership secured a bout with featherweight champ Johnny Kilbane. In a sort of unwritten agreement between both parties, it was agreed the fight should go the scheduled 15 rounds. On June 20th, 1914, at the old Stockyards Stadium in Denver, a huge crowd jammed the arena to see their hometown favorite give the champ a good trouncing. Fired with enthusiasm, Benny charged out at the opening bell throwing punches in wild abandon. Kilbane believing it was going to be an easy fight was taken completely by surprise, and at the end of the first round trudged back to his corner, a badly beaten fighter. During the minutes rest period Kilbane knew he had been crossed, and at the sound of the bell rushed out in a murderous fury. Benny gave no ground, and the two stood in the middle of the ring hitting the other with everything but the water bucket. Kilbane was a ring wise veteran, and before long saw an opening in Benny's defense. A short right flush on the little Mexican's jaw put Benny down for the count.
Benny Chavez being the personality he was, shrugged the defeat off to bad judgment, and was back in ring action soon after.
The year 1914 saw him beat durable Gene Delmont twice, and get a 20 round draw with Richie Mitchell. It was a good year for Benny.
When 1915 rolled around, Benny, and top featherweight, Matty Smith engaged in seven bouts; four were 20 rounders, and three going to 15 rounds. Every fight was a 'knock-down-drag-out,' with both men being badly punished.
Benny switched his base of operation to Kansas City, Missouri, where boxing was enjoying much success. He fought and won over Tommy Buck, and beat highly regarded Harvey Thorpe. Midwestern fans took Benny to their hearts, and in time the 'Trinidad Terror' met, and married a beautiful, Kansas City, girl.
With his record piling victory after victory, Benny made the grave error of taking on British Empire Champion, Benny McNeil. The stage was set in St. Louis, and Benny Chavez fans came by the droves to watch their hero make mincemeat of the English champ.  The fight lasted only six rounds with Benny Chavez being knocked cold.
This was the fight that finally put the Mexican belter on the shelf, as far as being a top notch fighter. His career wasn't that long, but during the six years, or so, he fought, it was against tough, and brutal competition. Benny never professed any science in his boxing, his style was taking two to give one.
In 1917 and 1918, Benny tried to rekindle the old spark, and fought a few bouts against mediocre opponents. The crowds didn't clammer to see him now, and there wasn't much press coverage.
After the First World War Benny sort of faded into the woodwork. He would be seen wondering the streets in Trinidad, Colorado, each time a little more shabby, a little more distant. As the years passed his name was all but forgotten.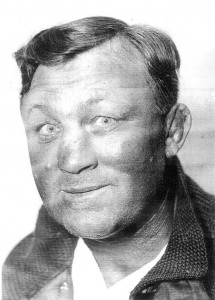 On a cold, windy, day, in the spring of 1932, Benny stood on an icy street corner. His health was completely broken, penniless and just bone weary with living. The battle-scared, little pug watched as the cars, and trucks sped past him, his eyes following from left to right. It seemed everyone had somewhere to go, and someone to go to.  Benny looked down at his scuffed, and splitting shoes, with the toes curling up, and the heels gone, and gave a silent chuckle.
Without warning Benny Chavez flung himself in front of a fast moving transcontinental bus. The driver had no time to swerve and the huge vehicle left the one time contender a horribly mangled corpse.
The final judgment was suicide, and Benny was buried without fanfare, or audience.
Benny Chavez never won a world's title, although he came very close a couple of times. The Proverbial 'brass ring' always just beyond reach. He never gave any excuses for his defeats, just glad he was able to give the crowd their money's worth.
How quickly they forgot…..