Bob Benoit:  A Boxing Anomaly
By Austin Killeen
(Published in IBRO Journal 91, September 2006)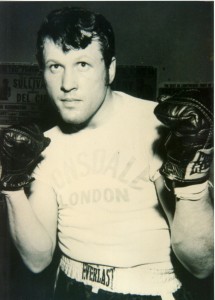 It was in the winter of 1966, on a cold night, that I drove from Springfield to Walpole Massachusetts to watch a professional boxing card.  While waiting for the main event, I took my seat to watch the obligatory under card.  One of the first participants in the ring that evening appeared to have gotten lost on the way to his high school science fair.  It appeared he hadn't been exposed to the sun since his parents took him to Cape Code as a 9 year old.  This was to be my introduction to Bob Benoit who at age 20 was about to begin an 8 year career and 45 pro bouts.
At the sound of the opening bell, Benoit found himself pinned with his back against the ropes.  His aggressive opponent, hoping to end things early, threw a series of looping punches to Bob's head and arms.  I turned to my friend and said "this won't last long."  I was right about the outcome but wrong about the winner.  Using his forearms and gloves to block most of the wild punches, the Oakham native answered with a couple of lazy lefts to the head.  Although his punches were mainly defensive, they allowed him to escape to the center of the ring. 
Fighting behind an excellent left jab, Bob Benoit started to put on a clinic for all in attendance at the Four Seasons Arena that evening.  Although his skills would improve over the years, Bob was surprisingly talented for a novice.  I would later learn that Benoit called his left jab the "Masters of Ceremony" because it introduced all his other punches.  His jab soon introduced his left hook and overhand right to his less than appreciative opponent.  Using good lateral movement, Bobby found more openings for his arsenal while making him difficult to be hit.  Within a couple of minutes the spectators got the answer to their question; could the referee count to 10.
With only 5 amateur fights before turning pro, Bob's surprising poise in the ring allowed him to win his first 8 bouts.  With each success, legendary promoter, Sam Silverman presented Benoit with a more difficult challenge.  That "more difficult challenge" soon took the form of one Herbert Brown.  At 5 feet 11 inches, Bob usually enjoyed a height advantage in his fights.  In facing Brown, he was giving up almost 5 inches to his lanky foe.  Forced to become an infighter, Bob scored a pair of difficult decisions and gained the confidence that he could adapt his style as necessary.  Based on his 8 & 0 start, He was selected as Ring Magazine Prospect of the month at middleweight in March of 1967.
The U.S.S. Benoit struck its first ice burg in the shape of Isidro Perez.  An aggressive banger, with a good left hook, Perez was not discouraged by Bob's left jabs.  If anything it only made him fight harder, constantly backing Benoit up.  Although ahead on points, the Oakham native was not in control of the fight.  In the 3rd round he made the mistake of moving straight back, not laterally to escape Perez's attack.  A left hook by the Westfield native, found the point of Benoit's chin and it was all over.  With the back of his head striking the canvas hard, there was no question that someone's '0' was about to go.
Not one to be discouraged by this setback, Bob was back in the ring only 14 days later, winning a decision over Tony Smith.  In today's world of boxing, a KO loss would result in an automatic 30 day suspension and the Smith bout would not have taken place.  Throughout his career, one of Bobby's trademarks would be his ability to bounce back from defeat.  Only once during his ring tenure did Benoit suffer back to back losses.
At this point in our interview I had Bob stop and backup to how he got started in the punch for pay business.  As stated earlier he doesn't look like a pugilist, possessing average speed, punch, chin, etc.  In a business where being average meant you were well . . . average.  He related that as a child he moved across the country 6 times and attended 14 school systems during his 12 years of school.  Being an educator of 30 years, I didn't have to hear anything else regarding his passion for boxing.  Being the new kid in that many school systems, he was being tested every time he walked into a new school yard.  These exams didn't require pencil and paper, and the test results were known immediately.  Bob's family finally settled in Oakham, with a population of 350 people.  Ironically, his next door neighbor was Bob Longvall, a boxing instructor.  Needless to say, that's how Bob got his official start in the square circle.
With 10 fights under his belt Bob was no longer a novice and Silverman was matching him appropriately.  Fighting 6 and 8 rounders, he was now facing the gate keepers of New England boxing.  Names like Jimmy Cherrico, Lloyd Bozeman, undefeated Carter Williams and the ubiquitous Herbert Brown were prominent on his resume.  The few losses suffered by Benoit were learning opportunities and he continued to show the propensity to bounce back from defeat.
The late 60's and early 70's found the light heavyweight division in New England loaded with talent and the potential of some great regional matches.   Unfortunately for Benoit, Eddie "Redtop" Owens, and Paul Cardoza the opportunity to fight for the NE LHW title was not an option.  Eddie Spence, Jimmy McDermott and Pete Riccitelli seemed to be passing the regional title back and forth among them selves.  Amazingly, Benoit, Owens nor Cardoza ever had a fight with Spence, McDermott or Riccitelli.  As a result, NE fans can only speculate what should of, could of, would of happened if they had all fought each other.
Finally Cardoza in 1971 broke through the class ceiling, to win the vacated regional belt.  This created new opportunities for Cardoza, Owens and Benoit.  One thing shared by all 3 fighters was a willingness to fight anybody, including each other.  Bob already held decision wins over Bobby Cassidy, the biggest name on his record and New England legend, Larry Carney.  Benoit met Cardoza on February 1, 1971 in Providence, RI.  They were both scheduled to fight on the under card against different opponents, when one of the boxers on the card failed to show up.  Scrambling to put on an evening of boxing the promoter decided to put Cardoza against Benoit as the main event.  Never one to make excuses, Bob stated "Paul made the mental adjustment to fight me but I didn't.  The fight ended in the 3rd round for a disappointed Benoit.
In typical Benoit fashion, Bob bounced back with a couple of wins in Portland and Boston.  This set up a meeting with leading light heavyweight contender Chris Finnegan in London, England.  Bob took the fight on 7 days notice, arriving in London 36 hours before the bout.  Suffering from jet lag and no offense, Bob was never in the fight and stopped in the 8th round.  Under new management Bob arrived back in the states to find out he was finally going to fight for the NE title against Eddie Owens.  Owens had won the title from Cardoza in Paul's hometown of New Bedford.  His new handlers decided to change his style to resemble that of former middleweight champion Paul Pender.  Owens won easily by penetrating Bob's new defense for a 1st round KO.  This was to be the only time in Bob's career that he suffered back to back defeats.
By this time most experts figured Benoit's career was finished.  But like releasing a cork held under water, Bob keep popping up to the surface.  After taking a few months of, he got back in the ring, scoring 7 victories in a row, 4 by stoppage.  Included in this strike was an exciting win in Worcester, MA where Bob was extremely popular.  Fighting the hard punching heavyweight Chico Santos, Bob seemed to be doing the funky chicken every time he was hit by his powerful opponent.  Adding to Bob's problems, the ring promoter Sam Silverman used that night was about the size of a playpen.  However Benoit's "Masters of Ceremony" was very effective that evening and by the 4th round he was throwing left hooks and overhand rights seamlessly off his left jab.  The referee rescued the helpless Santos in the 6th round.
Having followed his career from the start, I observed that Bob was very strong for a light heavyweight.  He commented that his strength and balance probably were the result of his job as a floor trucker in an abrasive mill at Norton Company in Worcester.  It was tough piecework moving heavy unbalanced loads all day.  As it was piecework, you had to move a large amount of inventory daily if you expected to make a good weeks pay.  He held the position upon graduating from David Prouty High School in 1964 until he joined the Spencer Police Department in January of 1972.
As a result of his win streak, Bob was rewarded with a 2nd fight against Owens for the NE title in Worcester.  Before a sold out crowd, he did much better defensively, but couldn't find his offense, losing a unanimous 12 round decision.  Six weeks later the unstoppable Oakham policeman was back in the ring in Worcester, fighting Macka Foley.  Benoit went toe-to-toe with the brawling Foley, much to the delight of the crowd.  The action packed bout went the distance, with Bobby winning a unanimous decision.  Satisfied that he finally had the style to beat Owens, Bob asked Sam Silverman to schedule Benoit v Owens III.  The fight never took place.  Bob was notified that he had passed the entrance exam for the Massachusetts State Police.  Accepting entrance in to the Police Academy as a cadet meant he could no longer box. Thus ended a chapter in his life, where brains, pride and skill made him one of the most entertaining boxers in New England for close to a decade!  A decade which saw him fight world class contenders Len Hutchins, Bobby Cassidy, Jose Chirino, Chris Finnegan, Eddie Owens (twice) along with New England icons Larry Carney and Paul Cardoza and then unbeaten Argentine prospect Pedro Rimovsky, who he stopped in 5 rounds in his New York debut.  Bob credits the Chirino bout as his proudest accomplishment in boxing.  In Chirino's next bout after losing to Benoit, he traveled to Italy to defeat Nino Benvenuti by decision.  Chirino also defeated Juan Aguilar who gave Carlos Monzon his 1st defeat.
Today, Bob's happily married to his high school sweetheart, Cheryl Grenier, going on 42 years.  They have two grown children Robert Jr. and Jason and still reside in Oakham, MA.  Although eligible for retirement several years ago, Bob is in his 33rd year as a member of the Massachusetts State Police.  He is still active in boxing; having formed a State Police boxing team in 1976 with competes with other municipalities around the country and overseas.  During his 17 years as head of the program, they ran over 100 shows raising $252,000 for charity.  This fall the State boxing team will be celebrating its 30th anniversary with a match scheduled in Central Massachusetts. Additionally, he's a licensed professional boxing referee in Massachusetts.  Having turned 60 in April of this year, Bob is only a few lbs over his fighting weight and looks like he could still climb in the ring.  Anybody like to see Owens v Benoit III??