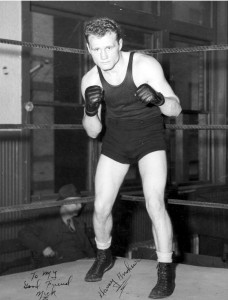 By Dan Cuoco
Dave Andrews was born in Cambridge, MA on December 21, 1920. He lived in Cambridge for three years before his family moved to Billerica, MA. The Andrews lived in Billerica for ten years before moving to Lowell, MA where he first became involved in boxing and eventually entered into amateur competition in 1938.
Dave's first boxing coach was Midge Mello of the Lowell Boys Club. Under Mello's direction Dave learned quickly and showed he had the makings of becoming one of the best boxers to ever come out of Lowell. In his first year as an amateur Dave annexed the Lowell and Merrimac Valley welterweight golden glove titles. He was out of action in 1939 due to a broken hand.
In 1940 a healthy Andrews reentered the amateur ranks and quickly established a name for himself by winning several Golden Glove titles, including Lowell (he was voted the outstanding boxer), Merrimac Valley, Diamond Belt, New England All-American and represented his region in winning the All Eastern title.
In 1941 Dave once again won multiple State Golden Glove titles and climaxed his brilliant amateur career by winning the 1941 National AAU 147 pound championship in Boston. That same night his neighbor James Mulligan, who lived two houses from him on Chestnut Street in Lowell, won the middleweight title in the very next fight, giving Lowell the double honor of two national amateur champions. Two National Amateur champions from one city is rare enough, but to live only two doors from each other is truly rare.
Some of the fighters in Dave's bracket that went on to successful pro careers included Bob Satterfield of Chicago, IL, George Duke of Petaluma, CA, and George Horne, Niles, OH, whom Dave defeated in the finals.
Dave earned the name "Golden Boy" because he looked more like a movie star than a boxer. According to Lowell Sun Sports Editor Ed Reardon "Dave has the perfect, blond wavy hair. The square jawed, rock hard face which is still somehow soft. The dapper tie and jacket, with white handkerchief sprouting from his breast pocket. He does not look like a man who makes his living with his fists." Fellow Lowell Sun sportswriter George McGuane, who watched Andrews from press row said, "He was never a punk, never a braggart. You'd never know he was a fighter by looking at him."
Shortly after winning the national title Dave decided to turn professional. Upon the advice of Midge Mello, Dave came under the guidance of legendary Boston manager Johnny Buckley. He made his professional debut on December 9, 1941 in Lowell, MA winning a six round decision over Bill McNeill.
Dave ran off eight consecutive wins before suffering back to back defeats to Young Bryon and Red Doty. He ended his first full year as a professional with a 4th round knockout over Al Couture in Boston to run his professional record to a respectable 9-2-0 (4).
Shortly after the Couture fight he enlisted in the U.S. Navy where he became an athletic instructor in boxing and swimming.
From late 1942 until his discharge from the Navy in early September 1945, Davey was able to engage in nine professional fights going 6-3 (2). Despite his long periods of inactivity he did became a headline attraction in the welterweight class and was looked upon in New England circles as the logical successor to Ralph Zannelli and George Martin.
In September of 1945 Dave returned to action for only the second time in 22 months. An obviously rusty Andrews lost a decision to George LaRover. He then won 17of his next 21 fights, culminating with a 12 round decision over George Martin for the New England Welterweight title on September 13, 1946. Two and a half months later, however, he lost the New England title to Johnny Cesario in a hard fought contest. The loss to Cesario ended Dave's promise to succeed Ralph Zannelli as New England's next prominent welterweight. His record at the end of 1946 was 33-12-0 (15).
He would continue to fight on with mixed results from 1947 until 1951 with one brief comeback fight in 1953, ending his career with a record of 51-37-2 (26). Among the notable fighters he faced in his career: Johnny Saxton, Freddie Dawson, Johnny Cesario, Norman Rubio, Flashy Sebastian, George Martin, Vince Foster, Rudy Zadell, Joe DiMartino, Chuck Taylor, Tommy Jessup, Livio Minelli, Jimmy King. He also engaged the legendary Marcel Cerdan in a four round exhibition in Lewiston, ME in 1948.
Life after boxing was good to Dave. He became a successful pipe fitter and kept his hand in boxing by training youngsters in Lowell's Silver Mittens and Golden Glove programs. He was a solid family man and resided in North Billerica, MA where he lived with his lovely wife Ruth and raised three boys Davey, Jr., Wayne and Gary. Dave had two brothers and a sister. His brothers Roy and Eddie followed him in the ring and were fine boxers in their own right. Roy was more of a fancy boxer and Eddie was the puncher in the family. Dave's sister Dorothy (Andrews) Laird is the mother of former Baltimore Colts standout Bruce Laird.
Dave passed away in 1988 at the age of 68 after a six-month battle with cancer.
In Lowell, MA his legacy still lives on. He is still remembered by old-time local fight fans for that night in April 1941 when he won the national title before 17,000 fans at Boston Garden