A look back at the career of Lightweight Contender Larry Boardman
By Dan Cuoco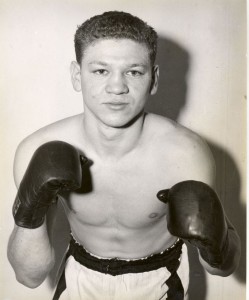 Larry Boardman was born March 21, 1936, in Marlborough, Connecticut.  He was a popular fighter who campaigned from 1952 until 1963.  Larry was a world ranked lightweight contender from April 1956 until October 1957, his highest ranking number 2.
Larry's father Sam had been an unsuccessful journeyman fighter before he married and started a family. As a young boy Larry was enthralled about learning as much as he could about his father's career. For his ninth birthday he asked for and received a pair of boxing gloves and had his father show him how to box.
When Larry got to high school he was constantly getting into fights with his classmates. Larry liked fighting so much he eventually started paying his classmates 15 cents to box him. When his father confronted him about this, Larry told him that his goal was to become a professional boxer.
His father tried everything he could to discourage him, even going so far as putting the gloves on with him. His dad was not easy on him and tried to pound some sense into young Larry – literally. No matter how hard his father hit him Larry came back for more. Realizing his son was dead serious about pursuing a career in boxing, his father turned the barn in the back of their house into a gymnasium and spent nearly a year training him.
At age 15 his father started him fighting in semi-pro bouts in Connecticut. Larry went unbeaten in six fights winning five by knockout. Larry was so spectacular in winning that his father encouraged him to turn pro.
Sam moved his family to Florida for the winter 1952-1953 because it was the only state where Larry could box under the age of 18.
16-year old Larry Boardman made his pro debut as a featherweight on December 12, 1952 in West Palm Beach, Florida winning a four round decision over Tony Grosse.
Larry went undefeated in his first 14 bouts before suffering his first setback by decision in eight rounds to Ralph Capone on January 15, 1954 in West Palm Beach, FL. His biggest win during the streak was a fourth round stoppage of Rocky Randall.
Larry rebounded from his first defeat by finishing the year with eight straight victories, five by knockout. Included among his victims were victories over Rocky Randall in a rematch and two decisions over George (Curley) Monroe. His record after two years as a pro stood at 22-1- 0 (11). 
Larry started 1955 off by stopping Juan Martinez and Joe Lorenzo before stepping up in class with impressive victories over the more experienced Brian Kelly in Miami and Tommy Tibbs in his Boston debut. Against, Tibbs, Larry put on a strong finish to win a split decision in a fight that clearly excited Boston fans.
A month later he returned to Miami to take on number 7 ranked lightweight contender Kenny Lane.
Kenny won a unanimous decision by taking the lead after Larry outboxed him early in the fight. Although he lost, Larry gave Kenny all he could handle and the fight had an enthusiastic crowd cheering both fighters at fights end.
Five months after his loss to Lane, Larry showed tremendous improvement and poise in handing 27 year-old veteran Dennis (Pat) Brady only his second stoppage defeat in 111 fights in Hartford, CT.
Brady gave Larry the fight of his life, before Larry came on strong late in the fight to score a 10th round TKO. Brady's left hook to the body and Larry's right hand leads were effective throughout the first 8 rounds. Going into the 9th round the fight was dead even. Larry's conditioning and stamina finally paid off in the final two rounds.
The fast pace continued in the 9th. Larry worked in close finally pinning Brady against the ropes and landed a volley of lefts and rights that finally softened Brady enough to drop him with a solid right to the jaw. Brady got up at the count of 5, took a mandatory 8 count, and still had enough left to fight back.
In the 10th, Larry continued his savage attack, backed Brady to the ropes and let loose with both hands. Brady used all his skill and experience to try and weather the storm, but couldn't and was dropped for an 8 count. Back on his feet, Brady was absorbing more punishment when Referee Billy Taylor wisely stopped the fight at 1:03 of the final round.
Larry continued his climb from prospect to fringe contender by outpointing and outclassing veteran Armand Savoie of Montreal in Hartford, CT. Larry jarred his older opponent with a series of lefts and rights and occasional body punches. Late in the 6th round Savoie decided to swap punches with Larry and was dropped by a vicious right to the chin that floored him for an 8 count. Larry won a lopsided unanimous decision.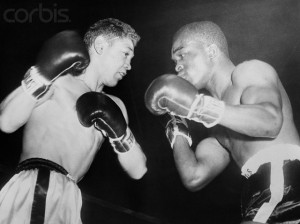 In early February 1956, Lightweight Champion Wallace (Bud) Smith was scheduled to fight Tony DeMarco in Boston for what he hoped would be a stepping stone into welterweight contention. But due to an injury to DeMarco, Larry willingly stepped in as a last minute substitute.
Before a slim crowd, an irritated Smith wanted to end his fight with the unknown Boardman as quickly as possible.
Smith started the fight by throwing a light left, pulled a quick feint and scored with a savage left hook on the jaw. Larry went down for the first time in his career. But he leaped right up, took the mandatory 8 count and got through the rest of the round without any further damage. In the second, Larry got the crowd on his side by beating Smith to the punch and taking the lead time and again. During the next three rounds Larry started to connect with looping lefts, crisp rights, uppercuts and smashing body blows. Larry carried the fight to Smith in the 6th, 7th and 8th rounds.
A cocky Boardman came out for the 9th with his hands held low, inviting Smith to exchange punches. But Smith wasn't a world champion for nothing. He quickly caught Larry with two quick powerful punches and deposited him on the canvas for the second time in the fight. This time, however, Larry was really hurt. He got up wobbling badly. Smith went after him, scoring with a variety of punches. But Larry refused to go down again in the round. A frustrated Smith pushed him to the canvas twice, but Larry survived the round.
Between rounds his legendary trainer Al Lacey gave him a tremendous going over and had him ready for the final round.
When the bell rang, Larry came out of his corner first, hands held high, completely recovered. Larry knew he had to dig down deep to earn a victory. So he went head to head with Smith and the crowd went wild. During the last 30 seconds of the round, Larry applied the most pressure. He wobbled Smith a couple of times and walked away with a close split decision and the admiration of the Boston Garden crowd.
In the April 1956 issue of The Ring the 19 year-old earned his first world rating, coming in at number 10.
Boston promoter Sam Silverman gave Larry a chance to prove that his sensational victory over Smith wasn't a fluke. So just two months after his win over Smith, Silverman arranged for another world champion, featherweight Sandy Saddler, to meet him.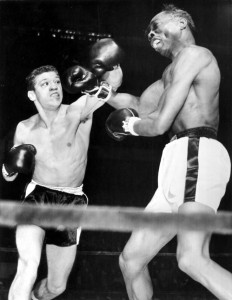 Larry showed Saddler little respect and pummeled him with rights and lefts and hooks in the early stages, then settled down to outbox him for a unanimous decision.
Larry hurt Saddler in the first and third rounds; he drove some stinging left hooks to Sandy's head that had Saddler clinching at the end.
To Saddler's credit was his ability to take the pounding he received. In the middle rounds he conducted a defensive fight, but Larry still broke through with his clever attack to score repeatedly.
The first round saw Larry at his best. The fight was only seconds old when Larry landed a left and three rights to Saddler's head. Then he hammered away with both hands and Saddler was unable to counter on the ropes.
Larry kept up his relentless attack and a jolting left uppercut started Saddler's nose bleeding midway through the round. A long straight right by Larry drove Saddler to the ropes and a series of rights kept him there until the bell.
Saddler was able to land only one effective blow – a left uppercut to the body – in the hectic three minutes he spent trying to preserve his record of not having been stopped since his second pro start in 1944.
Larry's polished workmanship against Sandy effectively kept Saddler from inflicting much punishment inside.
Larry landed a right to the kidney, a right to the chin and an uppercut in rapid succession in the third round to stagger Saddler.
By the sixth round Sandy was picking off Larry's shots but could not mount a consistent offense of his own.
In the 10th, Larry broke through with a solid right and a stinging left with a minute and a half remaining. Then he kept Saddler off with jabs and landed a left to the head just before the bell.
Larry's win over Saddler advanced him from 10th to 7th in The Ring World Ratings.
On June 6, 1956 Larry made both his television debut and Madison Square Garden debut in a featured ten round main event against Frankie Ryff. The 24-year-old Ryff, a lightweight from the Bronx, had been inactive for six months recovering from cuts above both eyes to heal. He entered the ring a distinct favorite with a record of 20-1-0 (3). In 1954 he was named Rookie of the Year. His inactivity had seen his rating plummet from # 3 to # 9 entering the fight.
Jimmy Breslin wrote, "Those at ringside were saying Ryff will give him that tin-can stuff and dance around him and then hit him with a million little punches and win the fight easy.
This is how New York fight people received the 20-year-old Larry Boardman at 10 o'clock on June 1. He was a boxer who was going to receive a lesson – a boring one to watch, perhaps, but still a lesson – from the one regarded as the best lightweight in existence, flashy Frankie Ryff.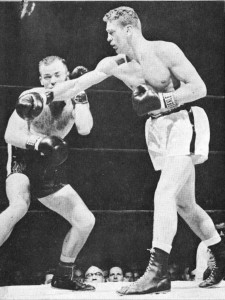 At a minute or two before the clock on the mezzanine façade showed 10:40 this night, the two guys at ringside, along with everyone else, were up on their feet and trying to form words which would mean the same no matter how they said them – this guy Boardman is a helluva fighter.
For up in the ring something had just happened. As far as most of the nation was concerned, a fighter, a real fighter, had shown himself for the first time.
Boardman had started the fight by walking right into Ryff and throwing bombs. From the first round on, he was looking to knock Ryff's head off. And Ryff, instead of dully dancing around had fought. He had fought for his life and as the ninth round started, the New Yorker was on his way of winning the best fight of his young life.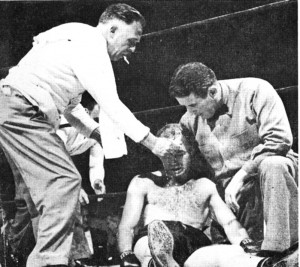 Then it happened. Those bombs of Boardman's had been around the target most of the way, but nothing scored and that was upsetting. Then one got home on Ryff and it shook him. He slammed back and Boardman moved at him – and then it happened. A left hook slipped through. Before you knew it had been there, Larry sent a right hand. A helluva right hand, and while people were asking what punch did it, the referee counted ten and Cus D'Amato and Dan Florio and the rest of them from Ryff's corner had jumped in the ring and were trying to put Frankie on a stool and bring him around. He had been flattened – knocked cuckoo."
Larry's sensational win over Ryff elevated him to number 5 in The Ring World ratings.
Larry continued his mastery of present and past world champions when he stopped former world lightweight champion Jimmy Carter at Boston Garden on September 11, 1956. Larry walked in and blasted away at Carter to win every round. Carter didn't offer much competition and fought lethargically. In the 8th round Carter was dropped three times. He arose quickly each time to the eight count on his feet. When Larry got him on the ropes following the third knockdown and pummeled him with a left hook and two steaming rights, Referee Jimmy McCarron stepped in and stopped the fight. The victory advanced Larry to number 2 in the Ring World Ratings.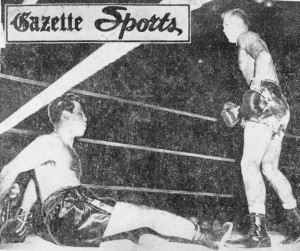 Two months later, Boardman brought his seven fight winning streak and overall record of 32-2-0 (16) to Philadelphia to meet his fourth current or past world champion in nine months, former lightweight champion Paddy DeMarco. 
DeMarco charged out of his corner to start the fight and grabbed Boardman with both arms. He mauled and pushed, tackled and shoved, attempting to tie up his opponent at every opportunity. Larry was able to untangle himself enough to drop DeMarco for a short count late in the first round.
DeMarco continually tried every roughhouse trick in the trade, but Larry kept his cool and when he could tear himself away from DeMarco's bear hugs and mauling, he peppered the 28-year-old former champion with hard rights, sharp lefts and jarring punches to the body. Larry repeatedly pounded Paddy from long range throughout the fight and walked away with a unanimous decision.
Larry ended a sensational year on a down note when Cuban cutie Orlando Zulueta, a 12-5 underdog, scored a major upset by outboxing and frustrating Larry over 10 rounds to win a majority decision. Zulueta proved to be an elusive target as Larry vainly tried to land a kayo punch. Zulueta's educated left jab was very much in evidence as he piled up points. Larry gave it everything he had in the tenth round but punched himself out against the artful Zulueta. The loss dropped Larry from second to fourth in The Ring World Ratings.
Larry retuned to Florida and started 1957 off with a unanimous decision over Houston journeyman Ray Portilla in Miami Beach.
Because of Larry's large popularity in Boston, Sam Boardman arranged a fight between Larry and Boston's top ticket seller former world welterweight champion Tony DeMarco. Larry figured that a win over DeMarco, the number one world ranked welterweight would propel him into a title shot with world lightweight champion Joe Brown.
DeMarco, 145 ¾, put end to Larry's mastery over world champions past and present by taking a clear cut decision before a crowd of 12,911 at Boston Garden.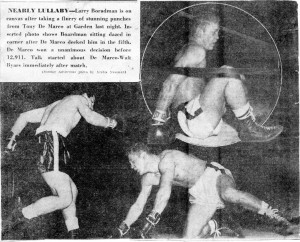 Larry, 141 ½, was dropped twice in the fifth round, the second time just as the bell rang. DeMarco started the fifth throwing bombs. He connected with a right uppercut, a left hook and a left-right combination that shook Larry. A left hook sent Larry down for a count of three and he took the mandatory eight. As the round ended, Tony punched Larry part way through the ropes for another knockdown, but the bell prevented a count.
For the remainder of the fight it took all the ability Larry could muster to keep alive his record of never having been stopped in 38 professional fights.
The loss dropped Larry another notch in The Ring World Ratings to fifth.
Three months after the DeMarco fight, Larry headlined another main event at Boston Garden. In a nationally televised fight Larry took on up and coming New Yorker Johnny Busso.
13-5 underdog Busso counterpunched his way to a clear-cut decision over Larry. Larry was dropped twice in the bout, the first time in the first round from a left hook and again in the third from a combination of head blows.
Larry was wild and his timing way off, possibly still suffering from the battering he received from DeMarco. For whatever reason, Larry no longer looked liked the fighter who knocked off Bud Smith, Sandy Saddler, Frankie Ryff, Jimmy Carter and Paddy DeMarco just a year earlier.
The upset loss to Busso dropped Larry from fifth to seventh in the ratings.
Larry's handlers kept him out of the ring for nearly six months in hopes that a rest would rejuvenate his faltering career. Although mentally and physically he was feeling better, his inactivity cost him a world rating. In November 1957 The Ring dropped him from their world ratings, ending his nineteen month stay in the top ten.
Larry made his return to the ring in Cleveland on December 6, 1957 in a ten round semi-final bout against Cleveland hot prospect Cecil Shorts on the undercard of the welterweight elimination tournament fight between Isaac Logart and Gaspar Ortega.
19-year-old Shorts won a unanimous decision over the rusty 21-year-old veteran whose timing was way off due to the lengthy layoff.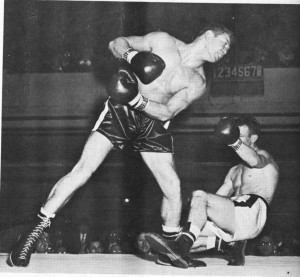 Three weeks later Larry headlined a card at St Nicholas Arena in New York against Canadian welterweight Peter Schmidt. It was a free-swinging affair, with Larry proving the more durable of the two. Larry had rough going in the first round when Schmidt dropped him with a right to the jaw. More surprised than hurt, Larry got up at the count of two, but had to take the mandatory eight-count, and then fight off a wild attack by Schmidt.
Larry was sharp with lefts and rights to the head in the second and these punches offset a hard right landed by Schmidt. They traded rights savagely through the third, each staggering the other in turn.
In the fourth they continued to trade head punches, Schmidt matching his long right hands against Larry's two-fisted attack. Larry punched more quickly and sharply with his right to the head in the fifth.
During a lively exchange in the sixth, Larry shot a long right to the jaw, his punch landing squarely. Schmidt hit the canvas and stayed unconscious for the full count.
Larry returned to Florida to begin his 1958 campaign. On February 11th he won a unanimous decision over New Jersey's Johnny Digilio in Miami Beach.
Larry floored Digilio with a straight right to the jaw in the fourth round for a nine count. In the fifth round Digilio rallied but Larry scored with a left and right that decked his New Jersey opponent for a mandatory eight-count.
A combination stumble and a right to the body sent Digilio down again in the sixth for another mandatory eight count.
Two weeks later, again in a Miami ring, Larry met New York's Lulu Perez, in a match up of two former high ranking lightweight contenders.
Larry used a pounding body attack to score a sixth round technical knockout over his 24-year-old opponent.
After an evenly contested opening round, Larry floored Lulu in the second with a left hook to the jaw. Lulu was up at the count of seven. In the fourth, Lulu was staggered several times with hard shots to the body but fought back gamely, cutting Larry over the left eye.
Larry continued his savage body assault causing Lulu to complain of severe pain in his left side at the end of fifth round. He started out for the sixth, but Referee Cy Gottfried stopped the fight.
Next up was veteran Kid Centella of Nicaragua before a good size crowd in Miami Beach. Larry had his way with the Kid for four rounds before closing the show in the fifth.
In the fifth Larry was landing lefts and rights to his opponent's head and body almost at will when Referee Billy Regan moved in to halt the fight. As he did so, a Boardman one-two draped the Kid part way through the ropes and on the canvas unconscious. The victory improved Boardman's record to 37-6-0 (19).
Larry's modest four fight winning streak earned him a rematch with Johhny Busso in Boston. Although he had just turned age 22 the Busso bout represented the crossroads of Larry's career. A victory would bring him closer to contendership, whereas a loss would render him to journeyman status.
On April 11, 1958, in a bout televised nationally from Boston's Mechanics Building, Busso proved he had Larry's number by stopping Larry in the ninth round of a savage fight.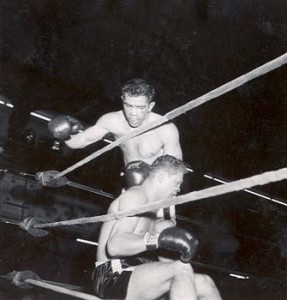 It appeared that Busso would end the fight early when he dropped Larry twice in the first round. Busso had Larry down from a right to the jaw. Larry took the compulsory eight count and was dropped again in his corner from a rapid exchange. Larry appeared to be going down for a third time when he uncorked a right which staggered Busso and split his nose.
Busso floored Larry three times in the fifth round. Larry kept coming back, however, and knocked Busso down in the sixth with a left hook.
But Busso used his own left hook to end matters in the fatal ninth round. Busso caught Larry with a left hook as he was coming in. The force of the blow knocked Larry backwards to the canvas. Moments later, Busso connected with a devastating left-right-left combination which put Larry down in Busso's corner. Referee Tommy Rawson called a halt shortly before the bell ending the ninth round.
Soon after the Busso fight Larry joined the United States Marine Reserves and spent six months on active duty.
After his discharge from active duty, he resumed his professional boxing career on April 7, 1959 by winning a decision over Leo Agbulos in Sacramento, CA. He followed with an eight round stoppage of Kid Javallana in Hollywood, CA before returning to Florida where he outpointed Cecil Courtney in Tampa and knocked out Iggy Maldonado, also in Tampa, to end 1959.
On January 12, 1960 Larry took on Chicago's Eddie Perkins in Miami Beach. Perkins walked away with an easy points victory.
Perkins scored effectively to the head and body with left-right combinations while Larry frequently missed. Larry suffered a gash over his left eye in the fourth round and it bled for the remainder of the fight. There were no knockdowns, although Perkins staggered Larry twice in the sixth round.
 In April Larry was back in Tampa to take on former victim Ray Portilla. Portilla ruined Larry's comeback hopes even further when he stopped him in the fourth round due to a severely gashed eyebrow.
 Once his eyebrow healed, Larry headed to Boston where, despite scoring a first round knockdown, he was held to an unpopular ten round draw with local prospect Pat McCarthy, Jr.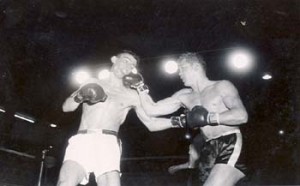 Two months later Larry and Pat met in a rematch at Boston Arena. This time there was no controversy. Larry systematically cut down McCarthy with left hooks to the body and later shifted his attack to the head.  McCarthy was dropped once in the 4th, twice in the 6th, and again in the 7th. In the 9th Boardman was hitting the then defenseless McCarthy at will when Referee Eddie Bradley called a halt.
 A month later Larry again fought in Boston. His opponent was former victim Tommy Tibbs. Tommy had come a long way since their first meeting five years earlier, while Larry had lost a step. Tibbs continually found the mark with his famed left hook, particularly to the body to gain a decisive decision. Tibbs was the aggressor throughout the fight and never let Larry get set long enough to land one of his bombs.
 Larry was inactive for 32 months before he made a short comeback.
On June 27, 1963, Larry won a clear-cut decision over old foe Rocky Randall at the Richmond Arena, in Richmond, VA
Larry dropped Rocky in the ninth round with a terrific left hook and solid right cross. Both battlers gave the fans a thrill in the tenth when they engaged in a toe-to-toe exchange.
On August 31, 1963, 27-year-old Larry Boardman engaged in his last profession fight when he stopped Detroit's Chuck Taylor in the 10th and final round in Jacksonville, FL
Months after the Taylor fight Larry decided to hang up the gloves for good. He realized he didn't have the same hunger for the game he had when he first started out. His final ring tally: 45-10-1 (23).
After boxing, Larry worked for Sears in Jacksonville, Florida for 25 years before retiring.
I am happy to report that Larry, who will be 69 years old on March 21st, is in excellent shape, happily married and living comfortably in Florida.
The late Lester Bromberg summed up Larry's career so succinctly when he offered his thoughts on why such a brilliant prospect like Larry Boardman faded so rapidly.
"Here you had a handsome, well mannered blond youth with dynamite in his fists. Only 16 when he began fighting pro in Florida, Larry was a sensation in preliminary fights. He was jumped to 10-round bouts before his 19th birthday. In another year he was winning against Wallace (Bud) Smith, Sandy Saddler, Frankie Ryff and Jimmy Carter. But one year later his contract wasn't worth a tenth of what it once was. Why?  He had been advanced too rapidly for his age and experience. And, against the durables of the category into which he had been catapulted, all his true greenness came out. Orlando Zulueta was the first to expose his boxing faults. From there on, it was downhill against almost anybody."
March 21, 2005