Walter Byars: One of Boxing's Forgotten Warriors
By Dan Cuoco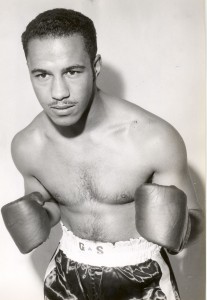 There are many stories of past greats and famous boxers that have been written and rewritten over the years. But what about the many who fought and made a name for themselves but seem to be forgotten as the years pass. Walter Byars is one of them.
Byars was a clever, aggressive and fast-punching boxer. His style depended on fast hands, strong legs and excellent defensive skills that allowed him to take advantage of an opponent's mistakes and make them pay. He fought professionally from September 1954 until December 1959. He was a world ranked welterweight contender from May 1957 until October 1957. He lost several controversial decisions during his career. He was never stopped. His professional record was 18-9-1 (4).
Walter was born December 16, 1931, one of eight children. He didn't start boxing until he joined the United States Marines in 1951. He was stationed with the First Marine Division and spent 11 months in Korea. He won the All-Marines featherweight title in 1953 and the All-Marines lightweight crown in 1954.
After his discharge from the Marines, Walter went to the New Garden Gym in Boston in hope of becoming a professional fighter. He was quickly spotted by Johnny Buckley, Jr. who was impressed by Walter's natural ability and signed him to a professional contract.
Walter turned pro on September 30, 1954 with a second round technical knockout over unbeaten Everett Perry in Boston. He won his first five pro fights before suffering his first defeat to Willie (Pineapple) Stevenson in Boston on April 16, 1955. Stevenson was undefeated in nine bouts. One week later Walter avenged his first defeat by handing Stevenson his first defeat in a thrilling six rounder. Walter knocked off another undefeated fighter in his next bout when he won a six round decision over Somerville, MA welterweight Cliff Hutchinson who came into the bout with a record of 14-0-1.
Walter lost his next fight to unbeaten Philadelphia sensation Jimmy Soo, 27-0-0 (18), on the Jimmy Carter – Wallace (Bud) Smith lightweight title fight card at Boston Garden. Walter took the fight on 3 days notice and lost a close decision. It was supposed to be a six rounder but it was made into an eight and Walter hadn't gone more than six rounds until then. Two weeks later Walter won the rubber match with Willie (Pineapple) Stevenson in an eight round feature at the Maple Arnea A.C. in Brockton, MA. It was a unanimous verdict for Walter, who had recently been named lightweight "Prospect-of-the month" in the August issue of Ring magazine. Walter never gave Stevenson a chance to rest. He was on top of his opponent, always forcing the issue. He finished 1955 with three more victories.
1956 was a good year for Walter. He started off his 1956 campaign by upsetting rival Bostonian Bobby Murphy who had just been voted the "1955 Rookie of the Year" by the Boxing Writers Association. Byars was suppose to be just another victim in Murphy's rise to the top but upset the applecart by trouncing Bobby in decisive fashion. He administered a sound boxing lesson to Murphy and lifted his New England welterweight title at the Boston Arena. Walter made Murphy look downright foolish in spots, as he gained a unanimous 10-round decision. Walter was quick, took the aggressor's role at the start and hit consistently with looping right and left hand leads. He covered up well, slipped punches and wouldn't let Murphy connect with his vaunted right. The victory ended Murphy's unbeaten streak at 16. There were no knockdowns. Referee Bill Connolly voted 100-92 for Byars. Judge Joe Ricciotti called it 99-94 and Joe Santoro 99-87.
Walter's win was so unexpected that Lowell Sun sportswriter Gil Wood who had followed Murphy's career from his amateur days fighting in Lowell, MA through his fight with Byars stated in his column: "A saliva test would be in order if it wasn't reasonably certain that Bobby Murphy, his father and the others on his advisory committee aren't the type to "bag" a fight. Bobby couldn't have looked any worse if he was trying to throw a bout than he did Thursday night at the Boston Arena while losing every round to a surprising new Hub welterweight star, Walter Byars. Murphy, a former Greater-Lowell Golden Gloves champ, looked like he'd been doped, or something akin to that. He couldn't move, and sometimes seemed unwilling to move out of Byars' gunsights. What's happened to the blonde who had seemed destined for national prominence in the welterweight merry-go-round? While plenty of due credit must be given to the fast-punching smart-moving Byars, a former marine, that wasn't the same Bobby Murphy we saw fight Chico Vejar to a draw only a little more than two months ago. That's the fight which led up to his being named rokie of the year."
Many local fight experts thought that Murphy had an off night and that he would prevail in a rematch. Walter proved his win wasn't a fluke by crushing Murphy in their rematch. Murphy was never the same again.
Walter turned tiger in his rematch with Bobby Murphy. He felt that a convincing showing against Murphy would set up a match with Tony DeMarco. Walter defended his New England crown by knocking down Murphy five times for a technical knockout at 2:23 of the fifth round at the Boston Arena. Walter gave Murphy a sound boxing lesson minus knockdowns to take the championship five weeks earlier. In their first fight Walter simply outboxed Murphy a murderous right hand puncher with a leaky defense. In the rematch, Walter hit with authority. His left, which had kept Murphy off balance their first meeting, knocked Murphy off his feet this time. Two slahing lefts in succession downed Murphy for a seven count in the second round. A left-right combination decked him for five in the fourth. In the fifth a left following three rights dumped Murphy for eight, a left to the head upeneded him for six and another rocking left ended it. For Walter it was an impressive victory.
Although a fight with DeMarco didn't materialize, Walter agreed to defend his New England title against former New England welterweight champion Wilbur Wilson who was coming off two impressive wins over previously undefeated Eddie Connors. The 23-year-old Wilson was a veteran of 46 fights. He had been a TV favorite because of his exciting aggressive style. Wilson's resume included: Tony DeMarco, Johnny Bratton, Sammy Walker, Danny Womber, Vic Cardell, Carey Mace, Gus Mell, Gerry Dreyer, Livio Minelli, Iggy Vaccari, Jackie Wilson, Steve Marcello and Govan Small. Wilson used his experience to hold Walter to a ten round draw. The aggressive Wilson tried to keep the fight in close while the sharper punching Byars vied for punching room. Walter jabbed, counterpunched and danced away from Wilson's superior power. Wilbur did most of his work in close and hurt Walter several times with rights under the heart. The fight was nip and tuck with liitle to choose between them.
Walter was inactive for five months and returned on the undercard of the October 17, 1956 fight between Gaspar Ortega and Isaac Logart with a lop-sided eight round decision over Grant Campbell.
A month later Walter defended his New England welterweight title against Hartford, CT's Steve Ward at Holyoke's famed Valley Arena. Walter appeared to be an easy winner in their 12 rounder, but one judge ruled the fight a draw. Immediatley after the fight, Promoter Sam Silverman announced that Walter had signed a contract to meet former welterweight champion Kid Gavilan in Boston.

Walter scored an upset ten round decision over the former world title holder. He went into the ring prepared to make the most of his opportunity. He staved off most of Gavilan's early rushes and then proceded to outbox and outpunch him. The decision was split but the general consensus was that Walter was the rightful winner. Kid Gavilan and his people were angry with the decision. Some fans at ringside booed the decision, while others cheered. The AP agreed with the decision stating "Byars landed more punches, and most of Gavilan's blows, especially his bolo swings bounced off Byars elbows and shoulders."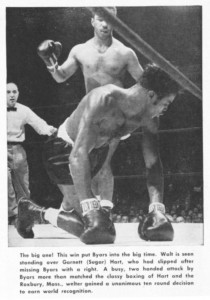 On February 6, 1957 Walter, 16-2-1 (4), signed to fight Philadelphia's sensational knockout artist Garnet (Sugar) Hart, 20-1-0 (18), at Madison Square Garden. The March 8th match would be the first main event at the Garden for both fighters. Matchmaker Teddy Brenner called Hart "The closest thing to sugar since sacharine." He further stated: "He's the hottest fistic personality to hit the air waves since Hurricane Jackson began coming up. Even Gene Fullmer and Floyd Patterson when they fought for me at the Eastern Parkway didn't arouse the entusiasm this lad provokes.
A 4-1 underdog, Walter scored a stunning upset by bulling his way to a unanimous decision over the rangy, stylish Hart. It was an exciting ten in Madision Square Garden. It was Walter's first showing outside New England, and Hart's debut in the Garden, although New Yorkers and the TV audience had previously seen Hart score four knockouts at St. Nicholas Arena. Walter's apparent disadvantages in height and reach were turned into distinct advantages. His crouching style and turtle-like defense made him a difficult target for Hart to hit. Most of the Hart's punches either sailed harmlesley over Walter or were blocked by his tight defense of arms and gloves. Walter fought a cool heady fight, plodding constantly forward, bobbing and weaving under Hart's punches, lashing out when openings presented themselves, and scoring with looping lefts and rights to Hart's head.
Walter's victory over Sugar Hart saw him enter The Ring's May 1957 ratings in the tenth spot. More importantly, it also set up a natural local fight between him and former welterweight champion Tony DeMarco who was ranked number one in the world ratings. DeMarco contracted to weigh more than 147 pounds, the heaviest of his career, so that Byars' New England welterweight title would not be at stake.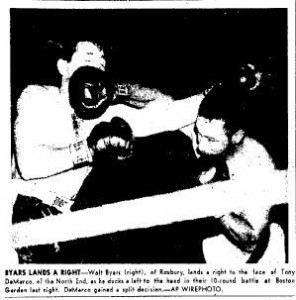 Walter met DeMarco on May 25, 1957 at Boston Garden. DeMarco used a slashing body attack to earn a ten round majority decision over Walter. Walter surprised most of the 8,305 onlookers by starting slowly, contenting himself with efforts to block DeMarco's blows. In the first two rounds he did little of the hit-and-run fighting expected. He was so busy protecting himself he had little time to attack. His right-handed shots near the finish were too little too late. After taking a solid beating in the midsection, Walter finished with a flurry of right hands, but DeMarco was not visibly affected. DeMarco's right carved crimson impressions across Byars body through much of the match, but Walter would not yield. He cupped his hands to almost completely cover his head as he operated from a crouch. DeMarco actually had little choice in his area of attack. Tony missed wild shots in the last two rounds as he tried for a knockout, and was tagged by Walter's rights. Referee Tommy Rawson and Judge Joe Santoro gave DeMarco the fight by 99-95 and 99-90 votes respectively. Judge John Norton called it all even at 96-all. Byars was a gracious loser. "He beat me by outboxing me," Byars said afterward. "Tony fought a good thinking fight. He fooled me by thinking one step ahead of me. He used his head instead of his big punches." DeMarco admitted he had to restrain himself most of the fight from swinging freely. He was looking for an opening to throw a possible knockout punch but never found it.
Despite the loss Walter who had been elevated to ninth in The Ring ratings shortly before meeting DeMarco retained his rating. Amazingly, just 18 days after his loss to DeMarco Walter met Virgil Akins in Norfolk, VA in a nationally televised bout and lost an unpopular deciaion. The loss to Akins dropped him to tenth in The Ring ratings.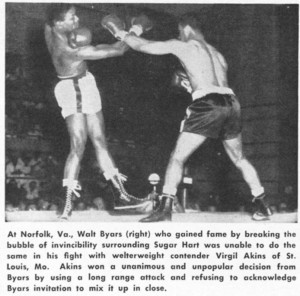 Akins and Walter were featured in a special card at the Norfolk Arena at which 2,179 fans were present and Akins won an unpopular decision. Akins fought from long range and refused to mix it up in close where Walter was at his best. Akins' harder punching at long range swayed the judges. Many of the fans, however, thought Akins didn't deserve the decision. They booed the verdict after rooting throughout for Walter, the 12-5 underdog.
Although he had dropped back-to-back decisions Walter refused to take an easy fight to regroup. Instead he signed to meet number one ranked Isaac Logart in a nationally televised match at Detroit's Olympia Stadium. Unfortunately for Walter, Logart proved too strong and punched too often and won convincingly.
Logart drew first blood from Walter's nose in the sixth round and he had trouble breathing the rest of the way. Far the superior boxer, the 24-year-old Logart relied mainly on his left hand, hooking and uppercutting Walter and staying on top of him for the entire route. The only time Walter showed authority was early in the fifth round when he landed two quick right hands that had Logart bleary-eyed for the moment. But the Cuban showed good recuperative powers, lit out after Walter and was in no danger thereafter. Judge Jack Aspery scored it 50-38; Judge Appleton scored it 49-36, and Referee Jackie Swartz 49-36, all for Logart. The AP had it 48-39 for Logart. The scoring in Michigan was on the five point must system.
The loss to Logart dropped Walter from The Ring ratings. Again, Walter refused to take an easy fight and agreed to fight Kid Gavilan in Chicago. Gavilan had once again regained a ranking in The Ring ratings and was sitting at number eight. Walter was confident that he could beat Gavilan again and regain entry in the world ratings. But once again Walter found himself on the losing end of a close decsion as he dropped his fourth straight fight.
Kid Gavilan scored a unanimous 10-round decision over Walter to avenge a defeat suffered the year before and improved his ranking in the welterweight division. Gavilan was 2-1 favorite for the bout, and Referee Frank Sikora, and both judges Howard Walh and Spike McDam all gave him the same margin 47-45. Walter hurt his chances of winning by losing his cool and fighting mad. Gavilan was warned twice about low blows as well as holding and hitting, and in the sixth round a furious Walter complained to referee Sikora about Gavilan's tactics. He came soaring into action in the seventh but was a good target for Gavilan's cooly directed hooks and jabs. Gavilan scored frequently too with his bolo punches to the body, but at times the punches appeared to land below Walter's belt. Byars said, "he thought he won the fight, but the judges I guess didn't go to the same school I did, so he got the decision."
Although disappointed over his loss to Gavilan, Walter was not discouraged because in his heart he thought he had won. Thus, when the offer came to fight former top ranked world contender Del Flanagan in St. Paul, MN, he eagerly accepted. It was a must win cross-roads fight for both fighters. The 29-year-old Flanagan, 88-15-2 (35) was on a modest three fight winning streak, whereas the 26-year-old Byars, 17-6-1 (4), was on a four fight losing streak. In a fight that Minnesota News reporter Billy Colbert said he had to win, Flanagan scored a majority ten round decision over Walter before a crowd of 2,532. Both men were quick on their feet and shifty, and threw quality punches. Although blows were exchanged freely, neither fighter appeared to be hurt. A late rally by Flanagan earned him the close decsion.
Walter decided to retire from boxing after his loss to Flanagan. However, after eleven months of inactivity Walter got the itch to fight again and decided to make a comeback. The first opponent in his comeback was 22-year-old Roger Harvey of Burmuda who was campaigning out of New York. The fight took place at the Arcadia in Providence, RI. Harvey scored an upset ten round decision over Walter who clearly showed the effects of his long layoff. Harvey kept up a busy two-fisted attack and outhustled him over the distance. Walter connected with some solid blows in the last round, but was unable to floor Harvey. Walter again pondered his ring future after having his comeback hopes jolted in his initial comeback outing.
Walter took six months off from boxing after the loss to Harvey before resuming training for one more attempt to regain his status as a world contender. In his second comeback fight he finally got back in the winner's column with a solid ten round decision over journeyman Butch Craig in Boston. This led to a fight with unbeaten New York welterweight Eddie Jordan, 18-0-3, at Madison Square Garden on the December 18, 1959 undercard of Benny Paret – Charlie Scott. The 24-year-old Jordan won a majority decision over Walter in a closely contested fight that could have gone either way. The loss to Jordan was Walter's last fight.
From the beginning of his pro career Walter worked part-time as a social worker at the Robert Shaw Settlement House, an inter-racial project in Boston. His ambition was to be a full-time social worker when his ring career was over. He also attended Roxbury Memorial School under the GI bill. With options open to him outside of boxing, Walter retired from the ring in late December 1959.
After his retirement from the ring, Walter worked as a court officer in Roxbury and for the Boston Youth Activities Commission as a social worker. He also continued his education by attending Suffolk Universary.
Walter was the first black to be appointed a referee with the Massachusetts Boxing Commission, and on Febuary 20, 1976, Massachusetts Governor Michael Dukakis appointed him as Massachusetts' first black boxing commissioner. In elevating Walter to boxing commissioner, Dukakis said "his long experience as a boxer and referee give him a particularly good understanding of boxing."
Walter continued to serve the State of Massachusetts and the youth of Boston until his untimely death on March 7, 1996 at the age of 64.
Walter is still fondly remembered by the Massachusetts boxing community for his tenacity in the ring; his effective leadership as a boxing commissioner; and, as a person with a high degree of integrity and conviction.
This article appeared in the December 2008 IBRO Journal