Raul (Raton) Macias
By Dan Cuoco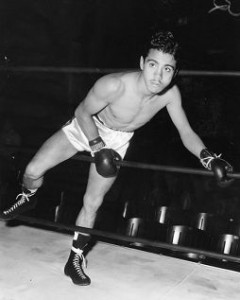 Raul was born on July 28, 1934 in Tepito a small suburb of Mexico City. His two older brothers Gaby and Jose were professional fighters and Raul learned to fight under their guidance.
Macias started to box when he was eleven years old and at twelve was able to hold his own in sparring sessions with many pro fighters who trained at the gym. He got his nickname Raton, which means mouse in Spanish, when a visitor to the gym saw him dart between the legs of a heavyweight with whom he was boxing.
At 14 Macias began his amateur career and won the junior flyweight title of Mexico. The following year he won the flyweight championship and repeated in 1950 and 1951. In 1951 he also won the bantamweight title, and the Central American bantamweight crown, which qualified him for the Pan-American games held in Argentina, in which he finished third.
In 1952 Raton retained his Mexican and Central American bantamweight honors and was selected to represent Mexico in the Olympic games at Helsinki. He reached the second series before losing.
He turned pro later that year. Unlike most fighters, 18 year-old Raul started fighting main events from the very beginning. He made his professional debut in Culiacan, MX on November 1, 1952 by outpointing Chucho Tello over ten rounds. He beat Tello again in another ten rounder in Culiacan three weeks later. He stopped Memo Sanchez in December  and kayoed Giraldo Balco in March 1953 before defeating the highly rated Cuban Manuel Armenteros over ten rounds in his Mexico City debut on April 15, 1953. In his next outing he defeated the veteran Trini Ruiz, over ten rounds.
At this time Edel Ojeda, the Mexican bantamweight champion, announced his retirement and the Mexican Commission launched an elimination tournament to find a successor. Those named to compete were former champion Luis Castillo, the flyweight ruler; Otillo Galvan, the ex-flyweight king; Raul Solis, Baby Rivera, Emilio de la Rosa, Genaro Sarafin, Beto Couary and Raton. There were some protests over the inclusion of Macias, because he only had six pro fights, but after taking into consideration his brilliant amateur career and his victory over Manuel Armenteros he was included.
Raton advanced to the finals by defeating Galvan and Serafin. In the finals against Beto Couary, Macias turned in a brilliant demonstration of speed and ringcraft to win in a breeze. In only his ninth pro fight he was champion of Mexico.
Macias' rapid rise continued. In his next three fights he won by decision and kayo over Chilean champion Alberto Reyes and by seventh round kayo over former North American bantam titleholder Billy Peacock. After twelve professional fights Macias was the number four world ranked contender in the Ring ratings. At this stage of his career the then 19 year-old wunderkind wasn't considered a hard hitter. He was characterized as a clever boxer who hit sharply with either hand, and was strong and durable.
Macias continued to hone his skills by taking two decisions over the clever and durable Fili Nava, and winning the North American Bantamweight Title from 1952 Olympic Flyweight Gold Medalist Nate Brooks. His victory over Brooks took place in Mexico City before a crowd of over 50,000 wildly partisan Macias' fans. Macias easily defeated Brooks with an incessant body attack which beat Brooks into complete submission. Only Brooks' great heart enabled him to last the 12 round distance. Brooks was nearly kayoed in the seventh round when the bell came to his rescue. He was never the same again, losing his next four fights – three by knockout.
The win over Brooks not only made Macias a national hero but also propelled him into a title fight with newly crowned champion Robert Cohen of France. Only a week earlier in Thailand, Cohen won the title vacated by Jimmy Carruthers by split decision over top contender Chamrern Songkitrat of Thailand. But before he could face Macias, he was injured in an auto accident and was out of action for nine months.
The National Boxing Association (NBA), (now known as the WBA), for reasons that continue to make no sense even today, decided to vacate Cohen's title during his recovery and sanction a bout between number one ranked Songkitrat and Macias for the vacant NBA title. The NBA title fight received little support from other commissions.
On March 9, 1955, 20-year-old Raul Macias, in only his seventeenth professional fight won the NBA version of the title with an eleventh round stoppage of Chamrern Songkitrat at San Francisco's Cow Palace. Macias dominated the fight with his long reach and height advantage, taking all but two rounds. He employed an excellent left jab, a thunderous left hook and powerful straight rights and just walked through his opponent. Songkitrat was down four times, three from punches and one from a low blow. The first two knockdowns occurred in the sixth round (the second from a low blow) and the final two in the eleventh round. Referee Fred Apostoli stopped the fight after the second knockdown in the eleventh when it was obvious that Songkitrat was too exhausted to continue.
As soon as Macias' hand was raised in victory, hundreds of his fans scrambled to ringside, battered down reporter's typewriters, waved the national Mexican flag and tossed sombreros and even a live rooster in the air to acclaim Raul the new king of the bantams. He was carried around the ring on their shoulders in a proud display of emotion.
Raul decided to remain busy and after scoring two knockouts in non-title fights he was surprisingly kayoed by former victim Billy Peacock in three rounds and suffered a broken jaw.  The knockout loss was the first time Macias was ever dropped in over 300 amateur and professional bouts.
Raul returned to the ring four months later and showed no adverse effects of the shocking defeat by going on a 17 bout winning streak, scoring 14 knockouts. The winning streak included handing highly regarded Leo Espinosa, Juan Cardenas and Dommy Ursua their first knockout defeats – Espinosa and Ursua in NBA title fights and Cardenas in a non-title fight. He also won an easy decision over the ultra tough Tanny Campo in a ten round non-title fight.
Raul was now regarded by most boxing experts as the most dangerous and dominant bantamweight in the world.
Thus the stage was set for Raul to face Alphonse Halimi, a French-Algerian fighting out of France, for universal recognition as world champion. During Raul's reign as NBA champion, Robert Cohen, rated by all boxing bodies except the NBA as world champion, lost his title to Mario D'Agata, who in turn lost the title in his first defense to Halimi.
On November 6, 1957 the two met before a crowd of 18,385 at Los Angeles' Wrigley Field. Halimi proved his right to universal recognition as world bantamweight champion by outclassing Macias over 15 rounds. To most veteran observers the fight was one of the finest seen in the division in many years, however, to the pro Macias contingent the fight was disappointing. They had come to see him score a knockout.  During the early rounds Halimi turned the battle into a slugfest. Fighting from a half crouch, he kept pressing forward tossing hooks and uppercuts to Macias' body and head. Halimi was stronger physically and made the most of his strength by maneuvering Macias into close quarters every chance he had.  Raul did not back down and met him head on. Both fighters stood head-to-head, tossing punches at each other. Seldom did the referee have to separate them.
The fight was close after 10 rounds. Fearing that he would lose a close fight, Halimi switched tactics from in-fighting to long-range jabbing. His tactics paid off. Raul didn't win another round. When the decision was announced in Halimi's favor, Macias' fans were crushed. Up until that time no Mexican fighter had ever been held in such high esteem by the Mexican fight fans as Macias. Macias was crushed when his fan's cheers turned to jeers. He left the ring with a look of disbelief. He was disconsolate. But he was honest and a gracious loser. He said: "The only reason I lost was because Halimi was better. He put pressure on me. I would like to fight him again, to redeem myself and Mexico." But unfortunately for Raul, the rematch never came to pass.
Raul remained out of the ring for a year and ultimately was dropped from the ratings for inactivity. He returned to the ring 369 days after his loss to Halimi as a featherweight by outpointing Kid Irapuato in Tijuana, Mexico. He followed that victory with knockout victories over Luis Trejo in Leon, Mexico and Carmen Jacobucci in Mexicali, Mexico. On February 28, 1959 he made a triumphant return to Mexico City. Before a record crowd of 16,000 adoring fans he won a ten round decision over Ernesto Parra.
Shortly after the Parra fight, Macias shocked his fans when he announced his retirement at age 24.  Although he remained retired he did return for one fight on a special benefit show in Guadalajara, Mexico on October 13, 1962. Fighting a six rounder he kayoed Chocolate Zambrano in five rounds. The win brought his final ring record to 41-2-0, with 25 knockouts.
After retiring from boxing, Macias became a well-known movie actor. He was inducted into the World Boxing Hall of Fame in 1994. Raton died of prostrate cancer at age 73 on March 23, 2009.
Revised: May 20, 2009