BOOK REVIEW
By Clay Moyle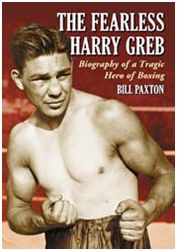 THE FEARLESS HARRY GREB
By Bill Paxton

It's amazing that until now, the only book that had ever been produced about Harry Greb was a 1946 work written by James Fair that was a mixture of fact and myths. Thankfully, Bill Paxton has rectified that situation with his masterfully written new biography about the man also known as "The Pittsburg Windmill" for his unique two-fisted attacking style.

Paxton's book is well researched, and loaded with 124 photographs, many of which most fans will have never seen before, and it makes for a nicely paced and interesting read. Greb's most important contests are covered in detail, including all five of his meetings with future heavyweight champion Gene Tunney. Greb handed the Fighting Marine the only defeat of his professional career, giving him a terrible beating in their first contest. Although the record book shows Tunney winning the following four bouts between the pair, many folks who witnessed the matches felt that Greb won the second meeting as well, and deserved no worse than a draw in their third fight. Tunney later credited Greb for his rapid development from novice to a world champion, and called him the greatest fighter he ever saw.

Paxton's comparison of the performances of Greb and Dempsey against their many common opponents such as Battling Levinsky, Billy Miske, Bill Brennan, Willie Meehan, Gene Tunney, and Tom Gibbons among others, as well as his description of the results of sparring sessions between Greb and Dempsey, leave one with the impression that Dempsey and his manager, Jack Kearns, were wise to ignore Greb's challenges for an official pairing between the two men. I found it interesting to note that in 1918 Dempsey's management team chose to fight Battling Levinsky, a man Greb had just defeated, rather than accept Greb's challenge.

Undoubtedly, many folks will read that and say that Dempsey was too big for Greb, but as the author points out, Greb was fighting bigger and heavier men than Dempsey, and having no problems beating them, and easily defeated every heavyweight opponent he ever fought.

The author identifies Greb's first fight with Kid Norfolk in August of 1921 as the one in which Greb received a blow that eventually resulted in a detached retina, and the permanent loss of vision in his right eye shortly thereafter. In that same chapter he explains in detail what most likely occurred, and includes opinions from modern ophthalmic surgeons to assist in that effort. Remarkably, that means that Greb fought almost the last third of his career with one eye, including most, if not all five contests against Tunney, and during his entire reign as middleweight champion from 1923 to 1926.

Like Sam Langford, Greb had over 300 recorded professional fights, and over the course of a four year period from 1917 to 1920 entered the ring a remarkable 134 times, including an even more mind boggling 45 times in 1919 alone. Tragically Greb passed away in 1926 at 32 years of age as a result of a blood clot on the brain the day after an operation to address injuries suffered from an automobile accident.
The book dispels a number of common held beliefs concerning Greb, most notably that he was a womanizer, drank heavily, and rarely trained. Instead, Greb is portrayed as a devoted and faithful husband to his wife Mildred up until her untimely death in 1923, and as a man who drank sparingly, and only pretended to be a heavier drinker when it suited his purposes. Cuddy DeMarco, a stablemate of Greb's was quoted after Greb's death as saying that "Harry was always in shape for a fight", "never failed to train religiously for a fight" and "was in the gym every day."

Paxton's wonderful description's of Greb's unorthodox boxing style leaves one with a strong desire to view him in action. Sadly there is no known film of him in action. All that we have is a very brief clip of him in training for his contest with Mick ey Walker. The author explains that there were four of Greb's fights confirmed as being filmed, the first Tunney fight, his fight with Mickey Walker, and both title contests with Tiger Flowers. Unfortunately, the films were made of nitrate stock and it is believed that all disintegrated over time. Hope persists that somehow, and somewhere, someone copied one of the films onto a more modern medium and that evidence of him in action might one day surface, but to date that hasn't happened.

In addition to the well researched content and abundance of photographs, the book includes chapter notes, a bibliography, and an appendix with Greb's complete fight record.

I had a healthy respect for Greb's accomplishments before reading this book, but even more so now. I highly recommend it to anyone with a desire to learn more about one of the most remarkable fighters in the history of boxing. I guarantee you will not be disappointed in it.
To order this detailed book, open the link below.
The Fearless Harry Greb: Biography of a Tragic Hero of Boxing