Book Review 'Joe Gans. A Biography of the First African American World Boxing Champion'. Colleen Aycock and Mark Scott
By Clay Moyle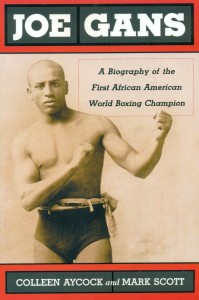 Finally! Someone has written a book about boxing's first African American world champion, and a man that many boxing historians consider the greatest lightweight ever. Colleen Aycock and Mark Scott are to be commended for producing this long overdue biography of Joe Gans, a.k.a. "The Old Master".

The preface to Gans ring record in the appendix explains that the professional record used by the press during Gan's lifetime begins with the year 1894, and the authors tell us that it wasn't until 1896 that the national papers began to follow Gans' career, after he had compiled a string of some 60 consecutive victories. As a result, although there is some coverage of Joe's career prior to 1896, the majority of the book focuses on his career after that year, and his battles with men such as Dal Hawkins, Frank Erne, Young Griffo, Bobby Dobbs, Battling Nelson, and many, many others.

There is an entire chapter devoted to the alleged fixed fight that took place in Chicago against Terry McGovern in 1900, and resulted in such a scandal that it caused boxing to be outlawed in that part of the country for the next twenty years. There is a fair amount of controversy concerning that fight that remains to this day, many convinced that Gans threw the fight, while others maintain that McGovern won it fair and square. Personally, my own opinion has always been greatly influenced by the quote of the referee, George Siler, after the fight, who wrote: "I do not wish to accuse any fighter of faking but if Gans was trying to win last night I do not know much about the game. Gans, of course, is entitled to the benefit of the doubt as to whether or not numerous body blows Terry pumped into him in close quarters during the early part of the fight weakened him. But the fact remains that the few blows he delivered were the weakest ever seen from a man of his known hitting ability."

Regardless, the negative impact of the contest on boxing in Chicago for the next quarter century is well documented, and Gans spent the next 1 ½ years rebuilding his reputation before becoming boxing's first African American world champion by knocking out the lightweight title holder Frank Erne in one round on May 12th of 1902.

The authors do a marvelous job of painting a picture of Gans' skills inside the ropes. He was clearly a highly skilled boxer, and luckily there is a fair amount of film around that we have an opportunity to witness those skills. His offense included a number of outstanding punches, and he was one of the earliest fighters to put those punches together in combinations, and when you combined that offense with his fine defensive skills it is clear to see why he was such an outstanding fighter. A number of great early 20th century fighters, including the likes of Jack Johnson and Sam Langford, were greatly influenced by Gans.

The authors also provide us with a thorough view of the social climate of those times and how much more difficult that made it for Gans to achieve the success he did. Despite the aforementioned controversy surrounding his match with McGovern, and the questionable effort in his first bout with Frank Erne, we are given to believe that Gans may have had no choice but to follow the direction of his shady manager, Al Herford, and that he ultimately rid himself of Herford in order to exercise greater control over his career.

I found it particularly interesting to learn of the role that the San Francisco Examiner played in perpetuating the belief that Gans had given up his lightweight title in 1904, only to find him universally recognized as the reigning lightweight champion prior to his famous fight against Battling Nelson in 1906. The comparison of the records of Gans and Sugar Ray Robinson in title fights in chapter 19 was also very enlightening for me from the standpoint of the number of successful lightweight title defenses that Gans had, and how much more impressive his overall record in title fights was than Robinson's.

I gained an even greater appreciation for Gans as a fighter as a result of reading this book, and also learned an awful lot that I didn't know about his contributions outside the ring. It was somewhat disappointing to learn of the lack of recognition there is for his place in history in his home town of Baltimore.

I'll end by saying that I found the book to be well written, as well as very enjoyable and educational. I highly recommend it and thank Colleen Aycock and Mark Scott for providing us with the first biography about a great champion who has not received anywhere near the recognition he deserves.
286 pages, paperback, McFarland & Company, Inc., $39.95
To order this book, open the link below.