LARRY BUCK:  THE BATTLING BEAUTICIAN
By Austin Killeen

Every boxer I've interviewed has his own story of how he got interested in boxing.  Larry's had to do with frozen ears.  He grew up in Granger, Washington, a small farming community in the eastern part of the state, near the Oregon border.  In winter, the temperature would often drop to 20 degrees below zero.  He had to walk 300 yards to the bus stop and wait to be picked up.  Most sensible people would simply wear a hat, suitable for the weather, pulled down over their ears.  But "little Larry" was concerned it would mess up his coiffed hair style.  By the time the bus arrived, his ears felt like ice cubes.
Sitting in his bus seat, his ears were still stinging from the ridged outside temperatures.  Older boys riding the bus would often sit directly behind him.  Looking for a little fun, they would flick his frozen orbs, using the middle finger of their hands.  The pain was worse than the cold, but provided gleeful pleasure for the flicker.  Too young to defend himself he went to his father for help.  Larry remembered hearing family stories that his father use to box.  Indeed his father did box in the 1930's under the name Buck Little.
Like any loving dad, Mr. Little (Larry's real last name) was only too happy to help.  Aided by Larry's older sister Hope, Mr. Little built a make shift boxing ring in the barn to help Larry train.  His early lessons didn't go to well as his older sister had a terrific jab.  She bought her baby brother a boxing book, by Jack Dempsey, on how to train.  Young Larry made his pugilistic debut in 4th grade at the school gym.  His opponent was a classmate and the decision was a draw.  In fact all the bouts ended in a draw that day.  Apparently the school matchmaker knew how to find opponents who were evenly matched.
It was about this time that I realized Larry had a unique talent; he could tell a 5 minute story in under 3 hours.  As my digital recorder could only hold 8 hours of conversation, this was going to be a problem.  Additionally, I was going to be in Washington State for only 7 more days. But, despite this handicap I finished the interview in time.
Larry continued to box, winning the state high school championship in his senior year at 155 lbs.  You read it right; boxing was a high school sport in Washington State in the 1950's.  Each year the high school schedule included 12 to 15 bouts, including tournaments.  He was promised a full scholarship at Washington State University if he won the title, but it wasn't to be.  They dropped the program at the University the following year.
Larry attended Yakima Community College for one year, but was only interested in boxing at the Yakima YMCA where he boxed under the tutelage of Harvey Hunt.  His biggest win was a decision over a more seasoned amateur named Gus Capgrove.  In our interview, it was obvious that Larry was very proud of that accomplishment.  The win awarded Larry the Central Washington AAU title in the 156 pound division.  This resulted in a match with veteran Johnny Rademacher, brother of 1956 Olympic gold medalist Pete Rademacher.  They met in Seattle with an opportunity to qualify for the team trials for the Olympic squad that year.  Johnny was in his late twenties and proved too seasoned for him.   Realizing college wasn't for him Larry decided to move on with his life.
Larry's high school sweetheart was a hair stylist and often brought Larry to trade shows and contests she entered.  It wasn't long before the "Toppenish Terror" decided to get in the trade himself.  He even entered competitions, winning many prizes for his hair styling skills.  By now Larry was out of boxing.  He married his girl friend and they both worked in the trade.  In 1958 the draft board sent a nice letter to Lawrence Little, telling him that he was being inducted into the United States Army.
Larry was sent to Fort Ord, CA for basic training.  During this time, the usually smooth talking Buck managed to turn a 2 year commitment into a 3 year hitch.  He thought he signed up to be an airplane mechanic, agreeing to extend his military stay from two to three years.  Flying to Fort Carlson, OR, for advanced training, Larry almost fainted when he looked out the window of the plane.  The soldier sitting next to him commented; if you think its scary looking out the window, wait until we start jumping out of them.  It was then that Larry realized he had signed up to go to airborne school.  He wouldn't be fixing planes; he'd be jumping from them.
His second day at Fort Carlson, a Colonel Bligh asked if anyone in the company could box.  Desperate to do anything but go airborne, Larry almost knocked the Colonel over, rushing to volunteer.  True to form his luck had changed.  He was now housed in special billets and eating his meals at a special mess hall just for the boxers.  It seemed that the "Toppenish Terror" had fallen through the outhouse floor only to climb out holding a bouquet of roses in each hand.
Competing against other company teams stationed at the Fort, Larry won 10 straight, most by KO.  To say Colonel Bligh was happy would be an understatement, as his squad won the team championship of Fort Carlson.  With the boxing season over, the athletes would have to go back to their regular duties.  Once again Larry would find flowers in a big pile of. . . .  The Colonel's orderly was transferred and Larry was his replacement.  The majority of his time was spent driving the Colonel around the base and seeing that his uniforms were clean and his dress shoes spotless.  Additionally Larry used his skills as a beautician to style the hair of the Colonel's wife and two daughters.  Washington States smoothest talking boxer was winning favor with the Colonel's family.
In addition to his great job, Larry's wife and baby daughter were also living on base with him.  How could things get any better?  They couldn't!  A disgruntled solder with political connections, complained about the special treatment the boxing team had received.  An investigation was conducted and most of the boxing squad was shipped overseas.  Larry would be sent to Fort Bragg, North Carolina, for jump school.  Once again the Gods smiled on Larry, Colonel Bligh interceded, cutting new orders.  Private Little was being sent to the Schofield Army Barracks in Hawaii, the good Colonel was showing his appreciation for Larry's excellent service to the officers family.
Arriving at his new location, Larry continued boxing and met Andy Heilman.  Heilman would prove to be an experienced boxer and ranked middleweight contender in the mid 1960s."  Although taking an immediate liking for each other, it was obvious they would likely have to fight being approximately the same size.  Heilman and Buck entered a secret agreement to always fight one weight class apart.  Although having many common opponents, they only met as sparring partners never as opponents.
The experience was great for the Washington State native, as boxers from all branches of the military passed thru Hawaii.  The ring experience he gained there was priceless.  Larry would suffer only one loss while stationed on the islands, a decision to Ray Phillips, as part of the Olympic trials.  Phillips would ultimately lose in the trials to Edward Crook the 1960 Gold Medal winner at the Rome Olympics. 
With the boxing season over, Larry faced the prospect of going into the field and training with the infantry.  Desperate to escape a fate he considered worse than death, he approached the swimming coach.  The swim coach needed a swimmer who could do the 50, 100 and 200 meter back stroke.  Larry was a strong swimmer when he was a little boy on his father's farm in Granger, Washington, so he figured he could fill the void as a swimmer.  Taking a book from the base library on competitive swimming, Larry taught himself the fundamentals of the back stroke.  You guessed it; he made the team and avoided training in the hot dusty fields.
Discharged from the service Larry remained in Hawaii, with his wife and two children.  They both worked successfully as hair stylist, but after a year became homesick.  Returning to the mainland, Mr. and Misses Little took jobs as beauticians in the Capitol Hill section of Seattle.   This proved to be an obstacle to Larry's pro career.  The busiest part of his day conflicted with the best gym time to train.  His solution was to take a job as a welder, which paid more money.
When he applied to Lockheed Shipbuilding for a position as a welder, the personal director stared in disbelief.  "Mr. Little for the past seven years you've worked as a hair stylist and boxed in the service."  That's when Larry put a trophy and a faded newspaper clipping on the personnel director's desk.  In Toppenish High School, where he earned the nickname "Toppenish Terror", he had a shop teacher by the name of John Babich who took a liking to him.  He entered his prized pupil in a state welding contest sponsored by Lincoln Arc Welding.  Larry won 3rd prize for building a squeeze chute that would hold live stock.  By painlessly locking the steers head in place, a person could safely work on a bull or cow's horns without fear of being kicked, do branding and trim hooves, which allowed livestock to walk properly.  Mr. Little was hired on the spot.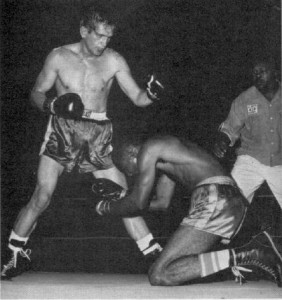 It appeared his pro career was finally going to launch.  It was not to be, as Larry suffered two serious injuries to the same leg in welding accidents.  It wasn't until 1966 at the age of 29, that he finally turned pro.  He adopted his father's first name as his surname because there were too many Littles in the sport.  His early career was fought mostly on the undercards of Eddie Cotton and Boone Kirkman.  He was 8-1-2 in his first eleven bouts with six coming by early stoppage.  His only loss, the result of a freak cut under his chin that his trainer George Chemeres was unable to stop.  It would be the only time that Larry was stopped either as an amateur or pro.  His extensive amateur background was proving a big plus in his early ring success.  In April of 1967 Larry was named Ring Magazine's Middleweight Prospect of the Month.
Larry first big test was against veteran George Thomas of Oakland, California.  Going ten rounds for the first time, the "Toppenish Terror" was awarded a controversial majority decision in Seattle.  The crafty Thomas showed Buck he was not a complete fighter yet.  Three months later, Larry answered his critics, stopping Thomas in seven rounds.  Apparently he was a quick learn. The Oakland boxer had a bad cut in his mouth and his left eye was swollen shut.  George Chemeres, Buck's manager, said his fighter looked like a different pugilist this time out against Thomas.  He had corrected his mistakes made in Seattle and was having fun.
Experienced Mike Gross of Missoula, Montana was next on Larry's dance card.  Using excellent left jabs and overhand rights to the head, Buck controlled the action.  Gross's defense proved inadequate, often finding himself pined on the ropes where Buck worked him over with combinations to the head and body.  Fortunately the referee ended the one-sided contest in the tenth round.  Larry scored four more wins, all by stoppage.  This set up the biggest bout of his career, a match against third ranked light heavyweight contender Andy Kendall.   
In September of 1969 the much anticipated Kendall vs Buck matchup finally took place in Seattle, WA.  A slick boxer-puncher, Buck jumped to an early lead against the slow starting visitor.   In the third, Kendall exploded an overhand right on the "Toppenish Terror's" jaw, stunning the home state lad.  Saved by the bell, it looked like Larry wouldn't survive the next stanza.  Surprising everyone, Buck went toe to toe with the Oregon visitor.  Landing combinations to the body and hooks to the head, Larry had his opponent covering up at the bell.  The bout was hotly contested with many punches thrown after the bell ending each round.  After ten action packed rounds the match was declared a draw.  The biggest controversy was the score card of one judge who had eight rounds even.  The draw resulted in Ring Magazine ranking Larry Buck in the 10th spot in the January 1970 issue.   
Larry solidified his ranking by scoring a stoppage over Billy Marsh in Canada.  Returning to Seattle, Buck faced another big name in Montana's Roger Rouse.  Rouse had been in the ring with some of the biggest names in the division and figured to offer a big challenge for Larry.  Watching video of the fight at Larry's house, he appeared to have control of the contest after three rounds.  Roger was unable to deal with his rivals excellent foot work or combination punching.  In the fourth, Rouse exploded an overhand right on the point of Larry's jaw.  The "Toppenish Terror's" hit the canvas like spilled paint from a can.  I have no idea how he was able to get to his feet before the ten count was completed.  Fighting on instinct, he made a fight of it for the remainder of the bout.  Twice more in the sixth and tenth rounds, Rouse found the jaw of the local hero for devastating knockdowns.  Incredibly the fight was close and it appeared Rouse needed the knockdown in the tenth to gain the verdict.  After watching the Rouse match, I can understand how Larry was never KO's in over 150 amateur or professional fights.  He had an incredible chin.  
Bouncing back from adversity, Larry scored four KO's to get his career back on track.  This included a neighborhood rivalry between Buck and Bill Schellhas.  Schellhas, a heavyweight, agreed to make the light heavyweight limit to secure the bout.  Larry who usually employed boxing skills in his bouts thought he'd surprise Schellhas by turning slugger.  Schellhas a slugger figured he'd confuse Larry by turning boxer in their match.  The switch in styles worked for the "Renton Express" as he built up a big lead after eight rounds against Larry.  "I knew I was behind," Buck said. "I had to come on strong in the late rounds.  I really didn't loosen up until after the sixth round.  The punch that opened him up was a left against the ropes in the ninth."  Schellhas was knocked out with two seconds left in the ninth round.  The win secured a second match with Oregon rival Andy Kendall.
The rematch was a replica of their first bout, including some strange scoring.  Once again Buck got off to a fast start, controlling the action with an excellent jab.  The muscular Kendall closed strong over the final three rounds.  The verdict was a draw, causing Kendall's manager Mike Morton to go nuts.  Commenting on judge Bill Kydd's score of 100-100; "just tell me," asked Morton, "didn't anybody win a single round." 
Buck continued with a two round KO of Bobby Haye in Seattle.  Five wins and a draw seemed to have put the "Toppenish Terror's" career back on the right track.  It also meant a third bout with Andy Kendall in Andy's backyard of Portland.  The match finally brought a resolution to their rivalry.  After twelve hotly contested rounds, Kendall was awarded a close but unanimous decision.
Returning to the ring two months later, Larry gave a less than inspiring performance in winning a decision over Gorilla Lopez.  Sadly the cheers were for the loser, as the hometown scrapper failed to display the energy that was his showcase throughout his career.  In December of 1971, Larry scored a KO over Rocky Mosley in what would prove to be his last fight in Washington State.  Buck had a little trouble getting started, carelessly getting tagged by the visitor several times in the first round.  In the second stanza, Larry scored with hard body shots, dropping the visitor twice.  Dropped on the seat of his pants by a looping overhand right in the third, Mosley remained there until the count of ten.  Although still ranked in the top 10, it was becoming increasingly apparent that the fire was going out in the "Toppenish Terror."
In April of '72 Larry traveled to Rochester, Minnesota for a match with undefeated and eighth ranked Pat O'Connor.  (In a story about Andy Kendall last spring, I stated that O'Connor had won thirty one straight over cab drivers and bell hops.  I regret my choice of words as I couldn't accomplish that feat if I had a shovel and a cemetery to exhume my opponents. I would like to apologize to O'Connor and any of his fans who found my comments offensive.) In a one-sided bout, O'Connor scored an easy victory.  Only Larry's granite chin, allowed him to finish on his feet.
Six months later Larry would travel to Johannesburg, South Africa for a bout with leading contender Pierre Fourie.  Before a crowd of over 7,000 fans at Ellis Park Tennis Stadium, the much younger Fourie gave an exhibition of clever boxing and punching in shutting out the American visitor.  Once again only pride and a strong chin allowed Buck to go the distance.  Returning to Seattle, Larry announced his retirement.  "I'm 36 and tired of boxing, tired of getting up at 4 in the morning and running four or five miles, tired of having dogs chase me.  After a while, you start taking shortcuts, and when you start doing that it's time to quit."
Larry and his second wife of 27 years Janice, live in Shelton, Washington.  They live in a beautiful house on Fawn Lake where I stayed while doing this interview.  Larry also has two beautiful children from his first marriage, Lori and Lawrence. 
Due to a sticky door this interview might not have taken place. While sleeping in Larry's guest bedroom my first night there, I awoke in search of the bathroom.  I sometimes feel like my life is one big Flomax commercial.  The noise I made while unsuccessfully trying to exit my quarters caused Janice to enter the hallway.  Suddenly she screamed, "Oh my God, Oh my God" and her footsteps retreating down the hall.  Larry yelled "what's wrong honey?"  I knew Larry liked me, but not that much.  Suddenly he was running down the same hallway. 
Thirty seconds later, Janice was once again outside my room where she forced the door open with her shoulder.  Emerging into the hall, I couldn't see a thing and started choking on smoke.  I had one destination in mind and nothing was going to prevent me from achieving it.
One problem solved I was curious where the smoke was coming from.  It seemed a wooden cutting board was lying across the top of the stove.  A burner was on warm and during the night, heat formed on the surface of the stove causing the board to start smoking.  It took most of the next day for the smell to exit the house.  But I digress.
Larry is a remarkable human being, with a gift for storytelling and an excellent sense of humor.  One hundred and fifty years ago he could have made an excellent living selling snake oil off the back of a wagon.  In talking about his accomplishments, his humor tends to downplay what he's achieved in life.  A ranked contender in the late 1960's and early 1970's, an award winning beautician and welder and an accomplished swimmer.  Whatever Larry's goals he always realized them.  He acknowledges those who played a role in his success; his parents, his sister Hope, his manager George Chemers, the experience from sparring hundreds of rounds with Andy Heilman and Eddie Cotton and John Babich a very special teacher.  He also has a special friendship with Andy Kendall with whom he had three brutal fights.  He spoke with Andy on the phone while I visited.
The first time I met Boone Kirkman he said "Austin you have to interview an exceptional person and a very funny man, Larry Buck."  Boone's tip proved to be an excellent choice.  One can only wonder what Larry could have accomplished if he had turned pro upon his discharged from the military instead of waiting five years.  Regardless, Larry Buck is happy in retirement as he's given life his best shot.  The "Toppenish Terror" always seemed to reach further than he could see and as a result has achieved a wonderful life.  You can't do any better than that.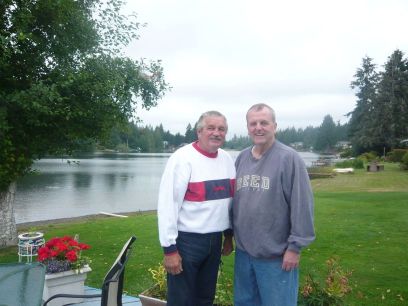 Larry Buck and Austin Killeen, January 2010
(IBRO Journal 105, March 2010)