THE SAGA OF IKE WEIR, "THE BELFAST SPIDER"
By Douglas Cavanaugh
He was the greatest featherweight of his day. He went up and down the line and beat them all, irrespective of race or color. He could hit like a pile driver and was as clever as (Joe) Gans at blocking blows.
 Obituary for Ike Weir
San Francisco Call, Sept. 25, 1908
He was a jack of all trades: an Irish dancer, a stage comedian, jockey, sharpshooter, sprinter, singer, pianist, acrobat, street fighter and pugilist. During bouts he would perform back flips, and then dance a jig or a shuffle to the delight of the crowd and consternation of his opponent. He was the first fighter on record to utilize the exaggerated bolo punch, winding his fists in a windmill fashion a century before Muhammad Ali and Sugar Ray Leonard made it popular. He would jerk his trick shoulder out of its socket to disconcert opponents and elicit sympathy from the audience. Then just as fast pop it back in joint and quickly tear into his bewildered foe. Jim Corbett called him "One of the marvels of the pugilistic world. He was not only one of the best but I believe the most eccentric fighter that ever breathed the breath of life."
Rarely if ever, has a fighter cut a stranger figure in the ring than did Ike Weir. They called him "The Belfast Spider" and for good reason. Possessed of a spindly frame, long arms and a disproportionately small head, Weir had an extremely odd body language when engaged in a boxing match. He would twirl his fists, wiggle his hips and bob his tiny head, looking very much like a large arachnid trying to coax a fly into its web. When the opposition reacted or was sufficiently confused is when Weir would strike, showering his foe with blows from every angle. The poor soul would recover only to find Ike standing behind him, dancing and making silly faces. His trainer recalled: "That little head and the idiotic look on his face…and those grins! If they were not enough to get the goat of anyone!" But many sportswriters were less than amused by Weir's antics and clamored for his defeat, the Brooklyn Daily Eagle proclaiming that "America is humiliated by his rampant presence."
Isaac O'Neil Weir was born in Lurgan, County Armagh, Ireland on February 5, 1867. Like many young Irish lads he studied for the priesthood at an early age. But Ike soon discovered that his true calling was not to be a "man of the cloth", but an athlete. He had tremendous natural ability and excelled at just about any sport he tried. He found that he especially enjoyed boxing and soon left for England to engage in some competitions he'd heard about. There and at the tender age of sixteen he won several contests, many against fighters some twenty pounds heavier than he. His abilities soon came to the attention of Alf Greenfield, a respected professional who once had a claim as Heavyweight Champion of England. Alf had gone to America the previous year to do battle with John L. Sullivan and saw clearly how Sullivan had changed the face of prizefighting there. It was now considered a more "respectable" profession where a boxer could make a great deal of money, especially one of Weir's ability. Ike was encouraged to head for Sullivan's hometown of Boston with Greenfield's blessing.
In March of 1886 Ike Weir arrived in Boston with a degree of fame unusual for a non-heavyweight import. Richard K. Fox and his The Police Gazette, heralded Weir's imminent arrival in its pages, proclaiming the Irishman to be "The English champion feather-weight pugilist" and calling for a match against the top American fighters such as Tommy Warren and Johnny Murphy. But fight promoters in Boston weren't as easily swayed as Fox and most turned an apathetic ear to the media hype surrounding this foreigner. Even an impressive debut victory over William Snee wasn't enough to break the ice and "The Belfast Spider" found himself completely frozen out of the local pugilistic scene.
Undeterred, Ike made sure to stay busy and spent that summer competing in various sporting events. He ran in foot races at local picnics and impressed onlookers with his athleticism. It was a wise move not only because it kept him in shape, but it also made sure that his name would appear in the newspapers on a regular basis, thus keeping the "buzz" on him fresh in the minds of the public. But all the while he continued to pester the fight club managers in order to secure a bout. It took five months but he finally succeeded and on October 29 he was matched against Jim Fuhry. A local boy known to be a good boxer, Fuhry was expected to have an easy time with the Irishman. The club owners themselves seemed happy and more than a little confident of a Fuhry victory. But most of all they were relieved that after this night they would no longer have to deal with this pesky little Weir and his constant badgering.
The fight was a mismatch. Ike butchered Fuhry, lacerating his cheekbone and breaking his nose before knocking him flat in five rounds. It was a stunning display of brutality but what most impressed the fight crowd was the marvelous ring science displayed by the newcomer. Aside from being an outrageous showman he seemed nearly impossible to hit with a clean shot and his accuracy in delivering his own blows was flawless. "The Belfast Spider" had made his mark in a big way and soon the entire sporting population of Boston would be clamoring to get a chance to see this import from the Emerald Isle in action.
"I've won twenty-one battles and they were all hard 'uns too. I don't count knock-outs with no account people."
                                                                                     — Ike Weir
                                                                                            Police Gazette, Jan. 21, 1888
Ike spent the next three months beating every quality featherweight in Boston. His dominance was so thorough that he was soon forced to venture out of his adopted city to find suitable opposition. He found it in New York in the form of Jack Farrell, a top ranked fighter from the mean streets of Harlem. The fight, which took place on January 24, 1887, saw Ike take a more aggressive stance than in previous bouts. As a result the two men tore savagely at each other until the seventh round when Farrell was knocked cold by a right cross. The bout netted Weir $500- a large sum in the 1880s- as well as acclaim by sportswriters as "A Wonder" and "The cleverest featherweight seen in the ring for many a year." Most importantly, he silenced the critics who'd written him off as nothing more than "a clown-like ring contortionist". He'd proved that he could be a blood and guts warrior when he needed to be, which was imperative in an era where a fighter's worth was measured as much in his ability to take punishment as give it out.
What ensued was nothing short of a wholesale rampage by every name featherweight on the East Coast to secure a bout with this hot young Irisher. Challenges were hurled about through telegrams, letters and even in newspapers like the New York Telegram. Top men like Tommy Warren, Tommy Danforth, Johnny Murphy and Jack Havlin were foremost on the list of fighters clamoring to get a crack at Weir. A match with the Spider was attractive because it meant big money, but in addition many of the boxing fraternity in New England wanted desperately to see this herky-jerky newcomer stopped. 
Ike traveled to Rhode Island on March 10 to do battle with Jack Williams. At stake was a $400 purse and a diamond-studded championship belt offered to the winner by Weir's backer, Ed Holske. The bout had originally been slated to happen the previous week but an injured left hand suffered by Weir in knocking out Howard Rand in February forced a postponement. From the opening round it was apparent that Weir should have delayed the bout longer as he was almost completely without the use of his left. That coupled with the game showing by Williams made for a longer and harder fight than Ike would have liked. At one point he was overheard saying to his cornerman in between rounds "This fight disgraces me. If my hand were well, I could cut my initials on his (Williams) face." The bout lasted for a full two hours and twenty two minutes before it was stopped with Williams unable to come up to scratch in the 36th round.
The call went up even more stridently for someone to give a fight to the Spider. Jack McAuliffe was even being considered at one point but the lightweight champion had his own challenges to consider and most likely had little time to consider a fight against a tiny featherweight like Weir. Ike took it all in with a wry grin and cocked brow. There was much fun to be had while he waited, during which time he did little to dispel the stereotype of the boozing, brawling Irishman. He began to drink heavily between bouts. He was often seen at bars and pubs in the company of fellow pugilists, his most frequent companions being McAuliffe, middleweight champion "Nonpareil" Jack Dempsey and heavyweight champion John L. Sullivan.
Next up was Willie Clark, considered a top-notcher in fistic circles. Clark's challenge wasn't taken very seriously by Weir and Ike spent the night before the bout at a bar drinking, smoking cigars, playing piano and flirting with the ladies. It made little difference the following day as the Spider cut Clark to ribbons, flooring him numerous times before the challenger's corner threw in the sponge in round twenty-one. Though it was an easy victory Ike had damaged his hands badly in the bout, the skin-tight gloves of the day offering little protection against breaks and fractures. He knew that he would have to take a few months off to heal his mitts in order to be able to do battle with the many challengers that were lining up to test his mettle.
The hot, humid weather of the New England summer is not a good time to for the young and restless to experience inactivity and Ike was no exception. The press, which had always given liberal amounts of space to cover his matches, were now finding themselves covering his many out-of-ring exploits and altercations as well. It began with a near street brawl with little Johnny Murphy, who was claiming that the Spider was ducking him. The two plucky Irishmen began exchanging verbal barbs and a passing patrolman was forced to separate the two and send them on their way. A short time later Weir was arrested for "carelessly driving over a child." The details of this latter incident and its eventual resolution are not known but it underscores the fast living and cocky recklessness that Ike was beginning to display. He was barely out of his teens and up to his withers in money and the adoration of his many fans, which then as now would prove to be the downfall of many a fighter. In addition he had adopted the unfortunate notion that he didn't need to seriously train for fights. Like his pal John L. Sullivan he believed that real fighters were born not made and that his abilities were God-given so therefore required no honing in the gymnasium. It was a notion that, coupled with the drinking and carousing, would eventually cost him dearly. 
The Spider returned to action in July when he traveled to Rhode Island to meet Jack Havlin. A ring was pitched in the dense woods near the Connecticut line and six kerosene lamps were suspended from the branches of the surrounding trees in order to illuminate the proceedings. The months of parties and inactivity showed on Weir as he was forced to endure a long fight lasting a full four hours and seven minutes. Havlin took a terrible beating and his eyes had to be continually lanced in between rounds in order for him to see. In round forty-three Jack was staggered with a combination from Weir, who in doing so re-injured his fragile hands. The remainder of the bout saw Ike forced to fight conservatively while his game opponent tried desperately to reach him. At the end of sixty-one rounds the referee stopped the bout and called it a draw, though by appearances one would have a hard time justifying such a result today- Weir was relatively unmarked. Havlin was unrecognizable.
 "One of the greatest men with those little gloves was Ike Weir. He cut his man to ribbons and seldom got hit in the process." — Tommy Ryan, Multi-Division Champion


The Spider returned to Boston and spent the rest of the summer and his earnings in the local pubs, often in the company of fellow pugilists Charley Mitchell and Jake Kilrain. The newspapers duly noted all of his comings and goings, but the big story that summer was when Weir was nabbed for assault and battery. He had overheard two men insult a black woman who was passing by and promptly pounced on them, beating the men senseless in the process. He was arrested and jailed by the police, but was quickly released when a friend posted bail. A couple weeks later the Spider was fined $5 plus costs by a judge, to whom Ike remarked that he should be given a medal rather than a fine for his valiant deed.
After the summer and with his hands in reasonably better shape the Spider was free to finally deal with cheeky little Johnny Murphy. Murphy was undefeated as a professional and with all the talk he'd done was expected to make a good showing. Instead the crowd was subjected to a rather tame affair, which took place on Sept. 30, 1887.  Both men fought  a conservative, defensive battle; Weir out of concern for his brittle hands and Murphy most likely out of respect for the Spider's awesome reputation and proclivity for making opponents look foolish. Still the audience protested vociferously when the referee stopped the fight in the 17th round and declared it a draw. They wanted a fight to the finish and the fact that Murphy was bloodied and Weir undamaged did little in their minds to justify the referee's calling it a draw. But there was a accepted dictum in the 1880s among referees, judges and many newspapermen that if a fighter was still standing and/or fighting at the end of a contest then the fight should be called a "draw", irrespective of the beating he had taken. In short, if you didn't knock out your opponent then you didn't "whip" him and many fighters of the era have draws on their records that by today's standards would be judged as clear-cut victories.
Such was the case in Ike's next fight against dangerous Tommy Warren. Warren had fought everywhere from California to New York and boasted knockout victories over some of the best men around. He had a huge following in Minnesota- a boxing Mecca in the late 1880s- and his bouts were a guarantee of large crowds and even larger purses. The press had been hot to match him with Weir since before Ike had even arrived in America and Tommy's backers had thrown down the gauntlet once again a few months earlier, but Ike's prior commitments had prevented the bout from happening. Furthermore, though he was impulsive and even reckless at times, the Spider knew better than to try and tackle a man of Warren's calibre with his chronically damaged hands. To make sure they would be in top condition he took a full 2 ½ months rest after the Murphy bout before making the trip to Minnesota to fight Warren.
A crowd of thousands gathered at the Washington Rink in Minneapolis on the evening of Dec. 12 for what many sources considered as being for the Featherweight Championship of the World. Warren was billed as the "Champion Featherweight of America" while Weir was billed as England's equivalent. For 20 rounds Ike employed his usual mix of dodging, countering and clowning while Warren tried mightily to land anything to slow down the hyper mobile Spider. By the mid-rounds Tommy was sporting two swollen eyes, a bloody nose and lips that were pounded into pulp. Weir was unmarked. Though he fought gamely Warren was badly outclassed and after twenty rounds the referee stopped the bout and declared it a draw, once again to the consternation of the crowd, who thought Weir the easy victor. Both The Associated Press and Milwaukee Sentinel concurred, stating that "The Belfast Spider" had "by far the best of it throughout."
His impressive showing having won him a fan base, Ike stayed in Minnesota and reeled off five more victories in two months. Most notable was George Siddons, an excellent fighter who went on to give a good account of himself against such outstanding champions as George Dixon, Joe Gans and George Kid Lavigne. But Siddons was no match for Weir, who punished him badly before forcing the referee to stop the fight in round eleven. The Police Gazette's report on the Spider's Minnesota sojourn was sparkling, proclaiming him to be "another wonder of the prize ring."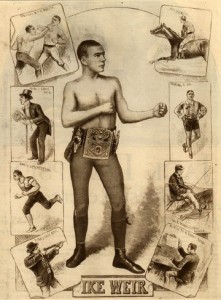 Upon returning to Boston Weir and his handlers decided to settle matters with Jack Havlin, who had given the Spider so much trouble in their first encounter. A good-sized crowd turned up on March 28, 1888 to watch Ike give a good trouncing to his opponent, though once again it was ruled a draw as Havlin was standing at the end.  Save for a few exhibitions Ike had no further matches in line for the summer, so he put together his own traveling show called the "Ike Weir Fistic Combo". One of the featured acts was when he would spar with "John L. Sullivan", his 166 lb mastiff. Being a natural showman and entertainer Ike was able to draw the crowds in wherever they went. But the money earned from this sort of entertainment was a far cry from what he was used to earning with his fists. His funds quickly dried up through the endless nights in the pubs coupled with his natural profligacy. In desperate need of cash, Ike signed to meet top rated Tommy Danforth. The bout was to take place in December 1888 and would be followed by matches against Jack Beck and Frank Murphy, "The Birmingham Sparrow", at the beginning of 1889.
Danforth was beaten in eight rounds and Beck kayoed in three. Weir then took a trip to Kouts, Indiana to meet Murphy in yet another bout billed as being for the featherweight championship. Ike thoroughly outclassed the Sparrow until sometime after the tenth round when he once again badly injured both of his hands. Almost completely unable to punch, Weir was forced to fight completely on the defensive. Luckily for him his early rounds assault had badly damaged Murphy, who could barely see out of his swollen eyes and was thus unable (or unwilling) to capitalize on his advantage. Thinking Weir was setting a trap for him, Murphy stayed away and after several rounds the crowd began to hiss and boo. Five hours and nineteen minutes elapsed before the bout was halted with both men exhausted and unable to defend themselves. The referee ruled it a draw and split the $3, 500 purse evenly between the two combatants.
With his damaged hands Ike once again found himself unable to ply his trade; this despite that fact that there were lucrative offers being placed under his nose from every fighter near his weight. His reputation had even spread as far as California, where several athletic clubs were anxious for a match against "Torpedo" Billy Murphy, the Australian featherweight champion. With a pocketful of money and a head full of mischief, Ike convalesced in the only way he knew how and it didn't take long before he began to once again find himself in trouble with the law. He was arrested at a Boston ballpark for using "profane language" and needed to be bailed-out of jail by one of his backers. Then to make matters worse he accidentally shot himself in the hand, thus postponing a December match with Billy Murphy, which he'd signed for and that now had to be delayed until January 1890. An idle Spider was clearly not a healthy Spider. By the end of 1889 his funds had almost completely dried up due to medical expenses, excessive partying and pecuniary concessions to his ever-growing entourage. Ike knew that he needed the Murphy bout badly in order to save himself from financial ruin and in late December he boarded a train and headed west.
…Weir made faces and mocked his adversary whenever the Australian (sic) struck for him…walked up to Murphy, did a pretty piece of contortion, and while people were laughing at him he drew blood from Murphy's nose. When the round closed Weir was standing still, grinning and whirling his right arm around like a windmill…
…at the end of the twelfth round Murphy went tottering to his corner with his cheek cut open, his nose and mouth bleeding and a great lump over his left eye, and everybody said "He's gone." Clearly the fight was Weir's…
…Suddenly and without any visible cause, Weir fell to the floor and rolled over…some queer prank, some cunning ruse was looked for and Murphy was still regarded as the whipped man…either Weir received a blow which no one of the 2,000 persons saw delivered or he threw the fight and the latter supposition seems to have the better basis.
                                                                                               — San Francisco Examiner,
                                                                                                                          January 14, 1890
"Torpedo" Billy Murphy was a rugged and highly regarded fighter with close to 50 knockouts on his record. He'd cleaned out all the opposition in Australia and his native New Zealand before coming to America, where he continued his winning ways by dispatching top ranked Johnny Griffin in three rounds. Despite this there were few that gave him much of a chance against a champion of Weir's calibre. There were concerns about Ike's oft-damaged hands, but it was generally accepted that "The Belfast Spider" would be too quick and too skilled for "Torpedo Billy" to handle.
The fight, held on January 13 at the California Athletic Club in San Francisco, was vintage Weir. For twelve rounds he made a monkey out of Murphy, battering him at will while making sure that he kept the crowd entertained with his version of pugilistic vaudeville. Then in the 13th round Weir was hit by what appeared to be an innocuous blow and floored. He arose groggily and was sent to the canvas several more times. He was counted out in the very next round and a new champion was crowned. Much outraged was expressed by ringsiders, many of whom accused Weir of taking a dive. Their suspicions were increased in the ensuing weeks as the Spider was seen around town flaunting large amounts of cash and spending freely at the local taverns. In addition his cornermen were also observed to be in suspiciously good financial straits and there is record of Weir sending his wife a sum of money far surpassing the "losers" share of the purse. Several scathing articles appeared in both the San Francisco Examiner and San Francisco Call questioning the fight result in correlation with the Spider's sudden prosperity.
Given his financial state in the months leading up to the bout it does not tax the imagination to come to the conclusion that Weir may very well have "thrown" the fight. To do so would have paid handsomely and, to Ike's way of thinking, would not have done much damage to his reputation, given that his home base was thousands of miles away on the East Coast.  He figured wrong and in the eyes of many he became a pugilistic pariah. He would still be able to find backers and secure bouts, but not without much waffling on the part of those who were being asked to lay down their money on such a loose cannon as "The Belfast Spider".
Weir didn't help matters by engaging in a nasty street fight with a carriage driver later that year over a fair he refused to pay.  He then got into a barroom brawl with Billy Kivlin, a wrestler of some renown, who by all accounts Kivlin got the better of the encounter. He body slammed Weir and battered him until "John L. Sullivan", Weir's loyal mastiff dog, intervened and badly bit Kivlin's leg. As with his earlier shenanigans this episode was dutifully covered by the press, creating another public relations disaster for Weir.
The boys at home tell me that when Ike Weir… is at home training for a fight he is the most eccentric joker on the face of the earth…any one who knows the great Yankee boxer can easily tell when he is in the neighborhood… for every 300 yards you will meet some one with a black eye or a split lip. If Isaac O'Neal (sic) Spider Weir ever cuts himself loose like that over this way, his friends will be able to send all that is left of him back on a postage stamp in less than a month.
— Australian Correspondent,     Police News, 1891
If he'd never seen Ike Weir Young Griffo probably would have never taken to booze. Weir trotted us around to several bars. It was the first time I ever saw Griffo take a drink. He was as modest as a schoolgirl and straight as a gun barrel, till Weir showed him how they did it in the States. If Ike Weir had never come to Sydney Griffo would very likely have been a good boy.
                                                                                                                    –Chiddy Ryan
                                                                                                    New Zealand Truth, May 22, 1915
Despite his troubles outside of the ring, Ike kept up a fairly busy 1890, reeling off five knockouts and engaging in several exhibitions. At the end of the year he decided to take a much needed vacation, sailing to Australia to enjoy their summer season. While there he met and befriended Young Griffo, an elusive boxer cut from the same identical cloth as the Spider. "We looked upon "Mister Weir" as just IT!" recalled Chiddy Ryan, a local fighter, "Griffo and I thought he was a great hero (we were American-mad in those days). We envied his easy, man-o-the-world style and freedom of manner. From that day on Griffo was a changed man. He took the Spider's flashiness for the correct style of the successful fighter; for the accurate attitude of champions. He was simply saturated with the Weir way and made every effort to imitate it, doing things as he considered Ike Weir would do it." The local boxing fraternity was hot to match the two, but Ike was only interested in enjoying his vacation and doing the rounds at the neighborhood pubs. He avoided all challenges but did indulge the locals by doing exhibitions, dazzling them with his ring science and antics. But the Australian press was highly critical of Weir and never let him live down the fact that he'd refused a chance to prove himself to them against their best fighter.
After returning home the following year, Ike kept a slow pace by engaging in only four bouts (three kayos). Included was a spectacular third round knockout of the great black fighter Walter Edgerton, who fought professionally under the moniker "Kentucky Rosebud". Edgerton was a clever boxer who had adopted the fighter-as-entertainer ethic made famous by Weir. But as good as he was he quickly learned that he couldn't beat the Spider at his own game. Nevertheless, Ike was apparently impressed enough by Edgerton that he fought him in exhibitions many times over the years. The two were always able to draw a paying crowd with their antics. Despite this 1892 would prove to be a disastrous year for "The Belfast Spider" on a personal level. He was stabbed that summer in Boston and later got into a brawl at the offices of the New York Illustrated News with a man who suggested that he'd thrown the Murphy fight in San Francisco. In addition his good friend John L. Sullivan, the idol of all Irish America, had been dethroned by James J. Corbett and was on a bad downward spiral into alcoholism. But most troubling for the Spider no doubt was having to watch his pal Jack Dempsey- who had lost his cherished middleweight title the year previous to Bob Fitzsimmons- showing the effects of the tuberculosis that would eventually kill him three years later. 
Corbett's winning of the heavyweight title is often heralded as being the dawn of the "scientific age" of boxing; this even though men like Ike Weir, Young Griffo and George Dixon had been practicing ring science for years . But as the heavyweight division goes so goes boxing and Corbett's victory meant a wider spread appreciation for ring craft that the smaller men couldn't previously have hoped to ignite. This paradigm shift should have benefited Weir, but he had already peaked and was now on a rapid decline. He had a mere three fights in '92 with the rest being exhibitions.
The last significant victory of Ike's career occurred in 1893, when he scored a six-round knockout over Torpedo Billy Murphy in Boston. Once again Murphy was game but outclassed, this time Weir knocking him clean through the ropes before the referee stepped in and called the fight. Murphy had to be carried from the ring. Impressive as the showing was it still raised eyebrows from boxing scribes, who pointed to the result as proof-positive that "the erratic insect" didn't put forth his best effort three years earlier in San Francisco.
In 1894 Weir was finally matched against the Australian will o' the wisp, Young Griffo. The Antipodean had sailed to America the previous summer, wowing fight crowds and building a sizable following with his ring artistry. His sharp manner of dress and pecuniary extravagance were evidence that Ike's influence on him remained strong. Unfortunately Griffo revealed that he'd also mastered his idol's social graces and quickly earned a reputation for imbibing more than his fair share and getting into trouble with the law. Since his arrival he'd engaged in numerous street and barroom encounters, including impromptu brawls with Lightweight Champion Jack McAuliffe and Heavyweight Champion Jim Corbett. He was looked upon as a holy terror and his exploits soon eclipsed even those of the Spider.
The fight took place in Chicago on March 17, but according to the stories Griffo was nowhere to be found when it was time to fight, his seconds going on a desperate search of the Aussie's favorite haunts until they finally found him. As it went Griffo had to be roused from a drunken stupor and brought physically to the arena of battle. By the time he finally arrived, Griffo had cleared his head enough to do the gloves and put forth a dazzling display of boxing science. His abilities and size advantage coupled with Weir's eroded skills made the fight a total mismatch. Outweighed by an estimated ten to fifteen pounds, the Spider was floored several times before the police stopped the slaughter in the third round. As a result the referee ruled it a draw, but it was a decisive loss and Weir offered no excuses.
Now that boxing had stars like Griffo and featherweight champion George Dixon it had no need for Ike Weir. In the ensuing year he would occasionally throw out challenges to Dixon, but they were largely ignored. Dixon's star was on the rise while the Spider's was clearly in its twilight. The era now belonged to the next generation and Weir faded into obscurity after announcing his retirement on March 30, 1894. His remaining years were spent training and showing horses, but his drinking and general lack of personal care eventually took its toll. "The Belfast Spider" took the final count on Sept. 24, 1908 after a long illness. He was forty-one years old, bankrupt and penniless.  
(Special thanks to boxing historian/collector Harry Shaffer for his exhaustive research on Ike Weir and his life and times). This article is featured in IBRO Journal 106, June 2010.