EDUARDO LAUSSE
The Man They Called "KO"
By Douglas Cavanaugh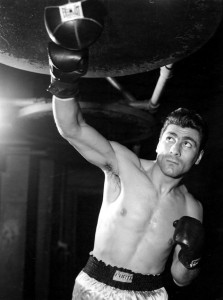 Argentina has a proud and long standing boxing tradition that over the decades has introduced many champions and top contenders into the world fight scene. The country began being taken seriously as a force in boxing when Luis Firpo exploded onto the American scene in the 1920s. In sending Heavyweight Champion Jack Dempsey sailing through the ropes Firpo gave Argentina its first pugilistic hero. It didn't take long before other Argentine battlers would follow suit and begin appearing all over boxing's landscape. Though it took a full thirty-one years after Dempsey-Firpo before the country crowned its first world champion, many exciting and rugged contenders made their mark along the way to establish Argentina as South America's premier hotbed of boxers and boxing.
Under the auspices of President Juan Peron noted fight manager Charley Johnston made several sojourns down Argentine way in the 1950s to fight and hold exhibitions with his stable, which included greats like Archie Moore and Sandy Saddler. During one of these trips Johnston kept hearing about a powerful middleweight who was supposedly in possession the most destructive left hook in all of South America, maybe even the world. In fact he had fought a great main event battle recently with the legendary Kid Gavilan at Luna Park Stadium, jarring the veteran champion on several occasions in losing a close decision.
Upon meeting this young man and watching him spar Johnston was impressed, so much so that he immediately made arrangements to get him passage to America as soon as possible. He was sure this aggressive battler would be an absolute sensation in the States and he was not wrong. He had already cleaned out all the competition in his native land, his record boasting an impressive 31 knockouts in 38 victories. Indeed, the young slugger- whom the American press would dub "KO"- went on to become perhaps the most exciting fighter of the decade. His name was Eduardo Lausse.
Known as "Zurdo" ("Lefty") to his legions of South American fans, the handsome Argentine strongman arrived in America in 1953 with the hopes of an entire country on his broad shoulders. Johnston started him slowly, fighting in the smaller clubs around New York and Lausse responded well, knocking out every fighter put in front of him. His hook was devastating; the jetwash from his left swings could practically knock an opponent off balance. To Charley he looked as if he had everything it took to make it to the top, but Eduardo was a young man in a strange land and he missed his beloved Argentina. Soon after racking up his third KO in as many fights he returned to Buenos Aires, but with a determination to return to America again soon.
The following year he did indeed return and with nine more wins (all by knockout) on his record. Johnston wasted no time in getting him higher profile matches right in the heart of New York, the center of the boxing media in the U.S. He needed name fighters to help raise Eduardo's overall visibility so he chose rugged veteran Jesse Turner as his first opponent. The two fought in Brooklyn on April 12, 1954 and staged a barn burner. The clever boxing Turner used a pesky jab and sharp counters to offset the sledgehammer punches of Lausse and the two engaged in many blistering exchanges throughout. At the end of ten hard-fought rounds the Argentinean was awarded a split-decision victory over his game foe. It was a good win and a great fight but Johnston knew that his young fighter didn't quite meet the hype surrounding him. The public wanted to see Lausse live up to his reputation as a KO puncher and Charley intended to accommodate them.
The following month Lausse was matched against veteran Chico Varona; Welterweight Champion of his native Cuba and a world ranked fighter. Varona weighed in at 155 pounds to Lausse's 159 just before they met at the St. Nicholas Arena on May 9. The clever Cuban fought aggressively, using his advantage in experience to take most of the early rounds before being caught by a titanic left hook and knocked unconscious in the seventh round. It was just the kind of explosive victory Lausse needed and the public soon clamored for more of this exciting foreign export.
Eduardo's next bout was booked for June 4 at boxing's Ground Zero- Madison Square Garden, main event. His opponent was Joe Rindone, a well-known fighter who'd been in against the best and was an aggressive battler, perfect for showcasing Lausse's strengths. The bell rang for the first round and Rindone charged Lausse, who was more than happy to engage him in a test of power. Rindone was game but overmatched as "Zurdo" dropped him twice in the second round for a TKO. The win propelled Lausse to top 10 status in the world middleweight rankings; a position he would maintain for most of the decade.
Lausse was now considered a "hot" fighter, his last three victories all thrilling slugfests that were seen by national television audiences. He made good money for his efforts, which pleased him as much as it did Charley Johnston, who wanted to keep the momentum going by getting him another bout as soon as possible. But Lausse was homesick and longed for his native country. All of his friends and family were there and although they fully supported his coming to America to pursue his dreams he still missed them terribly. He once again left the U.S. for Argentina with promises to return soon. But in doing so he was severely hampering the progress of his professional career; a fact that manager Johnston later lamented in the press.
Luckily for Johnston (and for his fighter) he was able to land some important bouts for Lausse when he returned in 1955. Eduardo received positive reviews across the board when he kayoed veteran Georgie Small in four rounds in Boston; the fight another crowd pleaser that increased his fan base markedly. But it was only a taste of the thrills that Lausse would be providing the public that year, his finest as a professional. On May 13, 1955 Ralph "Tiger" Jones entered the ring at Madison Square Garden to do battle with this foreign invader that everyone seemed so high on. Jones was unimpressed by the hype. He was a top 10 contender himself and had fought several world champions such as Bobo Olson, Kid Gavilan and future champ Joey Giardello. In fact he'd recently pulled off a huge upset by beating the great Sugar Ray Robinson in the latter's "comeback" fight. This would be Jones' sixth appearance at MSG, where the fans loved him for his gritty, crowd pleasing style and proclivity for engaging in thrilling brawls.
The Garden crowd anticipated a classic and they got it. Lausse and Jones tore into each other without letup for the full ten rounds in what sportswriters described as a "virtually clinch-less slugfest." The "Tiger" managed to open cuts over both of "Zurdo's" eyes, the blood pouring down his face. Fearing a TKO stoppage, Lausse increased the fury of his attack and the two took turns landing bombs throughout. Jones was staggered several times and was wobbly in the final two stanzas, the audience on their feet roaring their approval at the close. The unanimous decision in Lausse's favor was well received, everyone present agreeing that they had just witnessed a classic. Cries went up for a title shot with Bobo Olson, many believing the Argentinean to have a good chance at dethroning the champion. The press showered praise upon both combatants, proclaimed the Argentinean "another Firpo" and noted that he had "courage to go with the wallop." However, they also noted "His only failing is tender brows, and he bleeds in almost every trip to the post." Eduardo indeed had been cut before but never as badly as on this night (there were referees and ringside doctors in other districts who would have stopped the bout). Along with his tendency to quell career momentum by leaving for Argentina right when the going got good, this flaw would ultimately prove to be his most costly.
Lausse boarded a plane for home but with plans for a shorter stay this time around. Since his victory over Jesse Turner local establishments in Argentina had been specially wired (at a considerable cost) in order to cover "Zurdo's" American fights. Argentine fans sat up at all hours of the night in order to get the round by round broadcasts. As a result when the fighter arrived it was to a hero's welcome, the airport crowded with the press and a crush of fans. He was a main event fighter in two countries and among the most popular athletes in South America, feted wherever he went. He was a gladiator in their eyes, the epitome of courage and strength.
Lausse fought a rematch against Kid Gavilan in September at Luna Park, this time taking a twelve round decision against the great Champion in front of his adoring public. He then returned to the United States and was matched against another title hungry middleweight named Gene Fullmer. Fullmer was a hot prospect who had already beaten some of the better fighters in the division, including Paul Pender, Gil Turner and Del Flanagan. He was also strong, durable and a mixer, which meant the possibility of Lausse in yet another crowd-pleasing, leather-slinging bonanza. They were to meet in Madison Square Garden on November 25.
Lausse was a 3-1 favorite by fight time. From the opening bell they met at mid ring, Fullmer circling left away from Eduardo's famed hook. Gene took the initiative, charging "Zurdo" behind a cross armed defense and throwing an assortment of slaps, digs and chops. Lausse countered with his thunderous hooks, which caromed off Gene's indestructible forehead time and again. He rocked the Utah native numerous times, straightening him up and forcing him to back off. In the test of strength it was Lausse who appeared to have the advantage, but Fullmer was determined to use all the weapons at his disposal and his head came into play many times during the infighting. But Lausse never complained and in the eighth round he bounced a huge hook off of Fullmer's temple and the Utah strongman went down. Gene was up immediately, but he was on shaky legs. Eduardo attempted to follow up but Fullmer managed to keep his feet until the bell rang. At the end of ten rounds the judges ruled unanimously in favor of Lausse. It was an exciting bout and Fullmer had put up a courageous battle, but he had clearly lost the fight.
Eduardo followed up with a knockout over Johnny Sullivan, capping off his finest year to date. In recognition a television fan poll of the 20 most popular TV fighters of 1955 ranked him at #8; only one below new Middleweight Champion Sugar Ray Robinson. Such was the popularity of this foreign warrior who seemed incapable of being in a bad fight. Some in the press even predicted that he would be the one to relieve Robinson of his crown, the consensus among them was that Ray's 35-year old legs "Might not withstand the pressure the hawk-faced Gaucho would put on them."
Lausse's four-year, 32 bout win streak hit a snag in January 1956 when he was held to a draw with "cutie" Milo Savage. Not wanting that sub-par performance to ruin his fighter's chances at a shot with Robinson, Charley Johnston matched him the following month with rugged contender Bobby Boyd. They met in Chicago Stadium, where the fans were treated to yet another thriller. With Welterweight Champion Carmen Basilio shouting encouragement to Lausse at ringside the two slugged it out for the entire ten rounds. Boyd was floored in the fourth round but still managed to capture a split decision victory over Lausse, who fought through a mask of blood due to cuts around his eyes. Most agreed with the decision but not Lausse or Johnston, who decried the verdict and felt that an accidental head butt in the sixth round resulted in his fighter being cut and thus handicapped. Disgusted, Lausse hopped on the next flight home where he would remain for the next four years.
To American fans Eduardo Lausse quickly became the proverbial comet that appeared like a flash, shone brightly and then disappeared. His boxing activity back home was sporadic but successful. While tending to various business interests he managed to rack up seven knockouts in eight victories, winning the South American and Argentine Middleweight titles in the process and reigniting his confidence in his abilities. With renewed enthusiasm for the game he decided to give America one last chance and committed to meet Wilf Greaves on March 18, 1960.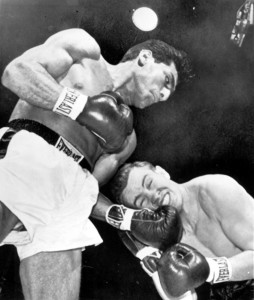 The return of "Zurdo" caused quite a stir among American audiences, the "buzz" resulting in the match being held at Madison Square Garden. Greaves was a tough battler who had never been stopped and was coming off a win over Ralph "Tiger" Jones. He was in his prime whereas Lausse was considered possibly a bit past his peak. Eduardo nonetheless rewarded his American fans for their faith in him and promptly blasted out Greaves in four rounds. It was the typical Lausse performance that the public had come to love- lots of slugging, blood and a knockout. Charley Johnston began clamoring for a title bout against either NBA Champion Gene Fullmer or the winner of the upcoming Ray Robinson-Paul Pender match.
Any title hopes came crashing down three months later when Lausse faced France's Marcel Pigou at the St. Nicholas Arena. Eduardo jumped all over the muscular Frenchman from the start, flooring Pigou and punching him all over the ring. Referee Arthur Mercante appeared ready to stop the bout in the fifth but the bell rang, saving Pigou. In the seventh round it was Lausse's turn to taste the canvas after a chopping punch. He arose, groggy but still bobbing and weaving under Pigou's follow-up assault when Mercante stepped in and awarded the fight to the Frenchman on a TKO. His action surprised some of the fans who thought Pigou to be in much worse shape in the fifth round than Lausse had been at the time of the stoppage.
His title hopes dashed, Lausse returned to Argentina, engaging in one final bout- a KO of Victor Salazar- before retiring and calling it a career. He tended to his numerous businesses-which included a pizza parlor, a gym, a motorcycle agency and an appliance store- and remained a popular figure in his native country. He passed away on May 8, 1994.