Ring 4 Boxing Hall of Fame Class of 2010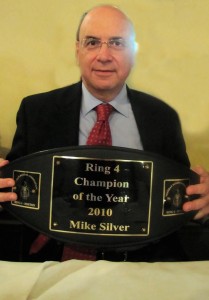 Ring 4 held their annual award banquet on September 19, 2010 at Florian Hall, Dorchester, Massachusetts.
The 2010 inductees are: Joe Wright, John Ford, and Al Gavin (posthumous).
Special Awards were given to: Gerry Huston: Humanitarian Award, John O'Brien: Buddy Hayes Award, Bobby Franklin: Clem Crowley Award, Jack Brady: Brothers in Boxing Award, Danny Long: Al Clemente Award.
Ring 4 Champion of the Year: Mike Silver: Author of the book, "The Arc of Boxing: The Rise and Decline of the Sweet Science".
Mickey Finn
President, Ring 4