TONY "THE TIGER' LOPEZ:  SACRAMENTO'S HIDDEN TREASURE
By Austin Killeen
With his father a former pro and his older brother Sal already boxing in the amateurs, it wasn't much of a stretch for precocious little Tony to follow in their footsteps.  However the way it all started was a little bizarre.   Ten year old Tony was about to have an altercation near his house, when a car pulled up.  Inside were big brother Sal and Jerry Jacobs, Sal's trainer, who was driving.  Jacobs yelled "if you want to box, hop in."  More than a little curious because of his family's involvement in the sport, the little tiger jumped in the back seat.  This would take Tony on a journey in the punch-for-pay business, lasting 16 years.  No one seems to know what happened to Tony's neighborhood opponent that day.  If he wanted to continue the fight, his only option would have been to shadow box.
Four days later most of the amateurs at the gym were off for Reno, Nevada for a Junior Olympics tournament.  The youngster who weighed the same as Tony had quit and Tony was asked if he would like to take the retired pugilist's place.  Naive but excited and unafraid the younger Lopez quickly accepted.  Traveling with Manuel Maldonado, Jerry Jacobs' assistant trainer, Sacramento's newest export was about to have his maiden bout.  His opponent would be Johnny Samples of the Reno Mighty Mites.  Waiting for the bell to ring, Maldonado told his young charge; "I'd tell you what to do, but you don't know anything." 
Adding to the comedy that was about to unfold, Tony was wearing a cheap pair of white Kmart shorts which showed the label of his underwear.  The trunks were so tight he had to wear his protector cup over them.  Adding to his stylish outfit was a pair of Kmart tennis shoes which hid his ankle socks.  Not owning a robe, Tony had a towel draped around his neck.  It's a wonder he wasn't introduced as The Highway 80 Motor Lodge.  "When the bell rang, the first thing I did was fall flat on my face.  My shoes were untied."  Realizing these were young kids, the referee allowed Maldonado to tie Tony's shoes.
With his footwear properly laced, Maldonado told his young charge to turn around and box.  To Tony, his opponent appeared to be a praying mantis, when he came forward in the classic boxing style leading with his left.  Confused, Tony turned to his corner for advice and bang he was hit with a right.  His trainer shouted "Tony just fight!" "So I fought like it was a street brawl and by the second round my opponent started crying.  His corner had to push him off his stool at the start of the third.  He cried and started to run away from me.  Finally the bell rang ending the bout."
"They gave him the decision and a big trophy and I got a little trophy.  I was so happy. That's all I wanted was a trophy, a trophy I could bring home and show my parents.  After all the bouts were over, they called me back into the ring and presented me with another huge trophy as the outstanding fighter of the night."  I couldn't believe it, I now had two trophies; this was unbelievable." 
Over the next several years Jerry Jacobs would school Tony in the intricacies of the sport and his pupil proved to be an excellent student.  He must have absorbed the lessons well; his final amateur record was 47 and 2 and ranked #6 in the U.S. amateur standings.  Sadly, personal issues in Jacobs's life prevented him from being Tony's trainer in the pros.  During our interview Tony raised the question, do trainers make fighters or fighters make trainers?  One thing is for sure: Lopez had the highest respect for Jerry and the skills he taught him.  After nine years as an amateur, Tony was a polished boxer/puncher, not the over anxious ten year old boy who had his first fight in Reno, Nevada.
On May 3, 1983 Tony turned pro in Sacramento against Juan Rodriguez of San Juan, PR, and a veteran of 14 pro bouts.  It didn't take Lopez long to figure out Rodriguez, dropping him with a right to the head in the first minute of round one.  Rising on unsteady legs the out-of -Towner blocked a left hook with his jaw, tasting the canvas for a second time.  His corner wisely tossed in the towel, saving their charge from further punishment.
It didn't take Lopez long to build up a 12 and 0 record with only two going the distance.  Having an outstanding older brother boxing certainly opened some doors for Tony, but once inside he had to produce.  Also training with a world class fighter like Bobby Chacon his first three years as a pro provided an invaluable experience most young boxers don't have.  He also sparred with his brother Sal until his dad put a stop to it.  He wanted his sons to have proper respect for each other, and felt their heated sparing sessions weren't contributing to this.
Moving up in class, the tiger faced a solid club fighter in J.T. Walker.  For three rounds Tony had a difficult time figuring out Walker's style.  In the fourth round that all changed.  Using a head first attack he caught Walker with a two punch combination and finished him with a straight right to the head.  Hitting the canvas in his own corner, Walker struggled to his feet, but the referee wouldn't allow the bout to continue.   Tony's career was picking up momentum and he was developing his own fan base.
By the end of 1985 an article by Glen Crevier read "Another Lopez wins the hearts of city's boxing fans."  Crevier commented Lopez's matches had the fans shouting "Tony, Tony, Tony" as his wins keep mounting.  The story went on to state that Tony now carried the family banner as older brother Sal's promising career was cut short due to bruised muscles in his right eye.  Lopez career record was now 16 and 0 with 13 KO's.  All this was being accomplished while holding down a full time job, operating machines at H.C. Muddox, a brick manufacturing company.
In '86 Lopez went to the post seven times and came away with seven wins.  Now that he was a headliner he seemed to have as many critics as admirers.  Each victory seemed to raise questions about the caliber of his competition.  Although he possessed excellent defensive skills Tony would often trade punches in order to gain a quicker KO.  His next opponent would answer most of his critic's questions.  Tommy Cordova had been a regular on ESPN boxing, having scored a convincing decision over Freddie Roach.
The fight turned out to be everything it was billed as and then some.  Getting off to a fast start, Lopez was displaying the skills that had gotten him an unblemished record.  Cordova, unlike previous opponents who either folded like a card table or ran, fought back.  Apparently the visitor from Albuquerque hadn't had a chance to read Tony's scrap books.  In the middle rounds Cordova took charge, opening a cut over Lopez's right eye.  The fight seemed to be slipping away from Sacramento's pride and joy.  Reaching deep from within, Tony scored a ninth round knockdown a result of two rapid fire right hands which sent Tommy crashing into the ropes. The decision was a close but unanimous verdict for Lopez.  Tony had passed his biggest test; in answering his critics he proved he was the real deal.
Sacramento's favorite son continued to win, including a third round KO over another outstanding prospect, Tony Pep of Canada.  Pep figured to be a tough test but Lopez had the answers.  There was one blip on the record, a disqualification loss to Ramon Rico in Tony's home town.  Apparently dropped to the canvas in the eyes of the referee, Rico was awarded the win when Lopez continued to punch.  It appeared to Tony that Ramon was still punching in explaining his actions.  When the hometown crowd realized what had happened, a near riot erupted.  In a rematch Tony scored a second round KO over Rico.
With a record of 29 and 1 with 22 coming early, promoter Don Chargin had little difficulty securing a title match with reigning champ Rocky Lockridge.  They would be fighting for Rocky's IBF Super Featherweight Title.  Installed a heavy favorite at odds of 11 to 5, Lockridge had no problems defending his title in the challengers back yard.  A move that made sense as only an avid boxing fan knew who Lopez was outside of Sacramento.  In the eyes of the boxing public, Lockridge was considered a solid champion who first claimed a title belt five years earlier.  Lopez's list of opponents, paled in comparison to that of Lockridge.  Asked why he felt so confident being the challenger, Tony responded "Rocky has an outstanding record having beaten the best.  But you won't find my name on his resume."
As for the fight itself, it was voted Ring Magazine's fight of the year.  "I was standing in the hall waiting for the TV people to call me into the ring.  Over 15,000 people were shouting Tony, Tony, Tony, I felt like the cement floor was vibrating beneath my feet." At the sound of the first bell, Lockridge rushed across the ring and tried to bull the home town boy into the ropes.  Commentators Gill Clancy and Tim Ryan were amazed at Lopez's response.  Clancy stated "it looks like two baby bulls in the ring; this Lopez kid is also strong." Fighting behind a stinging left jab and overhand rights Lopez seemed to control the first round.  In the second the challenger started dropping straight right hands through the champ's defense, rocking him on several occasions.
In rounds three through five, the more experienced Lockridge was able to force his opponent into the ropes.  Although still able to land, Tony's power was not nearly as effective as when he fought in the center of the ring.  Rocky's reputation was well earned and he was showing why.  The pace was nonstop and the fans were going wild.  Tony's screaming fans had little effect on Lockridge, if anything it made him fight even harder.
In this seesaw battle, Sacramento's pride and joy had new life in the sixth.  Machine like left jabs followed by right hands to the head, rocked the champ on several occasions.  By now the visitor was bleeding over the right eye and nose.  The fans were going crazy and only the champ's vast reservoir of experience seemed to be keeping him on his feet.  Gil Clancy commented "if Lopez can have another good round in the seventh, he'll have complete control of the fight." Almost as if he heard Clancy's comments, Tony responded in the affirmative.  Lockridge had an excellent overhand right which he could deliver without seemingly looking at his opponent.  His list of KO victims was loaded with opponents who never saw the right hand coming.  Through the first seven rounds of the fight, Lopez's radar defense allowed him to repeatedly slip his head under the champ's bombs.
In the eighth Lockridge's face looked like it had been stuck in a bee hive.  The challenger was having another strong round.  The persistent Lockridge finally landed an overhand right on Tony's left ear.  Lopez was dropped for the first time in his career, landing hard on his right shoulder and rolling onto his back.  Somehow he was able to beat the ten count and fall against the ropes on unsteady legs.  The overanxious Lockridge spent the final sixty seconds pouring punch after punch against his seemingly helpless opponent.  Somehow the challenger survived until the bell.  Still wobbly in the ninth Lopez survived by bobbing and weaving on the ropes against the now weary half-blinded champ. 
The last three rounds both fighters held nothing back, but the challenger was able to keep much of the action in the center of the ring.  In both the eleventh and twelve rounds the half blinded Lockridge was repeatedly rocked by overhand rights. The verdict was a close but unanimous decision and Sacramento had its first world champion.  As for the former champ, he needed 42 stitches to close his cuts.  Watching the video twenty years after the fact and knowing the result in advance, I couldn't believe how many times I found myself standing and cheering on both combatants.  I hope nobody finds out I was screaming while watching a video from 1988.  It was easy to see why this was Ring Magazine's fight of the year.
Perhaps he was suffering an emotional letdown after his terrific war in winning the title, but Lopez was anything but impressive in his first title defense three months later.  During our interview, he acknowledged he knew nothing about his opponent prior to the fight.  The challenger, John John Molina, using excellent footwork and lighting fast hands had the champ totally confused in winning the first five rounds.  In the second, the visitor from Puerto Rico dropped Lopez with a left hook to the head.  Rising quickly Tony appeared unhurt but was unable to mount a counter attack.  Molina was landing solid punches but appeared reluctant to press his advantage, a strategy which allowed the champ to survive the early rounds.
By the sixth round Molina was starting to breathe hard and Lopez was slowly starting to climb back into the match.  Even in winning the middle rounds, the champ was only scoring one punch at a time.  It was as if he had left his punishing combinations back in his dressing room.  Throughout the fight the referee continually issued warnings to Molina for low blows, warnings that many at ringside felt were unwarranted.  At no time did the champ complain to the referee about Molina.  In the eleventh the challenger clearly landed two punches way below the belt causing the referee to deduct a point.  The final round was the best of the fight as both combatants let it all hang out in an effort to impress the judges.
When the decision was announced, Lopez was awarded a close but unanimous decision.  Two of the judges had Tony ahead by a point, meaning the fight would have been a draw without the point deduction.  The third arbitrator had the champ winning by a wide margin, apparently he was unduly influenced by his Seeing Eye dog.  Watching the fight, I felt that Molina hurt his chances by failing to take the fight to the champ.  He seemed to be satisfied landing a punch and dancing away, a strategy he employed throughout the match.  I'm of the school if you want the title you have to go and get it.
In March of 89 Lopez defended his IBF title for a second time in a rematch with Rocky Lockridge.  Once again the combatants met in the champ's home town.  Using powerful uppercuts, Lopez was in charge most of the fight.  In the middle rounds, the former champ mounted a furious assault but Tony's defense allowed him to ride it out.  Lockridge was dropped in the third by a right uppercut and badly hurt in the eighth round.  The champ retained his title by unanimous decision by a wide margin.
The busy champ was back in the ring in June defending against Tyrone Jackson.  Jackson feeling he wouldn't get a fair shake fighting in Sacramento insisted the match be moved to Stateline, Nevada.  Even a purse bonus of $60,000 dollars couldn't get the challenger to change his mind.  The compassionate Lopez, understanding Jackson's concern regarding a bad decision, dropped the Brooklyn import three times in the eighth to win by TKO.  If Jackson had fought as hard in the fight as he did about the venue, he might have done much better.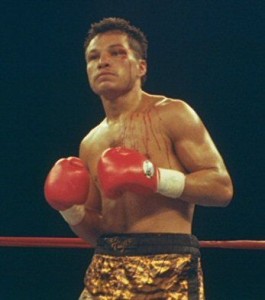 Lopez-Molina II took place in October 89 in the friendly confines of Arco Arena, but this time there would be no issues regarding the judge's decision.  In the second round Lopez stated "I caught an elbow in the eye while fighting off the ropes.  It wasn't an intentional foul by Molina, those things just happen." Returning to his corner and the end of the round, Tony's left eye was quickly closing.  Refusing to allow his corner men to stop the fight, the champ took a frightful beating the next seven rounds.  The referee had seen enough and stopped the bout at the start of the tenth round.  Sadly the hometown fans reacted angrily, and started throwing beer cups into the ring.  Watching video of the fight clearly shows the referee acted properly and saved Lopez from further risk of serious injury.
After scoring a second round TKO in a tune-up fight, Lopez-Molina III took place in Reno, Nevada in May of 1990.  Watching the video, this was a war much like Lopez-Lockridge I. Perhaps feeling confident as a result of his TKO win in Lopez's backyard, Molina was very aggressive.  Trailing on two of the three judges' cards after 10 rounds, Tony dropped the champ with an overhand right midway through the eleventh.  The challenger continued to press the action in the final stanza and regained his IBF title by a narrow split decision.  After the fight Lopez said; "my corner told me, you've got to win these last two rounds."  Styles make fights and these guys had the potential to produce classic bouts every time they entered the ring.
The busy champ's next defense was in September of 1990 against IBF featherweight champion Jorge Paez.  Paez had cleaned out his division in capturing the crown. The much anticipated matchup resulted in an attendance of over 15,000 and a new California gate recite record of over $600,000 dollars.  Although the fight was worth watching, Lopez was in control from the opening bell and won a lopsided unanimous decision to keep his crown.  Once again Lopez proved he was king of the turnstiles and a cash cow for the promoter.  You'd have to go back to the late 60's and Boone Kirkman of Washington State to find a ticket seller like Tony on the west coast.
With a street weight of 160 lbs Lopez was finding it more difficult to make 130 lbs for each title fight.  After a six month layoff, an amazingly long time for the tiger, he was paired in a unification bout with WBA champ Brian Mitchell of South Africa.  Because of apartheid the WBA wouldn't sanction title bouts in Mitchell's country.  As a result, Mitchell was forced to fight his matches on the road.  The South African probably owns more copies of Fodor's travel guide than most book stores.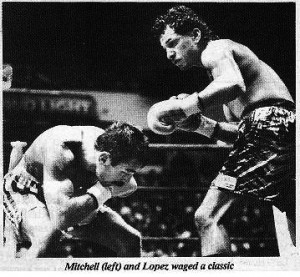 Ring magazine called the fight a rare gem which nobody got to see.  Sadly the fight was only televised overseas, with only 10,000 fans at Arco Arena witnessing a terrific fight.  Lopez built up an early lead, but was weakened by making weight after three tries on the scales.  To his credit Mitchell staged a strong rally over the last three rounds to gain a draw.  The match was loaded with action and both combatants displayed excellent defensive skills.  Watching the fight it appeared Lopez was an easy target for Mitchell's left jabs.  But repeatedly his excellent head movement allowed Tony to slip the punches.  Although both fighters felt they won, the verdict was just and not a hometown draw.
In July of 1991 Lopez stopped Lupe Gutierrez in defense of his IBF crown.  In a rematch with Mitchell two months later, Tony's title run finally ended.  Losing a unanimous decision, Lopez's yoyo weight changes had finally caught up with him.  In our interview, Tony stated "the better man won that night.  That doesn't mean I couldn't win on a different night, but that night he was the better man."
Campaigning as a lightweight, Tony scored three KO's over the next nine months.  This resulted in a WBA title fight with undefeated champion Joey Gamache.  Living in New England, I felt Lopez was a shot fighter brought in as an opponent for Gamache.  If Joey shared my view we were both wrong.  Trailing on points, the result of some magical scoring after ten rounds to the champ, the tiger showed he still had some fuel left in the tank.  Lopez started landing brutal combinations to both the head and body of Maine's 'golden boy" without any return fire.  Gamache soon found himself sitting on the canvas for the first time in his career.  Looking up from his new seat both dazed and disorientated the champ was finished.  Tony said "after the third round I felt he couldn't hurt me.  He was a good skilled fighter but his punches had no pop."
Tony defended his title twice against Dingaan Thobela, which Ring Magazine felt the champ won clearly by decision.  The second fight was in Africa and the Sun City officials didn't share Ring's viewpoint.  Tony would keep fighting for six more years even stopping Greg Haugen.  This resulted in Lopez participating in Julio Cesar Chavez retirement victory tour.  The term victory tour should have been a caveat for Lopez.  He was stopped in the eleventh round due to a cut eye.  The injury was so bad; it took two stitches to stop the bleeding.  Only Tony made the post fight press conference, as Chavez allegedly went to the hospital with two broken ribs.  But the losses were more frequent and it was obvious the tiger was no longer able to produce at the same level as in his prime.
You judge a boxer's greatness by first assessing his level of competition and Lopez deserves high grades in that department.  Wins over Lockridge (2), Molina (2), Paez, Gamache and Haugen plus a draw against a prime Mitchell showed his willingness to fight some of the best of his era.  His career includes fifteen title fights with an 10-4-1 record.  In my travels to Canastota, New York each June, I see boxers enshrined into the hall of fame who've accomplished far less.
Growing up in the south side of Sacramento, Tony was fortunate to have a family with strong values.  His father Solomon (Sal Sr.) instilled a strong work ethic in his children.  His mother Rachel was an excellent homemaker and a great cook.  Most evenings found the entire family at the dinner table talking about the day's events.  Brother Sal Jr. was a ranking contender and a retired counselor from the State of California.  His sisters Rosemary and Diane worked for University system and medical field respectively.  Loving parents is a big advantage in the race for life!
In retirement, Tony is a successful business owner of Tony "The Tiger" Bail Bonds, Inc.  Judging by the number of employees working for him and activity in his offices, business is going well.  Early in his new line of work he met a very pretty process server, who would become his lovely wife Cathy.  There is one other beautiful girl in Tony's life: his daughter, Tatiana. Tony Lopez is a class act and a pleasure to be around.
I want to thank Jim Curl and Phillipe Wyns for their invaluable help in preparing this article.