Herb, a resident of Whidbey Island (WA), is originally from Boston, where for 35 years he practiced law primarily as a business litigator after obtaining his B.A. from Michigan State University and an LL. B. from Boston University School of Law. He has been active in the sport of boxing for most of his entire life. Starting as an amateur boxer off and on for 9 years in competitions sanctioned by the Amateur Athletic Union of the United States, the Golden Gloves and the military service, he ended his boxing competitions in 1957 as a member of one of the last intercollegiate boxing teams, the Michigan State University Varsity Spartans, the 1956 NCAA boxing champions. He then, while in still in law school, became a trainer, coach, manager and promoter of amateur and professional boxers and boxing shows. Subsequently, Herb became legal counsel and Registration Chairman for both the New England Amateur Athletic Union (1977-85) and the N.E. Amateur Boxing Federation, now USA Boxing, New England (1980-89). He also served both organizations as their president. He was legal counsel to the U.S. Olympic Boxing Trials (1992) and chairman of the Massachusetts State Boxer's Fund Board (1993-97). He also was a successful  amateur and professional boxing referee for 35 years.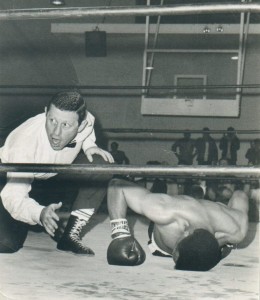 In addition to boxing, Herb has been a veteran of other not-for-profit boards, such as the Cambridge (MA) Community Economic Development Corporation, the Cambridge Boys and Girls Club, the Massachusetts Academy of Trial Attorneys, and, as a Korean combat veteran, the boards of military veterans' organizations. In addition to boxing, Herb has had a deep interest in maritime history and wooden boat sailing, which began early, having been raised on Rhode Island's Narragansett Bay and Boston's North Shore. As a youth, he served as a seaman in the U.S. Merchant Marine before his military service in the U.S. Infantry Airborne Rangers. One of his current interests, besides his commitment to the Northwest Maritime Center and Wooden Boat Foundation of Port Townsend, WA, where he is a member of its board of directors and on several of its working committees, is collecting museum-quality ship models, mostly sailing vessels.
Weissblum was inducted into the Boxing Hall of Fame, International Veterans Association, Ring 4, Boston, in 1998 and the New England Boxing Hall of Fame, International Veterans Association, Ring 99, in 2001.