JEFF SMITH
"TheBayonne Globetrotter"
By Douglas Cavanaugh
 "My toughest fight was with Jeff Smith. [Tommy] Gibbons gave me a hard battle, but nothing like the Smith beating. He and I have had five arguments and he has always been a troublesome customer. To this day I suppose he doesn't realize how near he came to flattening me…His crouching position raised havoc with my style. I just couldn't fathom his stuff. I chased him all over the ring and paid him back in full…but I was a terrible looking mess after the battle. There's a fellow who deserves the honor of being called the uncrowned champion."                                         
 –HARRY GREB, Middleweight Champion
"Smith knew he had my number. He got the decision and he deserved it. He gave me an awful pasting, the hardest battle of my career."                                           
 –MIKE McTIGUE, Light Heavyweight Champion
The years following the murder of world middleweight champion Stanley Ketchel produced two noticeable results in the world of boxing. The first was a mass confusion over who would be "The Michigan Assassin's" successor. The second was an influx of some of the finest 160-pound fights and fighters the division has ever seen, world class middleweights who fought tooth and nail for recognition as heir apparent to the slain champ's throne. These included battlers such as Billy Papke, Frank Klaus, George Chip, Mike Gibbons, Jack Dillon, Leo Houck, Jimmy Clabby, Eddie McGoorty and Les Darcy. Many of these men were title claimants and at one time or another could make a justifiable claim to the middleweight championship. But none travelled as far or fought as long to prove their worthiness than Jeff Smith, the "Bayonne Globetrotter".
Nobody seems to know how many fights Smith truly had, but it has been reported to be somewhere in the area of 600 bouts. It is an astonishing number, but being that Jeff travelled to so many places and engaged in bouts in such remote locales it is hard to verify many of his fights. What is known is that Smith made his pro debut in 1910- the year of Ketchel's murder- and quickly developed into a slick boxer with a sound defense.
His first significant win came in his second year as a professional when he took a ten-round newspaper decision over future middleweight title claimant Jimmy Clabby, the "Indiana Wasp". An excellent fighter with a winning record, Clabby was a veteran of over seventy-five fights, so nobody was surprised or indignant when he verily strutted into the New York ring on June 22, 1911, looking cocky and assured that this greenhorn pug Smith would be no match for his vast experience. The surprise came after the first bell rang and Smith began to smoothly outbox his opponent as if it were he, not Clabby, who was the veteran. Most agreed that if a decision had been rendered it clearly would have gone to the Bayonne battler. It was an audacious beginning to say the least.
His next important fight was against future middleweight champion George Chip, which took place in Cranston, Rhode Island on February 20, 1912. George was the aggressor throughout and even managed to put Smith on the floor for the first time in his career. But Jeff pulled himself together and proceeded to beat Chip at his own game, dominating close-quarters combat with clever defense and hard hitting.  At the end of fifteen rounds Jeff was awarded a clear-cut decision over his game opponent. The following year Chip would gain recognition as middleweight champion of the world by knocking out Frank Klaus.
Next in line was a bout in New York with Mike Gibbons, the famed "St. Paul Phantom". Gibbons was being looked upon as the most likely candidate to ascend to world honors in the middleweight division and thus represented a formidable obstacle for the streaking young Jeff Smith. The two both weighed in at roughly 152 Lbs when they entered the ring on the night of April 11. Jeff made Gibbons work hard for it but in the end the Phantom proved too skillful. Mike pumped his tireless left jab into Jeff's face all night, popping him with combinations from the outside while the New Jersey lad attempted to get inside to work the body. At the end of ten fast rounds the fight was declared a no-decision but it was unanimously agreed that Smith had been outclassed.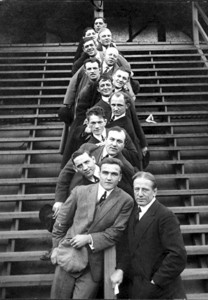 Jeff soon set sail to Europe to test the pugilistic waters. He had his first overseas fight in Paris, France on February 19, 1913 against Frank Mantell. It had been a full eight months since Jeff had fought (a long time between fights for that era) and the rust showed as he had to settle for a twenty-round draw. After knocking out European middleweight champion Adrien Hogan he lost a twenty-round nod to "The Orchid Man", Georges Carpentier. It was another listless performance by Jeff with Carpentier not looking much better. Jeff stuck around Paris for another month before setting sail to Australia.
Jeff's first opponent in the land Down Under would not be an easy one, for the man staring across the ring at him on the night of March 14 was none other than Eddie McGoorty, considered by many to be the rightful claimant to the middleweight championship of the world. He held victories over such esteemed battlers as Jack Dillon and Battling Levinsky and was skilled enough to have held former Smith-conqueror Mike Gibbons to a draw. Though Jeff had built a sizable reputation himself up to this point most sportswriters still saw him as "easy pickings" for the more experienced McGoorty.
In fact it was McGoorty who turned out to be the easy pickings as Smith completely out-boxed him for twenty rounds. The referee was as shocked as anyone and- apparently unable to process what he had just seen- awarded the decision to McGoorty. The resulting outrage by the Australian sporting public was evident the following day in the Sydney Morning Herald: "An uproar of disapproval unprecedented in the annals of the Australian ring was heard at the Sydney Stadium Saturday night…if ever a man earned a victory it was Smith. He bested his opponent at every point in the game…" So strident was the general protest that the result was later rescinded by officials and the decision reversed in favor of Smith.  
Though he was gaining a following and a reputation in The Antipodes things were still far from smooth sailing for Smith. Three months after McGoorty he was matched again with recent arrival Jimmy Clabby. They fought on June 6 with Jeff taking a disputed twenty-round decision. A loss and a win over Mick King followed before Jeff was matched against the sensational Les Darcy on 1/23/1915 in Sydney Stadium.
Reports of this bout vary greatly, but it was generally perceived that Smith had a slight edge after four hard fought rounds with Darcy coming on strong. Jeff won by disqualification in the fifth when Darcy's handlers threw in a towel to protest what they claimed was a low blow by Smith. The rematch seemed to strengthen their claim when Jeff was himself disqualified in round two for frequent low blows, causing much controversy among the Australian sporting public. Some accused Jeff of accepting a bribe to throw the bout while others simply felt he was looking for a quick way out of a fight he knew he couldn't win. Either way, Jeff Smith had lost face in a big way and soon found he was no longer welcome in the Land Down Under.
Jeff returned to America and closed out the year with a win over George Chip in Boston. 1916 saw him fight strictly in the U.S., with bouts taking place in St. Paul, Milwaukee, Baltimore, Boston and Albany. He notched big wins over contenders like Gus Christie and Zulu Kid but came up short once again against Mike Gibbons, who further strengthened his claim to the middleweight championship with a ten-round newspaper decision win.   
Jeff bounced back the following year with a sensational fifth round knockout over the highly regarded Young Ahearn as well as a ten round newspaper nod over future Light Heavyweight champion Mike McTigue. 1917 also saw his first bouts versus arch nemesis Harry Greb, who he would go on to battle a total of seven times. They fought two hotly contested ten-rounders with Greb receiving the newspaper decisions.
1918 was a quiet year, but the next three would be anything but, with Jeff facing off against Greb four times (three losses and a draw), Mike Gibbons twice (W10, L12), Mike McTigue twice (W15, L15), Mike O'Dowd (L15) and George Chip (W12). That's four world champions and one title claimant, not to mention the numerous ranked contenders Jeff was licking along the way. It is also important to note that Jeff drew no "color line" (a popular practice of the day) and never hesitated to do battle with worthy black challengers.  Men like Panama Joe Gans, Eddie Palmer, Young Jack Johnson and Jamaica Kid were all given a fair shake. Size was never an issue either and he even went so far as to tackle black heavyweights others avoided such as Lee Andersen and the dangerous Tut Jackson.
Jeff's Greb woes continued in 1922 when he lost another newspaper decision in ten rounds. But as usual "The Bayonne Globetrotter's" body punching, ring savvy and overall experience made it a tough night for "The Pittsburgh Windmill." The year also saw the beginning of Jeff's taking on the big boys and from October to December he fought five heavyweight bouts, his opponents being Bob Roper (twice), Martin Burke, Clay Turner and Tut Jackson.
1923 and '24 proved to be his last consistent years as a professional fighter. His successful assault on the bigger men continued as victories over Lee Anderson, Chuck Wiggins and future 175 LB champ Tommy Loughran attest to. But it all came crashing down when he lost a newspaper decision to the twelve pounds heavier Gene Tunney in New Orleans on December 8, 1924. Though competitive throughout Jeff's many years in the ring and miles on the road showed clearly as Tunney floored and out-boxed him.
Jeff suffered his first knockout loss the following year but fought on until 1927. In an ironic twist of fate Jeff Smith, who beat a slew of world champions and top contenders throughout his career, had travelled all around the world and fought in almost every major fight city in the world, would fight his final bout in a small town in Pennsylvania, losing by a TKO in two rounds to a novice named Cuban Bobby Brown. It was an inglorious ending to an otherwise amazing career.