RICHARD "MR. KO" SAVALA:  DESCENT INTO HELL
By Austin Killeen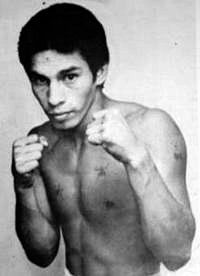 Knowing Richard's family background, it's no surprise that pugilism would show up on his future radar screen.  His father was Sacramento bantamweight, Trino Savala, who fought in the first half of the 60's.  A tough scraper, the elder Savala holds a decision win over Jesus Pimentel, Pimentel's only loss in his first fifty pro fights.  He retired from boxing in the 1965 to support his family by working with primates at the University of California at Davis.  Additionally he managed a downtown Sacramento gym owned and operated by his former manager, Guido Giometti.  In September of 1970, Trino was confined to the second floor of the L Street Arena when it caught fire.  There were no fire escapes, trapping Trino in the building.  Firemen pulled the unconscious Savala from the damaged structure; but not before he suffered permanent brain damage due to smoke inhalation.  The elder Savala would be confined to a wheel chair the remainder of his life.
Along with his two younger brothers Mario and Danny, Richie found himself in a gym at a very early age.  "We were all a year apart; apparently my father didn't believe in watching TV." His younger brothers took to the sport like ducks to water, but not Richard.  He didn't like getting hit in the nose and would go running to his mother Mary's arms, with tears in his eyes.  Shaking his head in disbelief at his son's behavior, he told Richie "you're a mama's boy, go stick with your mother."  The elder Savala poured his energies into his more promising younger sons.
Seeing the attention and notoriety his younger brothers were getting in the silver mittens, Richard decided to give it a second try.  Although not as successful as his siblings in the amateurs, he was more than respectable.  "I never took amateur boxing as seriously as Mario and Danny, as a result I was not in as good shape.  I did ok in fight smokers but competing in tournaments, where you had to fight several times over the course of a weekend, exposed my less than excellent condition."  Richard guessed that his final amateur record was approximately thirty-five and seven with about 15 KO's.
Attending school in the Sacramento area along with his brothers, it wasn't long before the three Savala's developed reputations as tough street fighters.  Lacking the discipline and supervision of their disabled father, the three boys proved too much for their mother to handle. Crossing the bridge from Broderick into West Sacramento, the brothers Savala quickly caught the attention of the local police.  Law enforcements interest wasn't in the three brother's outstanding community service, rather the trouble they seemingly were always getting into.  Apparently fighting was part of their lives both in and out of the ring.
In the early seventies Mary Savala took her three sons to Tecate, Mexico a border town between Tijuana and Mexicali.  She was hoping a change of scenery might improve their behavior.  It didn't!  "There was no age restriction regarding drinking and we took advantage of it.  We also did some boxing during those years and enjoyed a little success.  We were more advanced than the amateurs down there because of our early exposure to boxing.  In 1975 our mother took us back to Sacramento and we immediately caught the attention of the local police; this time in a positive way."
A policeman by the name of Otis Grimble ran the Sacramento Police Athletic League and John Maes was the trainer at the gym.  When they heard that Trino Savala's kids were back in town, they went looking for us and said "get your butts in the gym and stay out of trouble."  "For the next three years my bothers took it serious, me not as much." 
"My youngest brother Danny won the Golden Gloves, the National PAL Championship and the Gold and Silver Tournament in Reno, Nevada.  He was the best of the three of us in the amateurs.  He beat Tony "The Tiger" Lopez in the amateurs something we, good naturedly, never let Tony forget.  My brother Mario fought in international competition and was slated to fly to Poland on March 14, 1980.  Fortunately an injury caused him to miss the ill fated flight where we tragically lost 22 members of our amateur boxing team."
Marrying his high school sweetheart at seventeen, Richard soon found out he would become a father.  With a wife and a baby on the way, it didn't take much thought to realize the money wasn't too good in street fights.  Turning pro you could get paid to box and not be hassled by the police.   His decision wasn't well received by his trainers John Maes and Gilbert Savala (Richie's uncle who also worked at the gym), the general consensus being he lacked the dedication to be a successful professional.  What they didn't realize was the oldest Savala boy had a new found attitude; founded on the need to provide for his family.
"I turned pro on May 15, 1979 against Johnny Saucedo who was in Tony Lopez's family's stable.  I was scared as hell because Saucedo was a terror in the amateurs around Sacramento.  We fought on a lot of cards together but I never had to face him.  I trained had for this fight and was in great shape."  Showing surprising hitting power and conditioning, Richard dropped his opponent in the first.  He continued to pressure Saucedo throughout the fight, finally knocking him out 1:03 into the fourth round of a scheduled five.  The Sacramento Bee described Savala as showing a lot of poise for a youngster and having an excellent left hook.  He also picked up the moniker of Mr. KO.
Savala traveled to San Jose California for his second bout, scoring a 6 round decision over Bobby Mercado of San Francisco.  Returning to San Jose in November, Richard went the 6 rounds, capturing a decision over Arsenio Gonzalez.   Opening the New Year by returning to Sacramento, Savala showed good hitting power in knocking out Adolfo Hurtado in four.
Success means more ink, and Savala got his first headline; Savala Runs Record to 5-0.   This was the result of knocking out Ron Furlow of San Jose in the final round of a scheduled eight rounder at the Circle Star Theatre in San Carlos.  He ran his record to six and zero with a 6 round decision over Humberto Lara in front of his Capital City hometown fans.
His early success resulted in a trip to the Olympic Auditorium on June 12, 1980.  Showing heavy hands, Richard dropped Mike Rodriguez to the canvas once prior to knocking him out.  The Los Angeles boxer remained on the canvas for five minutes following Savala's final punch.  This impressive showing resulted in a return to the LA the following week.  The Capital City native didn't disappoint, dispatching home towner Desi Newbill by KO in the fifth-round.  Returning to Sacramento in July, he anesthetized Milciades Jimenez in three rounds.  The Broderick neighborhood express was starting to pick up steam and fans were taking notice.
Returning to his hometown Richie ran his record to 10 and 0 scoring a 6 round decision over Luis Avila.  He was rewarded with the semi-final against Lionel Flapping Eagle, scheduled for 10 rounds, on the Pete Ranzany/Sal Lopez at Hughes Stadium in Sacramento.  The outdoor venue was the second largest gate up to that time in Sacramento history.  Seconds into the opening round Flapping Eagle unloaded a left hook which sent Savala staggering into the ropes.  Rushing in for the kill, Lionel left himself wide open and the Broderick youth took advantage; landing a powerful left hook of his own.  For the next two minutes fans saw a replay of WW II, as both combatants threw nothing but bombs.  With less than 15 seconds left in the round, Savala caught Flapping Eagle with an explosive four-punch combination which floored the Nevada native.  It was over a minute before prone fighter was able to retrieve all his feathers.  "This fight made me think I could make a living at boxing.  People were coming up to me and saying, you beat a veteran fighter in less than a round.  I felt great."
Next up on Savala's dance card was an old fashion neighborhood grudge match with rising prospect Garry Spencer.  Promoter Babe Griffin wanted to test Richard's crowd pull and show Spencer in Sacramento for the first time.  It figured to be a classic boxer vs puncher showdown.  In an action packed fight, which was becoming Savala's trademark, Richard's power proved too much for Spencer.  In the third round, Garry went head over heels into a neutral corner the result of a Savala countering a left jab with an overhand right.  The punch exploded on Spencer's exposed jaw for the fights only knockdown.  Watching video of the bout, Savala reminded me of a miniature Jack Dempsey.  The former Sacramento City College student proved game to the end but had no answer for his opponent's offensive arsenal.  At the final bell, fans showered the ring with coins and dollar bills in a show of application.  Savala remained undefeated winning a unanimous decision by a wide margin.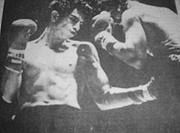 The Savala express continued to pick up steam scoring three more KO's.  Watching videos of his KO's over Joe Phillips and Danny Cruz I couldn't believe how powerful Richie was for such a tall featherweight.  Perhaps it was the result of his broad shoulders and wide back, but he had dynamite in both hands.  His KO of Phillips was the result of a brutal left hook to the liver, dropping his opponent as if he'd been shot.  He finished Cruz with a dozen unanswered punches to the head and body.  The words excitement and Savala seemed to be interchangeable.  It seemed to be just a matter of time before weathermen would be using the word Savala to describe an approaching storm.
Unquestionably the promoters were building up Savala; unfortunately they were also building up his head.  "I started getting this ego that I'm the baddest dude around.  I started slacking on my training, I started going to nightclubs.  Everybody loves a winner, everybody wants to be your friend, and everything is free.  Everybody tried to take me out. We'd go to Old Sacramento, to the Steamboat, the Underground, Bobby MaGee's, Fanny Ann's; I'd be with all these rich boxing fans.  This is when I first started using Cocaine; it gave me this energy it made me feel so strong.  I started cutting back on my training; I was so blasted on that stuff."
Pat Cardenas, ex golden Gloves champ from Los Angeles was next up for the cocky homeboy.  Watching video, Savala appeared to be sleep walking.  "He beat the crap out of me, I knew I lost."  Judging from the noise the fans were making, they agreed with Savala.   Amazingly Richie won a majority decision, one judge only giving Cardenas one round.  Apparently he didn't get to the arena until after the fight ended.  It was amusing reading the excuses for Savala's poor performance.  The people around him were unaware that Mr. KO had become Mr. Cocaine.  "In the rematch I trained hard and won a convincing decision."  Watching video seemed to confirm that as Richie had a lot more energy, controlling the action for most of the bout.
His next bout he stopped Juan Hernandez in Los Angeles 47 seconds into the second round to remain undefeated.  Using a left hook and right uppercut, Savala sent his opponent to the canvas.  All that was left was the referee's administration of the ten count at the Olympic Auditorium.  "I was staying out of trouble and getting back into the gym."  Returning to Sacramento, he scored a unanimous decision over Alejandro Lopez.  Video showed Mr. KO forcing Lopez into the ropes throughout the match, where he would switch his attack from the head to the body and back to the head again.  Reading old newspaper clippings, there was talk of matching Richard with former featherweight champion Bobby Chacon.
By now Ring Magazine had Richard ranked in the top ten in the United States.  He signed to fight Renan Marota for the vacant California junior lightweight crown at a distance of 12 rounds.  One prefight article talked about Savala working with his fourth trainer in six fights and being in the midst of a contract dispute.  His inability to even score a knockdown in his win over Lopez in his last fight resulted in his sacking 76-year-old trainer Joe Gross.  The former corner man for four world champions was replaced by Frank and John Novey operators of a gym in Bryte, CA.  "Joe was too old.  He couldn't keep up with me," explained Savala of their two-bout relationship.  No one seemed to see the 800 pound gorilla in the room that was slowly destroying the young prospect's life.
Also called into dispute was the Nicaraguan import's record of 65 wins and 7 loses, when he made his American debut.  One newspaper article stated that record while attractive, is difficult to substantiate.  "All we know is that Marota can fight and may give Richard his toughest test, something he needs," said Sid Tenner, matchmaker for promoter Babe Griffin.  The fact that Marota was training out of town seemed to add to the mystery.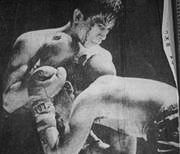 All questions seem to be answered on January 19, 1982 when the match took place.  A bloodied Richard Savala captured the state title by unanimous decision, but not before he was taken 12 rounds for the first time in his career.  Even though he won by a comfortable point spread, Savala saw Marota as his best-ever opponent, "a tough mother who knew every trick in the book."  Judging from the cut over the new champ's right eye, requiring 15 stitches to close, Richard's comments seemed spot on.  In both the seventh and tenth rounds, Savala appeared on the verge of scoring a knockout.  However Marota lost his mouthpiece on both occasions causing the referee to stop the action so the mouthpiece could be replaced.  Traveling to Los Angeles, the new state champ KO'd Gilbert Favella in two rounds.
"Returning from LA with my earnings I got back into the nightlife again.  I started selling cocaine to support my own habit while avoiding going to the gym.  They told me I had a fight with Rojas and a match with Bobby Chacon if I won.  At that time my mentality was; I don't need to train, I'm undefeated, I can whip anybody.  That's how cocaine had me in an illusion. "
"My manager keep bugging me, you got to get into the gym.  A week before the fight I finally showed up.  I stepped on the scales and my weight was 142 for a fight that I had to be 130 pounds.   I started taking laxatives and water pills and I'm drained.  Here's the insanity of my addiction, I kick my trainer out of the dressing room.  This is twenty minutes before the fight and I did three lines of cocaine.  I jumped up and started shadow boxing and saying let's get this on.  I was dancing down the aisle playing to the crowd on the way to the ring.  As I'm climbing into the ring I feel suddenly tired, I had shot my load."
When the bell rang, Savala looked like heavy bag without a chain.  The hard hitting Rojas had Mr. KO on the floor three times before being dropped himself.  The fans were going crazy having seen three minutes of unbelievable action.  In the second Richard tasted the canvas one more time, while taking the beating of his life.  Amazingly, there were no knockdowns in the third round.  Rojas dropped Richie with a strait left to start the forth, knocking him out with an overhand right at 1:11 of the round.  If the fight was amazing, the scoring was even more so.  One judge hadn't given a single round to Rojas, scoring the bout 30 to 28 in favor of Savala.  He has to be the worst judge in the history of boxing.  Either that or he had wagered some serious money on Mr. KO.
After an eight month layoff Savala traveled to Reno, Nevada to fight the semi-final on the Milton McCroy Colin Jones title bout.  The shell of Mr. KO labored through ten rounds to decision Everardo Rico who possessed a pro long of zero wins and two loses.  Returning to Sacramento, Richard had two more bouts, losing both by stoppage.  Sadly his last opponent, Benigno Silva, had a 2 and 9 record with 5 KO defeats.  After four dreadful rounds, the referee saved Richard from further punishment, mercifully stopping the beating at 1:56 of the fourth. Against Savala, Silva looked like the second coming of Salvador Sanchez.
Richard Savala did to himself, what his opponents couldn't do in the ring; destroy himself with drugs.  For the next four years Richard moved from cocaine to heroin as his drug of choice.  "All I thought about was myself; my family and friends meant nothing, all I wanted was to feed my habit.  In 1987 I was arrested by the Yolo County Narcotic Task Force.  They saved my life.  I was sentenced to four years for trafficking in drugs." Typically, with good behavior a four year sentence could be reduced to three years.  Apparently Richard's behavior wasn't too good as he wasn't released until 2000.  He was able to turn four years into twelve with his activities behind bars.
After his release, he continued his drug addictive behavior.  Recidivism among ex-offenders is estimated to be higher than 80% and Richard was on the fast track to being incarcerated once again.  His parole officer, Barbara Parkins, gave Savala a choice; enter a behavior modification program or lockup.  He selected option number one and it saved his life.  With the help of his program mentor, Bruce Cline, he successfully completed a twelve step program.  Richard says "the most difficult part of recovery was 'forgiving myself' for my past transgressions.  You can't move on until you let go of your past.  I wouldn't be in recovery if it wasn't for the understanding, trust and belief that Barbara Parkins and Bruce Cline both had in me."
Today Richard is a successful bail bondsman and youth drug counselor.  He was approached by former lightweight champ, Tony "The Tiger" Lopez, who offered to show him the ins and outs of being a bail bondsman.  Today he's licensed by the state of California and works out of Tony's office.   Additionally, he is now certified as a youth, drug and alcohol counselor in the state of California, having gone back to school for certification.  Richard also speaks at schools including colleges about his past, in the hope that others will not repeat his mistakes.
Richard is also active in the community, volunteering his time for good causes.  This Saturday Mr. KO, along with his good friend Tony Lopez, will be making a comeback of shorts.  They will be facing each other as part of an amateur boxing program, with the proceeds to be used to buy Christmas gifts for children in the community.  The card was already sold out when I did this interview in Sacramento last week.  Unfortunately our magazine will be going to press before this mega event occurs.  If you have any extra tubes of Ben Gay, please send them express mail to Sacramento, California.  HURRY!!
Today Richard is married to his lovely wife Lahoma, whom he met after his release from prison.  What makes this all the more interesting; Lahoma's father is a retired policeman.  It must have been an interesting meeting when she brought Richard home to meet her father for the first time.  Also Richard's children are now back in his life, something he's very proud of.
I met Richard for the first time last summer when I did my story on Tony Lopez.  I had no idea about Richie's past, which might have jaded my view of him.  As a retired counselor myself, I realize twelve step programs can be very controversial; especially from the view point of the people who have been hurt emotionally.  I found Richard to be an open and engaging individual who has an optimistic outlook, taking life one day at a time.  Richard can't erase the mistakes of the past but he is certainly working hard to make the future a success, not only for himself but the lives he touches.  It was a pleasure being in Richard's company.