Ring 4 Boxing Hall of Fame Class of 2011
Ring 4 held their annual award banquet on April 10, 2011 at Florian Hall, Dorchester, Massachusetts.
The 2011 inductees are: former world lightweight and junior welterweight champion Carlos Ortiz, Ralph Wright and Carlos Garcia.
Special honors were also paid to Charlie Pappas (posthumous), former world welterweight champion Tony DeMarco, Reinaldo Oliveira, Jr., Jerry Forte, Don Green, Kevin Kelleher, Tom Mulvoy, Ed Forry and Bobby Franklin.
Carlos Ortiz was also presented Ring 4's prestigious "Champion of the Year Belt." Inductee profiles are provided in the features section of the journal.
Hall of Fame Inductee Profiles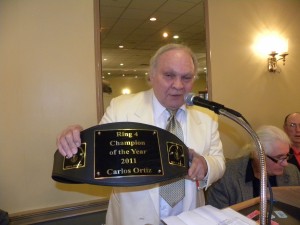 Carlos Ortiz was a three time world boxing champion, twice winning the World Lightweight Championship and once winning the Junior Welterweight Championship. Carlos was born in Ponce, Puerto Rico and moved to New York City when he was a child. Carlos developed his fighting instincts on the streets of New York City. He began training at the Madison Square Boys Club and after a successful amateur career turned pro at the age of 18 in 1955. He won his first 20 pro fights. Ortiz became a world champion in 1959 when he avenged an earlier defeat against Kenny Lane to win the junior welterweight title. That title, however, had not been fought for in 13 years and meant little to the boxing world. So, after losing the crown to Duilio Loi on a controversial decision in the Loi's hometown, Ortiz focused on the lucrative lightweight division. In 1962, Ortiz defeated Joe Brown to win the world lightweight title. He defended that belt successfully four time before losing to Ismael Laguna in 1965. Seven months later, Ortiz decisioned Laguna in a rematch and regained the title. He made five successful defenses, beating the likes of Laguna, Johnny Bizzarro, Flash Elorde and Sugar Ramos, twice. He finally lost the crown to Carlos Teo Cruz in Cruz' native Dominican Republic in 1968. Ortiz retired in 1969 and made a comeback bid in 1971. He won nine straight fights before Kenny Buchanan stopped him in six rounds and ended his career. Ortiz was inducted into the World Boxing Hall of Fame in 1986 and the International Boxing Hall of Fame in 1991.
Ralph Wright was born in Maine and moved to New Bedford when he was thirteen years old. He boxed in New Bedford under the tutelage of Billy Bento. Ralph was the 1957 Ninth Naval District Champion, in the 139 lb. class. After winning this title he joined the Deslan Boxing Team in Newport, RI. The Navy Boxing Team was coached by Murphy Griffith, who later went on to train Lightweight Champion, Boom Boom Mancini, and former NFL star, Ed Too Tall Jones. Also, in 1957, after extensive training with Murphy Griffith, and the Deslan Boxing Team, Ralph became the Atlantic Fleet Champion in the 119 lb. class. He dropped down 20 pounds in weight, to compete in the lower class. In 1958, Ralph was the runner-up in the All-Navy Tournament, the Southeastern New England Golden Gloves Champion, and the New England AAU Champion, at 119 pounds. Ralph added the 1960 New England Diamond Belt Title to his resume. He also fought in many exhibition bouts over the years. Although he never boxed pro, he did spar with many pro fighters; namely, Jimmy Connors, Al Duarte, Manny Baptiste, and Tommy Hayden. His father, Ralph Sr., competed in the professional ranks. Ralph helped train young boxers at the New Bedford YMCA with Billy Bento, and Ring 4 Hall of Fame member Manny Burgo. He worked at the Revere Copper and Brass Company in New Bedford for 33 years with his long time friend Manny Burgo. He also worked on the docks in New Bedford loading fish for 25 years He has been married to his wife Barbara for 52 years. They have five children, four sons, one daughter, and twelve grandchildren. All four sons work as fishermen. Ralph has been a very loyal and supportive member of Ring 4 for many years.
Carlos Garcia was born in Puerto Rico, moved to Massachusetts when he was 16 years old and settled in Worcester. Boxing was his forte and he had over 30 amateur bouts, before turning pro. He made his name in the professional ranks by fighting the best boxers of that time. Among his opponents were Tony Petronelli, Dickie Eklund, Paul Poirier, Jimmy Corkum, Donny Sennett, Pat Kivlan, Lawrence Hafey, Terry Rondeau, Kevin Dorian, Tony Lopes and Mark Mainero, The most important part of his career in the sport of boxing began when he hung up the gloves, and passed on his talents to aspiring young fighters as a trainer. Carlos has trained and guided such fighters as Jose Rivera to the WBA Welterweight and Light Middleweight titles, and has been the mentor of three National Golden Gloves Champions, namely, Bobby Harris, Rocky Gonsalves, and Edwin Rodriques. His life has been dedicated to the well being of the younger set, and his constant effort to assure them, of both, a successful tenure in boxing, and a decent way of life after boxing. In a day and age when people seek out a role model, Carlos is the perfect example of what a role model should be. He has worked at the Worcester Boys and Girls Club in many capacities, most notably as a Boxing Coach, and has more than earned the respect of everyone who knows him. He has trained: Jose Antonio Rivera, former WBA Light Middleweight Champion and WBA Welterweight Champion; Bobby Harris National Golden Gloves champion; Rocky Gonzales, National Junior Champion; Edwin Rodriques, National Golden Gloves champion and current world rated contender; Rashid Minor, National Junior Olympic heavyweight champion; Javier Colon, National Junior Olympic 100 lb champion; Jecssenan Torres, National Silver Gloves 118 lb champion; and Demek Edmons, this year's National Silver Gloves heavyweight champion.
Mickey Finn
President, Ring 4