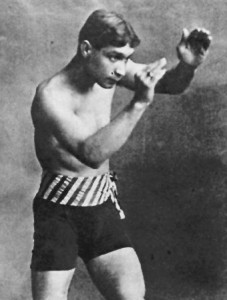 AURELIO HERRERA- Boxing's First Latino Superstar
by Douglas Cavanaugh
PRELUDE
There was nothing special about the shrunken, sad little man who stood before the judge; nothing that set him apart from the rest of the group of homeless, ne'er do wells whom the police had rounded up and were now being sentenced, one by one, on vagrancy charges. This particular fellow, of obvious Hispanic lineage, was no stranger to what was happening to him. He knew the drill; he'd been arrested and jailed on vagrancy charges before. There was no point in protesting, resisting or fighting his fate. There was no more fight left in him.
The judge sentenced him to 90 days for his crime. With no visible reaction, the little bundle of rags turned and was being led back to his cell. But a spark of recognition lit in the brain of a court reporter named William Trafts, who had been eyeing the proceedings closely. "Didn't you fight Battling Nelson in 1904?" he asked the vagabond, who paused and admitted that indeed he had. The judge, obviously aware of that famous prizefight as well as the former glory of this pitiful wreck of a man before him, showed mercy. "You've taken some hard wallops from life since then," he said. "I'll reduce your sentence to 10 days."
The judge had no way of knowing that his merciful adjudication was, for the most part, tantamount to a life sentence. Ten days…it meant that Aurelio Herrera would be free for forty-nine of the fifty-nine days that he had left on this earth.
PART ONE
He could hit as hard as Jim Jeffries although he was only a lightweight. He landed one of his famous punches that almost tore the top of my head off. I have never been hit as hard before or since. I turned a complete somersault and fell flat on my back. I looked up and saw Herrera standing over me with murder in his eyes. That happened in the fifth round. Around the seventeenth round my head cleared…but I could not recall anything that happened in those 12 rounds.  I really think Herrera was the greatest man I met.                                                            
–BATTLING NELSON, Lightweight Champion
The toughest man I ever fought was Aurelio Herrera. I don't believe any lightweight ever lived who could hit as hard. He hit me on the head and I thought the building had caved in.
                                                                                        – -KID HERMAN, Lightweight Contender  
That Mexican is a sure enough demon of a fighter. He hits like a horse kicking and is as quick as a big mountain cat. He can lick all the McGoverns and Corbetts that you can stick up in front of him. Yes and such fellas as Britt and Erne would be pie for him.
                                                                                                –KID BROAD, Featherweight Contender
Though not the force in pugilism it once was California nonetheless has a long history of being an epicenter for the sport of boxing as well as a fertile breeding ground for top flight ring men. The scene out West- historically speaking- is inarguably not as celebrated or high profile as those in New York or Chicago. Still many great early practitioners of the Sweet Science emerged from the dust and resin of California's rings, among them such luminaries as Jim Corbett, Jim Jeffries, Joe Choynski, Abe Attell, Willie Ritchie and Jimmy Britt. Mostly pugs of Irish and Jewish extraction, these left-coast mitt-slingers operated mainly out of San Francisco, which was a major fight Mecca at the turn of the century.
Boxing promoters and matchmakers have long realized that in order to get the working citizens to part with their hard earned wages that it was wise to develop talent that best reflected the racial or ethnic flavor of whatever area they were operating in.  Thus on weekends in California port cities like San Francisco the arenas, rented halls and athletic clubs would be packed on one side with Irish seamen and dockworkers cheering wildly for their neighborhood's ring-tailed terror while on the other an equally vociferous Jewish contingency of merchants and businessmen would be boosting their latest Hebrew hopeful. The result was a box office bonanza almost every time.
But just a few hours south of the Bay City, in Central and Southern California, the ethnic landscape altered a bit; the predominant European influence of the North fading and then ultimately merging with a culture that was top heavy in its Latino origins. The resultant need to produce fighters who represented this racial demographic in order to attract ticket buyers was a key undertaking for promoters and matchmakers in Los Angeles and the surrounding areas during the 1900s. Their ultimate success is evidenced by the many outstanding fighters of Mexican heritage who have emerged from Southern California prize rings over the years; proud warriors, revered by their rabidly loyal fans as much for their ability to imbibe muchos cervezas as don the gloves in the morning and blast an opponent to pieces, hangover be damned.
In recent decades, men such as Julio Cesar Chavez and Ruben Olivares were the standard bearers of this hard partying, hard fighting tradition. Before that it was Art Aragon and Manuel Ortiz who wore the fistic garland for Latino fans. Even as early as the 1910s-1920s Mexican and Mexican-American audiences came out in droves to support local heroes Bert Colima and "Mexican" Joe Rivers. But before any and all of them there was one man who stood alone; one diminutive figure, wrapped in a Navajo blanket defiantly facing the racial fires that were roaring against him and blazing the trail for all Latino fighters who followed in his wake. He was Aurelio Herrera, the first Latino superstar of the prize ring.
Herrera was the prototype for the hard hitting, hard drinking Latin prizefighter, noted in his day for having the heaviest punch (and heaviest thirst) of any fighter at or near his weight. His hitting power was generated by his enormous thighs and delivered through huge hands, which appeared to be of light-heavyweight proportions. Like heavyweight champion Jim Jeffries, Herrera fought out of a crouch but with his gloves open in order to parry and look for openings to land his devastating right. His violent knockouts were the stuff of legend and his stoppages of two fighters that had never been KO'd- Benny Yanger and Kid Broad- so awed sportswriters that two decades after his death he was still being spoken of by many as being the hardest puncher pound-for-pound who ever lived.
BEGINNINGS
"A strange, wild sort, reckless and totally unmanageable."
                                                                –HYPE IGOE, Sportswriter
Herrera's rise to fame began among the sprawling grape orchards of Central California. He was born on June 17, 1876 in San Jose but relocated with his family to Bakersfield when he was still a boy. Bakersfield was a wild and woolly town in the late 1800s and Aurelio had to learn very quickly how to use his fists. It didn't take many altercations for him to garner a reputation among the other kids as someone who was not to be trifled with. When he wasn't fighting Aurelio and his brother Mauro worked long, hard days alongside their father Anselmo, a street vendor who hawked tamales, enchiladas and other assorted Mexican cuisine from his pushcart. To help supplement their meager income Aurelio worked as a bootblack and later as a poker and faro dealer at one of the various gambling parlors in Bakersfield. According to lore it was while working at one of these establishments that an incident took place which would alter the course of Aurelio's life.
Frank Carrillo was a founding member of the Bakersfield Athletic Club. He was also a businessman and a "sport" who ran a saloon/theater that counted gambling and prostitution among its attractions. Legend has it that one night a man came in brandishing a pistol and threatened to kill Carrillo, only to be slugged and knocked unconscious by Herrera, who was dealing nearby. A grateful Carrillo was impressed by what he saw and realized that there was money-making potential in his young employee's fists. The accuracy of this account will always be open to debate, but what is not is that Carrillo was the man who became instrumental in Herrera's early development as a prizefighter. He began matching Aurelio against other fighters in the cellar of his saloon and made good money on the bets of these contests. After Aurelio had cleaned-out all of the aspiring young boxers in Bakersfield Carrillo began taking him to nearby towns to challenge their best, the resultant knockouts fattening both of their bankrolls as well as spreading Herrera's reputation as a real "comer" on the pugilistic scene.
Herrera's early record is hazy, many bouts fought in obscure and out of the way towns and mining camps making them hard to verify. Even the exact year of his professional debut is unclear. The current record shows that his first fight took place in 1895, but local newspapers indicate that he may have begun his professional career as early as 1893. Irrespective of dates and locations, what is clear is that under Carrillo's guidance Aurelio quickly ran up a string of KO's at a time when extensive knockout streaks were rare, his record only matched by similarly destructive contemporaries like Terry McGovern and Sailor Tom Sharkey. As of this writing his ledger stands at an impressive twenty-two wins with no losses and twenty knockouts at the turn of the century. The record for 1900 has him racking up nine more victories without a defeat, all by the KO route.
"In the fourth round he hit me two wallops on the neck, and up to the gong-tap I didn't know whether I was on my feet or sitting down. Any other man who wants to challenge him can do it, but they can take a tip from me that Herrera can out a punch nearly as hard as Tom Sharkey. I think he could whip Joe Bernstein and Kid Broad easily."
 –TERRY McGOVERN, Multi-Division Champion
"He was of a peculiar, surly disposition and made few personal friends."
                                                                                                –BATTLING NELSON, Lightweight Champion
The trail of battered, supine bodies that Herrera left in his wake from Bakersfield to Los Angeles and back was soon picked up by the press and news of his bouts began to appear in newspapers across the country.  But a Latino prizefighter was something new and it was clear from the write-ups at the time that sportswriters didn't quite know what to make of Aurelio. In some quarters he inspired fear, a fact best exemplified by a newspaper report stating that Herrera "comes of a race who fight with knives."  His image was of some dark invader from the West who had emerged out of the desert to wreak havoc upon a sport heretofore dominated by white-skinned fighters. In other quarters he was given less-flattering reviews, mostly writing him off as nothing but a "greaser" and an "Indian", as if placing him into the same racial classification as that recently conquered people somehow presaged Herrera's own imminent defeat. His response- published in the Los Angeles Times and most likely penned by his management- was eloquent, incisive and no doubt a reflection of Aurelio's feelings about the criticism being leveled at him. "I may be an Indian," he said, "If so I command a certain respect as a scion of an ancient race. I am no 'low-brow.' I maintain that my knowledge of the world and command of language is certainly up to the standard observed by the average knocker who is flattening my name on his anvil."
Despite his impressive knockout string and growing reputation, Herrera was still looked upon in many circles as being not yet world-class and definitely not prepared to challenge for the world featherweight title. For one, "Terrible" Terry McGovern was the champion and coming off his finest year on record. In 1900 alone he'd knocked out the legendary George Dixon for the crown in addition to kayoing top ring men such as Eddie Santry, Oscar Gardner, Tommy White and Joe Bernstein. Add that he had also knocked out lightweight champions Frank Erne and Joe Gans (the latter under questionable circumstances) and it appeared that Aurelio was out of his league when comparisons were made. But Frank Carrillo realized that two knockout punchers of this magnitude in the same ring could only mean fireworks and a lot of money for everyone involved, so the ambitious manager made sure the fight was set.
A large crowd of some ten thousand people turned out at the Mechanics Pavilion in San Francisco on May 29, 1901 to see the "mysterious" Californian try and lift the crown from the head of the most feared fighter in the game. At the first bell McGovern tore out of his corner in his usual fashion, pumping both fists into Herrera's head and body. Overwhelmed by the savagery of the champion's attack, Aurelio clinched often and looked for opportunities to land his money punch. But "Terrible Terry" never let him get set and continued to drive him all over the ring round after round. Herrera did manage to shake McGovern down to his heels with a right sock in the fourth frame, but Terry recovered and battered him mercilessly before scoring a knockout in round five.
Following the bout both McGovern and Referee Phil Wand were generous in their praise of Aurelio and his abilities. The West Coast sportswriters on the other hand, who had for the most part been supportive of their native son, were not so kind in their post-fight assessment. The San Francisco Call printed an especially vicious write-up, accusing Aurelio up and down of having a "yellow streak". The Examiner dismissed him altogether as an "exploded phenomenon" and many accused McGovern outright of carrying Herrera for betting purposes. Frank Carrillo himself lost a lot of money on the fight and he and Aurelio parted ways soon afterward.
ASCENDING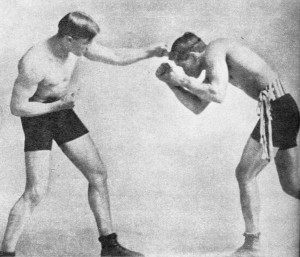 "Herrera was the hardest hitting lightweight who ever lived. And I bar nobody right up to this day [June, 1956]. He hit me solidly only once in the 21 rounds we boxed together. I was pulling out of a clinch and he dropped a right cross to my chin. The punch landed about an eighth of an inch too high or it would have knocked me dead. As it was the left side of my body went numb. My left eye started to twitch and I couldn't control it. Herrera had the uncanny knack of hitting. He didn't learn the secret in the gym- it was born into him."
              –ABE ATTELL, Featherweight Champion
Herrera, the Mexican Greaser, wants to be a champion. Not on your life.                                                                                          –The Pittsburgh Press, 1/15/1906
The loss to McGovern apparently rattled Herrera's confidence and perhaps gave some credence to the view expressed in The Examiner when he only managed a single win out of his next five fights.  But 1902 saw a return to form and from February to October Aurelio scored six knockouts in six wins and a close draw with top-ranking Tim Hegarty. These impressive feats were convincing enough evidence to Herrera- who was now being managed and trained by former KO victim Biddy Bishop- that he was indeed back into his destructive rhythm. The word was sent out that he was more than ready for any man at or near his weight and that they would all fall under the massive power he carried in his oak-hued fists.
Abe Attell- already considered the cleverest featherweight in the game- expressed an interest in facing off against the Bakersfield battler, a fight which would put the winner in a secure position to challenge the new featherweight champion Young Corbett II, who had recently copped the title by knocking out Terry McGovern. They met on October 15 in Oakland with Abe regarded as a slight favorite but Herrera, with his acknowledged advantage in power, was given an excellent chance to win. From the first bell Aurelio stalked his man, looking for an opening to land his big right hand. Abe knew that he could afford no mistakes and remained on his bike, ducking, slipping and jabbing before sliding away. Wary of his adversary's prodigious punch at all times, Attell fought a safety-first fight and won a fifteen-round decision. It was reported as being an exciting bout and both were praised in the newspapers the following day. Herrera gained a measure of revenge weeks later in Point Richmond when he knocked out Attell's brother Caesar in two rounds.
In January of 1903 Aurelio and Biddy Bishop ventured up to Butte, Montana, a copper mining town that had over the years been slowly developing a lively fight scene. Bishop had connections there from his own fighting days and knew his little slugger would be a big hit in that region. He did his part by arranging the bouts and Aurelio did his by scoring five knockouts in three weeks. Bishop's calculations proved correct- the crowds were impressed with his fighter's power and dark, "bad hombre" image (which Herrera played to the hilt) and Aurelio soon had an eager local following. His formidable reputation grew exponentially as he began to rack up KO after KO against some of the best men around, his most impressive being over top contenders, Eddie Santry and Kid Broad. Santry, a clever boxer and hard hitter, made a good showing for most of the bout but ultimately couldn't survive the bombs Herrera repeatedly detonated on his chin. He was stopped in thirteen rounds. Broad was a rugged battler who could boast of never having been stopped despite going 102 total rounds against such formidable opposition as Terry McGovern, George Dixon, Abe Attell, Young Corbett II and Oscar Gardner. Herrera knocked him unconscious in four.
"At the bell Tommy (Mowatt) rushed out of his corner. It wasn't an equal match, for Herrera flattened him with a punch the like of which no little man ever had launched before- or since, if you ask me. The tales we had heard in Chicago of Herrera's punch hadn't done it justice."
                                                                        –JACK CURLEY, Promoter
"Drink! That Mexican made John L. Sullivan look like a temperance leader. Even his training camps were well stocked with booze. He took a drink whenever he felt like it- which was always. And when he would go out on the road, which was seldom, he always had a cigar stuck in his face. Many was the time I watched him go to sleep with a black stogie between his teeth."
                                                                                                –BATTLING NELSON, Lightweight Champion
The dark skinned little boxer does not love the hard grind of training any too well…he would much rather hear the pop of champagne corks than the swatting of gloves in his training quarters.
                                                               –The Milwaukee Journal, 8/29/1904
With his many ring successes Aurelio was beginning to realize both a swelling bank account and a swelling ego.  He spent his considerable ring earnings slaking an ever-growing thirst for whiskey, black cigars and fine clothes. The big sombrero that he often wore while carousing the streets of Butte was upstaged only by the diamonds that now adorned his fingers. He cut quite a figure as he took in his pleasure during his late nights on the town. While popular with most locals, some looked on his swagger as a threat and his meanderings often resulted in street fights that made the newspapers the following morning. Aurelio wasn't the sort who took "cheek" from anyone when he was a poor kid in Bakersfield and he wasn't about to start accepting it now that he was a prosperous adult in Butte. When challenged he knew to strike first and ask questions later. Kid Broad had learned this firsthand when Herrera slugged him in a hotel lobby during negotiations for their bout. The two were quickly separated by their managers and friends before any more blows could be struck.
Aurelio's laissez faire career approach and lax training habits particularly irked Biddy Bishop. The manager no doubt enjoyed the considerable money they were making together. But as a seasoned boxing trainer he realized that it could only last for so long if Herrera didn't take care of himself. Like many big hitters who came after him, Aurelio eschewed rigorous training, trusting that his power would always be enough to see him through any situation in the ring. Bishop's fears ultimately bore out when Herrera suffered a twenty-round loss on November 17, 1903 to Jack Cordell; a capable lightweight boxer who was not considered in Herrera's class as a fighter. Bishop would later point to this bout as reason for his quitting ("in disgust") as Aurelio's manager and trainer. But his move was more likely the cumulative result of being unable to deal with an undisciplined fighter who refused to listen to any counsel but that of his own whims and caprices.
The loss seemed to once again throw Aurelio into a tailspin. Without Bishop to train and guide him he was rudderless, going 0-2-3 in his next five fights, including a disastrous four-round knockout loss to Louis Long. He had only been in the national spotlight for three short years, but by the beginning of 1904 the newspapers were already referring to Aurelio Herrera as a "has-been". So in an attempt to inject new life into his flagging career he pulled up stakes in Butte and headed east. He landed in Chicago, where he was again out-boxed in losing a six-round nod to Abe Attell. He then ventured south to St. Louis and lost a listless twenty-round decision to Abe "Kid" Goodman. 
Discouraged, Herrera returned to Montana where on May 11 he earned a measure of revenge by beating former conqueror Louis Long in a twenty-rounder. It was not an overly impressive performance but a victory nonetheless and the packed house was proof that his drawing power hadn't waned during his absence. Aurelio was no doubt glad to be back in familiar surroundings and among friends, one of whom was a lightweight fighter named Maurice Thompson. Thompson was a close pal and had been Herrera's corner man on several occasions as well as fighting on his undercards. On this particular night Thompson fought in the preliminaries, winning a six-round decision by out-boxing a relatively unknown, unheralded fighter named Stanley Ketchel.
A return to Butte meant a return to his old ways and Aurelio once more dove headfirst into his favorite dissipations in the form of late nights, fine cigars and strong alcohol. His proclivity for never backing away from trouble also reasserted itself shortly upon arrival in town when he tackled and slugged Louis Long after exchanging words in a hotel saloon. Later that same evening he got into it twice with Long's manager Doc Flynn, Herrera clouting Flynn before bystanders interceded. Extracurricular activities notwithstanding, Aurelio Herrera was back and firing on all cylinders. He would follow up on his latest victory with two important bouts; bouts that would reestablish him as a viable contender as well as cement his legend as one of the most lethal punchers in boxing history. 
 PART 2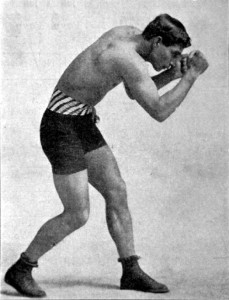 "I always remembered what my father told me, to obey him in everything and that if I did I would always meet with success. When Herrera knocked me down the first time I could hear my father say:'Get up, Kid Broad, get up!' And I got up. The second and third times he knocked me down I was taking the count.  I could hear father say 'Get up, Kid Broad, get up!' So I got up and fought.
When Herrera hit me on the chin the fourth time and knocked me down I could hear father's voice above all the cheering, saying 'Get up, Kid Broad and fight on!' Well, I couldn't see any good reason why I should take his advice any longer so I just said 'Father, you can go to hell. I'll not get up any more.'"
                                                                                                                                                            –KID BROAD, Featherweight Contender
"The greatest one-punch knockout artist I ever saw. And I've been watching fights for almost 60 years. Herrera and I became quite chummy when I took Sam Langford to California after the first of the century. To be perfectly honest about it, had I been offered a match for my Sam Langford against Herrera, even though Sam outweighed him by about fifteen pounds, I would have found some excuse to wiggle out of it. Sam in all probability would have beaten Herrera, but it wasn't worth the risk. Not when a man could hit so damned hard as that little Mexican."
                                                                                                                –JOE WOODMAN, Manager of Sam Langford
"Herrera has an awful wallop. I never felt anything like it in my ring experience."
                                                                                                         – -BENNY YANGER, Featherweight Contender
Benny Yanger, the "Tipton Slasher", was considered one of the top three featherweights in the game, having scored knockouts over Abe Attell and Young Corbett II and winning a decision from George Dixon. He was a scrappy, iron-chinned battler known for fast hands, clever boxing and hard punching. Herrera knew not to take a dangerous fighter like Yanger lightly and he trained diligently for their bout. But he also remembered from their six-round fight in Chicago months earlier that Yanger's forte' was infighting, a proclivity which would play right into his hands in a longer fight. Their draw had been fast and furious, but Aurelio knew that Yanger, unlike Abe Attell, would not be an opponent he was going to have trouble locating. The Slasher would fight in the danger zone at all times, right where Herrera wanted him. They were matched for June 13, 1904, exactly one year to the day of Aurelio's brutal knockout of sturdy Kid Broad. The bout was scheduled for twenty rounds- plenty of time for Herrera to find Benny with his deadly right hand. 
A crowd of eight thousand packed the Broadway Theater that night, shouting wildly as the two went at it. Staying true to his nickname, Benny came right at Herrera and whaled away with both fists. Aurelio bided his time, answering his foes faster blows with occasional thumps of his own while looking for the chance to land a bomb that would end the fight. Yanger was ahead on points going into the eighth round when the opening Herrera had been looking for finally showed itself.  After exchanging left swings the Californian crossed with a right that exploded off Yanger's jaw. The dazed Chicagoan attempted to fight back but was quickly felled by another right hand smash. Benny rolled around on the mat, finally arising at the count of nine. Herrera pounced and landed a final right which knocked Yanger out, the latter having to be carried to his corner by his seconds where he remained completely unconscious for several minutes. It was only Benny's second official career loss in some sixty fights, the first by knockout.
Herrera was once more a sensation, the write-ups universally positive and full of praise for his abilities (though disdain for his "Mexican" heritage was never far from many sportswriter's pens). Aurelio reiterated his long-standing challenge to fight any top man from featherweight to lightweight, his defi soon reaching the ears of yet another Chicago slugger- Battling Nelson, the "Durable Dane". Nelson was just coming off an impressive knockout over Eddie Hanlon and saw the potential for a big money fight against Herrera while waiting for a title shot. When he sent word out of his willingness to meet Aurelio at 130 pounds it made national sporting headlines. A bidding war to secure the bout erupted between Los Angeles and Butte which, on paper anyway, seemed a mismatch. But the little mining town displayed its salt as well as loyalty and passion for their adopted son by winning the bid in an unlikely David and Goliath upset over the much larger "City of Angels".
A twenty-round fight was arranged, the event to take place on September 5, Labor Day. The buildup in the weeks leading up to the bout was considerable and the attributes of both fighters were endlessly expounded upon in the press. It promised to be a battle of mythic proportions, the proverbial "Irresistible force" (Herrera) meeting the "Immovable object" (Nelson).
Decades later Nelson, who in his younger days had been a sparring partner for Herrera when the latter came to Chicago, recalled his pre-fight mindset in an interview with journalist Stanley Weston:
"I knew Herrera's style perfectly because I had made a study of him during the sparring partner days when that crazy Mexican gave me $10 a week and figured that it gave him the right to kill me. I felt I could beat him if I could stand off his terrible rushes. I respected his power and felt that if I could lick him I could lick anybody in the world.
As there was some danger of the bout being stopped by State authorities I arrived at the big arena early, reaching there at 2 o'clock or fully three hours before the fight was scheduled to begin. I went into the promoter's office and was surprised to see Herrera, sitting behind the big desk, smoking his inevitable cigar. I hadn't seen him for some years and we shook hands warmly. He was never too friendly with anybody but we got along good in the Chicago days and he evidently remembered. I wished him luck and he just shook his head and said 'best man win. Eh, Bat?'
The promoter assured us that the State officials would not interfere but that it would be best if we started the fight as soon as possible. Herrera and I both agreed to get into ring togs immediately and wait for the signal to put in an appearance. He seemed coldly confident and disinterested. His air, I confess, bothered me."
The fight didn't disappoint and the crowd of ten thousand witnessed what would go down in history as one of the great battles of the first half-century of Queensberry boxing. Bat and Aurelio met in mid-ring at the first bell and slugged away. The indestructible Dane showed his usual form, seemingly impervious to any punishment meted out to him. The strategy of moving in close so as to smother Herrera and not allow him the range necessary to get maximum power into his swings, which had failed Benny Yanger previously,  was proving effective for Nelson. He consistently beat Herrera to the punch and got an early lead. But in the fifth round Aurelio saw an opening and exploded an overhand right through Bat's guard, spinning him around as he sailed through the air. The capsized Nelson landed in a heap on the floor. He took a nine count and when he arose Herrera rushed him. The crowd cheered wildly as Herrera desperately tried to put the finishing touches on Nelson, but the Dane fired right back and the two traded nonstop until the end of the round. The rest of the bout was nip and tuck with Nelson landing the more frequent blows and Herrera the more powerful. At the end of twenty rounds both were cut, bruised and exhausted but the decision in Nelson's favor was a just one. Both battlers received plaudits by sportswriters the following day and Nelson was generous in his praise for his opponent.
As for Herrera, he kept up a busy schedule while clamoring for fights against any top man who dared face him. In 1905 he again headed east where he scored a fifteen-round decision victory over previous conqueror Kid Goodman and a win over the formidable Charles Neary, whom he considered to be his toughest opponent. That fall he returned to Los Angeles, where he hadn't fought in several years. It was the city where he'd gotten his first important press notices as a fighter and he wanted to make his homecoming memorable. He did so on November 10 by fighting an exciting 20-round draw with top ranking lightweight Eddie Hanlon. Though he didn't get the KO result he was looking for, Herrera's effort was impressive enough that he was able to secure a match with former featherweight champion Young Corbett II, who was looking to regain his sullied prestige after back to back losses to Battling Nelson. Though perhaps just a tad past his prime (as was Herrera), Corbett was still a dangerous puncher and not to be taken lightly. The fight was set for the Pacific A.C. on January 12, 1906. Aurelio was installed as a slight favorite but it was generally agreed that it was within the realm of possibility for Corbett to pull out a victory. The only thing everyone seemed to agree on was that with two punchers of this caliber trading bombs, there was no way this fight was going the distance. 
Things unfolded as they usually did whenever Herrera faced a fellow slugger: Aurelio waited, looking for an opening while his foe swarmed, trying to take Herrera out before the latter found what he was looking for. For four rounds Corbett rushed, trying to land but having trouble penetrating the Mexican-American's crouching, shell-like defense. But in the fifth Herrera hit Corbett with a right-handed wallop that sent him to the canvas. Two knockdowns later Corbett, like so many before him, lay unconscious, his corner men having to carry him to his corner to be revived. It was a scene that had replayed itself with almost monotonous regularity over the years. Little did he realize as he exited the ring that evening that it would be his last significant win as well as the final knockout victory of his career.
DESCENDING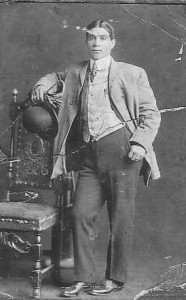 People talk of him as "The Mexican". As a matter of fact, he is as good an American as any of us.
-The Day (New London, Conn), 1/15/1906
1906 would be a year of extremes for Herrera as far as his public image was concerned. His stellar showings versus Hanlon and Corbett put him once again in the public esteem and made him a hot number in Los Angeles. A rugged 20-round draw with top rated Kid Herman on February 9 further whetted the appetites of fans and promoters alike and offers for his services poured in. A rematch of the now-legendary battle between Herrera and Battling Nelson was suggested and soon a bidding war once more erupted between cities as promoters Tom McCarey in Los Angeles and Tom O'Rourke in New York battled to secure the rights; a battle ultimately won by McCarey. The fight was set for May 26.
Nelson and his entourage arrived in California in April and opened training camp on Catalina Island, while Herrera trained in downtown L.A. Their names appeared daily in the press, the public being fed a steady stream of individual quotes from the fighters and their camps as well as frequent updates on how their training was progressing. Interest in the bout was reaching a fever pitch and all eyes were focused on the upcoming event.
Then in the early morning hours of April 18 the great San Francisco earthquake struck, killing thousands. An emergency benefit was hastily put together and held a week later at McCarey's Pavilion. Herrera, Nelson, Abe Attell, Kid Herman, Jack Root, Tommy Burns and Jim Jeffries all came together and did their part to aid in the disaster relief. Aurelio and his brother Mauro stole the show with their four-round sparring session, which for all intents and purposes may as well have been a prizefight. The audience roared its approval as the two brothers tore into each other as only sibling rivals can. Aurelio battered Mauro, dropping him in the third round and the referee had to pry them apart at the final bell. The benefit was a huge success but would prove to be Herrera's final hurrah as a popular fighter in Los Angeles. The following month his approval rating, as well as his life, would begin a nosedive from which it would never recover.
The events that took place on May 26, 1906 before the scheduled Nelson-Herrera fight were as confusing as they were controversial. Jim Jeffries was at ringside and McCarey's Pavilion was packed to capacity as the crowd waited for the principals to appear. Herrera stepped through the ropes on time but Nelson was nowhere to be found. After an anxious hour had elapsed "The Battler" finally appeared to boos and hisses from a now hostile crowd. In an attempt to sway sympathies his way Nelson announced that Herrera had ditched the weigh-in and insisted that he do so at ringside or there would be no fight. Apparently the Nelson camp was convinced that the Herrera camp had tampered with the scales during the weigh-in at Tom McCarey's office earlier in the evening. Nelson's manager insisted on a second weigh-in an hour later, which Herrera appeared at but refused to step on the scale. He stated that he'd already fulfilled his contractual obligation at McCarey's office and that was that. But with an impatient crowd now clamoring for a fight and Nelson's seemingly simple request for a ringside weigh-in the only thing keeping it from happening, the onus shifted to Herrera. Aurelio reiterated his earlier position, stubbornly refusing despite the mounting pressure all around.
Neither side would budge, the Los Angeles Times commenting that Herrera "…looked a typical Indian, his little pig eyes twinkling wickedly, and his face set and immovable and expressionless." Both fighters eventually left the ring. The audience waited a full two hours before the fight was officially cancelled, costing promoter McCarey a fortune and Herrera his reputation among the L.A. sporting public. The post-event backlash against Aurelio would be severe. In addition to the professional disgrace he would be facing legal action by none other than William Randolph Hearst, who had been a stakeholder in the fight (Hearst later dropped the suit).
In retrospect Nelson may have been correct that Herrera's people tampered with the scales. Such a thing was not uncommon in those days. It was speculated later in the Los Angeles Times that Herrera had perhaps been paid to sabotage the event by San Francisco promoter "Sunny Jim" Coffroth in an attempt to ruin Tom McCarey and usurp his Southern California promotional operations. Whatever the reasons may have been the fact remained that Aurelio Herrera was now persona non grata in Los Angeles and would never fight there again.

Score one for grim fate and for fortune, the fickle jade. They've downed Aurelio Herrera. Herrera the wildcat! One of the greatest fighters of his day, the toast of every Mexican on either side of the border. All that was a quarter-century ago. Now- Aurelio Herrera, a slouchy, grubby little Mexican, sits in a cell of the Orange County Jail, a "vag". He is serving a sentence of thirty days for "roaming from place to place without visible means of support." His glory isn't merely faded, it is gone.
                                                                                                                –Los Angeles Times, 12/19/1926
An attempt by Herrera to resume his career back east some months later proved futile when he was stopped by archrival Charles Neary in Milwaukee. His years of hard battles, hard liquor and black cigars were finally taking their toll and he lost three of his final four fights before retiring for good. He raised sheep for a time and tried his hand at fight promotion in Bakersfield, but for the most part his post-pugilistic years were not kind to him. Alienation from his family, failed business ventures, a failed marriage and arrests for such infractions as drunk and disorderly dogged his steps. Nothing seemed to work for him. He disappears from census reports in the early 1920s, apparently becoming something of a homeless drifter, wandering aimlessly from town to town throughout Southern California. He resurfaces in December 1926 when newspapers report him jailed for vagrancy in Santa Ana. The appalling circumstances surrounding the fall of the former ring hero were not lost on the reporter for the Los Angeles Times:
"Herrera would not talk of his brilliant past. He lacks the garrulity of most has-beens. Maybe it hurts him too much. Perhaps it's a touch of pride still struggling in the gutter. But the records of the prize ring talk eloquently for him. And the memory of the old-timers still recall the flashing trail he blazed across the sports pages when this century was new. His was a glorious rainbow career that reached its zenith twenty years ago when he knocked out Young Corbett in 1906. But the end of his rainbow rests on the floor of a cell. The wildcat has been thoroughly tamed, beaten down by the sledgehammer blows of time, fortune and foolishness.
For Herrera, they say, fell like many of his ilk who couldn't stand prosperity. When he rode the tide of fortune he was a hard and reckless rider who finally lost his seat. Once he was the hero of his Latin fellows, might almost have displaced Diaz. But Herrera, with his vanished laurels, now sits in his cell a broken-hearted man."
His name would appear in the press the following year when he was once again arrested for vagrancy in San Francisco. He died in a hospital mere weeks upon his release from jail- age 50- on April 12, two days after his old foe, Young Corbett II, himself passed into eternity.
Unless a fighter had been a world champion rarely did his death make much of a stir in newspapers during the first half of the 1900s, especially a sub-heavyweight fighter. From his final bout in 1909 until his passing 28 years later Aurelio Herrera had been largely forgotten in the sporting press. But when news of his death hit the wires it was written about for weeks. Accolades began to appear in newspapers and magazines across the nation as journalists, many of whom were eyewitnesses to his triumphs inside the ring, remembered what Herrera meant to a generation of fight followers. "Perhaps the hardest hitter for his weight and inches that ever breathed, this dark-skinned terror of the early nineties, is no more," commented renowned sportswriter Hype Igoe. Promoters, managers, trainers and former opponents would all pay tribute to his prowess in subsequent years; Battling Nelson spoke of him often in interviews and Kid Broad never failed to give a comedic account of the knockout he suffered at the hands of the "Wildcat Mexican" in Butte decades earlier.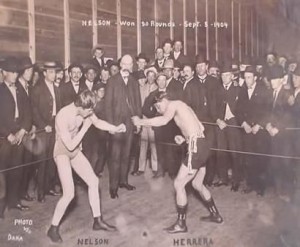 Several articles were written which acknowledged his importance to the sport as a trailblazer. A piece that ran in several newspapers summed up his contribution thusly: "His success made fight fans out of thousands of Mexicans and injected the boxing virus into the blood of many Mexican youths, who were attracted by the glamour- and the greenbacks- of a leather-pushing career." The Syracuse Herald, which at times had reviled and even branded him a coward (and would continue to do so post-mortem), now saluted Herrera as "the first concrete example of the fact now proved beyond question that the Latin is a fistic battler equal to the Celt or the Saxon."
For all the slander he'd had to bear in the press during his career Aurelio Herrera could nary have imagined or asked for a more satisfying legacy.  
I wish to express my thanks to fellow IBRO members Harry Shaffer of Antiquities of the Prize Ring and Dan Cuoco, Director of IBRO, and Aurelio Herrera's grandniece, Katherine McLaughlin for providing me with the photos included herein.
Special thanks to Kern County historian Gilbert Gia for his exhaustive research on Aurelio Herrera and his life and times.