Babyface and Pop
By J.J. Johnston and Nick Beck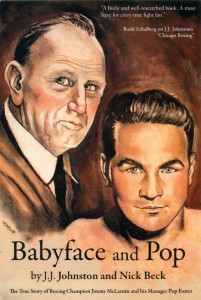 Jimmy McLarnin was one of the greatest champions in boxing history. His amazing record of beating 13 world champions is unmatched. J.J. Johnston and Nick Beck have written a book that every boxing fan will enjoy. The true story of boxing champion Jimmy McLarnin and his manager Pop Foster.
J.J. Johnston, a boxing historian and former Chicago amateur boxer, is best known for his many stage and screen credits. He originated the role of Donny in David Mamet's American Buffalo and repeated the part on Broadway with Al Pacino. Other Broadway credits include Glengarry Glen Ross and Arsenic and Old Lace. His films include JFK, Things Change, Fatal Attraction, and Lakeboat. He was seen on television in M*A*S*H, All in the Family, Dynasty and Married with Children. With Sean Curtin he is the co-author of Chicago Boxing (2005) and Chicago Amateur Boxing (2006). He lives in Southern California.
Nick Beck was born in Hollywood and earned a doctorate in history of education at UCLA. He was United Press International's overnight manager in Los Angeles and covered the boxing competition for UPI at the Tokyo (1964) and Mexico City (1968) Olympic Games. He was also a professor of journalism at California State University, Los Angeles, from which he retired in 1988. Dr Beck, who served in the U.S. Army during the Korean War, is the author of "Budd Schulberg: A Bio-Bibliography" (2001). He lives in Sherman Oaks, California.
Cover Design by the late Bob Carson. This book can be purchased directly from J.J. Johnston for $30.00 (hard cover); $20.00 (soft cover), includes priority postage in the US; and $40.00 ((hard cover); $30.00 (soft cover), includes priority postage outside the US. The authors will autograph each book individually. J.J. Johnston can be reached by mail at J.J. Johnston, 8820 Delco, Winnetka, CA 91306-1006, or by EMAIL at bustoutinc@Juno.com