'The First Black Boxing Champions' a must read by all Americans
By Stephen Johnson, Denver Boxing Examiner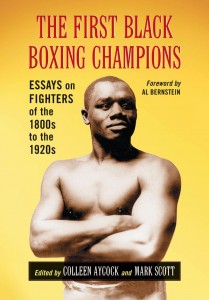 ..'The First Black Boxing Champions' published by McFarland & Company, Inc., and co-edited by Colleen Aycock (Albuquerque, New Mexico) and Mark Scott (Austin, Texas), is a definite 'must read' by all Americans whether a boxing fan or not as this compilation of fifteen selected boxing historian's depictions of the struggles of Black American boxers not only inside of the ring but with the even larger struggles outside of it, in precise definition.
Aycock and Scott do an excellent job of letting the individual historian's, selected for their specific background research, relate the economic and social struggles of the black boxer in their own unique way, something that gives this book even more appeal as a chronicle of not only boxing history but American and World History as well.
The names of Muhammad Ali, George Frazier, Larry Holmes, George Foreman, and Mike Tyson are familiar to most casual boxing fans, but there remains the history of the 'pavers of the path' to the now common multi-million dollar paydays that should never be forgotten and the price they paid for the success of the black boxer in the sport.
The most recognized name of black boxing supremacy belongs to Jack Johnson (chapter 13), who dominated the heavyweight division for more than a decade and made white America shudder at the thought of him not only delivering brutal beatings to their favored white fighters but openly flaunted his ability to date, and even marry white women.
During a period when black men not of his physical stature or frightening arrogance were lynched for even looking at a white female, Jack Johnson was larger than life in the struggle of the black athlete in American society.
'The First Black Boxing Champions' takes an in-depth look into just how many black boxers were victims of being forgotten not because of any lack of skill, but because they were simply 'big fish in an even bigger pond' that would never allow them to become the household name some of their more famous competitors were able to achieve.
Especially interesting is the acknowledgment that these men were engaged in 'prize fighting' and their income was generated by such, which at times allowed them to live a seemingly lavish lifestyle with most ending up in financial obscurity the result of mismanagement, or just flat out being taken advantage of.
The term 'boxer', revealed to those unfamiliar, originated from the two combatants engaging in fisticuffs being stripped to their boxers (underwear) when competing with both men risking death from the bare-knuckle brawls that eventually evolved into the gloved battles of today.
Beginning with a foreword from 2009 World Boxing Hall-of-Fame inductee Al Bernstein who identifies the present day black boxer (some seemingly to have 'forgotten where they came from') as much in need of reading this book as any, making an excellent prelude into what this book entails.
Bernstein acknowledges the many books previously written about Black American boxers prior to and following the turn of the 20th century were tuned to individual boxers, but this particular compilation of brief biographies has been expanded to include many formidable, forgotten, upper tier black competitors who fought more bouts in their first few years of competing, than our present day boxer fight's during his entire career.
'The First Black Boxing Champions' includes fifteen essays by: Bill Calogero (Tom Molineaux), Tony Triem (George Godfrey), Bob Petersen (Peter Jackson), Mike Glenn (George Dixon), Kevin Smith (Bobby Dobbs), Colleen Aycock (Joe Gans), Douglas Cavanaugh (Dave Holly), Michael J. Schmidt (Joe Walcott), Cathy Van Ingen ('Dixie Kid' Aaron Brown), Joseph Bourelly (Jack Blackburn), Clay Moyle (Sam 'The Boston Black Tar Baby' Langford), Alexander Pierpaoli (Joe Jennette and Sam McVey), Mark Scott (Jack Johnson), Chris Cozzone ('Speedball' Hayden), and Peter Benson (Battling Siki).
Detailing the opportunities afforded the black boxer had to include the many pitfalls associated with success that was most often short-lived, as these men were fighting in the 'no decision' era that demanded brutal ring battles which at times included unbelievable 'back to back' matches in the same day.
My personal favorite essay chronicles the career of Dave Holly (chapter 7), a fighter who fought from 1900-1910 in a recorded 128 fights, with the strong possibility of many unrecorded bouts being under his belt as well, who tangled with Joe Gans, Spike Sullivan, Jack Blackburn, 'Dixie Kidd Aaron Brown, and Joe Walcott among others, while never becoming a World Champion.
Having gotten the better of each one of these men on more than one occasion is what makes Holly and the others so vividly profiled, so very special to their place in boxing, Black, American, and World History.
National Boxing Examiner Joseph Bourelly's depiction of Jack Blackburn is a wonderfully written piece making the until now obscure boxing figure (Blackburn) a never to be forgotten 'trainer of champions', from the unique perspective Bourelly has researched and produced.
New Mexico's Chris Cozzone's contribution chronicling the life and times of 'Speedball' Hayden, reminds us of the importance the black boxer had in both the U.S. military and New Mexico where Hayden had competitors from surrounding army camps looking to take his U.S. Army Middleweight Champion's title in the mid 1900's.
Denver fight fans are well aware of the name Chris Cozzone, whose passion for New Mexico boxing having much to do with the Colorado/New Mexico connection in both amateur and professional coverage.
'Essays on fighters of the 1800's to the 1920's' is what 'The First Black Boxing Champions' book claims as it's composition, but in reality it chronicles a piece of boxing and American history that includes photos, drawings, cartoons, and fight posters that makes this collection an easy read for boxing enthusiasts of all ages.
The book was released in May of 2011 with copies priced at $45 each easily purchased by contacting McFarland Publishing (www.mcfarlandpub.com) or their order line (800-253-2187).
'The First Black Boxing Champions' not only is a book for boxing enthusiasts but for boxers, trainers, historians, and people of all race, creed, and nationalities to read, enjoy, and appreciate the contributions of these great men to the sport of boxing who deserve the respect and recognition seen in this collection of written biographies.
"If you're not a part of the solution, then you're a part of the problem"…
Stephen Johnson is the Denver Boxing Examiner who feature writes for INSIDE BOXING.com, BORICUA BOXING.com, and UNTIL THE NEXT ROUND.com
http://www.examiner.com/boxing-in-denver/the-first-black-boxing-champions-a-must-read-by-all-americans