CARLOS PALOMINO: THE FIGHTING THESPIAN
By Austin Killeen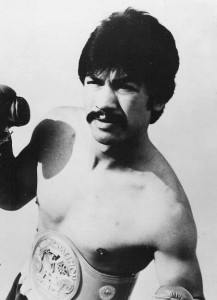 I met Carlos at Jerry's Famous Deli in West Hollywood, CA.  Accompanying me were actor, director and producer Jerry Angelo and Eric Blaze, lead singer for the band Slow Burn.  Jerry, no relation of the deli owner, was attending a premiere that evening of a movie that he starred in.  I was surprised to learn that Carlos had spent the past twenty five years working in the movie industry.  For the next hour Jerry, Eric and Carlos talked exclusively about the entertainment business at the expense of my interview.  When Jerry and Eric finally left to conduct some personal business, I hoped that I still had battery power left in my recorder for the interview.
When I asked Carlos about his childhood, he surprised me by talking about his relationship with his father.  Most boxers tell a short story about some childhood incident and how it got them involved in the sport.  The elder Palomino was born in Zacatecas, Mexico and worked long exhausting days on a farm, doing manual labor from the time he was eight years old.  The product of a tough existence, Carlos's dad wasn't known for outward signs of affection. Giving hugs and kisses to his children was not something he was known for.  If he had a passion for anything, it was boxing; in his son Carlos he saw a future pugilist.  "I know he loved me but he'd never come out and just say it."
Carlos did mention his father had nine brothers and three sisters and they would get together on Sundays to barbeque.  Eventually they'd get the gloves out and Carlos would have to box one of his brothers.  "We moved to the States when I was eleven and I started playing baseball; I loved the sport.  I thought I was done with boxing."  When Carlos turned twenty he was drafted and had to go into the Army.  To get in shape for basic training he started working out at a boxing gym.  "I trained for two months and won a fight before being drafted."  After basic he was assigned to Fort Hood, Texas, where he won the base championship.  This was no small feat as there is no novice division; your opponent could have had 100 matches while you are having your first bout.
Because of his success at Fort Hood, Carlos was sent to the "All Army Championships" which he also won that year.  This placed Carlos on the All Army boxing team at Fort Bragg, NC; all he did was train and fight.  "We'd run in the morning and train in the afternoon.  We traveled to Washington State and fought their Golden Glove team.  We also traveled to Europe and fought international competition and I won the National AAU Tournament in 1972. " In all Carlos had 35 amateur bouts, winning 32.  He split two bouts with Olympic Gold Medalist Sugar Ray Seals, and won a decision over future lightweight contender "Stormin" Norman Gains.  Looking at Palomino's 35 amateur fights is deceptive; these matches were against some of the best amateur stars in the world.  Upon his discharge from the Army he was ready to turn pro.
Turning pro in September of '72, Carlos quickly ran his record to 7-0-1, but only one coming by way of knockout.  "I was still fighting Olympic style and not sitting down on my punches.  I owed my amateur success to Pat Nappi, but that wasn't an effective style for landing hard punches.  My pro trainer Noel Cruz was trying to change my style, but it was a work in progress."  Despite his lack of hitting power, Ring Magazine selected Palomino as Prospect of the Month in the July 1973 issue.  Although being honored by Ring Magazine was a statement regarding Carlos's progress, it was almost as if he were invisible. Turi "The Fury" Pineda, Bobby Chacon, Oscar "The Shotgun" Albarado, and Danny "Little Red" Lopez, among others, were creating the excitement in the LA boxing scene and Palomino seemed lost in their shadow.
"I felt I was making progress in my hitting power, but my manager Jackie McCoy wasn't impressed.  He felt my going to college while boxing was a distraction and I should drop school and concentrate on my career.  I felt if something had to go it would be boxing, as school came first."  In looking at old newspaper clippings, the ink was describing the success of other boxers in detail while Carlos was getting a single line describing another decision win.
Adding to his problems, he felt something pop in his shoulder in winning a six round decision over Tommy Coulson.  "I threw a right hand and hurt him and went crazy trying to knock him out.  I tore all the muscles in my right shoulder.  After the fight I was in the shower and I couldn't raise my arm.  I saw a doctor, he said I needed surgery and probably wouldn't fight again.  I took six months off and worked part time at the Parks and Recreation department in Westminster, CA.  I also was getting $300 a month on the GI bill while going to college."
"I still went to the gym and would work on my left, throwing jabs and hooks.  Another guy at the gym noticed there was something wrong with my right shoulder and asked if I had looked into having acupuncture?  He went on to tell me he had been in a wheel chair when a man in Chinatown treated him for his condition.  After a year he was walking again.  I visited the same gentleman; he charged me $20 a visit.  He'd stick pins in my head, arms and feet; after 10 visits my arm was better.  Thirteen months later I was back in the ring in a six rounder."
Although he won his next two fights by decision, Palomino felt he was hitting harder.  He seemed to be hooking off his jab more and punching from different angles.  In his next two bouts he scored KO's, the second win coming in the ninth round.  Not only was he punching harder but carrying his power into the late rounds.  His record was now 10-0-1 with 3 KO's.  His style was changing; he was becoming a boxer/puncher and there was excitement when he entered the ring.  His next fight was scheduled for the Olympic Auditorium, but his opponent canceled due to an injury.  Andy Price fighting out of San Diego was also on a roll with a record of 12-1-3.  Like Palomino, his next opponent fell out of the fight due to an injury.  This would lead to a dream match between rising young stars.
Jackie McCoy wanted no part of the fight, feeling Carlos wasn't ready.  "With a purse of $1,200, I wanted the match and told Jackie to take it."  Aileen Eaton the promoter for the Olympic Auditorium told McCoy his fighter better win or he'd never fight in LA again.  "I'd seen Andy work out at the gym many times and felt confident I could beat him.  We met in August of '74 and Price won a close 10 round split decision.  Although I lost, I felt I proved I could fight with anyone."
Two months later Eaton changed her mind and offered Palomino a fight with hard hitting banger Nelson Ruiz of Caracas, Venezuela.  McCoy was upset with Eaton saying "give us a break, my guy is only 12 and 1.  Eaton responded "that's what we got." "So Jackie says to me, you got to stand up.  We got to see what you got." A big underdog, Carlos was confident in his ability to win.  He had a spy in Ruiz's camp, who reported that Ruiz was killing everybody in the gym but after four rounds the Venezuelan had an endurance problem.  Following McCoy's fight plan, the home town boy kept his distance from the South American banger until the fifth round.  Late in the round he nailed Ruiz coming in with a right hand, but Nelson was saved by the bell.  Carlos had his opponent defenseless, when trainer Teddy Bentham tossed in the towel to save his fighter in the sixth.  The headline in the next day's paper said A STAR IS BORN!
LA's newest sensation won a decision over Tommy Howard and was matched with another banger, Zovek Barajas.  Barajas held a decision win over Armando Muniz and a TKO over former champ Billy Backus.  In a sensational fight, Palomino seemed to have the upper hand, when Barajas scored a flash knockdown just before the final bell.  Although the referee favored Carlos the two judges called it even, making it a majority draw.  In a rematch two months later, the local boy destroyed Barajas with left hooks and straight rights.  Dropped by Palomino in the ninth, the referee rescued Zovek before further punishment could be administered.  LA's boxer/puncher rang up three more wins, two by stoppage, to solidify his growing reputation.
This resulted in a match against Hedgemon Lewis who had twice challenged Jose Napoles for the welterweight title.  It turned out to be a great fight, with first one, then the other taking command.  There were no knockdowns and neither boxer had a clear advantage in any round except the ninth, when Palomino rocked Lewis with a left hook to the chin.  Although the ref favored Carlos, the two judges saw it even rendering it a majority draw.  If there was any doubt that Palomino was now a headliner, Tury Pineda was fighting on the undercard to Carlos' main event status. 
Interestingly Carlos would win his next two bouts, one by stoppage, while four months later Hedgemon Lewis would fight world champion John Stracey for the title.  There was one problem with the Stracey/Lewis title bout; Lewis was under contract to fight a rematch with Palomino.  "Aileen Eaton agreed to release Hedgemon from his contract if the winner of the title bout would face me next.  Not only did both fighters agree but I was paid $2,000 to step aside.  This was more money than I was ever paid in a fight."  Stracey crushed Lewis just as he had destroyed Jose Napoles in Mexico to win the title in a huge upset.  "Stracey's people figured it would be an easy fight as I had a difficult time in drawing with Lewis."
Watching the English broadcast of the fight, I was very impressed by the narrative of the announcer, Henry Carpenter.  Stracey, who used a pulverizing left jab to destroy both Napoles and Lewis, was striking nothing but air in the opening round.  Fighting upright to the surprise of the Stracey camp, Carlos was displaying an excellent jab and following up with combinations to the head and body.  The second was a repeat of the first with Palomino landing with much more authority.  This caused the announcer at one point to comment, "The champ seems to be going through a sticky patch at the moment."
"Unlike Napoles and Lewis, who were over the top, Palomino seems a serious challenger."  This comment by Carpenter seemed to sum up what the British fans at Wembley Arena must have been realizing by the end of the third round.  Several times during the stanza, Stracey seemed in serious trouble, with the challenger's attack effective to both the body and head.  In the fourth the action slowed down a bit, but Carlos continued to out jab the champ in dominating fashion.  "My manager, Jackie McCoy, was always very precise in his between rounds instructions.  Returning to my corner Jackie said, just keep doing what you're doing, I can't tell you to do anything different.  What else was there to say?"  Rounds five and six were Stracey's best, as his left seemed to find its mark followed by overhand rights.  But even in these rounds a relaxed Palomino seemed to be content to ride out the champ's offense and finished with a strong rally of his own at the end of the sixth.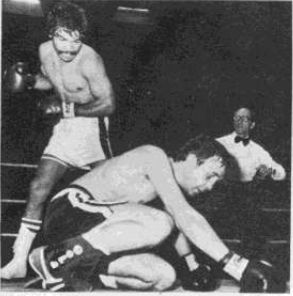 From the seventh round on, it was all Palomino, with the courageous champ fighting back in spurts.  Carpenter's comments from ringside in the eighth stated the obvious;  "If it goes fifteen rounds it will be a surprise.  If he keeps his title it will be a miracle."  The beating continued until the twelfth round, when referee Sid Nathan stopped the slaughter after the champ was dropped twice and rendered defenseless.  Amazingly, British Ring Correspondent Ron Oliver had Stracey ahead after six rounds.  Apparently Oliver watched the fight on his car radio.
"After I won the title, my father told everybody how proud he was of me, but he never told me."
The new champ's first defense was against veteran Armando Muniz in LA in January of '77.  Having already lost one title fight against Jose Napoles on a controversial call, Muniz was determined to set the record right tonight.  In the opening round, the shorter challenger repeatedly slipped Palomino's jab, scoring effectively on the inside.  With 20 seconds remaining, a left hook to the head put the champ on the seat of his pants.  Through the fourth round Armando's canny ability to slip Carlos's jab and counter appeared to give him a huge lead in the scoring. 
Rounds five through seven saw the champ finally display some offense but the challenger's pressing attack was still effective.  By backing Palomino up constantly, Muniz was robbing the champ's punches of power.  In round eight, both combatants appeared fatigued and needed to catch their second wind.  This seemed to work to the advantage of the champ.  In the next two rounds the pace picked up again, with Armando still pressing the attack.  In both rounds, the champ's punches found their target more effectively than earlier in the match.
In rounds 11 through 14 Palomino finally got some separation from Muniz, allowing him to effectively land his jab.  Establishing the jab allowed him to land overhand rights and left hooks before the challenger was able to get inside.  There was still plenty of life in Armando as he had his moments in all four rounds.  But unlike the first third of the bout, Muniz was paying a heavy price to work his way inside.  Carlos was closing the gap on the scorecards, but was it happening fast enough to keep his title?  The fourteenth round might have been the champ's best of the fight.  His left forced the challenger into a deep crouch, while his defense allowed him to slip most of the challenger's wild punches.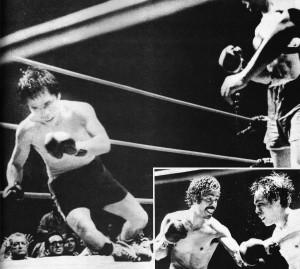 The final stanza started like most of the earlier rounds with the challenger jumping off his stool and rushing across the ring.  Both combatants appeared exhausted but fought like the final round would decide the winner.  At the half way mark Palomino landed an overhand right followed by a left hook, causing the weary Muniz to drop to the canvas.  Rising on unsteady legs, he was defenseless against a barrage of overhand lefts and rights.  With 36 seconds remaining, Referee John Thomas stepped between the fighters and declared Carlos the winner by TKO.  "I didn't want to stop it sooner because I thought he was still in the fight." Thomas said.
Five months later, Palomino traveled to England to face undefeated hard punching sensation, Davey "Boy" Green, England's newest phenom, who had just TKO'd former champ John Stracey in ten. The exciting Green knew only one way to fight, come forward and throw punches with bad intentions.  As in his first defense of the title, Carlos spent much of the bout backing up.  Fortunately the champ was an excellent counter puncher who could make opponents pay for their mistakes.  In the eleventh, the challenger ate a right left combination when he dropped his guard, suffering a devastating KO.  The champ would defend his title successfully five more times; including a unanimous 15 round decision over Armando Muniz in their rematch.
For a record purse of $450,000, the champ agreed to travel to San Juan, PR to face undefeated teenage sensation, Wilfred Benitez.  The bout was broadcast by ABC on Wide World of Sports with announcer Howard Cosell.  The always controversial Cosell was often bigger than the sports event for which he was covering.  "I'm just telling it like it is," became his trademark call.  His distinctive staccato voice, accent, grammar and cadence were often imitated by comics and sports fans alike.  
The bout was fought in two parts, with Benitez playing the role of counterpuncher through the first seven rounds.  As a result I was amazed when Cosell credited Wilfred with carrying the action.  If Palomino didn't press the attack it would have been like watching paint dry.  Howard warned the viewing audience not to be influenced by the pro Benitez crowd, as they would cheer anything that Benitez did including missed punches.  Apparently Howard was too busy talking to hear what he said, because he screamed and yelled every time Wilfred took a breath.
"What edge there is up to now, clearly goes to Benitez on grounds of boxing," was typical of Cosell's description all through the fight.  Benitez backed up and clinched throughout the first two rounds; how does this win rounds?  "The point is, Benitez is carrying the action," uttered Cosell at the end of the third.  I must have been watching a different fight.  "There, right there, that was a good and interesting exchange.  Because as Palomino tried to go to the belly, he did not get through cleanly and Benitez unafraid came back and scored against Palomino" (a comment by Cosell in the fifth).  I felt Carlos won both the fourth and fifth rounds with clean body punching and aggressiveness.
Palomino was pressing the action, while the sleek moving Benitez seemed content to counter punch off his jab.  I felt the challenger won the next four rounds as the champ seemed frustrated at times at his inability to land clean punches.  The action seemed to pick up as both fighters were willing to take more chances as the bout progressed.  In rounds ten through thirteen, a relaxed Palomino seemed to be more effective landing both to the body and the head, forcing Benitez to back up or hold.
The challenger gave an amazing display of boxing off the ropes in the fourteenth, both slipping punches and landing clean counterpunches.  I also felt he won the final round.  The verdict was a split decision with referee Jay Edson and judge Harry Gibbs favoring Benitez, while judge Zach Clayton went for Palomino.  I felt Clayton had it right.  In his post-fight interview with Howard Cosell, the ex-champ was very gracious wishing Benitez well.  Despite having been an active champion, defending the title often, Carlos would never have an opportunity to fight for the title again.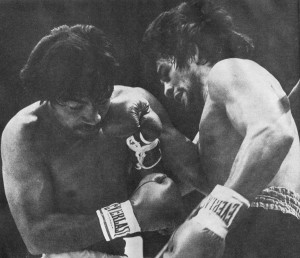 Six months later in Madison Square Garden, Carlos faced rising star Roberto Duran in a ten rounder.  In a terrific fight, the quicker Duran was too much for the former champ.  Although the decision was unanimous, with scores of 99 to 90 on all three cards, each round was contested.  The only knockdown occurred at the start of the sixth, when Roberto dropped Carlos with a quick left-right combination.  Amazingly Palomino fought back hard and was scoring well at the end of the round.  "Out of all my losses, Duran is the only fight I believe I lost.  He out hustled me every round, he just did more." 
Palomino surprised the boxing world by announcing his retirement after the bout.  While champion, he had appeared on the popular TV series Taxi to good reviews.  He decided to hang up the gloves and pursue a career in acting.  Although a successful occupational change, all the news wasn't good for the ex champ.  On March 14, 1980, his younger brother Paul was killed in the crash of LOT Polish Airlines Flight 007.  A successful amateur, his kid brother was a member of the U.S. boxing team on its way to Poland for a competition.  "I never wanted him to box; he was a good tennis player." Later that year, President Carter decided to boycott the Olympics, rendering the Polish flight meaningless.  This just added to Carlos' pain.
In 1980 he did a beer commercial with Miller Lite along with other sports personalities like Walt Frazier, Tommy Heinsohn, Bubba Smith, Billy Martin and many other famous athletes.  They were so popular that Carlos worked for Miller Lite for six years.  He has also worked in over 20 movies and acted on stage, retiring from the Screen Actors Guild (SAG) at the age of 55.  "I can still work in movies as long as I contact SAG.  If I work for more than seven days they stop sending me my retirement checks, as I get paid by the movie producer."
In retirement Carlos always stayed in shape; this included competing in nine marathons.  His personal best was 3 hours and 4 minutes, that's seven minute miles for 26 miles!  This resulted in his making a comeback at age 46 in 1997.  A promoter offered Carlos $1 million for four fights with a $10,000 signing bonus.  Carlos fought the four fights, winning all by KO, but was paid only $25,000 to $30,000 per fight, a little short of the million dollars promised him.  This included a KO of former world champ Rene Arredondo.  The four wins resulted in a match with Wilfredo Riviera, the #3 world ranked welterweight contender.  The former champ lost a close 10-round decision in LA. "I felt prouder of that fight than anything else I did in my career, because of my age.  I was 47 and he was 26."
"Just before my comeback my father was diagnosed with cancer.  The doctors said there was nothing they could do."  The cancer had spread all over his stomach and he had four to six months to live.  "He told my older brother and me to take him home."  Carlos and his brother turned a garage into a room and put a hospital bed in it.  "During that time we got everything into the open.  I always told my father I loved him.  One day I asked him why he never said that to me." He looked at me like I was crazy, "look what you've done; you're champ of the world, a college graduate, you've done all this stuff.  What did I do wrong?"  "That's when I realized he always worked two and three jobs so we always had clothes, food on the table and never needed anything as kids.  That was his way of showing his love.  As a grandfather he was totally different; love and kisses for all his grandchildren.  I have tremendous love and respect for him."
In retirement Carlos is more active than most people who are working.  He has a screen play that he hopes to produce in New Mexico due to the state's favorable treatment of the movie industry.  He works three days a week producing domestic violence videos for the Chicano Service Action Center and he is still working as an actor.  He is the proud father of three beautiful children; a boy Carlos Jr., and two daughters Alina and Chontel plus a lovely step daughter Alexa.
A week after our interview, Carlos called me regarding his marathon time.  He was worried because he had given me a time that was 10 minutes faster than his actual time.  He was concerned people would think he was exaggerating his accomplishments.  There are times in life when you look forward to meeting someone and when it happens it's even more rewarding than you expected.  Meeting Carlos Palomino was one of those times.   He's a champion in life.