EVER HAMMER
The Hurricane from Chicago
by Douglas Cavanaugh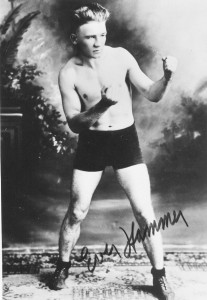 "I don't have to think twice about the man who gave me my hardest fight. As long as I live I will never forget the licking I received at the hands of Ever Hammer. He made me wish I had never laced a glove on my hands." -Benny Leonard, Lightweight Champion
"I can think of a lot of so-called world beaters that I would sooner take on than this Hammer guy."  –Lew Tendler, Lightweight Contender
Ever Hammer, the durable Swede from Chicago, stormed out of the Windy City in the early 1910s and quickly proved every bit as tough as his name implied. He was born on October 30, 1894 on Chicago's North Side to Swedish immigrants. As a teenager he worked as a driver and a delivery boy for a local grocer when he decided on boxing as a career. At that time the hometown competition was fierce, with top ringmen like Packey McFarland, Battling Nelson, Johnny Coulon and Harry Forbes regularly plying their trade in Chicago's rings and gyms. Undaunted, Ever turned pro in 1913 and was soon dialed in to the local pugilistic scene, making an immediate impact by scoring kayos in half of his first eighteen bouts. His rugged, give-and-take approach to fighting quickly endeared him to fans and he became a popular attraction throughout the Midwest.
Despite his stellar record and increasing popularity, Hammer seemed unable to secure bouts with the top lightweight contenders and voiced his frustration to Chicago Cubs' shortstop Joe Tinker, an acquaintance made famous by Franklin Pierce Adams' poem "Tinker to Evers to Chance" and would later be enshrined in baseball's Hall of Fame. Tinker, a fervent boxing fan, advised the young fighter to get himself a good, "wide awake" manager, which Ever had not had up to that point. Taking the tip, Hammer sought out Howard Carr (aka Kid Howard), a former prizefighter who was running a nearby gym and managing fighters. Howard gave Ever a tryout and was impressed enough to take him on.
Under Carr's guidance Hammer was able to make great strides in his career in a short period of time. He made his first impression on the world lightweight ranks on March 2, 1916 in Kenosha, Wisconsin when he pounded out a 10-round newspaper win over top contender Joe Welling. It was an important victory, one that brought him his first national notices in the press. But his performance against a faded but still dangerous Ad Wolgast three weeks later in Racine is what made him a star. With heavyweight king Jess Willard and Battling Nelson at ringside, Hammer tore into the former lightweight champion, winning the newspaper decision in a bloody, hard fought 10-round battle. The Racine Journal-News was suitably impressed, calling it "the meeting of the two greatest action-lads of the class." Wolgast himself was taken by this young blonde tiger who had a style that so mirrored his own in bygone days; so much so that he undertook to train Hammer for his next fight, which was to be in Milwaukee on April 24 against the reigning lightweight champion, Freddie Welsh.
Wolgast, known as the "Michigan Wildcat", had fought Welsh on numerous occasions and knew his style well. In fact "The Welsh Wizard" had beaten the old champion several times, so Ad received no small measure of satisfaction in watching his youthful protégé subject Freddie to an unmerciful 10-round beating that left him with a bloody mouth, a torn ear and a closed eye at the final bell. Hammer was unmarked as he smiled at the roaring crowd. The fight was declared a No-Decision but the newspapers unanimously agreed that young Ever had dominated the Welshman and that if the title had been on the line there would be a new champion. An attempt by the Welsh camp to take the luster off the Chicagoan's victory by blaming the champ's poor performance on an injured hand was dismissed contemptuously by many sportswriters. Welsh himself admitted that Hammer had given him the hardest fight of his career; high praise coming from a man who had battled the likes of Benny Leonard, Johnny Dundee, Packey McFarland, Jim Driscoll, Abe Attell and Willie Ritchie.
Hammer next made a stop in East Chicago, Indiana to face off against yet another great fighter- the fabled "Scotch-Wop" Johnny Dundee. Slick, fast and talented, Dundee had fought them all from Benny Leonard and Freddie Welsh to Willie Ritchie and Johnnie Kilbane. Like Welsh he had a huge advantage in experience over his younger foe. But Johnny quickly realized that he had his hands full on this night. It took all the skill he could muster and every trick in his vast repertoire for Dundee to quell the tearaway rushes of the mad Swede and secure a newspaper decision. Some reporters thought that a draw would have been the correct verdict. All agreed that it was a hard fought battle which saw Hammer's stock rise even higher in the lightweight ranks. A hotly contested rematch in Kansas City, Mo. two months later was won by Dundee on points in fifteen rounds, but it was so close and action packed that neither fighter lost face with the press or public.
All the commotion surrounding this newcomer didn't go unnoticed by Benny Leonard, who had been blazing his own brilliant trail through the lightweight ranks. The two contenders were soon matched in an eagerly anticipated bout which saw a sellout crowd pack the Convention Hall in Kansas City on Oct. 18, 1916 to watch Benny play matador to Hammer's bull. Ever tore out of his corner at the sound of the first bell and proceeded to give Leonard a calculated pounding. Benny later recalled the experience:
"He never gave me a chance to lead and not even time to think. He was right on top of me after every clinch, pasting away with both hands all the time. He varied his attack and I was forced to take about as fine a tanning in three minutes of one-sided battling as ever I received before and since I became champion. Two cruel rights to the mouth opened a cut from which blood flowed freely. I was a sight when I returned to the corner. He cut me to pieces. Between rounds Gibson and the boys were kept busy cleaning away the blood and refreshing me for the next melee. It was awful."
Hammer continued his relentless attack round after round, pounding the body and ripping uppercuts to the head of his bewildered opponent, all the while taunting him with comments like "What kind of guys are you New Yorkers? Come on and fight!" By the mid-rounds Benny's nose was bleeding along with his mouth. Even worse, his opponent seemed oblivious to his best shots and continued to bore in, whaling away with both hands. Realizing that he'd better do something and fast, Leonard began to use feints, jabs and speedy footwork in order to check the rushes of the Swede. The tide slowly began to turn and near the bell ending the ninth round Benny nailed Ever coming in with a perfect punch right under the heart. The blow was the turning point of the battle and wasn't unnoticed by Leonard, who watched the Chicagoan stagger to his corner and slump on his stool.
At the start of round 11, Hammer rushed at Leonard and straight into a right uppercut that detonated off his chin. Benny stepped back expecting Ever to fall forward as so many others had done before. Instead, his blow was answered immediately with a vicious left hook leaving the New Yorker dazed and hurt. Smelling blood Ever swung madly at his retreating opponent, who danced and jabbed until his head could clear. At the break of a clinch in round 12, Benny nailed Hammer again under the heart followed by a perfect one two, dropping him. Howard Carr had seen enough and stopped the bout, the referee awarding Leonard with a TKO. After the contest Billy Gibson, Leonard's manager, said that "Hammer hurt Leonard more in that one bout than 100 other opponents had done."
The loss to Leonard began a low period for Hammer. In the space of just over six months he had fought four future hall of famers- Wolgast, Welsh, Dundee (twice) and Leonard- and a few top contenders to boot, but such a hectic schedule coupled with his reckless fighting style were bound to take a toll. His career hit a slump over the next four years- though he was never stopped- and he won only seven of 24 fights. As bad as it was Ever, who had gotten married to his childhood sweetheart shortly after the second Dundee bout, had to keep fighting to put food on the table. He took fights whenever and wherever he could as returning to the paltry paydays of his delivery boy years was simply no longer an option. He was a professional prizefighter now and fighting is what he would do to provide for his family.
When the 1920s dawned Ever headed west and caught a second wind. He beat top contender Phil Salvadore and battled tough Willie Robinson to a draw right in their own backyards. But Hammer's most notable bout was when he faced a streaking local hotshot named Dave Shade in Stockton, California. Shade would later be considered one of the greatest fighters to never win a world title, becoming a top welterweight and middleweight contender and battling on even terms with welterweight champion Jack Britton and light-heavyweight champion Maxie Rosenbloom twice each and double-crown champ Mickey Walker three times. But on this night Hammer nullified Shade's speed advantage with crowding and fierce infighting. Being the local favorite, Shade was given a draw by the judges, but the Stockton Daily Evening Record decried the hometown verdict, scoring it as a clear win for the Chicago battler.
As for Hammer, he returned to the Midwest refreshed and with a vengeance, reeling off ten straight victories. This included newspaper wins over top contenders Richie Mitchell and Charley White as well as gaining revenge on several of the pugs who had beaten him during his earlier slump. It seemed as if Ever Hammer was back in business.
It all came crashing down when he decided to again challenge the great Benny Leonard, now lightweight champion of the world. On August 8, 1922 in Michigan City, Indiana Leonard won a clear cut newspaper decision in ten rounds over his game foe, but it was clear to Benny and everyone present that this was not the same Ever Hammer who given him such a tough go six years earlier. This was a faded pug that years of tough give and take fighting had finally caught up with. Ever further hastened his exit from the scene the following month in Philadelphia when he faced the second greatest lightweight of the era, the southpaw Lew Tendler. Hammer sparred regularly with the slick former welterweight and middleweight titlist Jimmy Clabby in preparation for the bout, but it proved to be to no avail after the first bell rang on September 11. Tendler, who weeks earlier had given Benny Leonard all he could handle, was in his prime and beat Ever soundly in winning an eight round newspaper decision.
The last nail in the coffin came shortly afterward in a clear case of history repeating itself. Hammer went to Omaha, Nebraska where he was thrown in against Ace Hudkins, a youthful tiger who had a style and attitude eerily similar to his own in younger days. A decade earlier Ever held a similar position when he was matched against Ad Wolgast, except now it was he who was the aging veteran being served as cannon fodder for the up and coming slugger. The "Nebraska Wildcat" tore away at Hammer from the start and it took all of the old Swede's savvy to survive. Apparently the referee didn't agree with his tactics and Hammer was disqualified in round seven for "stalling".
Hammer's career was essentially bookended by two wildcats- his star had risen in beating Wolgast, the "Michigan Wildcat", and had now descended in losing to Hudkins, the "Nebraska Wildcat".
Not content to end his career on a losing note, Ever took a year off and then came back to reel off four more victories before retiring from the ring in 1930. He gathered up his family, which now included a young daughter, Oma, and returned to California, the site of his career resurrection as a bona fide contender in the 20s. He was employed at Knotts Berry Farm in Buena Park, where the barn of former heavyweight champion Jim Jeffries had been relocated and turned into a makeshift boxing museum. Ever worked at the museum, where his job was to greet and answer visitor's questions. In sharp contrast to fellow give and take contemporaries Battling Nelson and Ad Wolgast, both of whom suffered greatly from pugilistic dementia in later years, Hammer suffered no ill effects, his mind remaining sharp and his memories lucid. He spent his remaining years living in Anaheim, where he died on September 13, 1969.