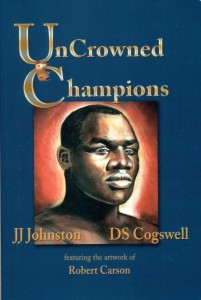 UnCrowned Champions
By JJ Johnston & DS Cogswell

6×9 inch softcover
320+ pages
Over 360 photos and illustrations
$38.00 Amazon
The early response has been terrific . . .
This magnificent book should be mandatory reading for anyone interested in boxing's rich history. J.J. Johnston and Don Cogswell do an excellent job covering the careers of ten great fighters who plied their trade against the best of their generation but were denied a title shot. Woven in between each fighter's biography are excellent essays describing boxing's evolving landscape from the 1880s through the 1950s. I highly recommend this book. (Dan Cuoco, Director of the International Boxing Research Organization)
Of all the hundreds of boxing books in my studio, Don Cogswell's book on the uncrowned champions deserves a special place on the shelf, next to Liebling and W.C. Heinz. Cogswell's work is well researched, entertaining and a must read for any serious student of pugilism or experienced historian (Enrique Encinosa, the authority on Cuban boxing history)
DON, The book arrived yesterday & I am half way thru it. Its a great book, you guys did a great job. I am going upstairs now & finish it. (Sean Curtin, longtime referee, author and former chairman of the Illinois Boxing Commission)
Should be a WINNER………. (Hap Navarro, former matchmaker at the legendary Hollywood Legion Stadium and California's #1 boxing historian.)
"Thoroughly researched, entertaining and insightful. Uncrowned Champions is filled with a treasure trove of heretofore unknown facts, photos and details concerning some of the greatest fighters of all time. —Mike Silver, author of The Arc of Boxing: The Rise and Decline of the Sweet Science
It says things that have to be said…………Ferdie Pacheco, The Fight Doctor
The ten hall-of-fame prizefighters are Peter Jackson, Sam Langford, Mike Gibbons, Packey McFarland, Harry Wills, George Godfrey, Lloyd Marshall, Holman Williams, Charley Burley and Jimmy Bivins.

for a signed copy:
Don Cogswell
bxscribe@pacbell.net   
707 448-1070
or order directly from Amazon.Com below.