JAMES "QUICK" TILLIS:  THE FIGHTING COWBOY
 By Austin Killeen

It was early on a Monday morning and I was driving 200 miles south of Albuquerque, NM to Tularosa, NM home of James "Quick" Tillis.  I was dead tired having just returned from Albany, NY the night before, having attended Billy C's first annual Hall of Fame weekend.  I had a great time but little sleep.  Progress was slow as there must have been 100 miles of road construction.  Twenty miles from my destination I was puzzled to see a sign warning of dust storms.  Thinking what is this all about, my question was quickly answered.  Suddenly there was visibility of less than ten feet.  I was in an orange fog caused by hard winds blowing the sun baked caliche soil in a crazy pattern across the landscape.
Suddenly my Garmin GPS system announced I had arrived at my destination on the right.  Looking out my window I saw a row of town houses with no street numbers.  Noticing an alley behind these homes, I decided to enter in the hopes of finding the Tillis home.  Suddenly a large shape emerged from one of the dwellings and started stepping off the back porch towards my car.  Being a brave man, I immediately tried to shift into reverse and get the hell out of there.
After a dozen failed attempts at finding the clutch with my left foot, I realized my car was an automatic.  Apparently I had succeeded in stepping on the emergency break because my car wouldn't move.  Whatever it was had a big smile and was reaching for the handle of my car.  That could mean only one of two things; either it was happy to see me or I was the first meal of the day.
The hand belonged to a rather large cowboy wearing leather cowboy hat and gray duster which hung down to the top of his leather boots.  The duster was unbuttoned revealing an enormous belt buckle, protective vest, chaps and spurs.  Reaching to shake hands, I felt I was putting my hand in a bear trap.  Standing before me was the fighting cowboy, James "Quick" Tillis, leading heavyweight contender of the 1980's.  Displaying his friendly cowboy hospitality, he brought me into his house where I met his lovely wife Vanessa.  The motif was clearly western, with two saddles on display in their comfortable home.
I was curious how James had acquired two monikers along with his introduction to boxing.  It seems his first exposure to the sport was a radio broadcast of the first Clay-Liston bout.  Although the images of the fighters were only the creations of his mind, his curiosity was aroused.  In the coming weeks Clay now Ali was often on TV.  Tillis was captivated by the champ's boastful manner and wanted to emulate him.
Tillis is a charming, extroverted, often amusing personally who moves around a conversation faster than he moved around a boxing ring.  "I was born in North Tulsa, the black section of town, the fifth of nine children.  My mother, Rosie Tillis is the granddaughter of a Cherokee Indian.  My grandfather, Peter L. Hawkins, was a black cowboy who made money breaking horses." So it wasn't much of a stretch to understand how Tillis started riding and trying to break horses when he was eight.  It would seem to be part of his DNA.  
He got his first horse, Casper, when he was thirteen.  Outside of boxing one of his favorite activities was entering rodeos; his specialty was lassoing calves.  It didn't take much imagination to figure how the nickname "The Fighting Cowboy" originated.  What's amazing, most cowboys tend to be lean and sinewy not large like James.  He showed me lots of pictures of himself riding horses in the Osage Hills around Tulsa.  One particular photo caught my eye; he was throwing a lasso over a calf's head while holding a tie-string in his mouth.  After flipping the calf on its side, the tie-string is used to secure the animals legs.  "It looks easy, but it ain't.  It's handling the rope and riding the horse at the same time.  You got to get the feel of it.  Cowboyin's a lot of fun."  This was no PR agent's idea of publicity; Tillis earned his nickname while riding horses on the outskirts of Tulsa, Oklahoma.
In school James was fullback and split end for the football team and played first base for the baseball squad.  In addition he did some wrestling but he hated the practice of making weight.  His coaches must have loved the idea of their star entering rodeos (cough, cough), bouncing off wooden fences.  In addition to participating in extracurricular activities, he was a decent student.  During our interview, I was amazed at both his memory and math skills.  He knew the dates and location of every one of his fights and the time between bouts.  I thought he was reading from a piece of paper until I realized he was looking directly at me.  He'd be a match for IBRO member, Jack Monroe's legendary memory.
Nine years after the Clay-Liston radio broadcast Tulsa's pride and joy finally discovered boxing up close and personal.  It was 1973 when he joined a local boxing team at the Chamberlain Park gym.  Goodbye football, wrestling and baseball, it was rodeos and boxing exclusively.  "I fell in love with boxing." From the start Tillis showed the hand speed of a pick pocket and the footwork of the Nicholas Brothers.
Preparing for his first amateur fight on a local card in Tulsa, a publicity-minded writer was putting together a newspaper press release.  He noted that most of the boxers on the program had nicknames; Keith Reed was Flash, Ray Johnson's moniker (surprise, surprise) was Sugar Ray and Al Thompson, Bubba.  "What's you nickname?" he asked Tillis.  "Uh, well, I don't have one," he replied.  "Quick, I need one for my column.  Quick, quick I need something …hmmm, Quick Tillis that will do just fine."  James now had a second nickname.
If Tillis was good at picking up nicknames, he was even better at acquiring wins at the amateur level.  Among his victims were outstanding amateurs, Renaldo Snipes, Ned Hallacy, Tony Chiaverini and Woody Clark.  Tillis considers his upset of Clark as the highlight of his punch for free days.  Using flashy foot work and devastating combinations, James surprised his more experienced foe.  Tillis captured the first round with a display of superior ring generalship.  In the second, the crowding tactics of Clark evened the scoring.  Surprising the crowd in the third, Tillis used heavy combinations to the head in a rousing finish.  At one point in the final round, referee Glover Zotigh, stopped the action to examine a cut over Clark's left eye but allowed the bout to continue.  James had a final amateur record of 92 wins in 100 bouts, including international competition.  Tillis credits his trainer, Ed Duncan, for his development.  All I knew how to do was hit the speed bag and jump around the ring.  "He taught me how to punch correctly and use the ring to my advantage."
Turning pro, Tillis had a decent amateur pedigree; including three GG's titles and four AAU championships.  But like so many others before him was leaving his trainer Duncan behind.  Look at the biography of most pros and you'll see the same story; their trainer from the punch for trophies days doesn't continue the journey with them.  If Ed Duncan was good enough to polish a crude stone until it was a diamond in the rough, wouldn't he be competent at the professional level? 
On the advice of his newly found adviser, who will remain nameless, the fighting cowboy made the voyage to Chicago to begin his professional career.  The unnamed adviser claimed to know promoter Ernie Terrell.  This explains why Tillis found himself staying at the YMCA with $30 in his pocket.  The prudent thing would have been to use his small bankroll to book passage on a Greyhound bus back to Tulsa.  Instead James was fortunate to get a job at the Mercantile Exchange as a runner and meet Jim Kaulentis.  A commodities broker, Kaulentis took an interest in Tillis boxing career.  Along with six other men, Kaulentis formed a company called Quick Associates.  With the financial backing provided by the group, Chicago's newest import was suddenly having a reversal of fortune.
Turning pro in the windy city in November of 78′, Tillis faced the infamous Ron Stephany.  Ron had three fights, all knockouts with only one going to the second round.  Unfortunate for the Memphis native, all the bouts were in his opponents win column.  Stephany managed to keep his streak alive, failing to finish the first round.  Tillis quickly ran off six more wins, all by stoppage.  In his eighth bout he faced Charles Atlas, not to be confused with the body building legend.  Atlas made it to the second round before being rescued by the referee.  Four more wins by KO's and Quick was matched with the veteran Roy Cookie Wallace.  Wallace had fought the best for the past decade, always giving a creditable showing.  He proved to be a tough cookie, taking Quick ten rounds for the first time in his career in losing a unanimous decision.
Continuing to face stiffer competition, former contender Ron "The Butcher" Stander was next on the cowboy's dance card.  The Omaha native had wins over Ernie Shavers by knockout, Thad Spencer, Manual Ramos and fought Joe Frazier for the world championship.  Using the ring as his personal dance floor, Tillis pitched a shutout over his outclassed opponent.  Although unable to knockdown Stander, the referee was forced to rescue the butcher from further punishment in the seventh.
Undefeated in seventeen pro bouts, Tillis was now ranked seventh by the WBA.  Facing another decent opponent "Quick" scored a unanimous ten round decision over Ohio's Mike Koranicki in August of 80′.  Tillis controlled the contest from the beginning but better competition was showing the cowboy to be a good not great puncher.  In the biggest bout of his young career the Oklahoma youngster was matched with third ranked WBA heavyweight Domingo D'Elia of Argentina.   Showing little power, Tillis controlled the action with fast footwork over his slow moving opponent.  D'Elia was surprised by a sneak right early in the fourth.  Rising at the count of two, the South American walked into a combination sending him down again.  Rising on unsteady legs, Domingo was dropped by a left-right ending the contest at 1:40 of the round.
The cowboy was now ranked third by the WBA and declared the mandatory challenger for Mike Weaver's title as the top two contenders Gerry Cooney and Leon Spinks, were already committed to fight other opponents.  Scheduled to meet Weaver in February of 81′, the politics of boxing would prove otherwise.  Wanting to stay busy while lawyers settled things in court, he faced hard hitting Tom "Roughhouse" Fisher in March of 81′.  It would also be the first time legendary trainer Angelo Dundee would be in his corner.  Fisher provided stiff competition but couldn't catch the fleet footed Tillis, losing a unanimous decision.  A stiff left jab and hard rights to the body allowed James to keep out of trouble.  "I was pleased with his balance and steadiness tonight," said Dundee.  "However, we've got to work on Tillis not walking back on his opponents."
On October 10, 1981, the undefeated Tillis finally took his fight out of the courts and into a ring to face WBA champ Mike Weaver is a title bout scheduled for 15 rounds.  With Muhammad Ali sitting near the cowboy's corner, trainer Angelo Dundee hoped that Tillis could emulate his former charge.  For the first ten rounds James spent most of the time dancing away from the champ's respected hitting power.  When he went on the offense the boxers usually wound up in a clinch, resulting in much booing from the frustrated crowd.
Throughout the fight, Weaver was the aggressor but only seemed to land any good punches when he got Tillis trapped on the ropes.  Then the two boxers would end up in a clinch.  In the eleventh round the combatants began to have some good exchanges, with the harder hitting Weaver looking to put the challenger on the canvas.  Tillis responded with some good counter punches to awaken up the crowd.  The twelfth stanza was even better when Tillis landed the best punch of the fight, a hard right stopping Weaver in his tracks.  The champ was hurt but the challenger failed to follow up his advantage, dancing around the ring to the frustration of Angelo Dundee.
The thirteen had little action, but the two fighters woke up in the fourteenth, which undoubtedly was the best round of the fight.  Tillis was still backing up, despite Dundee's orders to "Fight him, Fight him".  Weaver looked impressive throwing a flurry of punches when a counter left by Tillis staggered the champ.  Tillis followed up with a right and the boxers closed the round with a good exchange.  The final round, both boxers appeared fatigued, but the champ trapped Quick in a corner closing with a flurry of punches at the bell. 
The final voting favored the Weaver 147-142, 145-143, and 146-142.  The judges were more impressed with the champ's aggression than the challengers counter punching.  Weaver, who had not fought in 14 months, said "I was rusty.  The layoff hurt me." When asked if he thought he'd won the fight; "hell yeah," Tillis answered without batting an eyelash.  Although disappointed with the results, the challenger left the ring with a $250,000 payday.  Dundee added that Tillis "fought a good fight.  I though there were a couple of times he staggered Weaver and should've jumped on him but other than that he fought our fight."
Five months after the disappointment of losing to Weaver, Tillis traveled to Las Vegas, Nevada to meet Jerry Williams.  Taking his frustration out on his less experienced opponent, the fighting cowboy scored a third round KO.  This resulted in Tillis getting a bout on the undercard of the Cooney-Holmes title bout against the hard hitting Ernie Shavers.
Tillis got off to a quick start behind a quick left jab and great lateral movement.  Frustrated at hitting air, Ernie landed a terrific right to the head of Tillis after the bell ending the second round.  By the end of the eighth the fighting cowboy had a big lead.  Shavers regarded as one of the all-time bangers in boxing history finally unloaded in the ninth.  If Quick Tillis was unaware of Ernie's power he found out when an overhand right exploded on his head.  Falling face first to the canvas, it didn't look like he'd get up.  In addition, he didn't get much love from Howard Cosell.  "This man cannot take a punch."  Tillis just got smashed by one of the all-time punchers in boxing history.  Cosell in my opinion was an entertainer, but not knowledgeable about the sport. Surprisingly, Tillis came out aggressively in the final round, landing some big shots of his own.  To the surprise of no one James was awarded a lopsided decision. 
On a roll, the Tillis brain trust matched their star with leading contender Tim Witherspoon.  The match was scheduled for August of 82′.  The cowboy trained hard as a win over Witherspoon would most likely lead to another title shot.  Four days before the fight, Tim had to pull out with an injury.  With the fight canceled, Quick Tillis did what most young might do after living the Spartan life for five weeks, P-A-R-T-Y!!  "I went drinking, dancing and socializing for the next 48 hours.  The party ended when I got a call, saying I'd be fighting somebody named Pinklon Thomas the next day."
"I heard he was undefeated, but knew little about him."  Watching video of the fight, it was obvious Tillis was in good shape physically but mentally was someplace else.  "For five weeks all I had on my mind was Witherspoon, when it was canceled I lost focus."  Using a good jab and lateral movement, Tillis was competitive.  Thomas was a man on a mission, having some success with an overhand right.  Pinklon was showing surprising speed in his own right and a right-hand bomb in the eighth ended the match.  The upset of heavily favored Tillis was officially ended at 58 seconds of the round.
In a cross roads fight, Tillis was next matched with Greg Page of Kentucky.  Both fighters were coming off a loss, Page having been upset by Trevor Berbick.  James jumped off to an early lead, dropping his opponent in the second round.  Unfortunately Tillis couldn't capitalize on his advantage and Page survived the round.  By the eighth the Oklahoma native was clinging to a slim lead and both fighters appeared fatigued.  Early in the round Tillis was dropped from a right hand to the jaw.  His trainer Angelo Dundee immediately jumped into the ring before the referee could start his count.  The bout was officially over at 43 seconds of the eighth.  For Tillis, the defeat also cost him his top ten ranking.
Returning to Chicago, Tillis won four in a row to start off 1983 in an attempt to resurrect his career.  This resulted in a matchup with #2 ranked Tim Witherspoon.  A win and Quick would once again be relevant and back in the top ten.  Sadly it wasn't to be, as "Terrible" Tim scored a devastating first round stoppage.   Tillis quickly found himself down on one knee with the other leg extended out behind him and his head through the ropes.  He struggled up like a driver who'd just failed a sobriety test.  Witherspoon resumed the attack and a flurry of punches to the head sent Tillis reeling back onto the seat of his pants.  Rising on unsteady legs, the cowboy absorbed two crashing rights to the head.  The referee stopped the contest at 2:16 of the first.
Tillis would no longer be a major player in the heavyweight division but an opponent for rising young stars needing a recognizable name on their resume.  Carl Williams, Marvis Frazier, Gerrie Coetzee, Tyrell Biggs, Joe Bugner, Evander Holyfield and Tommy Morrison would all put James Quick Tillis in their win column.  Tillis's career would amazingly continue until 2001.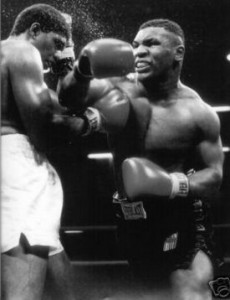 He did turn back the clock one night in Glens Falls, NY.  Facing a young undefeated fighter with 19 straight KO's, by the name of Mike Tyson.  A converted southpaw from his amateur days, James confused Iron Mike with lead rights.  Every fighter is taught their first day in the gym, never to lead with his right.  Watching videos of Tillis, it seemed to be his signature punch.  He could seemingly land it with reckless abandon against the best boxers in the world.  Along with an excellent left jab and flashy footwork, the cowboy was clearly frustrating the future champ.  If Tyson hadn't scored a knockdown in the fourth, a round he was losing, the decision would have been a majority draw.  Although Iron Mike captured the decision, Tillis had captured the compassion of the viewing audience.
Prior to the Tyson fight, James played Buster Broadnax in the movie "The Color Purple." This put him on the screen with some of the heavyweights of the film industry: Oprah Winfrey, Whoopi Goldberg and Danny Glover.  He'd love to do more work in the movies if the opportunity presented itself.
James Tillis is a warm, kind hearted, individual, whose straightforwardness only adds to his charm.  He had some excellent paydays, but broken promises, bad accounting and too many managers caused most of it to evaporate.  He enjoys talking of his ring exploits, but doesn't dwell on the past.  James and his wife Vanessa plan to move back to Oklahoma next February where James can once again work with horses.
Talking to Vanessa during the interview, I learned she was born and raised in Lexington, Kentucky.  As a young girl she knew both Muhammad Ali and Jimmy Ellis.  The big surprise, as a young girl she was married to Drew Bundini Brown for three years.  Kiddingly I remarked, am I interviewing the right person.  There's no question that she's a blessing in James's life.
James has a daughter named Iciss who is a star athlete in her own right?  A high school All-American, Iciss played college basketball at Duke University where she was named an All-American in 2003.  She went on to play in the WNBA for the Detroit Shock, New York Liberty and the Los Angeles Sparks. His daughter has retired from basketball and starts Law School this fall. Apparently the fruit didn't fall far from the tree.
Meeting James and Vanessa was a pleasure, well worth the drive through road construction and a dust storm.  Did I mention that in addition to keeping her husband on the straight and narrow, Vanessa bakes a great cake?  Not wanting to appear ungrateful, I had two slices.  Let's hope James finds a gentle four legged steed upon his return to Oklahoma in 2012.