Billy Miske: The St. Paul Thunderbolt
By Clay Moyle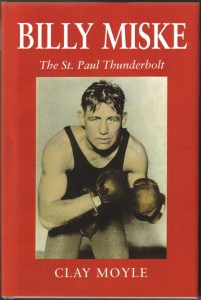 Book description: "Billy Miske: The St. Paul Thunderbolt is Clay Moyle's second biography and a worthy successor to his critically acclaimed tome concerning the life and career of Sam Langford. Hall of fame boxer Billy Miske was arguably the most courageous and inspirational figure in boxing history, and his story is long overdue. During a career that was impeded and cut short as a result of his ongoing battle with a terminal illness, Billy fought a number of the greatest fighters who ever lived, including the likes of Jack Dillon, Harry Greb and Jack Dempsey. The thrilling details and stories surrounding those fights and those of many other ring legends are all here, brought back to life for the reader to enjoy. The books goes far beyond simply chronicling Miske's career, but provides the reader with an in-depth view of a number of the sport's greatest contests and one of the more remarkable periods in boxing history. Miske's courage and perseverance in the face of his impending death, and his personal sacrifice to provide his family with one last Christmas to remember him by, will tug at your heartstrings and leave you with an indelible image of the man."
Clay Moyle's second biography will be available in a few weeks. If you would like to purchase a signed or inscribed copy, please contact Clay directly @ cmoyle@aol.com The book is also available via www.amazon.com and www.barnesandnoble.com
The book is comprised of 206 pages, including 61 photographs, and includes Miske's record, footnotes and an index. The price of the book is $29.95. Shipping via priority mail in the U.S. is an additional $4.95, to Canada $10.95 and overseas $12.95.
Quotes:
"Clay Moyle is one of the best storytellers of boxing history, and his Miske biography has it all: drama, a fast-paced narrative, and historical debth. It is one of my favorites."
COLLEEN AYCOCK, author of Joe Gans: A Biography of the first African American World Boxing Champion.
"Billy Miske is one of boxing's unsung heroes. If wasn't for a certain fellow named Jack Dempsey, Miske might have become heavyweight champion of the world. Clay Moyle's book sings in full chorus about Miske's courageous battles against formidable foes in the ring and his struggle against the disease that debilitated him. This book is a must-read." 
CHARLES SAUNDERS, author of Imaro
"Billy Miske was an outstanding fighter who never received due credit for his skills until recently when he was inducted into the International Boxing Hall of Fame. Clay Moyle tells his story in this splendid account of "The St. Paul Thunderbolt" and his ring encounters."
TRACY CALLIS, Historian, International Boxing Research Organization (IBRO)
"Billy Miske was one of the greatest heavyweights I ever saw. If his health hadn't failed him I am sure he would have won the championship."
MIKE GIBBONS
"I always had the highest regard for Billy Miske, both as a boxer and a man. He gave me more trouble than any boxer I ever met, and that includes Jack Dempsey. Miske was a credit to boxing."
TOMMY GIBBONS
"He was a gentleman in the ring as well as out of it. As time rolls on and boxing fans discuss fights and fighters, those who knew Billy Miske personally will point with pride to the fact, for he was a MAN."
GEORGE BARTON