Remembering Paolo Rosi
By Dan Cuoco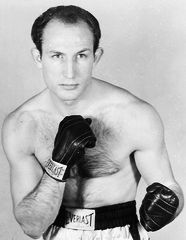 There are many stories of past greats and famous boxers that have been written and rewritten over the years. But what about the many who fought and made a name for themselves but seem to be forgotten as the years pass. Paolo Rosi is one of them.
Paolo Rosi depended on aggressiveness, solid punching and deceiving punching power to forge a name for himself in the lightweight division from 1951 to 1962. He was a world rated lightweight contender from February 1957 until July 1962, his highest rating number one. A tendency to cut around his jutting eyebrows handicapped him throughout his career. Four of his five stoppage losses were the direct result of cuts. The most heartbreaking being his eighth round stoppage loss to lightweight champion Joe Brown in their world title fight on June 3, 1959. At the time of the stoppage, Paolo was even on the official scorecards.
Paolo Rosi was born in Rieti, Italy on January 28, 1929 to Duilio and Emilia Rosi. He was an only son with four older sisters. His father owned a fireworks factory and his childhood was relatively comfortable. He graduated high school in 1945 at age 16 and moved to Rome to work as a hair dresser. Unsatisfied with his line of work he returned home two years later and went to work in his father's factory.
In 1947, Paolo went to Genoa to visit his sister Bruna. During his visit he passed a gym and saw boxers working out. He liked what he saw so he decided to give boxing a try. He entered the amateurs and over the next three years won 28 of 29 fights. [1] In 1949 and 1950 he won the Liguria State amateur lightweight championship.
He turned pro in Albano, Italy on January 18, 1951 winning a six round decision over Nicola D'Amato. Over the next 16 months fighting in Albano, Rieti, Genoa, Bergamo, Milan and Rome he compiled a record of 12-1 with 4 kayos. After winning a six round decision over Roy Ryan in Rome on April 12, 1952, Paolo was offered an opportunity to fight in the United States. He jumped at the chance to advance his career by fighting in the United States and signed with booking agent Carmine Tarantino. Tarantino had a successful track record of importing fighters from Italy such as Italo Scortichini and Livio Minelli.
Paolo settled in the Bronx and made his U.S. debut on December 19, 1952 with a third round stoppage over Jimmy Wilde at Madison Square Garden in a six rounder. In January 1953, he stopped Jose Morrell in the third round at Madison Square Garden. That earned him a match on March 27, 1953 with battle tested veteran Sonny Luciano (62-20-5). Rosi scored a technical knockout over Luciano in the 4th round of a scorching eight round semi-final at Madison Square Garden. Paolo dropped Luciano twice in the 1st round, once in the 2nd, and opened a cut over his left eye in the 2nd. The cut was aggravated in the 4th and Referee Teddy Martin stopped the fight. Rosi also suffered considerable damage including a cut at the bridge of his nose, but had the best of the rough going. He showed a beautiful left-right combination with which he scored the knockdowns in the opening round.
In April of 1953, Paolo met Bronx native Barbara DeSantis when Barbara and her mother sailed to Italy for a visit. Paolo met Barbara on board and forty days after their first meeting they married on May 28, 1953. Five months later, the couple returned to New York, where Paolo resumed his ring career.
He returned to the ring on December 18, 1953 against 27-year-old veteran Eddie Compo (74-7-4). They met in a eight round semi-final at Madison Square Garden and Paolo won a convincing decision.
In March 1954, Paolo travelled to Boston and stopped Danny Josephs in two rounds at the Boston Garden. A month later, he headlined his first main event in a return match with Eddie Compo at the St. Nicholas Arena. This time he stopped Eddie in the 6th round of a scheduled ten round bout. Compo was dropped by a long right to the jaw in the 3rd round and then dodged out of harm's way until the bell. Paolo had Compo in trouble in the 4th, but he weathered the storm again. In the 5th, Paolo cut Compo's left eye. He also landed a series of left hooks to the chin, a hard right to the face and had Compo staggering badly at the end of the round. In the 6th, Rosi closed the show forcing Referee Al Berl to halt the fight.
The win over Compo earned Paolo, now sporting a record of 18-1-0 with 9 KOs, a fight with 2nd ranked lightweight contender Orlando Zulueta of Cuba (51-19-9) at the St. Nicholas Arena. Zulueta, favored at 13-5, was too experienced for Paolo and stopped him in the 8th round after opening cuts over his left eyebrow and the bridge of his nose. Zulueta was fully in command for all but the 3rd and 7th rounds. The action was hot and heavy in the 2nd when one of Zulueta's jabs opened a cut over Paolo's left eyebrow. Paolo's cut was reopened in the 3rd and during every round thereafter. Zulueta flashed left jabs to the target area, followed with hard left hooks and rights to the head and body. Paolo fought back hard with blistering two-handed spurts whenever he got a chance. But, once the cut on the left side of Paolo's brow was open it was apparent he was beaten. Three times – at the end of the 2nd, 4th and 7th rounds – Dr. Vincent Nardiello examined the injury before he allowed the contest to continue. But Referee Al Berl watched the cut closely and when the cut began bleeding profusely again in the 8th round he stopped the fight.
The severity of the cut caused Paolo to have surgery to remove scar tissue from his eyebrows and kept him out of action for a year. He returned on April 25, 1955, and dropped a ten round decision to George (Curley) Munroe in Providence, RI.  Then he was off for six more months, returning on October 21, 1955 to stop undefeated Eddie Corma (16-0-0) in 7 rounds at Madison Square Garden.
The impressive win over Corma led to a proposed fight with 4th ranking lightweight contender Frankie Ryff. But, on November 18, 1955 the New York State Athletic Commission ruled that Paolo was not good enough to meet Ryff in a bout scheduled for Madison Square Garden. The reason given was that "Ryff was too far advanced for Rosi as a boxer." [2]
Paolo didn't like the decision and was determined to prove the commission wrong. He got his chance on December 12, 1955 when he met Lulu Perez in a nationally televised fight from the St. Nicholas Arena. Paolo won a lop-sided upset decision over Perez (34-7-1) in his TV debut. He had Perez on the verge of a knockout in the 5th round, and Dr. Alexander Schiff examined the badly battered Perez in his corner but permitted him to continue. Perez, who was favored at 6 1/2 to 5, was staggered by Paolo in the 1st, 2nd, 5th, 6th, 7th, 8th and 10th rounds. Lulu suffered such a beating that he decided to take a long layoff after the fight.
Paolo travelled to Paterson, NJ on April 14, 1956 and won an eight round decision over Sal DiGuardia.
On July 6, 1956, Paolo headlined a 10 round main event at Madison Square Garden and won a unanimous decision over Sacramento lightweight Joey Lopes (37-10-2). The bout went at a brisk pace with both fighters willing to trade blows at every opportunity. Paolo scored most of his points with long rights to the head. Lopes was superior in the infighting. Paolo got off to a good start by beating Lopes to the punch in their many exchanges during the first four rounds. Lopes sprang back in the 5th, turning aggressive and outboxing Paolo in the 5th, 6th and 7th rounds. In the 8th, Lopes mixed his delivery, but his wildness cost him the round. Paolo had trouble reaching Lopes in the 9th and absorbed punishment. In the 10th, Paolo smashed Joey with solid rights to the jaw and staggered him just before the final bell. As the bell ended the round, Lopes fell to the floor.
Paolo's second nationally televised fight took place in Washington, DC on November 2, 1956 against Philadelphia's Henry (Toothpick) Brown (24-3-2).  He ran his record to 23-3-0 (11 kayoes) with an 8th round TKO victory. Paolo dropped Brown twice for 9 counts with solid rights to the jaw in the 8th round. Referee Harry Volkman stopped the fight after Brown picked himself up weakly from the second knockdown. All three officials had Paolo far in front at the time of the stoppage.
Just as Paolo was starting to make headway towards a world ranking, he suffered a major setback when 12-5 underdog Baby Vasquez (54-13-2) stopped him on cuts in the 7th round at Biscayne Arena in Miami on December 28, 1956. The Mexico City native was making his nationally televised debut. In the 5th round it looked like Vasquez might be knocked out. He was badly hurt early in the round by a left-right-left combination to the face. Then a right uppercut buckled his knees. He was bombarded from rope to rope, but did not drop. Vasquez rallied in the 6th, scoring with right counters and left hooks. His rally was astonishing because of the battering he had taken in the 5th. It was in the 6th that Paolo suffered a cut on his left brow and a deeper one on his right brow in the 7th. The second gash bled so profusely that Dr. James McCormack asked Referee Mike Kaplan to stop the fight. Shortly before the fight was stopped Paolo shook Vasquez with a right uppercut and a left and a right to the jaw. Then followed two furious exchanges in which Paolo's right brow was gashed.
Paolo and Baby Vasquez signed for a rematch scheduled for March 1, 1957 at Madison Square Garden in New York.  A week before the fight Vasquez withdrew because of a back injury and was replaced by 3rd ranked lightweight contender Johnny Gonsalves (47-9-3). Gonsales entered the fight with a 13 fight unbeaten streak dating back to April 4, 1954. Paolo won a split decision by scores of 6-3-1, 8-1-1 and 4-5-1. The NY Times' Joseph C. Nichols gave Paolo all ten rounds. There was little action in the bout, mainly because Gonsalves failed to mix it up with Paolo and held at every opportunity. Paolo tried to lead and threw punches from all angles. Many of his punches landed, but none too squarely. Gonsalves boxed well in the first two rounds, but from the third round on he did little except hold and clinch. His pattern was to trade long lefts, pull Paolo into close quarters, then hold until Referee Al Berl separated them. The most spirited round was the 8th, in which Paolo succeeded in punching so fast that Gonsalves had no chance to grab him. The poor showing by Gonsalves caused him to tumble in the ratings from 3rd place to 10th. Paolo's impressive showing enabled him to enter the world ratings in the 8th spot.
His next bout was in San Francisco on May 9, 1957 against number 10th ranked lightweight contender Leo Alonzo of the Philippines. The 4,500 in attendance at the Cow Palace were treated to an all out war which former junior-welterweight champion Willie Ritchie called "the most action packed battle between lightweights he ever saw." [3] Alonzo, a sharp counter-puncher, was able to land often on the forward moving Paolo and twice put him on the deck. The Filipino dropped Paolo for a count of 7 in the 6th and no count in the 9th. Paolo was also dishing it out and Alonzo was the worst battered of the two at the finale. Referee Vern Bybee scored it for Alonzo 96-94; Judge Jack Downey had it 96-93 for Paolo; Judge Frankie Carter called it even. The draw did not hurt Paolo's 8th rating in The Ring.
On August 16, 1957, Paolo, now ranked 6th by The Ring, gained sweet revenge against 7th ranked Baby Vasquez by winning a split decision in a nationally televised bout at the Exposition Center in Louisville, KY. Paolo employed swarming tactics and bombarded Vasquez with uppercuts in the late rounds to finish fast in a tough but unspectacular bout. The victory elevated Paolo to 5th in The Ring ratings.
He returned to Louisville on September 9, 1957 and pounded out a lopsided unanimous decision over tough journeyman Ray Portilla. This fight ended his 1957 campaign.
Paolo started his 1958 campaign on January 3, 1958 winning a ten round split decision over Johnny Busso (31-5-1) at Madison Square Garden. Paolo was the aggressor throughout the fight, but a good many of his punches were wild in the early stages. He got his range toward the close and it was this late surge that enabled him to win. Busso appeared to good advantage at the outset as he avoided Paolo's rushes and scored with long right counters to the head. Paolo's aggressiveness started to pay off in the 4th as he landed enough long lefts to earn him close margins in the 4th through the 6th rounds. It was in the 4th that Busso first started to show an inclination to hold. He gripped Paolo so hard that he drew a warning from Referee Teddy Martin. Busso got off some sharp rights to the head in the 7th and 8th rounds. But Paolo outpunched him in the final two rounds to seal the victory. Teddy Martin had the fight even in rounds at five each, but with 6 points for Paolo against Busso's five. Judge Joe Agnello favored Paolo, 6-4, but Judge Jack Gordon scored it for Busso, 5-4-1.
The win over Johnny Busso coupled with Ralph Dupas' loss to lightweight champion Joe Brown on May 7, 1958 elevated Paolo to 3rd in The Ring's June 1958 ratings. However, his high rating didn't last long because Paolo was inactive from February 1958 through September 1958 due to surgery to remove scar tissue from his eyebrows and he dropped to 6th in The Ring ratings.
After his long absence, Paolo returned to the ring to take on San Francisco's unbeaten sensation Bobby Scanlon in his hometown of San Francisco on October 13, 1958. Scanlon entered the fight with an unbeaten record (31-0-1) and a number 8 world rating. Going into the fight, most experts figured Paolo's long layoff would make him rusty and an easy decision victim for the razor-sharp Scanlon. But Paolo surprised everyone including Scanlon by handing the baby-faced 22-year-old his first defeat when he knocked him out at 1:27 of a sensational third round. Paolo did in fact show ring rust in the first round when he was staggered by a wide Scanlon hook and peppered with left jabs. To make matters worse, a cut was opened above his left eye at the round's midpoint when their heads collided. Paolo moved into Scanlon in the 2nd hoping to keep Scanlon's speedy left jab neutralized. It proved to be a wise strategy, for Scanlon was no match for Paolo on the inside and the crowd booed Scanlon for holding. Paolo kept his pressing tactics in the 3rd and ripped lefts and rights to the head and uppercuts to the chin. Paolo pulled out of a clinch early in the round and scored with a combination which dropped Scanlon. Scanlon jumped up before the referee could start a count and caught Paolo with a right that floored him for a no count. Scanlon then charged in for the kill, but Paolo used his superior strength and infighting ability to setup Scanlon for a perfectly timed right cross which dropped him on his face. Scanlon managed to get to one knee but much too late before referee Matt Zidich reached the count of 10.
Paolo met Bobby Scanlon again on December 8, 1958 at the Cow Palace in San Francisco and won a split 10 round decision. Paolo scored consistently with solid inside punches and right crosses to the head. A right hand sent Scanlon to his knee in the 2nd for a no-count knockdown. The fight appeared even going into the 7th round when referee Downey cautioned Scanlon for a low blow. Paolo was cut over the left eye in the 8th round and bled throughout the last three rounds. Referee Jack Downey stopped the action in the 9th for the doctor to check the damaged eye. The doctor ruled that Paolo could continue. Despite the blood streaming from the long gash over his left eye, Paolo won the final round decisively. Referee Downey scored it 97-94 and Judge Matt Zidich 97-95 for Paolo. Judge Eddie James voted for Scanlon 98-95.  Paolo moved to 4th in The Ring ratings.
In his next start on February 23, 1959, again at the Cow Palace in San Francisco, Paolo made a strong case for a title fight with lightweight champion Joe Brown when he took a narrow split decision over southpaw Flash Elorde (48-14-2). Paolo won after shaking off the effects of three severe facial cuts which hampered his fighting. The southpaw style of Elorde, coupled with the streams of blood from the 3rd round on, bothered him. Paolo won the fight on the inside where Elorde was unable to cope. Paolo started bleeding from a cut over his left eye in the 3rd round. In the 4th another cut opened over his nose. Despite the bleeding, Paolo was the harder puncher throughout the fight. Elorde realized he was behind on points as the final round started. He opened a furious two-fisted attack at Paolo's body and then lifted his aim to Paolo's head. But Paolo countered several times in the round with hard punches to Elorde's head. Referee Frankie Carter called Paolo the winner by 100-94. Judge Eddie James scored it 98-97 for Paolo. Judge Jack Downey called it 96-93 for Elorde. The loss was Elorde's first in his last 16 starts. The win put Paolo in contention for a possible world title fight.
Paolo's next fight was a nationally televised go against Frankie Ryff (30-6-0) at the War Memorial Auditorium in Syracuse on April 10, 1959. Ryff was on a hot streak having won 9 of his last 10 bouts. In his last fight Frankie proved he was back in top form by outpointing Cisco Andrade at Madison Square Garden. Frankie, like Paolo, was prone to eye cuts and had undergone plastic surgery to remove scar tissue over his eyebrows. Prior to surgery, two of his six defeats were due to cuts. Paolo, now ranked 3rd in the lightweight division, floored Ryff twice midway through the third round and had Frankie defenseless when Referee Joe Palmer stopped the fight. The win earned Paolo a world title fight against lightweight champion Joe Brown.
Paolo's fight for the world lightweight championship took place at the Uline Arena in Washington, DC on June 3, 1959 and ended at the end of the 8th round after ringside physicians Dr. Clark Halstead and Dr. Jack Kneipp had agreed that a jagged cut over his left eye was too severe for him to continue. Thus lightweight champion Joe Brown (85-20-10) retained his crown with a technical knockout in the 9th round. Under the rules in effect, a bout stopped between rounds is listed as a technical knockout in the succeeding round. At the time of the stoppage Paolo was even on the scorecards. Judge Norvel Lee scored 75 points for each fighter; Judge Harry Volkman had Brown in front 77-75; Referee Charley Reynolds favored Paolo, 74-71.
Experts had predicted that Paolo would have to protect his face against the sharp combinations of the champion because of his tendency to cut easily around the eyes. Brown was well aware of that fact. Right from the start, Brown went to work on Paolo's face, shooting jabs to the head and short chopping rights to the face. Whenever Paolo brought his guard up, Brown went to work on the body. But his primary target was Paolo's features. In the 3rd round Brown opened a cut on the inside corner of Paolo's left brow. Paolo's cutman, Johnny Sullo, was able to stop the bleeding temporarily, but Brown soon had the cut opened again in the next round.
The first three rounds were the champion's as he countered Paolo's wild, lunging left hooks to the body and head. Brown scored repeatedly with jolting right uppercuts to the jaw and stiff jabs after Paolo missed. Sullo's excellent work kept Paolo out of eye trouble for awhile and he began to take the offense strongly.
In the 4th round, Brown appeared to slow down somewhat and Paolo pressed forward strongly, landing several good hooks on Brown's chin and banging long overhand rights to the body. Brown more frequently went into clinches and did not return Paolo's fire. In the 5th, Paolo halted Brown in his tracks with a solid left-right combination to the body. In the 6th, Paolo blasted a hard right off Brown's jaw. Paolo continued his offense in the 7th, scoring well both to the body and head with his hooks and long rights to the body. He pressed forward so strongly that Brown was kept off balance, and was unable to use his effective counters. Paolo's sustained offense seemed on his way to beating the champion.
But at the start of the 8th, the fight changed its pattern immediately. Brown banged a hard right to Paolo's left eye and a deep cut appeared. The blood began to flow down the side of Paolo's face and head. Paolo fought back gamely, but his vision was impaired. It was then – at the end of the 8th – that Reynolds halted the fight on advice of the two physicians. After the fight, Paolo had to have eight stitches over his left eye. Joseph (Jocko) Miller, the District of Columbia boxing commission chairman, said Paolo automatically would be suspended for 90 days to allow his cuts to heal. [4]
Despite his disappointing loss to Joe Brown, Paolo retained his number 3 spot in The Ring world ratings. In The Ring's November 1959 world ratings, Paolo was elevated from 3rd to 2nd behind number 1 rated Carlos Ortiz with the removal of number 2 rated Kenny Lane to the welterweight world ratings.
Paolo returned to the ring on November 17, 1959 and beat former victim Johnny Gonsalves by unanimous decision at the Memorial Auditorium in Oakland, CA.  Paolo was the aggressor throughout as he upped his record to 32-5-1, 13 kayoes. Gonsalves was knocked down in the second round. After the fight Gonsalves said "He is the best puncher I ever met." Even though Paolo won convincingly he was again plagued by his vulnerable eyebrows. Despite several surgeries to replace some of his tender tissue he bled profusely before the bout ended. The decisive point of the fight came in the second round when Paolo dropped Gonsalves with a stinging right flush on the jaw. Gonsalves managed to survive the round as Paolo bore in eagerly but inaccurately in hopes of a quick ending. Gonsalves almost went down again in the 8th when Paolo caught him with a long right to the chin, but managed to stay upright with the aid of the ropes at his back. Gonsalves adopted a hit and run style, and although landing several sharp uppercuts in the final two rounds couldn't make up the points deficit. Paolo was given a 96-94 edge by Referee Jack Downey; Judge Matt Zidich gave the same margin; while Judge Eddie James scored it 98-94.
Three months later, on February 9, 1960, Paolo returned to the Bay area to take on Oakland veteran Art Ramponi (24-13-1). He had little trouble disposing of Ramponi in the 3rd round at the Memorial Auditorium in Sacramento, CA before a near capacity crowd of 3,771. The beginning of the end for the outclassed Ramponi came in the 2nd round when Paolo connected with several good shots that had Ramponi in real trouble against the ropes. Early in the 3rd, Paolo renewed his attack with a barrage of hooks which buckled Ramponi's knees. Another left hook put Ramponi down for the count at 1:52 of the stanza.
In the March 1960 issue of The Ring, Paolo was elevated to number 1 over the inactive Carlos Ortiz who slipped to number 2. However, in the April issue of The Ring, Carlos Ortiz's impressive knockout of undefeated knockout artist Raymundo (Battling) Torres lifted Ortiz back into first position as the leading contender with Paolo exchanging posts with him, in second position.
On May 18, 1960, Paolo took on Chicago's Eddie Perkins (17-7-0) at Chicago Stadium in a nationally televised bout. The unranked Perkins outboxed and outpunched Paolo to score an upset unanimous 10 round decision. The 23-year-old Perkins switched his blows from the head to the body and back again as he kept the more experienced and slower Paolo off balance. Perkins tagged Paolo with three rapid-fire left hooks in the first round to open a cut over Paolo's left eye. Paolo had his eye patched during the rest period. The bleeding stopped, but the patching didn't help Paolo cope with the younger Perkins's rushing style. There were no knockdowns and neither fighter was hurt. But Perkins had things in hand from the beginning. Two long left hooks sent Paolo back on his heels in the 6th round and again in the 9th. Perkins won a 48-42 vote from Referee Joey White, a 48-44 edge from Judge John Bray and a 50-44 call from Judge Harold Marovitz. The victory vaulted Perkins into the lightweight rankings and dropped Paolo to the 6th spot. It also ended Paolo's hopes for a return match with lightweight champion Joe Brown.
A month later, on June 28, 1960, Paolo was back in the Bay area to take on Sacramento's Joey Lopes at the Memorial Auditorium in Sacramento. Paolo and Lopes had met four years before in New York with Paolo winning a unanimous decision. This time they fought to a bloody draw in a sizzling fight. Referee Pete Morelli called the fight 96-96; Judge Mario Deccini called it 97-93 for Paolo; Judge Fred Battaro had it 97-96 for Lopes. The United Press International scored it 97-94 for Paolo. Lopes scored the only knockdown when he and Paolo scored simultaneous left jabs in the 2nd round and Paolo went down on the seat of his pants. He bounced up immediately, but had to take the mandatory eight count. Paolo was bleeding slightly from both brows at the end of the fight. Lopes was bleeding from cuts around his left eye and mouth. Consequently, the draw caused Paolo to drop from 6th to 8th in The Ring world ratings.
On November 1, 1960, Paolo and Joey Lopes met in a rubber match at the Memorial Auditorium in Sacramento. Lopes was able to even the score by stopping Paolo on cuts in the sixth-round. The fight was not lopsided, although Paolo was down or nearly down in three rounds. The fight was a slugfest in which both fighters practically forgot to box. In the 1st round a Lopes left hook sent Paolo staggering backwards. He landed on the seat of his pants, but Referee Pete Morelli ruled it was not a knockdown. Lopes floored Paolo with a chopping right for an eight count in the 2nd round and opened a small cut over his left eye. Again in the 3rd round a Lopes left hook staggered Paolo and he put his glove on the canvas to keep from falling. This was not ruled a knockdown either. In the 6th round Paolo staggered Lopes with a roundhouse right to the ribs. Lopes recovered and late in the round swung a left hook that opened a gash under the right eye. Referee Morelli stopped the bout at the 2:57 mark. The loss dropped Paolo from The Ring's world ratings. Moreover, according to most ring experts his career had come to an end.
Not ready to call it a career, Paolo returned to the win column on February 13, 1961 with a unanimous decision over spoiler Tommy Tibbs (55-54-3) at the St. Nicholas Arena. This was Paolo's first bout in New York in three years. Paolo outboxed Tibbs in an exciting fight. Although six years older than his 26-year-old rival, Paolo demonstrated surprising stamina and a heavy punch with both hands. He used accurate jabs to set up Tibbs for many good blows to the jaw and ribs. He stunned Tibbs briefly in the 5th round. In the 7th Paolo suffered a slight cut over his right eye. He complained to Referee Mark Conn that Tibbs had thumbed him. In the 8th and 9th Tibbs tried to worsen the cut without success. Judge Jack Gordon voted for Paolo 5-4-1; Judge Nick Gamboli scored it 7-2-1; Referee Mark Conn gave Paolo 9 of the 10 rounds.
Madison Square Garden matchmaker Teddy Brenner was looking for a stepping stone for lightweight contender Len Matthews (31-5-2) and approached Paolo's manager Cy Cresci about his availability.  Most of the experts at that time felt that Paolo was no longer a prime time fighter. But Paolo, his manager Cy Cresci and trainer Chick Vitti still felt that he was good enough to compete with the best in the division. So they unhesitatingly accepted the nationally televised fight against the 4th ranked Matthews. The bout took place at Madison Square Garden on May 27, 1961. Paolo, at age 33, gave away eleven years to the 22-year-old Philadelphian who entered the fight the decided favorite at 13 to 5. Paolo surprised everyone by handing Matthews a first-class boxing lesson in winning a lop-sided unanimous decision. All three officials, Referee Jimmy Devlin and Judges Johnny Dran and Nick Gamboli voted all ten rounds to Paolo.
Because of his youth and high ranking, Matthews seemed a logical choice before ring time. Matthews started the fight in impressive fashion when he landed a left hook off Paolo's jaw that sent him reeling. Paolo almost hit the canvas, but his gloved fist on the floor saved him. Paolo quickly regained his balance and it was not ruled a knockdown. But before the round was over Paolo cut loose with blows that had Matthews standing on unsteady legs. From then on, Matthews absorbed a storm of punches. Paolo's best punch was a right uppercut which he landed at will throughout the fight. Paolo was cut over and under his left eye, and over his right eye. He also suffered a bloody nose. Matthews, who absorbed terrible punishment throughout the bout, began to bleed inside his mouth in the first round. Paolo's early fast pace caught up to him in the later rounds. He looked at the clock frequently in the final three rounds. After the fight, the NY State Athletic Commission said that Matthews had been suspended for thirty days because of the severe battering around the head that he received. [5] Paolo regained a place among the lightweight elite, being listed 9th in the August 1961 issue of The Ring.
Riding high over his performance against Matthews, Paolo accepted a nationally televised fight in Buffalo, NY on July 7, 1961 against Jackie Donnelly of Buffalo, NY for the vacant New York State lightweight championship. Before a crowd of 6,500, Donnelly used in-and-out tactics to win an upset majority decision over Paolo. There were no knockdowns although each fighter was shaken several times. Paolo suffered a gash at the corner of his left eye in the 2nd round. Donnelly suffered a cut over his left eye in the 7th and it bled more freely in the closing round. Donnelly forced the fighting in most of the rounds. However, Paolo's body shots tired his younger opponent after the 7th round.  Paolo was effective in the last three rounds with his left hooks and right uppercuts. On a rounds basis, Referee Mark Conn and Judge Dick Fay favored Donnelly, 6-4. Judge Lou Goldstein called the fight even, 5-5. The UPI had Paolo ahead, 5-4-1. Donnelly entered The Ring ratings at 9 while Paolo went down one peg to 10. A month later a favorable mix-up in the hierarchy upped Donnelly to 8 and Paolo to 9.
The Rosi and Donnelly camps agreed to a rematch in neutral Boston on September 23, 1961. Paolo felt that he did enough in their first fight to win the decision and planned to start much faster than he had in Buffalo. Starting fast was an understatement. Paolo needed less than two rounds to exact revenge, knocking Donnelly out in the second round. The first round was uneventful and gave little indication of the fireworks forthcoming in the second round. The 2nd round opened with a fierce flurry of infighting. Paolo was cut over the left eye when Donnelly landed a vicious right-hand. Midway through the round Donnelly was badly cut over his right eye. He began to swing wildly and Paolo moved in and hit Donnelly, first with a right cross, then with a jarring left hook that sent him plunging to the canvas. Donnelly struggled to his hands and knees, his mid-section only four inches above the canvas, at the count of 7, bleeding freely from the right eye. He slumped against the ropes as the count reached 10. Referee Joe Zapustas held Donnelly back after the knockout. Donnelly did not know the fight was over and struggled to his feet as if to attack his opponent after the count. Paolo advanced from 9th to 8th in The Ring ratings.
Weeks after beating Donnelly in their return match, Madison Square Garden matchmaker Teddy Brenner signed Paolo to fight top rated lightweight contender Carlos Ortiz (34-4-0-1) in a ten round elimination fight at Madison Square Garden. Brenner stated that he had the word of world lightweight champion Joe Brown that he would meet the winner in a title bout in March or April of 1962.
Ortiz entered their November 18, 1961 bout a 9-5 favorite. Carlos survived a 2-count knockdown in the 9th round to score a unanimous decision over Paolo. Ortiz made excellent use of his fast counter-punching and superior boxing ability. Both Referee Ruby Goldstein and Judge Frank Forbes scored the fight 6-3-1 for Ortiz. The other Judge favored Ortiz, 6-4. The NY Times scored five rounds for each.
Ortiz held command through the first four rounds countering Paolo's wild misses. Paolo drew first blood when he opened a cut on Ortiz' left eyelid. In the 5th, Paolo began to turn the fight his way. He forced Ortiz to retreat constantly and landed several right-handed leads. Ortiz' left eyelid bled again from Paolo's furious onslaught. Paolo continued to press the action through the next four rounds. He seemed stronger in the infighting, although Ortiz was the faster puncher. In the 6th, Paolo cut the right eyelid of Ortiz. But the quick corner work of Charlie Goldman stopped the cuts from hampering Ortiz. In the 7th, two rights and a hook by Paolo opened the left eyelid of Ortiz again. Paolo had taken the crisp, quick punches of Ortiz without visible damage. In the 8th, Paolo began to hit with more authority. A hook by Paolo flush to the chin shook Ortiz so that he grabbed the ropes to keep from falling. But it was Paolo's smashing blows in the 9th that almost brought him victory. Ortiz got across two hooks and a right, but Paolo countered with a sizzling left hook to the chin. Ortiz went down to a sitting position, shook his head quickly and rose at the count of 2. The mandatory 8 count helped Carlos. Paolo tore into his foe, but Ortiz fought back with a barrage of his own. In the fast exchange of punches, Paolo came out of a clinch bleeding from both eyebrows. Ortiz, the sharper marksman, scored with straight rights to the head and hooks and rights to the body as Paolo moved forward. Paolo apparently had fought himself out in the 9th round. Ortiz, boxing carefully, took the 10th easily. Paolo tried desperately to stay away from the clinches of Ortiz and fight at long range, but Ortiz beat him with short, snappy blows inside. The decision for Ortiz brought many boos from the crowd, but a poll of ringside writers revealed nine favored Ortiz, four favored Paolo and three saw the bout even. [6] Ortiz' victory earned him a title fight with Joe Brown, while Paolo retained his 8th world rating.
Next up for Paolo was a cross-road fight against 26-year-old Manuel Alvarez (68-8-17) of Argentina who was making his U.S. debut. Paolo was now rated 7th due to Kenny Lane's upset loss to Rip Randall. There was a lot on the line for both fighters. Alvarez' incentive was he needed to win in order to remain in the U.S. and get big-money assignments. As for Paolo, a MSG spokesman declared, "He will be set way back in his efforts to obtain another crack at the lightweight title if he fails against the Argentine."
The Rosi-Alvarez fight took place at Madison Square Garden on March 3, 1962 and was televised nationally. Although Paolo did plenty of missing, he managed to score often enough to win a unanimous decision. The stocky Alvarez was fairly agile, both of foot and of hand, but too defensive minded and too light a puncher. He spent most of his time back-tracking and trying to avoid Paolo's lunging swings and rugged body punching. This, most likely, influenced the officials in Paolo's favor as he took fewer backward steps than Alvarez. When Alvarez elected to take the initiative, he scored with stiff left jabs to the face and two-fisted flurries to the body, but his aggressive outbursts were usually brief. Both fighters were cut over their eyes, and Paolo also suffered a bloody nose, but neither was in serious trouble at any time. All three officials scored the fight in Paolo's favor. Referee Jimmy Devlin, 7-3; Judge Bill Recht, 7-2-1; Judge Artie Aidala, 5-4-1.
Hoping to get a title shot at new lightweight champion Carlos Ortiz, Paolo took on the division's second rated contender Carlos Hernandez, 26-1-3 (15), on June 16, 1962. A prefight report in the NY Times stated, "Paolo Rosi, the Bronx lightweight whose eleven year professional career has been hampered by tender facial tissue, will be subjected to the heavy fists of Carlos Hernandez tonight. Rosi, 34 years old, and Hernandez of Venezuela, 22, will fight ten rounds or less in the Madison Square Garden ring. The South American, with advantages in age, height, reach and punching power was installed an 8 to 5 favorite to score his seventh successive victory."
Carlos Hernandez accomplished what 48 other ring rivals of Paolo had not been able to do in his eleven year career. Hernandez floored Paolo three times in the first round of their nationally televised fight at Madison Square Garden and scored a technical knockout at 2:11. The result surprised most of the fans who apparently had expected Paolo to win because of his superior experience. Hernandez quickly put his powerful right fist to work. Within seconds after the opening bell, Hernandez tested Paolo's crouching, bob-and-weave defense by landing three straight rights. All were high on the side of Paolo's head. A fourth, however, landed flush on Paolo's left temple. Paolo bounced to his knees, his hands holding his body off the ring floor. He got up at the count of 2 and took Referee Mark Conn's mandatory 8 count. But Paolo was in trouble. His eyes were glazed and his legs wobbly. Hernandez lost no time getting after him. This time, three rights in succession thudded solidly on Paolo's jaw. Again he sank to the lower strand of the ring ropes. Again Conn tolled off the automatic 8-count. And again Hernandez moved to close range. He caught Paolo in a corner, blasting away with both hands. Paolo sank lower and lower, his body coming to rest on the lower ring rope with his head almost between his knees. Hernandez rained punches off the side of his face and the top of his head. Paolo finally toppled off the rope to the canvas for the third knockdown and the end of the fight. Paolo said after the fight that Hernandez' first right came so fast he hadn't seen it. The loss marked the first time that Paolo had been bombed so unmercifully. However, he maintained his record of never haven't been actually counted out. [7]
The loss dropped Paolo to 10th in The Ring ratings. He was eventually removed from The Ring ratings in their October 1962 issue, for the ratings period ending August 20, 1962. Shortly after being dropped from The Ring ratings, Paolo retired from boxing to spend more quality time with his wife Barbara and their three children. His final ring ledger was 37-10-2, with 15 kayoes.
After boxing, Paolo moved to Stamford, CT and went to work at Kennedy Airport in Queens, NY where he worked in the commissary division.  He also spent his off-duty time working with Stamford's underprivileged children.
Paolo Rosi passed away 8 days shy of his 76th birthday on January 20, 2004. Sadly, his passing went generally unnoticed by the national boxing press. But, for those of us who were lucky enough to see him in action and follow his career, this plucky warrior will never be forgotten.
I wish to express my thanks to fellow IBRO members Ric Kilmer, Harry Shaffer, Clay Moyle and Miles Ugarkovich for providing me with several sources of research material and photos included herein. DC
---
[1] Eisenstadt, Fred, The Ring, July 1959
[2] New York Times, November 19, 1955
[3] Mullaney, Jerry, The Ring, August 1957, page 43
[4] McGowen, Dean, New York Times, June 4, 1959
[5] McGowen, Dean, New York Times, June 28, 1961
[6] McGowen, Dean, New York Times, November 19, 1961
[7] McGowen, Dean, New York Times, June 17, 1962