Ring 4 Boxing Hall of Fame Honorees
by Robert  Ecksel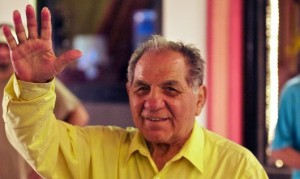 Over the decades, Ring 4 has kept the flame alive while fulfilling its mission to assist former boxers who have fallen on hard times…
"Boxing is a tight-knit fraternity. Everybody knows everybody. But a line in the resin will forever be drawn separating those who step into the square ring and those who DON'T. Many, many people make money on a fight, but when the bell sounds, only two people answer it."-Randy Smith, February 2003, Journal
Ring 4 was incorporated in 1947 and is the only boxing organization in Massachusetts. Over the decades, Ring 4 has kept the flame alive while fulfilling its mission to assist former boxers who have fallen on hard times. Ring 8 and Ring 10 in New York are similar organizations.
On Sunday, April 7, 2013, Ring 4 will induct the following into its Hall of Fame at the Annual Awards Banquet:
Dan Cuoco: Longstanding Executive Director of the International Boxing Research Organization (IBRO)
Ted Sares: Boxing writer who last year was awarded the Humanitarian Award by Ring 4.
Peter Welch: Former amateur boxer and owner and operator of the Peter Welch Gym in South Boston.
Dave Foley: 1968 New England Golden Glove Champion  and recipient of the Rocky Marciano Trophy.
Also, Eddie Fitzgerald, former amateur boxer and professional referee, will be installed as a Lifetime Honorary Member of Ring 4.
The Annual Award Banquet takes place at Florian Hall, located at 55 Hallet Street in Dorchester, MA. Doors open at 2:00 PM, followed by a one-hour Social Hour, when the Tribute to America and Final Count will be rendered.
Members of the Hall of Fame include Tony DeMarco, Joe DeNucci, the late Tommy McNeeley, Joey DeGrandis, Dr. Wilbert "Skeeter" McClure, Bob Benoit, Dick Flaherty, Danny Long, Jimmy Connors, and many other Boston area boxing luminaries.
Tickets must be purchased prior to April 3, 2013. Admission is $ 60.00 per ticket. Please call (617) 838-0055 for further information.
http://www.boxing.com/ring_4_hall_of_fame_honorees.html