Joey: An Extraordinary Life & A Dream Fulfilled
By Scott Russell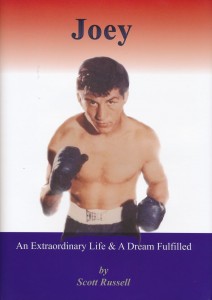 BOOK Description
In Joey, Scott Russell has captured the mood and the feel of an America long past. It's a world so gritty that you can almost feel the blows emotional and physical – that pummel the hero on virtually every page.
Make no mistake, this is not Rocky VII. These are not cartoon characters that conform to the timeworn clichés of a sport currently on life support.
This is an evocative story of a man who fought for everything he got, an everyman who survived the only way he knew how, with his fists. It is a story that doesn't end neatly, with a penultimate knockout in the ring. Lives are seldom that simple. They extend well beyond our fields of glory.
This is a story of a man who could have been broken by life, but wasn't. Strange then that it is also a love story – and a damn good one.
Jim Prime
15 Rounds of Fury a lifetime of honor
"Scott Russell has written an outstanding book about an unlikely American Hero."
—- Peter Golenbock
"This book is a celebration of a life, a very special life. What a ride and what a memory. Brother, it's your story."
— Bob Tilelli
" A true boxing champion at a time when there was only one."
— The Family
The true story of former Middleweight Champion of the World Joey Giardello. Over 100 rare photos included. Free shipping.
ISBN 978-0-578-11533-7         $24.95
This book can purchased by check or money order to:
Scott Russell – 47 Raymond Hall Dr. – North Attleboro, MA, 02760
We accept all major credit cards using PayPal
WE ACCEPT ALL MAJOR CREDIT CARDS using PAY PALWe