Tony DeMarco
NARDO: Memoirs of a Boxing Champion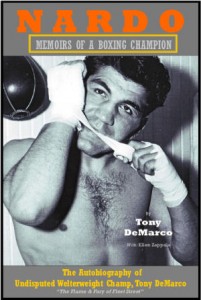 Nardo is the story of an Italian kid from Boston's North End, and his rise through the boxing ranks to eventually become World Champ during the Golden Era of boxing.
Written in his own words, Tony DeMarco shares his life story with honesty and humor. He touches upon the triumphs and tragedies that shaped him as an individual, giving you a glimpse into the life of one of Boston's most beloved sports figures.
From his humble beginning in the streets of the famous North End, to his amateur days and professional career as a world class boxer, to his days as a nightclub owner in Arizona and finally through some personal family issues, Tony's life took a series of twists and turns. Ultimately he won the battles and, to this day, is an icon in not only Boston, but in the boxing world.
Along with his life story, Tony has chosen to share many photos from his personal archive, giving you a true snapshot into the life and times of Tony DeMarco, Welterweight Champion of the World.
"The Book is a knockout. Both Tony and Rocky had so much in common-especially heart"
– Peter Marciano, brother of former undefeated heavyweight champ, Rocky Marciano
"Tony DeMarco inspired me to become a professional boxer.I tried to emulate this great fighter in every way possible.This book is a great read, and people will see more than just the boxer. They will see a man of integrity and courage."
– Joe DeNucci, Former Middleweight Contender, Former State Auditor, Commonwealth of Massachusetts
ORDER YOUR COPY TODAY!
Order your first edition copy of NARDO: MEMOIRS OF A BOXING CHAMPION for $20.00 plus $1.50 shipping.
Your first edition copy will be personally signed by Tony himself, just tell us when you place your order!
This book can be purchased online at: http://tkotony.com/order.html
Or send a check for $20.00 plus $1.50 shipping to:
ATS COMMUNICATIONS
PO BOX 111
MERRIMAC, MA. 01860