Martin Flaherty
By Timmy Marcos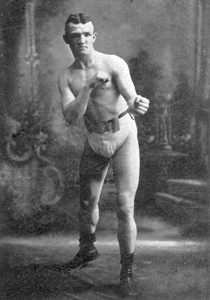 Martin Flaherty was born on February 4, 1873 in Lowell, MA to Mary and Tom Flaherty. According to boxing historian Christine Lewis, "As a young boy his mother bought him weights and a punching bag as a way to encourage good health and growth. By age ten he was considered a fighting savant."
With little formal education he was forced to work in the Lowell mills as a back boy and mule spinner. The only option open to him to make big money outside of working in the mills was professional boxing.
He turned professional six days before his 16th birthday in Boston, MA on January 29, 1889, winning a six round points decision over Clive Dixon. Flaherty ran his unbeaten string to six when he stopped Link Pope in the 26th round in Leonore, Illinois for the American 110 pound title. Pope retired in the 26th round. He lost his first fight on April 20, 1891 in Chicago, Illinois to future Hall of Fame great and reigning world featherweight champion George Dixon. Dixon was ahead in the fight when the Police stopped the fight at the end of the sixth round.
He bounced right back with a 60 round draw against Abe Lloyd in Streator, Illinois, winning an 8 round decision over Billy Leedan in Brooklyn, NY, knocking out Robert Burns in 32 rounds in Providence, RI, winning by disqualification over Robert Burns in a return fight in Providence, RI, fought a 4 round draw with the Kentucky Rosebud in Worcester, MA. In his 32 round knockout victory over Robert Burns on February 20, 1893, Burns was down once in the 5th round, twice in the 13th, four times in the 32th. Flaherty was down once in the 12th round, twice in the 13th. According to boxing historian Christine Lewis, "The first written reference to the phrase 'Saved by the Bell' was first used to describe the earlier rounds of Martin's knockout victory."
Flaherty's rapid rise was slowed in his next two fights when he dropped a 6 round decision to Billy Joh (or Joe) in Manhatten, NY on December 29, 1894 and a TKO 5 loss to Young Starlight in Boston, MA on January 21, 1895. In the stoppage loss, Flaherty sustained two broken bones in his left hand and wanted to continued, but the referee awarded the fight to Starlight.
Flaherty returned to action on April 12, 1895 with draws against Jerry Sullivan in Nashua, NH and Patrick Hennessey in Lowell, MA and a win by disqualification against Joe Mullins in New London, CT.
On January 31, 1896, Flaherty lost a controversial 6 round points loss to Danny McBride at the New Manhattan, A.C. in New York. The Brooklyn Daily Eagle reported, "J.J. Frawley, the new referee of the club, showed himself to be so clearly incompetent he was loudly booed and hissed by the spectators. Flaherty had carried the fight, cut McBride's right eye open and almost had him out at the final gong. The Judges disagreed and a draw was the best expected. Frawley declared McBride had won. Flaherty sobbed in his corner while the crowd booed vociferously."
Flaherty returned to the ring 4 days later and fought a 4 round draw with Joe Mullen in Boston before beating Danny McBride in their rematch in New York on February 22, 1896.
On March 5, 1896, Flaherty fought a 12 round draw with Spike Sullivan. Flaherty was much better, but it was agreed beforehand that it would be called a draw if both fighters were on their feet at the final bell.
Flaherty continued his winning streak from February 4, 1896 until February 20, 1897 with draws against Jack Skelly, Johnny Gorman (twice), George Dixon, Jack Downey, Larry Burns, Joe Mullins, and victories over Al Beliveau (W TKO 5), Jack Foley (W TKO 6) and Frank Erne (W Points 20).
On March 17, 1897, Flaherty travelled to Carson City, NV to take on hard-punching Dal Hawkins in a highly anticipated fight between two of the country's top featherweights. Flaherty suffered a shocking first round knockout loss. The Indianapolis Sun reported, "As soon as time was called, Hawkins began mixing things up and went at his man viciously. He swung his left hard on Flaherty's jaw and the latter countered on the body. They clinched and after the breakaway Hawkins landed a right swing on Flaherty's jaw and followed the same instantly with a left swing on the same spot. Flaherty fell over backwards and was counted out. His seconds carried him from the ring."
Flaherty returned to action two months later and finished 1897 by going 3-2-1. He beat tough George Siddons and Danny McBride, while losing on points in 25 rounds to crafty Solly Smith and a surprise loss by disqualification to Larry Burns.
In 1898, Flaherty went 4-1-2. He beat Larry Barnes twice (W KO 18 and W PTS 20) and George Siddons (W PTS 15), fought draws with Billy O'Donnell and George "Elbows" McFarland and lost a 6 round newspaper decision to Jimmy Dunn.
Flaherty had a mixed 1899, he defeated Danny McBride, Larry Burns, Charley Miner, and Tommy Hogan, fought draws with Oscar Gardner (twice), Billy Gardner and Jack Downey, lost on points to New York Jack O'Brien, and suffered back-to-back stoppage losses to Tim Kearns (L TKO 2) and Spike Sullivan (L KO 20). The stoppage loss to Tim Kearns was a question of whether the blow ending the fight was fair or foul. The KO loss to Spike Sullivan, which took place on December 21, 1899, occurred 20 seconds before the final bell in round 20.
A month after the Sullivan fight, Flaherty fought a 25 round draw with Dal Hawkins on January 25, 1900 in Hartford, CT. On March 19, 1900, Flaherty fought Danny McBride for the fifth time losing by 1st round disqualification for not breaking clean. Flaherty offered to finish the match with the winner to take the entire purse, but McBride declined. Flaherty followed with a 20 round draw with Jack Hamilton and a 12 round no contest with Oscar Gardner.
On April 1, 1901, Flaherty was stopped in 4 rounds by future hall-of-famer and all-time great Joe Gans at Ford's Theatre in Baltimore, MD. Flaherty was dropped twice in the 4th round before referee George Mantz stopped the fight. A month later Flaherty was stopped in 3 rounds by George "Elbows" McFadden in Waterbury, CT.
Despite the two stoppage losses to Gans and McFadden, Flaherty remained competitive throughout the remainder of his career with 5 wins, 2 losses, 10 draws and 1 no contest.
Flaherty ended his career in 1909 with 80 bouts. He won 29, lost 17, drew 32 and 2 non decisions. He scored 13 knockouts and was stopped 7 times.
In 1898, Flaherty married Anna Chenevert. Anna and Martin had six sons: Olney born in 1900, James born in 1902, Martin R. born in 1903, Doug born in 1905, Frank born in 1909 and Fred born in 1912.
According to boxing historian Christine Lewis, "Near the end of his career, Flaherty established a boxing and health farm, called the Wamesit Health Farm, located just off Rogers Street in Tewksbury, MA. Flaherty bought 33 acres in the Wamesit area of Tewksbury and established the health farm with his wife, Anna. It offered boxing, golf, archery and equestrian sports, complete with masseuse and steam room. "Flaherty used his reputation as a prizefighter to create what was a cutting-edge health farm in Tewksbury. This wasn't your usual health farm — it was a high-end health farm. And it was the destination for a lot of famous people — boxers and visitors who came to watch boxers sparring."
Christine Lewis added, "Legendary prizefighters like Jack Dempsey, Gene Tunney and Jack Sharkey frequented the health farm, and Flaherty used his connections to bring it the forefront of the national boxing arena. Boxers were celebrities back then, and there was something very Hollywood about them."
Although it's not known when the farm started, it operated until about 1939. "The farmhouse still stands in a rural area of Tewksbury, and is today a well-kept private residence," said David Marcus, president of the Tewksbury Historical Society.
I want to personally thank Christine Lewis for providing me with the material from her extensive research on Martin Flaherty and the Flaherty Wamesit Health Farm. Without her generous help this article wouldn't have been possible. TM
Sources
Christine Lewis, Boxers in Our Back Yard
Lowell Sun
Boston Globe
Brooklyn Daily Eagle
Providence News
Indianapolis Sun
BBBC Boxing Yearbook 2003
[Timmy Marcos, is 14-years-old and a freshman at Tewksbury Memorial High School in Tewksbury, MA. Timmy joined the IBRO in December 2011. This is his first research article on a boxing figure.]