PRESS RELEASE
FRIDAY NIGHT WORLD: A Tribute to Fighters of the 1950s
by Roger Zotti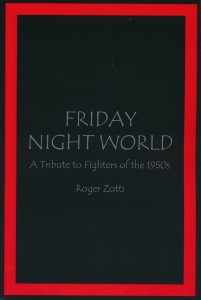 Written by IBRO member Roger Zotti, Friday Night World: A Tribute to Fighters of the 1950s (Xlibris) is now available.
A tribute to the author's favorite prizefighters of the 1950s (Jake LaMotta, Rocky Castellani, Walter Cartier, Wes Bascom, and others), the book is also a memoir of sorts about growing up in New Haven during the nineteen-fifties.  The reader will also be treated to reviews of books about boxing by Joyce Carol Oates, George Plimpton, Richard Kaletsky, Budd Schulberg, Ernest Hemingway, and others, as well as to personal essays about the sweet science.
A regular contributor to the IBRO Journal, the author resides in Preston CT with his wife and a creative dog. He enjoys reading, hockey, dogs, music, movies, WNBA basketball, and of course, boxing.
Signed or inscribed copies are $10.95 (additional shipping charges outside the continental US). Please contact the author at rogerzotti@aol.com
The book is also available at www.Amazon.com.
Paperback: 130 pages.