PRESS RELEASE
Steve Canton's
Tributes, Memories & Observations
of the
Sweet Science
Foreword by Al Bernstein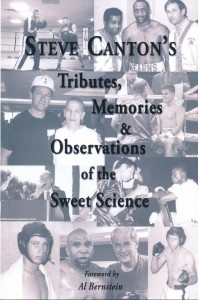 A collection of wonderful articles intricately woven, remembering and detailing many of the long forgotten gladiators of the ring, and how their lives and careers have impacted so many people in and out of the sport. Several heroic stories are eloquently brought to life as they are paid tribute for their contributions to society. There are also stories which have been embedded in the author's memory and shared here with you So sit back, relax and enjoy.
The book includes a Foreword by Al Bernstein, IBHOF Inductee and testimonials by Harold Lederman, HBO Sports; Dan Cuoco, Director, International Boxing Research Organization (IBRO); Bob Alexander, Boxing Hall of Fame announcer; and, Roy Jones Jr., All-time great boxing world champion.
ABOUT THE AUTHOR:
Steve Canton has been involved in every aspect of boxing beginning as a boxer at age 11. He has traveled the world, thanks to the sweet science, and has made friends everywhere he's gone. He co-hosted a popular radio talk show for many years, wrote a monthly Florida column for Flash/Update and has had numerous articles published in many top trade magazines and major web sites. He is a member of the International Boxing Research Organization (IBRO). Steve is a world-class cutman and trainer and was inducted into the inaugural class of the Florida Boxing Hall of Fame in 2009 as a trainer, and now serves as its vice-president.
TO ORDER THE BOOK ONLINE JUST CLICK THE LINK BELOW:
Steve Canton's Tributes, Memories & Observations of the Sweet Science
This book is 370 pages and features 550 great photographs.