A MAJOR CONTRIBUTION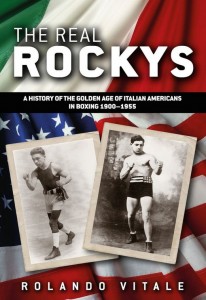 A REVIEW OF ROLANDO VITALE'S THE REAL ROCKYS: A HISTORY OF THE GOLDEN AGE OF ITALIAN AMERICANS IN BOXING 1900 -1955
By Roger Zotti
1
With a real genius for Italian history and Italian American fighters, Rolando Vitale's erudite and thoughtful book, The Real Rockys: A History of the Golden Age of Italian Americans in Boxing 1900-1955 (RV Publishing), is aimed at followers of what A.J. Liebling called "the milling art" and readers who appreciate clear, informative writing.  As evidenced in the book's nine chapters and 21 inclusive appendices, Vitale's research is extensive.
"I fell in love with the sport from the moment I sat beside my father to watch my first televised boxing match [between Muhammad Ali and Joe Frazier]," Vitale writes. "Since then I have been spellbound by the compelling unpredictability of outcome and by the boxer's level of sacrifice and professionalism, seldom matched by other competing disciplines."
Vitale adds that he "felt an enormous responsibility to bring together the forgotten age of the Italian American boxing experience. I have included biographies of all 51 champions and recognized title claimants, as well as listing the hundreds of boxers of elite standing who belonged to a cohort of thousands who reached for the stars" during the golden years."
2
That "many Italian Americans fighters [changed] their names"   is the issue Vitale addresses in chapter 3. Several reasons were the "discrimination, prejudice, and hostility" they encountered; another was "the irritating and disrespectful practice of mispronounced and misspelt family names." Always balanced and fair-minded, Vitale notes that bigotry was "not solely experienced by the Italian cohort," and "the practice of assumed names was not exclusively reserved for the Italian or restricted to boxing. The Italian followed an earlier trend with both the Jewish and German cohorts embracing Irish and anglicized ring tags."
In Appendix V, "Italian American World Champions and Title Claimants 1900-55," one of fifty-one boxers covered who changed his name is Hugo Kelly. Born in the Village of Vitiana, a province of Lucca, Italy, his birth name was Ugo Geno Micheli. The world middleweight claimant from 1905-07 and again in 1910, Kelly defeated many of the best fighters of his time, warriors such as Philadelphia Jack O'Brien, Billy Papke (conqueror of Stanley Ketchel), Young Mahoney, and Frank Klaus.
Kelly faced the feared Ketchel in 1908 for the undisputed middleweight championship. Vitale writes that Kelly became overconfident and was stopped in the third round. Then in 1910-after Ketchel was murdered-an elimination series to determine his successor was announced. Kelly's victory over Klaus, and several other noteworthy foes, enabled him "to claim the world title again." That same year, after several impressive victories, he "lost his middleweight title claim to Jack Dillon when he was dispatched in three rounds….That was the end of Hugo Kelly as a main attraction."
And how good was Kelly? Vitale quotes the Chicago Tribune's 1909 description of him as "the cleverest middleweight in the world, feline in movements, knows every turn in the road."
There's Luigi Buccassi who campaigned as Lou Bogash. Familiar to boxing fans in the East, he should be better known elsewhere because he was one of the best welterweights and middleweights of his time. He was so good, Vitale writes, that "all the American middleweights dodged [him,] and those that did pluck up the courage were beaten." He would've been welterweight champion in 1920, but a "controversial draw" with Jack Britton-the fight took place in Bogash's hometown of Bridgeport, CT, at the State Street Arena-"helped champion Britton maintain his grip on the championship belt."  Wisely, Britton refused to fight Bogash a second time.
A highlight of Bogash's career was his 1923 loss to fabled middleweight champion Harry Greb. Held in Newark, New Jersey, it was a non-title fight and "recorded as a newspaper win for Greb, [but] esteemed boxing writer George Underwood confirmed that Greb took a bad beating and was jeered by fans for not coping well with Bogash's style," a style Vitale describes as "a tornado of rapid punches."
Name changing "threw up a number of wonderful curiosities." Consider Johnny Dundee (Giuseppe Carrara), world lightweight champion (1921-23) and world featherweight champion (1923). Because of his popularity during the 1920s, he "spawned a generation of Italian boxers parading the Dundee moniker as their own….Dundee's impact inside a boxing ring neutralized any negative associations connected to the use of an Irish or Americanized name. It ironically helped make the Dundee fighting name into a recognizable Italian American boxing brand." (Nat Fleischer, Ring magazine's founder and editor-in-chief, ranked Dundee as the fourth best all-time featherweight.)
(Many years later Rocky Marciano would change his name. Because his surname Marchegiano "had been carved up repeatedly in the local and national press," his manager Al Weill suggested he change it to Rocky March. Proud of his Italian heritage, Rocky refused. Enter Rhode Island promoter Manny Almeida who eliminated the letters H, E, and G from Rocky's last name. "'I guess if it's got to be done, Marciano will be all right,' Rocky is quoted as saying. 'It's Italian all right. It's almost my real name….How do you think Pop's gonna feel?'")
The Italian fighters who changed their surnames didn't mean, Vitale writes, that "they lost sight of who they were." Rather, the changes were a way "to integrate into American society and embrace the host culture [but] did not mean that they traded in their core Italianate beliefs and values."
3
Interview
The Real Rockys is Rolando's Vitale's first book. He lives in Hertfordshire, England, and for over twenty years he has been a writer, researcher, and translator. He has written for the Boxing News and Agence France-Presse.
Why did your write The Real Rockys? Between 1985 and 1991 I worked as a sports writer for a weekly newspaper in London and through my work I met distinguished British figure Dennie Mancini. It was Dennie who first sowed the seed about writing a book on the Italian American boxing experience. He was a proud Anglo-Italian who belonged to a famous sporting family. Dennie didn't box but he became an established and respected trainer, cut man, agent, and international boxing matchmaker. It was Dennie who told me that no one had ever written a book about the Italian American contribution to boxing. Sure, there had been autobiographies and biographies of famous champions like Marciano, Graziano, LaMotta, and Pep, but aside from this very little else.
I quickly discovered that there was a dearth of information on the collective contribution and successes and a basic lack of understanding of the Italian American boxing experience. A gap in the marketplace presented an ideal opportunity to set the record straight.
Several sports encyclopedias briefly note an Italian American presence in boxing, but most texts gloss over this contribution. The only other book on this topic-entitled The Italian Stallions: Heroes of Boxing's Glory Days (2003)-delivers a narrative restricted to the period between 1943-1959 and is largely comprised of Sport Magazine articles.
Which two or three boxing writers have influenced you and why?
Over the years there have been some truly great boxing journalists across both sides of the pond. The first name that springs to mind is Harry Mullan, the former editor of the Boxing News who ran the paper during the 1980s and 1990s. Mullan was a respected boxing voice and someone I knew personally. He was fearless and always prepared to take on the sport's top brass. His incisive comments and accurate fight reports set an example for many aspiring journalists.
The other journalist was Hank Kaplan. At one time or other he worked as a boxing writer, magazine editor, and historian. I have never met a person with such an encyclopedic knowledge of the sport. I always liked the way Hank peppered his articles with facts and data made possible by his legendary meticulousness, dedication, and attention to detail.
What do you hope readers take from your book?
I hope they learn about the significant contribution made by Italian American boxers to American sports, and the unrivalled success in terms of the making of champions and contenders.
The Real Rockys is available at www.ypdbooks.com and www.amazon.co.uk. The Kindle version is available at www.amazon.com.
Roger Zotti is a regular contributor to the IBRO Journal. His book, Friday Night World: A Tribute to Fighters of the 1950s, is available at  amazon.com, or by contacting him at rogerzotti@aol.com.