BOOK ANNOUNCEMENT
Tony Zale The Man of Steel
by Ted Zale and Clay Moyle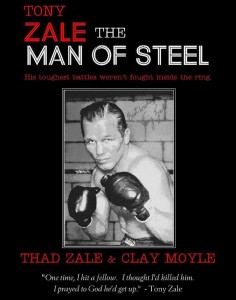 Authors TED ZALE and CLAY MOYLE have completed their collaboration on the story of the one and only Man of Steel from Gary, Indiana.  It features over 490 pages, 105,000 words,  and was four and a half years in the making.  The hard  cover book with the handsome dust jacket includes more than 400 photos, many of which are from Tony and his nephew Ted's personal collections and have never before seen by the public.  This long awaited biography about a young Polish steelworker who overcame his shyness to become a world boxing champion goes behind the scenes for a closer look at how difficult his life was outside the square circle. "Keep the kids off the street and in the ring" was Tony's message.
PRE-ORDERS are now being taken for a mid-December delivery, just in time for gift giving this Holiday season.  For pre-ordering and further information, please email: Deb Zale at ChampTonyZale@aol.com You will not be disappointed!
The price of $35 per book includes mailing within the continental United States.
Click on the "Purchase Now" tab.
Thank you to ALL our friends and family who have supported us in this labor of love over the years.  You gave us encouragement and belief in what Tony stood for and dedicated his life to; God, family, education and the children.  You kept us motivated to complete his life's story and we thank you so very, very much.
God Bless.
As the Champ would say,
Best Wishes and Success
Ted and Deb Zale
and Clay Moyle
Links to our website and Facebook Page are below.
http://www.tonyzale.org/
Facebook: https://www.facebook.com/pages/Tony-Zale-Two-Time-World-Middleweight-Boxing-Champion/181109398615796?ref=br_tf