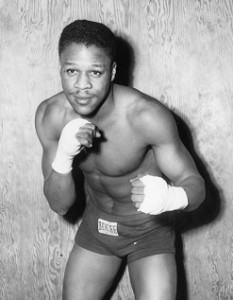 Former 1950s and 1960s middleweight contender Ellsworth (Spider) Webb passed away in Tulsa, Oklahoma on November 23, 2017 at the age of 86. Between November 1956 and February 1961 he was ranked as high as # 2 in the world by The Ring magazine. Webb was unsuccessful in his only bid for a world title when he lost a 15 round unanimous decision to N.B.A. champion Gene Fullmer in Logan, Utah on December 4, 1959. Spider was the quintessential boxer-puncher who engaged in many exciting fights in his forty fight professional career that began in 1953 and ended in 1961. He finished with a career record of 34-6-0 (KO 19/KO by 1).
Ellsworth Webb was born in Tulsa, Oklahoma on November 20, 1931, one of eleven children. His mother had to work hard to earn a living. The unsupervised Ellsworth got into a lot of street fights as a kid in Tulsa and later in LA where he went to live with his uncle before his mother later joined them. In LA he hung around with Donald Sanders the younger brother of Ed Sanders who later went on to win the 1952 Olympic heavyweight gold medal and tragically died on December 12, 1954 following injuries suffered in a kayo loss to Willie James.
Ed's younger brother talked Ellsworth into going to Compton Junior College with him. Ellsworth went there as a football player. After the football season Ed talked Ellsworth into going out for the boxing team. Ellsworth was a natural. During his two years at Compton he won NCAA junior titles in 1950 and 1951. Ellsworth received his nickname "Spider" at Compton when a student writer from the college paper saw him in action – all arms, swinging away madly and moving like a spider. After graduating from Compton, Ellsworth followed Ed to Idaho State where he won NCAA light middleweight titles in 1952 and 1953. In four years of college competition he went undefeated in 71 fights, winning 57 of his fights by knockout. Ellsworth was also a member of the great 1952 U.S. Olympic Team that won five gold medals at Helsinki. Unfortunately, he wasn't one of the winners. He had the misfortune of meeting Hungary's legendary Laslo Papp, the 1948 Olympic middleweight gold medalist who also went on to capture gold in the 1952 and 1956 Olympics. Papp, a hard-hitting southpaw, knocked out Webb in the second round.
After the Olympics Webb returned to Idaho State and repeated as NCAA champion in 1953. His college coach Milton (Dubby) Holt told him that he had the potential to be a topnotch professional fighter and introduced him to Hec Knowles, who had done an excellent job with two other NCAA champions, Chuck Davey and Chuck Speiser. Hec agreed with Holt's assessment of Ellsworth and put him under the tutelage of outstanding Chicago trainer Carl Nelson.
Webb turned professional on July 1, 1953 on the undercard of the Bob Satterfield-Bob Baker fight. He was billed by his nickname "Spider" and disposed of Johnny Williams of Chicago in two rounds. During his first eight months as a professional he engaged in 13 fights, winning 12, 10 by knockout, and losing 1 by controversial decision. His biggest victories were knockouts over Jimmy Martinez (twice), Jesse Fuentes and Bobby Boyd.
Shortly after the fight, Spider was drafted and spent the next two years in the army. He served 11 months in Germany with the 1st Division Combat Engineers and finished up in the states at Ft. Leonard Wood, Mo., and Ft. Lewis, Washington. At Ft. Lewis he was one of the Division's boxing coaches. The other was Charley Joseph, whom he would meet twice professionally two years later.
After his discharge in April 1956 he returned to the ring and quickly established himself as one of the top middleweights in the world with victories over Holly Mims, previously undefeated Rory Calhoun, Charlie Cotton and Pat McAteer. On February 15, 1957, Spider made his New York debut at Madison Square Garden with a lop sided decision over eighth ranked Neal Rivers. He followed this victory with an equally impressive win over Wilfie Greaves in Chicago. Both victories earned him "Fighter of the Month" honors by "The Ring." On April 17, 1957, Spider solidified his position as the number 3 contender in the world ratings after defeating Randy Sandy. Spider won a close decision to run his winning streak to 20. Two months later Spider traveled to New Orleans to take on his former Army buddy Charley Joseph of New Orleans. Joseph scored the most important victory of his career with a unanimous decision over Spider in one of the best fights seen in New Orleans in years. Although Spider lost, many at ringside, including The Ring Correspondent Ike Morales of New Orleans thought Spider deserved the decision. Five weeks later the rivals met in a return match in Chicago. Spider gained revenge winning a unanimous decision after another hard fought fight. He finished the year off with a first round knockout over Jackie LaBua and a ten round decision over Willie Vaughn.
Spider started 1958 off with a surprising fourth round technical knockout over old adversary Rory Calhoun, then ranked third in the world. The victory earned Spider Calhoun's third spot in the ratings. Spider split his next two fights, losing an upset decision to former victim Holly Mims and winning a ten round decision over Jimmy Beecham before embarking to London, England to take on Dick Tiger on June 24, 1958. Webb gave the capacity crowd a brilliant exhibition of boxing and ring generalship in winning a clear cut decision over the aggressive Tiger. Spider was just too cagey for Tiger at this stage of their careers.
Spider returned to New York and stopped Germany's tough Franz Szuzina in seven rounds. Six weeks later Spider took on former middleweight champion Gene Fullmer, the number two ranked middleweight in the world. A victory over Fullmer would have put Spider in position to challenge champion Sugar Ray Robinson for the title. The fight took place in Salt Lake City, Utah, less than 30 miles from Gene's hometown of West Jordan. Fullmer slammed away at the elusive Webb throughout the entire ten rounds and walked away with a unanimous decision. The doggedly determined Fullmer never gave the more stylish Webb a chance to get into any kind of rhythm. He did all the leading and most of the scoring and consistently outpunched Webb in almost every exchange.
The loss did not hurt Spider's standing among the elite middleweights. Ahead of him in the world ratings were former champions (all future hall-of-famers), Carmen Basilio (#1), Gene Fullmer (#2) and Joey Giardello (#3). Spider's next fight was with Joey Giardello. The fight figured to be a classic between two crafty boxer-punchers. Joey entered the ring in San Francisco on November 19, 1958 a 2-1 favorite. Webb surprised everyone by stopping Giardello in the seventh round. Webb gave a dazzling exhibition of crisp, two-fisted punching that, as early as the third round, had Giardello's face looking like a red balloon. Suffering from bad cuts over and under his left eye, Joey took one of the worst lickings of his career. It was a most impressive performance by the talented Webb.
Less than a month later Spider flew to London England and defeated future middleweight champion Terry Downes with a thrilling eighth round technical knockout victory in a fight many British scribes considered Britain's "Fight of the Year."
He returned to his home base of Chicago and began his 1959 campaign by stopping Bobby Boyd in the first round and Neal Rivers in the fourth round. The fight with Rivers took place on April 22, 1959 and Spider did not step in the ring again until December 22, 1959 when he met National Boxing Association (NBA) middleweight champion Gene Fullmer for the NBA title in Logan, Utah. Fullmer had won the NBA title on August 28, 1959 with a 14 round stoppage of former middleweight champion Carmen Basilio in San Francisco. The NBA had declared the title vacant because of Sugar Ray Robinson's idleness and his reluctance to defend the title against one of the three leading contenders. Robinson hadn't stepped in the ring since winning back the title from Carmen Basilio 19 months prior. To Fullmer's credit, shortly after winning the NBA version of the middleweight title he immediately signed to meet his outstanding challenger Spider Webb.
Beaten previously by Fullmer, Spider was determined that he would win the return match and the title. But Fullmer gave Webb little chance to fire his smooth combinations and no chance to catch his breath. He allowed Fullmer to bull him around and control the pace of the bout. Spider's superior skill was offset by the brawling kind of fight slugger Fullmer demanded and got. Although Spider snaked jabs through the champion's high guard and sliced open cuts over and under his right eye, never once did Webb display his vaunted kayo power. It was Fullmer who landed the heavier blows, staggering Webb time and time again to retain his title by unanimous decision. For Webb it was a bitter defeat.
In his first fight back since losing to Fullmer, Spider took on old rival Rory Calhoun in San Francisco on February 26, 1960. This was their third meeting. Like their first two meetings this was a free-swinging action packed bout. Webb was awarded a controversial split decision. Most of the fans, including the attending press had Calhoun ahead in the scoring. Disillusioned by his performances against Fullmer and Calhoun Spider announced his retirement from boxing in July 1960.
On April 15, 1961, fourteen months after retiring, Spider made an ill-advised comeback against top ranking middleweight contender Dick Tiger. This was their second meeting. Spider had decisioned Tiger in London in 1958. Then Spider was in his prime, while Tiger was just starting to find himself. When they first fought Tiger tried to outbox the boxer and came out second best. Spider went into the fight rusty and was knocked out by the much improved Tiger in six rounds. Spider retired again after his devastating defeat to Tiger and never fought again.
In his prime Spider was an all-around fighter who could box as well as punch. He liked to take his time sizing up his opponents before deciding how to launch his attack. He had a rapier left jab and a powerful right cross. He never ducked anyone and was even willing to take on opponents in their own back yard. May He Rest in Peace!